Home » Affordable Bathroom Updates That Transform Your Bathroom
Affordable Bathroom Updates That Transform Your Bathroom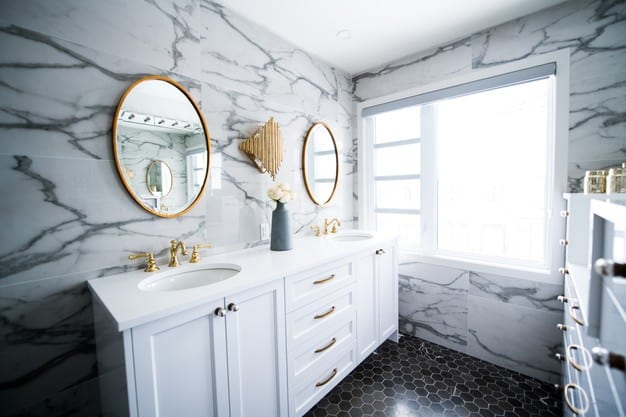 I am almost certain that you came here reading this, but you're already thinking it's impossible to do up a bathroom on a budget. You have probably even exhausted your options on an affordable bathroom by now, and just want to get it over with.
Believe me when I say this: I get your reservations 100%. In fact, it was only after spending years in the home improvement industry that I started believing that cheap was indeed possible.
Combined with my knowledge of the industry and my personal experiments, I finally deduced the way. Actually, it's more of a strategy.
There were many misadventures along the way, and I also learned the downsides of choosing some cheap materials. They would chip away in weeks – and I would have to do it all over again.
So, I deduced something that every homeowner needs to know: Durable and affordable have to go hand-in-hand. If you cut corners when it comes to durable materials, you are signing yourself for another round of remodel just a few years or months from now. It's counterproductive.
So, how do you do a budget bathroom makeover?
Understand the Extent of Your Affordable Bathroom Remodel
Everything I have said above applies, provided you don't plan to gut your entire bathroom and start from scratch. A full-fledged bathroom remodeling is not only super expensive, but taxing too.
No – I'm not trying to dissuade you from going in for a full-blown makeover. All I am saying is that if you want to renovate your bathroom without paying a bomb for the job, a full remodel is not a realistic expectation.
Changing the bathroom layout or sizing, for instance, requires intensive labor that is bound to be pricey. They require permits too, which are an added expenditure.
Instead, you can save a lot by just changing the key elements and switching things up. If you are looking for a functional and aesthetic change on a budget without making structural changes — this blog is just for you.
Making Your Bathroom Remodel Budget-Friendly
Before we begin, let me break down the strategy for you. It is essentially a mix of DIY and well thought out investments. So, you do DIY where feasible and you only invest in things which are absolutely essential.
These things also have to be in line with what most homeowners desire, so that you can recoup the investment in terms of resale value in the future. Easy-breezy, right?
Here are the ways you can cut down on costs and make a stunning bathroom come true without a ridiculously exorbitant budget:
1.  Upgrade the Vanity
Vanity can change the look of your bathroom in an instant.
Consider replacing the vanity to buff up your space by shopping at in-store retailers that sell vanity combos. The combos come with a countertop and a pre-installed sink. These are typically off-the-shelf solutions that can save you big bucks.
If your vanity is still in good condition, why replace? Instead, repaint your existing one in a bolder shade. Talk about an incredibly original low-cost solution with a great impact!
2.  Create a Backsplash
Add a creative edge to the space by going in for a backsplash.
True that the role played by a backsplash in the bathroom is more on the practical side. Yet, the idea is mostly based on aesthetic preferences. You have a plethora of choices to treat the areas above the vanity sink or the tub, for instance.
Consider getting a hand plastered backsplash above your modern vanity to imitate concrete. Or try horizontally placed painted wood planks that serve as an affordable but appealing bathroom backsplash concept.
You can also mix different tile textures and shapes to create an exciting display. For instance, blend stark subway tiles with black hexagon mosaic tiles for a wow geometric statement that's right within your budget.
3.  Pay Attention to the Small Things
Add a touch of glamour to your bathroom space by investing in affordable features. Invest in a huge round mirror and wallpaper with newer, bolder patterns.
Wallpaper is the quickest and most affordable trick in the book to raise the style quotient of your space. If your vanity is in a reasonably good condition, you can just change the faucets for a quick refresh job. Things like potted plants, wall displays etc. make a big difference too.
4.  Add Some Color to the Space
Colors work for creating great moods. On top of it, they instantly bring life to any space too. And the change can be actually brought about in a day.
Start by adding electric blue rugs to wake up your bathroom. Contrast it with white curtains and pop shaded towels to light up the space.
Alternatively, infuse a lot of black and white for a fantastic monochromatic impact. If you are in a mood to show a little creativity, you can also cover a storage unit with colorful adhesive paper and wrap the bins with wide pop ribbons for an added dash of color.
5.  Spot-fix the Tub
Your tub is one of the many essential features of your bathroom. In fact, a lot of homeowners pick or reject a house based on a bathtub in the bathroom.
Do you see many gouges and nicks on the surface of your bathtub? Has the paint begun to peel off? If so, your tub is in a serious need of a fix-up. But refinishing can be expensive, and we are looking for updates that we can afford. What now?
Consider a touch-up that can be managed with products like Super Glue White Porcelain Repair. They are a breeze to use and give you the desired result without paying a bomb for the job.
6.  Texturize the Walls
Are your bathroom walls interesting enough to live with for years to come? If you are looking for a change that gives a complete facelift to your space, consider texturizing the walls.
Think of a beaded board that can be infused in a basic bathroom to add a distinct architectural interest. Consider adding panels that are more affordable than boards and are also quicker to install. Or instill a farmhouse impact by adding a shiplap.
7.  Opt for a Pre-Fabricated Shower
We understand your desire to get an all-new shower in your bathroom. But hiring a professional to build a custom tile shower can be outrageously expensive. It may just defeat the entire purpose of having an affordable bathroom remodel.
We suggest opting for a pre-fabricated shower unit that can be DIY-ed. These shower kits generally include a shower pan, besides a few solid wall panels. Some of them are a one-piece structure in which the shower base or the tub is integrated with the walls.
8.  Paint the Bathroom
Painting your bathroom yourself can save you a lot of dough.
Besides, this is one of the most interesting aspects of bathroom remodeling. And you can complete the job in a day or two — which means that you get an all-new space in a maximum of two days!
Don't forget to invest in high-quality paint, roller covers, and brushes for that impeccable result, though.
9.  Reuse Bathroom Materials
If your bathroom materials happen to be in good shape, there is no reason why you shouldn't consider reusing it with a little improvement.
If we extend this concept to the lower half of the walls, it's a good idea to cover it up with wainscot. It's a pre-fabricated board that removes the need to repair patches and holes. The material simply covers it all.
10.  Avoid Moving Major Plumbing
If you do not have any major hang-ups with the current locations of your toilet and other bathing facilities, don't waste money on relocating them. Relocating fixtures can be one of the most expensive aspects of bathroom remodeling.
Other than this, in case you belong to the clan who get fidgety at the idea of calling in a plumber for remodeling work, we've got news for you. The advent of DIY stuff like PEX plumbing pipes and push-in fittings lets you tackle the plumbing part of your remodel with complete ease.
We told you – a stunning but affordable bathroom is indeed a reality.