Home » Materials for Vanity Tops
Materials for Vanity Tops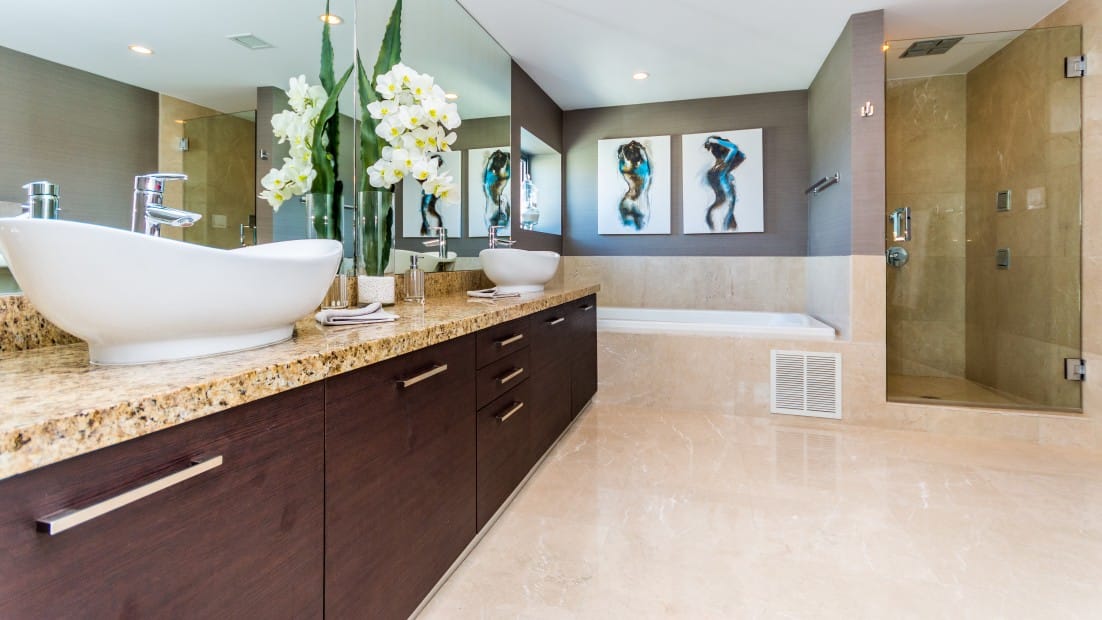 A bathroom is an intimate space for all of us but in very different ways. For some, it may be a place to get away from the whole world and just be with their own thoughts, while for most it remains as the space to get geared up for the day. In that way, for most people, vanity tops remain the unsung heroes of our bathrooms. 
If your hero has recently started looking worn out or you have decided to switch things up a little, we recommend choosing the material very carefully. Apart from the monetary aspect, there are plenty of other factors that depend solely on the material you choose. Strength, durability, style, colors, cuts, etc are but some of the said factors.  A good vanity also tends to appreciate the resale value of your home, which makes the process of choosing even more crucial.   
Here is a list of potential materials along with their downsides to help you make an informed decision: 
1. Marble
Marble is a perfect choice for a polished and stylish look for your vanity.  Available in multiple cuts and patterns, marble is one of the richest materials out there when it comes to choices of color and style.  Additionally, marble is highly durable and with a little care can last for decades without considerable damage.  
Downsides: Marble lags a little behind when it comes to affordability, and the constant need for sealing can be a turn off as well.  Although it is important to note that most of the damage caused is reversible and can be repaired by simple cleaning chemicals. 
2. Granite
One of the hardest stones available for use for a vanity top, granite is a nearly perfect option.  Highly durable, heat and scratch resistant — granite also provides a myriad of choices when it comes to color and style.  The combination of performance and style makes it one of the hottest materials for a vanity top. 
Downsides: Granite is indeed a little on the expensive side considering its unmatched qualities.  It also requires professional work since it is too hard to handle as a DIY project. 
3. Quartz
Quartz is an engineered stone that gives it the advantage of being the best of both worlds.  It is produced in a plethora of carefully designed styles and cuts.  Being non-porous, its waterproof qualities make it a perfect choice for a bathroom vanity top because the non-porousness means that it is also resistant to bacteria formation and smudging. 
Downsides: Almost as expensive as granite, quartz outperforms it on the virtue of being very low maintenance.  However, it is recommended that the edges are cut round to avoid chipping. 
4. Laminate
Made of plastic, laminate is widely popular as an affordable alternative to the stones.  It is waterproof, comes in countless styles, and allows you to affordably customize and make the vanity top really your own. 
Downsides: What laminate makes up for, in terms of affordability, it loses when it comes to strength and durability.  It is not as impressive as the actual stones either. 
5. Solid Surface
A solid surface is made of synthetic materials, giving it an advantage when it comes to mimicking natural stones like marble.  Clean lines also make it good for a contemporary vibe in the bathroom.  The surface is also waterproof which makes it really desirable. 
Downsides: Although it is water-resistant, it is prone to scratches and heat damage.  A little on the high maintenance side, it tends to retain damage and its effects on the surface for a very long time. 
6. Recycled Glass
The environment-friendly material, recycled glass is one of the most trending materials of 2019.  A vanity top made of recycled glass is riveting for the way it's surface balances color with a subtle background.  It can be used for some really eccentric and contemporary designs.  On top of that, it is also heat resistant and non-porous — which makes it resistant to bacteria.  
Downsides: A recycled glass vanity top would be prone to chipping and damage, owing to its brittleness. 
7. Concrete
Concrete is a versatile material and its custom fabrication process makes it a worthy choice for a vanity top.  You are only limited by your imagination when it comes to styling a concrete top.  Concrete can also be combined with glass and stone chips to mystify its look.  
Downsides: Concrete lacks the panache of natural stone.  It is also a little high maintenance owing to continuous cycles of wax and sealant applications. It is also unsuitable for DIY installation. 
8. Resin
Similar to Solid Surface, Resin is also made of synthetic materials like polyester and acrylic.  It edges past other options due to its low price and stunning looks. Its biggest advantage is undoubtedly its low price point, though. It is also perfect for those who use styling equipment like curling rods as it is fairly heat-resistant. 
Downsides: Less of a negative downside of Resin and more of a downside of the industry is that the quality of your Resin purchase depends entirely on the supplier. In a way, it is like taking a gamble. This makes it extremely important to do your research and pick the right supplier. 
9. Porcelain
Porcelain is the perfect material if you need to maintain a complementary theme across your vanity top, backsplash, and sink.  Its various colors, patterns, and finishes make for an exciting shopping spree too. It is durable, heat resistant, scratch-resistant, and an overall top choice for any kind of vanity top. 
Downsides: The only downside to a porcelain top is the excessive costs of both the material and the installation.  
10. Reclaimed Wood
Reclaimed wood takes the disadvantages of other materials and turns them into strengths.  Reclaimed wood is probably the most traditionally eco-friendly material out there, and the weathered look it claims over the years makes it one of the more exotic pieces out there.  
Downside: Reclaimed wood is prone to heat and water damage, and can also be difficult to find.  There are plenty of cases out there where people try to pass sourced wood as reclaimed wood, so it is also very important that you do your due diligence before picking a supplier. 
Final Words:
Every material has its own advantages and disadvantages.  It would be prudent to list down your expectations from a vanity top and conduct your research based on your requirements.  With the general excess of options out there, it is almost certain you would find material that fits perfectly with your needs — as long as you take your time picking it.