How To Upgrade Your Bathroom Under $20000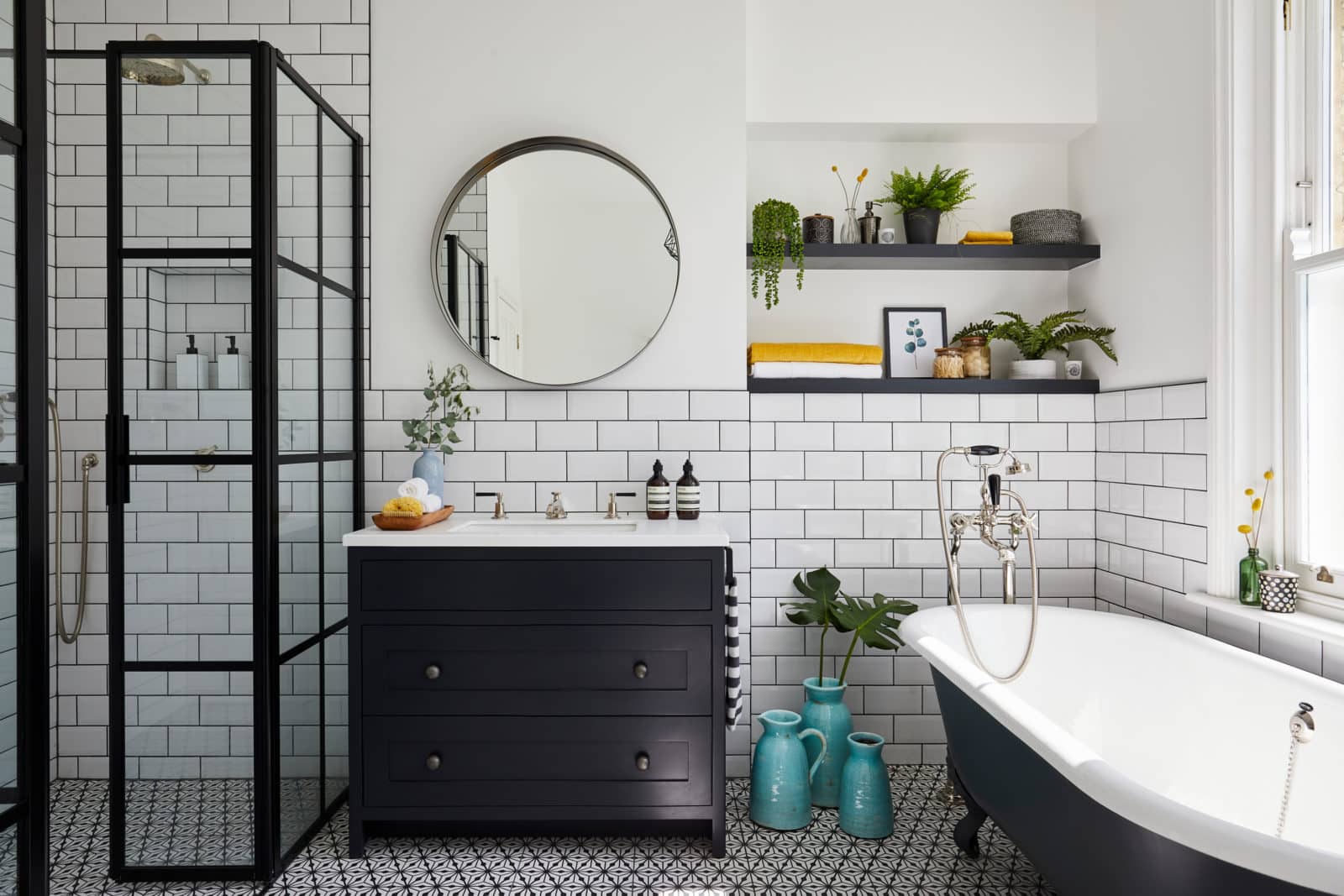 Here's how to upgrade your bathroom under $20000.
We completed our bathroom remodeling project for under $20,000.
And we're here to spill our secrets!
Your bathroom is among the most used room in your home. If it is outdated or needs repairs, it will affect your life significantly. So, if you have been noticing signs of significant wear and tear in your bathroom — then it's time to consider upgrading it.
Before you begin, it's important to remember that many factors affect the cost of your bathroom remodel. Right from its size, the scale of your upgrades, materials used, etc. The average price of a small bathroom remodel is somewhere around $15,000 to $25,000. If you want to upgrade your bathroom under $20,000, it is definitely an achievable target.
How? Balance your 'splurge' with 'the save'!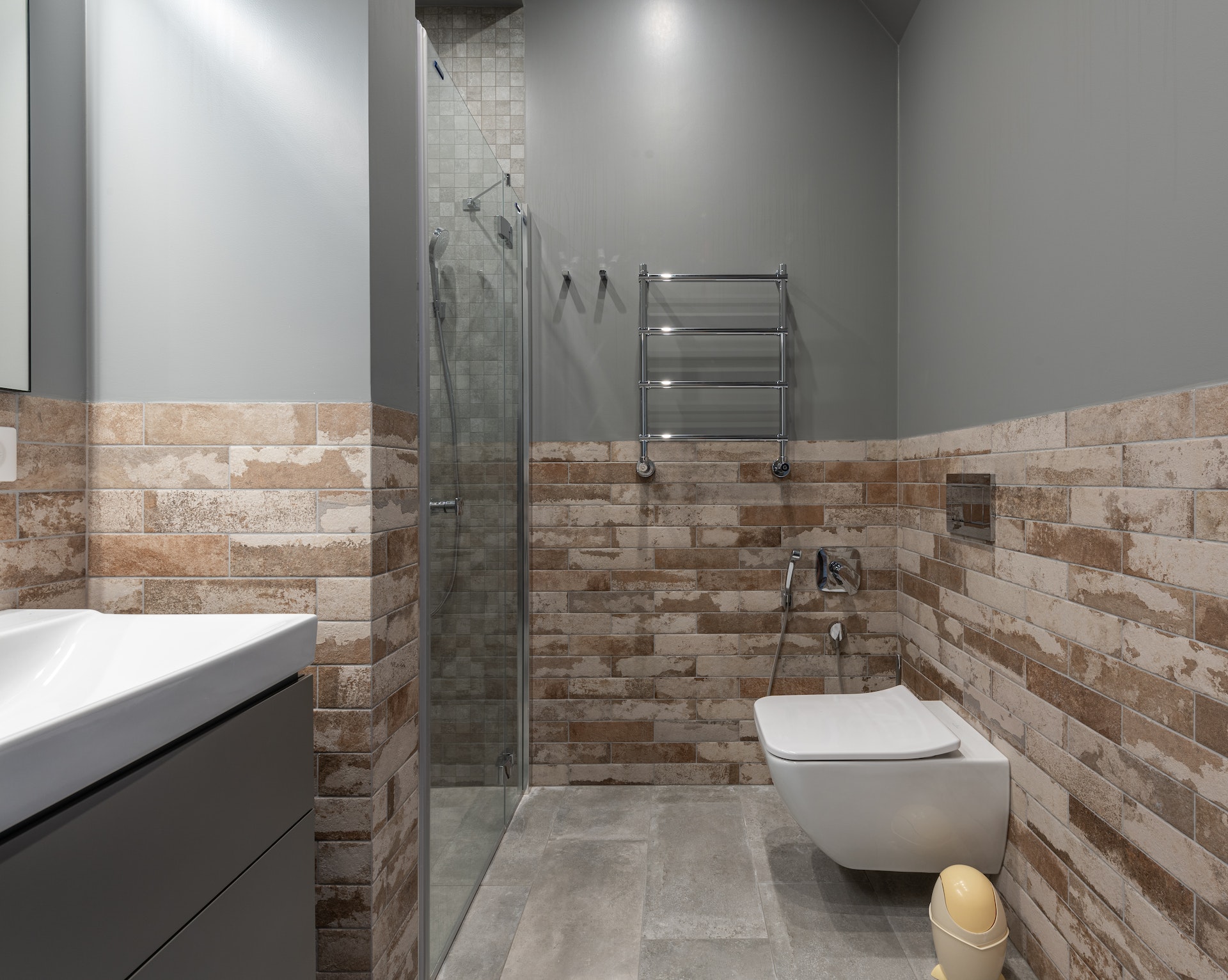 Where Does Your Money Go?
There are different stages involved in the remodeling phase. Right from the planning to the final reveal, each stage has its own cost associated with it. For instance, if you have a small or regular-sized bathroom; the contractor can plan it. Bigger bathrooms require more planning to make the most of it. This is where an 'interior designer' might come in and can cost anywhere between $1000 to $4000.
Similarly, while tearing out the bathroom several issues might uncover themselves. Mold and mildew formation are among the most common ones found. Repairing water damage can also cost upto $2,700.
Now, let's talk about fixtures. A standard bathtub can cost somewhere around $300 to $800, while a standard vanity costs anywhere between $150 to $800.
Factors that Affect the Budget of Your Remodel
The main factor that affects the cost of the upgrade is the size of the bathroom. A small bathroom (40 sq.ft) can be remodeled in $5,000, while a master bathroom will stretch your budget to the upper limit. Similarly, the extent of the remodel will determine the final cost.
For instance, if you choose to do a full remodel of your master bathroom — you are looking at $20,000. You have the cost of upgrading a separate tub and shower, double vanity, two sinks, a toilet, and new flooring. If you were to update only the shower, vanity, toilet and flooring — the cost would average at $10,000 to $20,000.
Similarly, a full remodel in a smaller bathroom would cap at $15,000 while a full half-bath remodel would cap at $10,000. The cost of your bathroom upgrade will depend on the scale of the upgrades you choose to carry out.
How to Upgrade Your Bathroom Under $20,000?
Repair or Remodel?
Before you plunge into your bathroom remodeling project take a look around your space. Is your shower grout cracking? Are there any chances of mold or mildew behind your tiles? What about your fixtures, are they leaking?
It is important to ensure that your bathroom is in good health to make your remodel last as long as possible. Get rid of any issues found and make necessary repairs which can cost anywhere between $2,500 to $3,000 approximately, as mentioned above.
Master the Balancing Act
With materials prices being sky high in today's time and date, it is paramount to strike the perfect balance. If you have your heart set on an expensive material or feature, try and make it the highlight of your bathroom. You can then stick to simpler choices elsewhere.
For example, your bathtub can be the hero of your bathroom. You can go for an expensive, luxurious tub while the other characters play supporting characters.
Saving Money: Should You Go DIY?
Another significant aspect of upgrading your bathroom is the labor cost. A bathroom upgrade requires different types of labor. From plumbing to tiling. These multiple labor costs tend to add up. You'll typically be working with a contractor who will be subcontracting these tasks to other people.
Now, since the bathroom is a structurally complex space, even if you go the DIY route to save some money — you will need to take the help of a handyman eventually. Even the most experienced DIY-ers will need a contractor for plumbing and electrical work. Plumbers charge anywhere between $45 to $150 per hour, while electricians charge $65-$85 per hour.
Under no circumstances should you attempt to do the plumbing and electrical work on your own. Not only do plumbers and electricians have experience in their field but they're also aware of local codes and regulations. If you do want to do something on your own to bring down labor costs; opt for painting the bathroom by yourself. Smaller bathrooms typically require a single handyman instead of multiple contractors, which will cost you around $65 to $95 per hour in labor charges.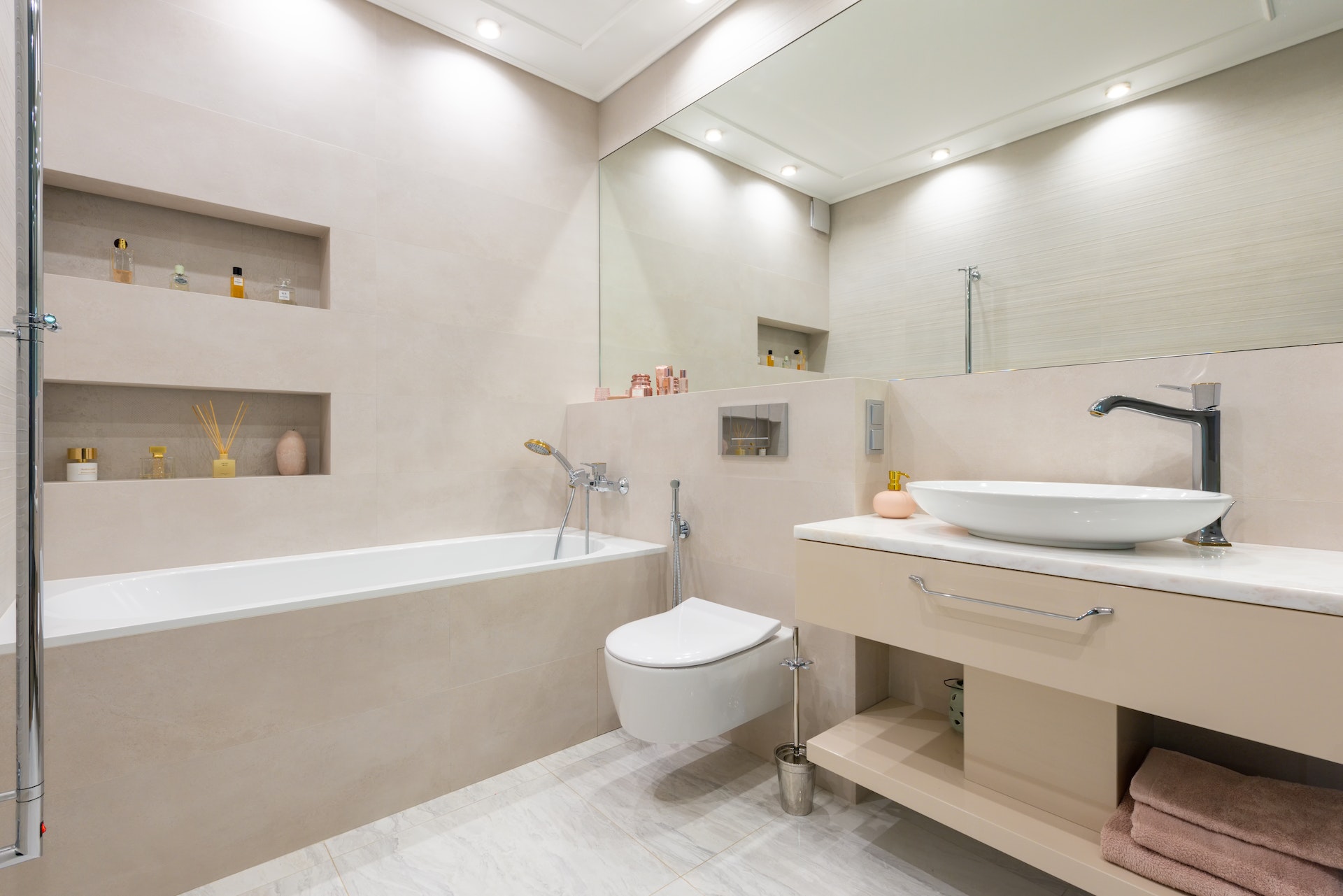 Tips to Consider
Smart Tiling
Extravagant tiles can add character to your bathroom, as well as, cost!
At the same time, tiling and waterproofing are two important areas you should never overlook. A minor mistake can lead to pulling everything out and starting over.
Best way to combat this issue is to have one highlighted wall with your choice of tiling. If you have a specific look and feel in your mind, ration it to a single wall or a particular section of a wall to cut down on overspending.
For a typical bathroom, the cost of tiling is roughly around $1500. The cost is split between the floor tiles ($500) and wall tiles ($1000). You can choose from several options such as ceramic, mosaic, stone, glass, porcelain, etc. The cost of tiling ranges from $1/sq.ft to $100/sq.ft. A standard ceramic tiling will cost you around $1 to $5 per sq.ft, while mosaics can cost anywhere between $1-$100/sq.ft.
Focus on Lighting and Ventilation
Also, as bathrooms are not known to be the most naturally ventilated or lit rooms in any house — you are more likely to upgrade the bathroom to have better lighting as well as ventilation. Two lighting fixtures are the common standard in most bathrooms. Invest in a good shower light which will cost around $40, while a vanity sconce light will cost $40-$100.
A bathroom fan is important to keep the room ventilated and remove excess moisture from the bathroom too. The standard cost for one is around $40-$100. You can also opt for a light/fan combo for the same price.
These elements are considerably inexpensive and essential features that you shouldn't miss out on.
Fixtures Are Important Too
A great cost-effective tip to save up on fixtures is to have your taps and mixtures on the vanity itself rather than installing them on the wall. It is considerably expensive to chase the pipe on the brick wall. The same also goes for in-wall cisterns for toilets; back-to-wall toilets are always a more economical choice.
From a design perspective, you can go for the same brand for all fixtures for a more cohesive, luxurious finish.
The Bottom Line
Upgrading your bathroom is an extensive undertaking. There are many moving parts involved in the whole process. Hence, it is recommended that you keep a buffer of 20% in your total budget. This extra money will help you combat any additional costs that may come up because of damages or delays in the remodeling. You should consult at least three contractors to get a fair idea of the costs associated with the upgrade.
Upgrading your bathroom is a time-consuming process and it should not be rushed. Minor upgrades can also fetch a significantly higher ROI in the long run. Hence, you must take your time with research, planning as well as execution. Vigilance and patience during the remodeling will lead to higher returns in the long run.
Many factors go into determining the final price of upgrading your bathroom. Apart from the ones listed above, even your location and the time of upgrading the bathroom can play a significant role. If you follow the guidelines, you will be able to upgrade your bathroom under $20,000 with ease.