Home » Cost of Remodeling a Bathroom
Cost of Remodeling a Bathroom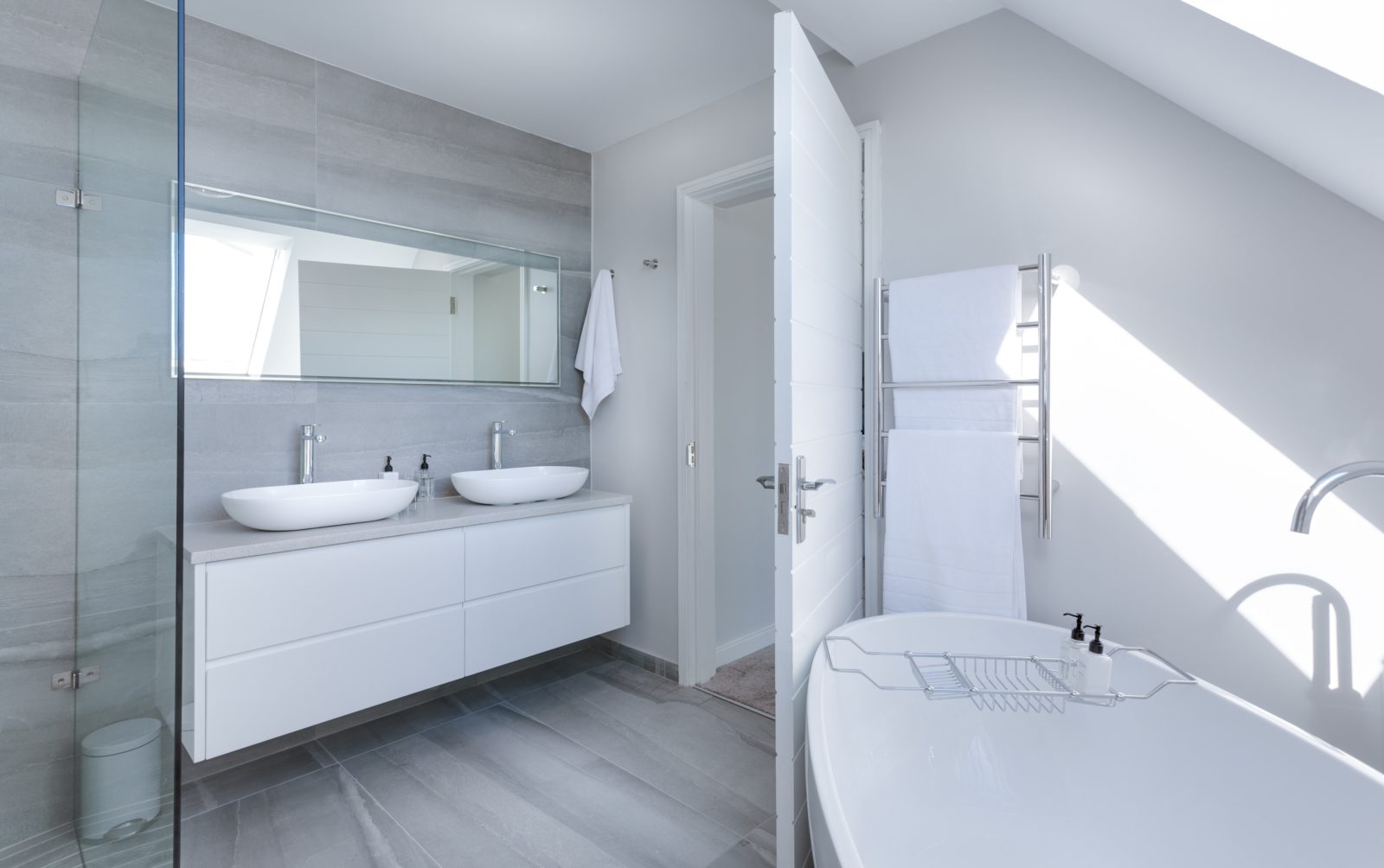 Moved into a new house and looking to make changes to the bathroom? Maybe you have already warmed up to the idea of going in for bathroom remodeling and are curious about the cost before taking the plunge.
Well, you are not alone. Bathrooms have come a long way from being just utility spaces. Many people cherish their time in there as a sort of retreat from the rest of the world — and spend a lot of time customizing it according to their wishes. In fact, a bathroom remodel is one of the primary home improvement projects that homeowners invest in these days.
As per the latest study, homeowners spend an average of $8,858 or about $125 per square feet on bathroom remodeling. While many do it for personal indulgence, others do it for the value it adds to their house. A remodeled bathroom adds to the resale value of the house and may help you in unloading it off quicker.
Whatever your reasons to remodel — if you are considering a remodel, make sure to plan a budget in advance. In this article, we help you breakdown the costs of a bathroom remodel based on size, the number of changes as well as costs of labor. This will help you plan a proper budget so that there are no unpleasant surprises later.
Average Cost of Remodeling a Bathroom
In our experience, we have found that most small bathroom remodeling projects fall between $2,500 to $6,000. On the other hand, a mid-range bathroom refurbishing costs anywhere between $6,000 to $15,000+; whereas a high-end bathroom remodeling costs between $15,000 to $62,000.
Cost of a Small-Scale Bathroom Remodel
A small scale bathroom renovation will somewhere between $2,500 to $6,000 for a small bathroom. It is to be noted that renovating a small bathroom doesn't cost much, as the materials used are less and so the labor cost reduces significantly as well.
Here the basic design is left untouched but other changes are brought in to give it a fresh look.
Wall cabinets might be painted or changed, open shelves may be repainted, faucets and flooring might be repaired or changed, water pipes may be fixed and accessories as mirrors, towel racks may be replaced.
Cost of a Mid-range Bathroom Remodel
As in most small scale remodels, the design remains intact while practically everything within the bathroom is updated. New flooring, the shower, faucets, the bathtub, the vanity, the toilet, wall tile, and light switches are replaced. The cost of remodeling a bathroom here is between $6,000 to $15,000+.
Cost of Remodeling a High-End Bathroom
The bathroom may be extended or renovated from scratch. Walk-in showers with glass enclosures, heated towel rails, bathtub with high-end faucets are brought in. Other cosmetic changes like painting the walls, replacing the tiles, etc might also be factored in.
Wall tiles and fixtures are changed. Water and electric pipes are replaced. Everything that is a part of the bathroom is refurbished. The cost of doing a full-blown bathroom remodel ranges between $15,000 and $62,000.
Cost Break up of a Bathroom Remodel
Now that you have decided to go for remodeling your bathroom, consider the costs of each fixture plus tiling and flooring. Besides the cost of the accessories and other services, it is important to add the labor cost to get an accurate idea of how much the project is going to cost you on a whole.
Be mindful that labor plays a big role in a bathroom renovation in terms of cost. Plumbing, electric work and carpentry shoot up the costs considerably. When going in for a high-end bathroom or maybe a new bathroom, everything needs to be revamped — so be prepared to incur these costs. These may also be followed by framing and leveling which can go up to $2,000.
Check out the breakup of the average nationwide costs of the services required for refurbishing a 125 sq. ft. bathroom to get a better idea:
| | |
| --- | --- |
| Bathroom Fixtures/ Accessories | Average Costs |
| Install Shower | $500 – $5,100 |
| Install Bathtub | $400 – $4,100 |
| Install Toilet | $120 – $500 |
| Install Sink | $200 – $1,500 |
| Install Cabinetry | $1,100 – $3,600 |
| Install Tile | $900 – $3,500 |
| Install Flooring | $800 – $7,000 |
| Install Light Fixture | $500 – $1,700 |
| Paint Walls | $300 – $800 |
| Install Countertops | $900 – $1,800 |
| Reface Cabinets | $300 – $600 |
| Install Fan | $150 – $400 |
| Install Hardware | $50 – $300 |
| Electrical Wiring | $65 – $85 /hour |
| Plumbing | $45 – $65 /hour |
| Carpentry | $70/hour |
| Permits | $100+ |
Average Labor Cost for a Bathroom Remodel
The national average to remodel a small bathroom is typically $6,500, but it can range anywhere from $1,500 up to $15,000 or more. For a complete remodel, the costs will vary depending on the type of fixtures you use. Expect to pay $70/sq. Ft for low- end fixtures with some DIY work, and up to $250/sq. ft. for high-end fixtures installed entirely by a licensed contractor.
 Hiring Contractors for Bathroom Remodeling
It might be good for you to know that a remodeled bathroom gets you a guaranteed return of around 70% of your investment.
But the first step of accomplishing that is obviously to finalize the decision of remodeling your bathroom. The immediate step that follows is planning and finally hiring a contractor for the job. When it comes to the last step, be sure to pick a reliable one. Ask them about permits, their licenses and also recent projects for a background check.
As a remodeling project involves a number of tasks that require professional expertise, don't underestimate the value of a good contractor. You may have to hire a contractor for wiring, plumbing, lighting, painting and even construction if you are expanding the area — do this with all of them.
Make sure to also factor in the costs before you start, or else it can become a headache later on. It may be tempting to go for inexperienced contractors to save costs, but you may end up risking the desired turnout. We highly recommend that you don't act stingy here and pay for quality.
Saving Costs on Bathroom Remodel
 If you are struggling with the numbers you have seen, Relax! There are still some things you can do to lower the costs:
Self-Demolishing the Bathroom: This will save you around $1.000. However, you have to be really careful. There is no point in doing this if you are not experienced — and end up damaging pipes and paying for new ones at the end of the day.
Self-Painting the Bathroom: Painting is an easy DIY job that can be done with the help of a few tools. This can be a great way to save some money, provided you have the time and passion for DIY.
Keeping an Eye on the Clearance Sales: You may not end up getting exclusive designs during these sales, but you can still find some decent bargains if you are lucky.
Reusing the old Sinks and Toilets: If they are not damaged or worn out, you can consider reusing them to save some costs. You can also lend them a new look by repainting them.
Resurfacing of Bathroom Cabinets: Resurfacing is cost-effective and makes your cabinets look as good as new. You can go for it if your existing cabinetry meets your storage needs.
Final Word
Whether you are remodeling your bathroom for your family or for flipping the house — make sure you study the costs and prepare a sufficient budget. You can also reuse some items like the sink or the toilet if they are in a decent condition to save some costs. Whatever you do in your renovation, remember the goal: the whole ensemble should look good together; so, make cuts only where you can. Being unwilling to spend money might prove counter-intuitive if the elements look like they have been haphazardly placed together.