Small Bathroom Storage Solutions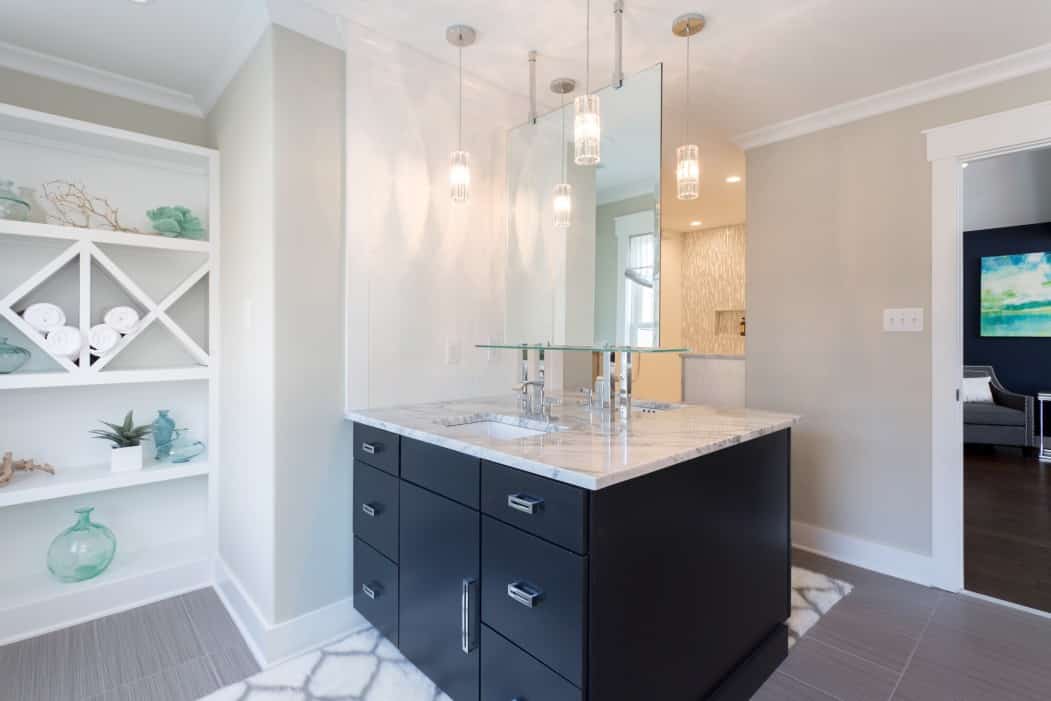 How to 
A
dd 
E
xtra 
St
orage to 
Y
our 
Small
Bathroom
How would you describe your ideal bathroom? Cute? Minimalist? Efficient? Decluttered?  
Now, let's assume that your answer is one of the above. Or none of them.  
But the point here is this: a small bathroom can be any or all of these traits, just like a large bathroom.  In this case, at least, the size doesn't matter (yes, we can hear your dirty jokes!). No matter the size, the 'role' of a bathroom remains the same: it is a versatile, personal and important part of your house. So, in other words, a small bathroom can easily store everything you need, or quickly become a mess if you do not pay attention. 
Yes, we know that a bigger bathroom is better, but when used correctly a small bathroom can be transformed into a magnificent space that not only meets your needs but also screams ritz. Here is how you can do that: 
Add 
Shelves on The Wall 
One of the biggest concerns of a small bathroom is that the vanity is never big enough to store your towels, makeup kit, shaving kit, and other paraphernalia. A simple and rather aesthetic solution to this can be wall-mounted shelves. The contemporary designs offer separate storage sections for different items so that you can easily sort them. Shelves are one of the best ways to store your toiletries like shampoo, shaving cream, toilet paper, etc. If you have some space left, we recommend decorating it with a small indoor plant. Not only will it add a unique feel to the decor, but it will also be a source of those much-needed positive vibes on a Monday morning. 
Experiment with 
Free-Standing
 or Wall-Mounted
 Cabinets
What do the smallest and the largest bathrooms have in common? The basics: a shower, a toilet and a vanity (with a mirror).  
And hence, when we say 'free-standing cabinets', we mean any and every size can be accommodated in the leftover area. A free-standing cabinet may take extra floor space but it gives you extra concealed space where you can store all toiletries and spare towels and other accessories. This especially works well if your existing bathroom setup has a minimal or even no vanity. Alternatively, if you cannot afford to accord extra floor, a wall-mounted cabinet will also suffice for your needs. This idea works very well if you have a small bathroom but have plenty of wall space. You can have multiple cabinets fixed around your walls, designating a particular storage use for each of them.  
Invest in Some 
Shower Caddies
If you have been reading until now and thinking "None of this works in my bathroom. I have zero floor or wall space", worry not. Simple, waterproof shower caddies take little or no space and can be found for really cheap rates both offline and online. You can either hang it from your shower or mount it on the wall right underneath the shower. Plastic caddies in a bar or a mesh design work best as they are easiest to clean.  
Get a New Vanity
Yes, we agree that a vanity is not a simple, cheap or quick solution to the storage issue…but sometimes, this can be a great way to fill that extra space around your sink or add extra storage without having to worry about mounting or adding multiple items. When buying a new one, make sure to pick something that offers a lot more storage than the existing one even if that means you have to compromise on the countertop or the sink size. After all, a sink is just a sink and having a very big sink offers no real advantage as such. A new vanity, on the other hand, will lend a fresh lease of life to your bathroom. 
Still stuck for ideas? Here are some additional tips to make the most out of your storage space. 
Tips for Maximizing Storage in Your Powder Bathroom
 While the aforementioned ones are the more stable, there are several other creative ways to add storage without spending much time, money or even effort.   
An old but useful trick, especially for clothes to be worn after a shower or for a quick change, is to add hooks to your bathroom door. You can either put individual hooks or a series of hooks together to create ample storage space for your clothes.

 
Keep all electric gadgets like your hairdryer, electric shaver, etc stored either in the vanity or the mounted shelves as they take a lot of space. If the bathroom is too small, keep them in your room and take it to the bathroom when needed.

 

Small bathrooms can be a lot of things, but they must always be efficient. 

If you can

't add extra storage, m

ake sure 

that 

all 

the 

extra supplies like toilet paper sets, spare soap, and even makeup kits are kept

somewhere else. 

Simply put, the lesser the items in the bathroom, the lesser the need for extra storage. 

 

Do not use dark colors or themes

 in a powder room

 as they t

end

 to make

 the

 space look smaller. If possible, add a window or white hues and motifs to give your bathroom a lighter and airier feel.

 
A small bathroom has become a reality for most homeowners and there is no shame in it. In fact, you can turn it into a swanky little affair with some creativity. Many will argue that you do not need a big bathroom anyway. The point, however, is that every bathroom can take care of all your needs as long as you are also willing to adapt to space. Remember, you should aim for a look that allows storage without overcrowding the space. And adopt a theme that is easy for you to clean and update if needed.