Home » Making the Most Use Out of Small Spaces
Making the Most Use Out of Small Spaces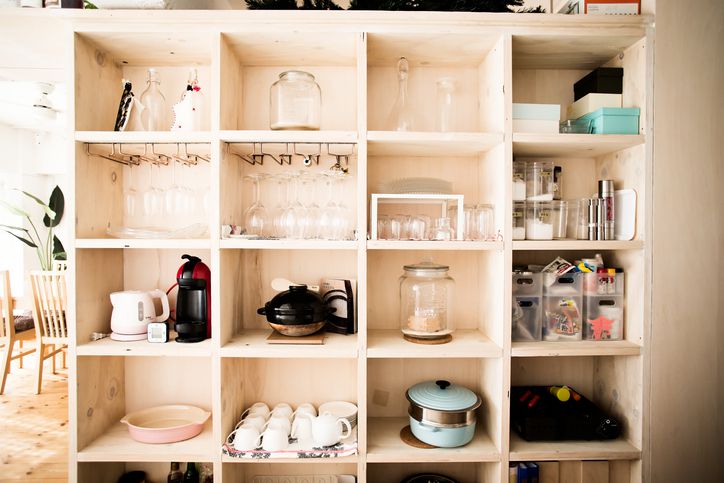 Do you think that a small space can't be big on design ideas?
The truth of the matter is that design ideas work equally well in small homes. In fact, a smaller area often means less expenditure. It's just that you need to be a little careful in choosing the right pieces. You should be focusing on things that will make even a tiny place look brighter and spacious.
Remember, whatever be the size of your home, big or small — human needs are common to both the brackets. All that is needed is a sensible approach to meet those needs in the available space.
Moreover, considering that more and more homeowners are opting for small apartments in keeping with their current lifestyle, there is an inclining trend to make the best out of the available space by incorporating smart hacks.
Keeping this need in mind, we've come up with some great ideas which can help you maximize the aesthetic and functionality of a small house.
1.  Big is Beautiful
Please don't cram your space with small pieces of furniture. Sounds counter-intuitive? It's not. Let me explain why.
We all have grown up with the idea that placing big pieces in small areas makes no sense. But it does! Small furniture in a space that's already limited will make the area look like a complete mess. Instead, you want to go for less number of pieces. Modular furniture pieces in smaller spaces create ample seating while highlighting the wall displays and the huge windows. That's the key.
Another way could be to have roll-away furniture. Take, for instance, the dining area. Why not use dining benches that take up less floor space and can be slid under a table?
Or invest in day-beds that can be used in the daytime as a couch but go on to become a bed for the night. You end up using a single piece for two tasks and save space while also adding accent to your living space.
2.  Use the Right Storage Option
Nothing can beat built-ins closets when it comes to creating space in a smaller area. Functional pieces are great at making sense out of clutter by offering classified storage.
In bedrooms, go for floor to ceiling cabinetry that imbibes different functional aspects to absorb different items. Use the drawers to store stuff like jewelry and valuable papers. If you're interested, you can also place dividers in the drawers to make designated space for even the small things.
The same closet needs to have shelves that you can pull out with a push to open mechanism to store your clothes and other stuff. Use the trouser pull-out to hang all your trousers for easy access and storage. Use the in-built shoe rack to store all your shoes in a single place; so that the next time you need a particular boot, you don't go around blaming your pet for having chewed up the piece!
Besides a closet in your bedroom, get a bench to perch against the window and use it as a reading corner. It looks super chic too!
For those who have a home office and find it tough to balance entertaining and hosting guests, try Murphy Beds. It's like a wall bed that you can put up and down as needed…and one that looks like a wall. Opt for one with storage space on the wall behind the bed. You can even have a printed door to cover the bed.
3.  Use Wallpaper All Over
You can do so much in a small room! Cover all the walls with wallpaper.
A small space allows you to go overboard with style without your spending a fortune for the look. Take advantage of it. Fill your space with patterns and hues. Alternatively, paint a dark accent wall to create depth in the area.
4.  Bring in a Tray Table
Add a gallery tray table and portable trays with handles on both ends to your home collection.
These movable trays end up transforming your already functional coffee table into a multifunctional piece. When partying, the trays can be used for serving. And during casual dinners, the portable trays can be moved easily and later stored for a smart space-saving solution.
5.  Opt for a Movable Home Bar
Bars can be the ultimate style accents that add character to your home. Opt for a portable home bar that entertains as well as lifts up your home's décor.
6.  Statement Art
A time tested design trick for small spaces that never fails. Sounds too good but it is true.
Try incorporating a large-scale art piece to give an airy feel to your room. The artwork will serve as the central piece to your home design equation and flaunt your aesthetic taste.
7.  Add Storage Space for Hats
Got an excellent collection of hats? Why not bare it for everyone to see by locating the collection on to a hat rack? If you like your things hidden, you can also do this on the interior door of your closet too.
Not only does the arrangement help the next time you plan your outfit, but the things are displayed extravagantly too.
8.  Hanging Wall Storage
Put up shelves along the length of your room. The shelves will add loads of storage space on the walls that you can use. Guess what? The least used space of your home can now be used to store all sort of things!
Are you looking for a closet substitute? Make one yourself! Hang a clothes rack in any corner of your bedroom and enjoy!
Opt for a headboard, especially if your bed takes up a lot of space in your room. Make sure that the structure gives you enough storage space for books, any souvenirs, and even spare light bulbs.
We all love bed storage because most of us are lazy bums and don't mind hanging upside down to retrieve stuff without having to walk for it. In other words, opt for storage beds.
The beds are fantastic storage hacks that not only open up your room but also give you many drawers that can work as a dresser. It's up to you what you want to use them for. Whether it's files you wish to store, clothes, or even movie collection.
Other than this, get tall shelving built to store all your books. The floor to ceiling unit may not give off vibes like those élan bookshelf stairs that go with custom-built loft beds, yet they fill your room with presence.