Big bathrooms are a luxury; only a handful of us can afford it. However, small bathrooms have so much untouched potential. With the right ideas, design, and execution, you, too, can convert your small bathroom into a mini-sanctuary. Here are some of the best ideas for small bathrooms on a budget that you can implement to maximize the functionality of your space. Let's check them out.
Use the Right Colors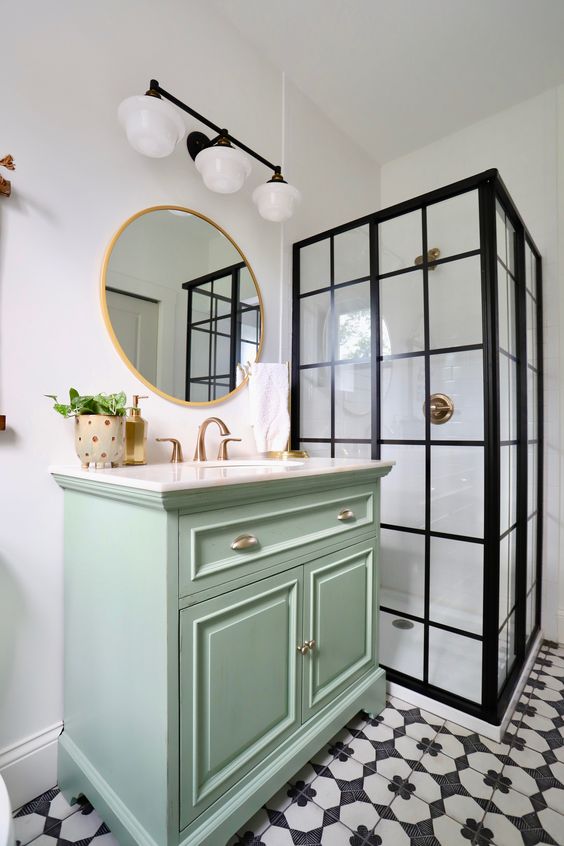 When it comes to choosing the color scheme of your bathroom, stick to light and bright colors. Why? Light colors tend to open up space. Think white, off-white, peach, etc. Just because you have a small bathroom, it doesn't mean that it has to look small.
You can also stick to light-colored fixtures such as bathtubs, sinks, etc. These will make the bathroom feel more open, airy, and spacious than it is.
Mirror, Mirror(s) on the Wall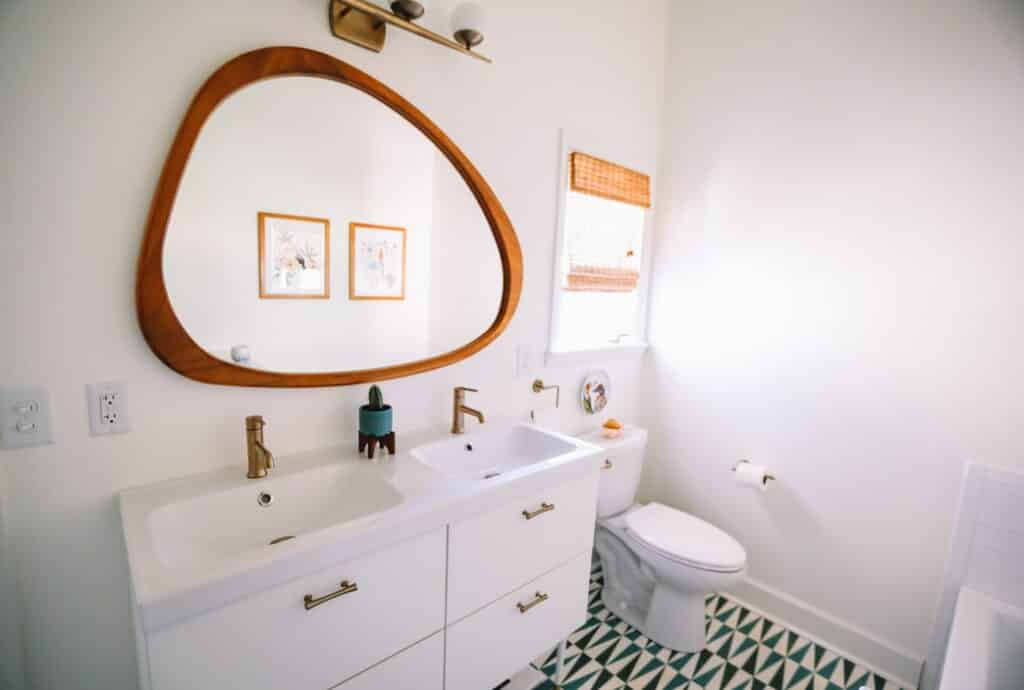 Adding mirrors is one of the best small bathroom decor ideas on a budget. Mirrors reflect light and pattern, which creates the illusion of a larger space while doubling the effect of any lighting.
You can either mirror a whole wall, preferably the area above the vanity. If you don't have a vanity, you may consider adding multiple mirrors above your sink space.
Use Awkward Spaces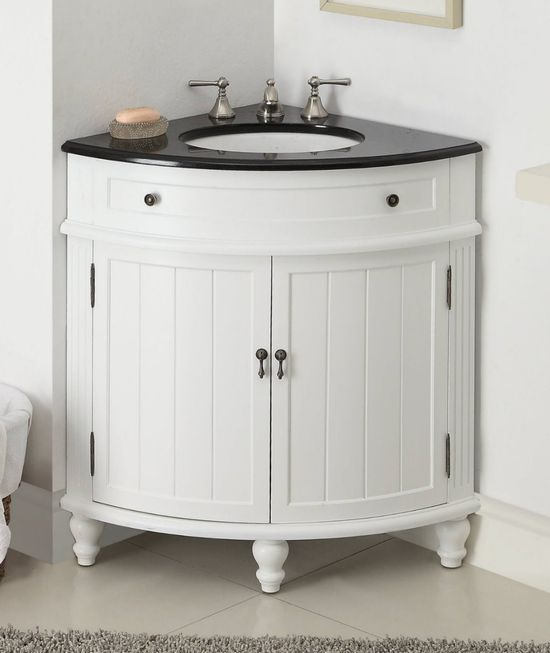 If you have a small bathroom, you're more than likely to have an awkward corner or too. These awkward corners are either too big or too small for something significant to be placed. At least, that's what they look like.
However, these spaces are perfect for innovation. For instance, a corner sink is the best fixture to install in an awkward space. Not only does it make use of this redundant space, but it also frees up the rest of the bathroom for other fixtures.
Use a Pocket Door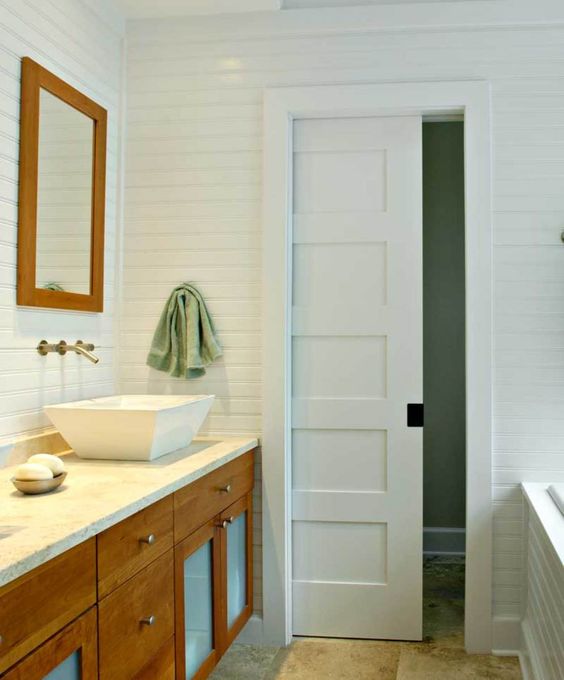 While swing-in doors are the norm, they consume quite a lot of space. Space, however, is a dear luxury in small bathrooms. To make the most of your bathroom space, replace these doors with nifty pocket doors.
Granted, you do have to open up your wall, and the process is a bit labor-intensive. However, you can gain upto nine sq.ft of usable space in your small bathroom.
Get Rid of Your Tub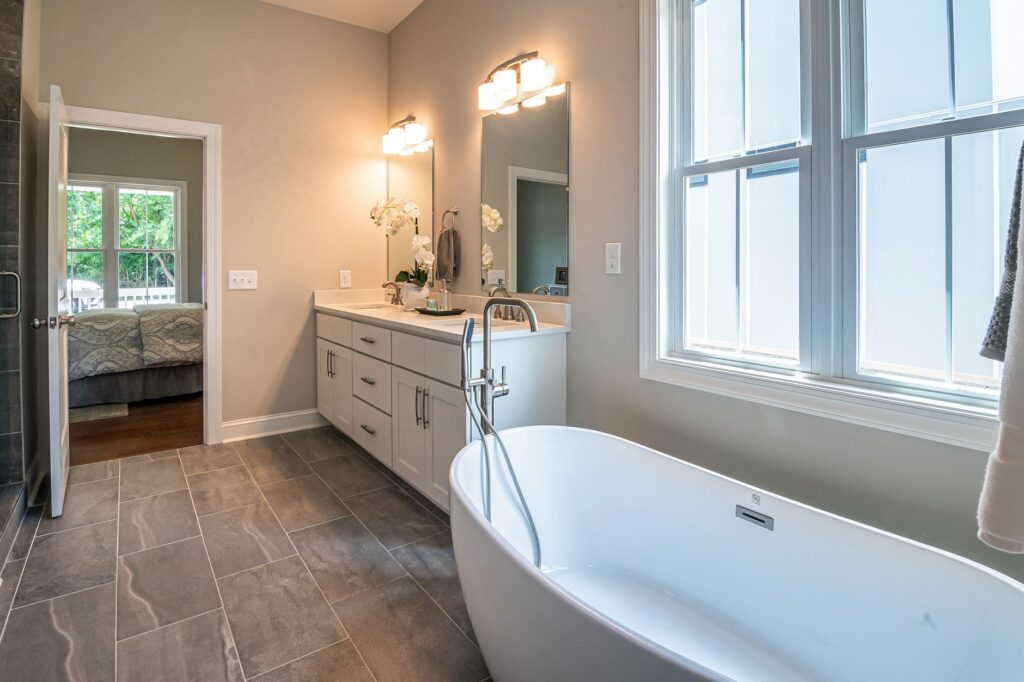 Tubs take up considerable space in your bathroom, often twice as much as showers do. Not only are showers more practical, but they also save a ton of space. If you have a small guest bathroom, you might want to consider doing this. Showers are ideal for older people, kids, people with disabilities, etc.
However, if you must install a tub, consider a low-profile one. Low-profile tubs are easier to get in and out of. They also make the bathroom feel more open than a standard tub.
Be Creative with Tiles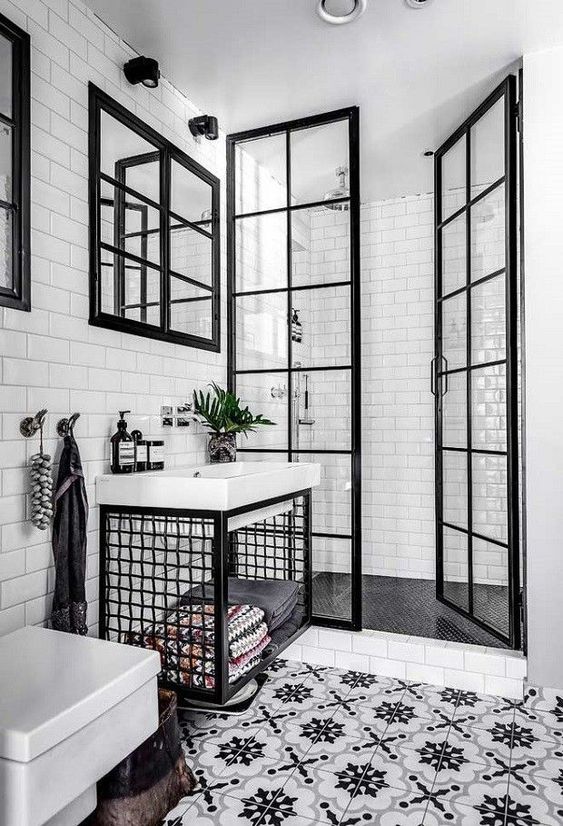 Just because you have a small bathroom doesn't mean that it has to be perceived as little. How? Continuous tiling is the name of the game. Continuing the flooring into the shower space or on the tub's back wall is a great way of providing the illusion of a larger space. If you have a shower space, consider transforming it into a curbless shower. 
The now eliminated curb will further highlight the continuous flooring and its effect. 
Choose the Right Furniture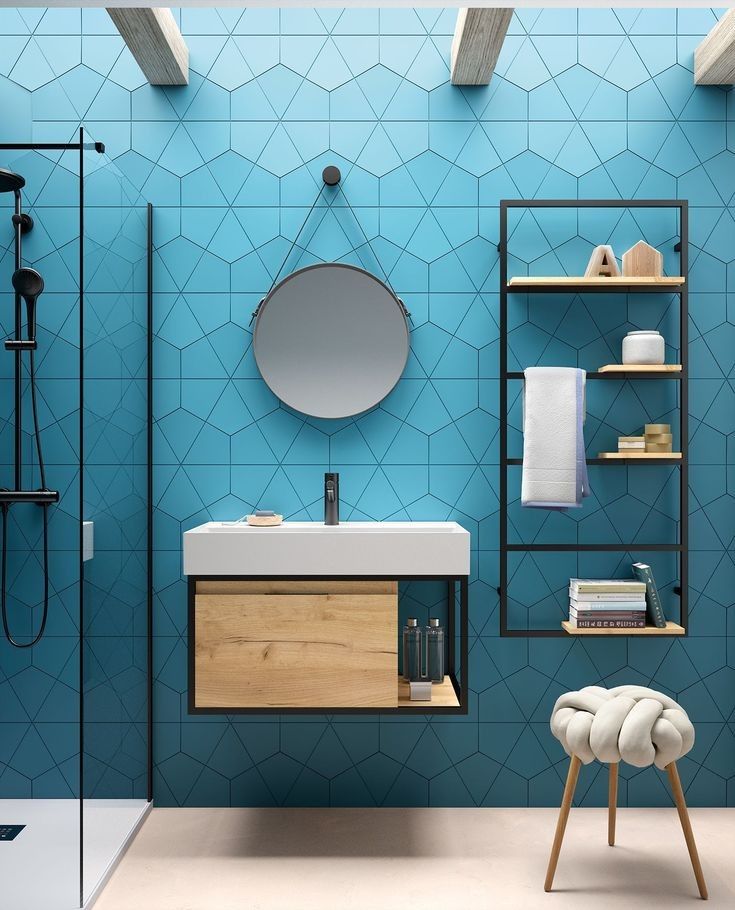 There's nothing worse than oversized furniture in a small bathroom. Large furniture is enough to dwarf all your efforts to design your small bathroom. 
Choose vanities and other fixtures that are proportional to the size of your bathroom. Otherwise, moving around your small bathroom will be quite a challenge for you and your family.
You can opt for smaller sinks and floating vanities to make it easier for you. These choices will help you save a ton of space in your bathroom without compromising on functionality.
Choose Smart Storage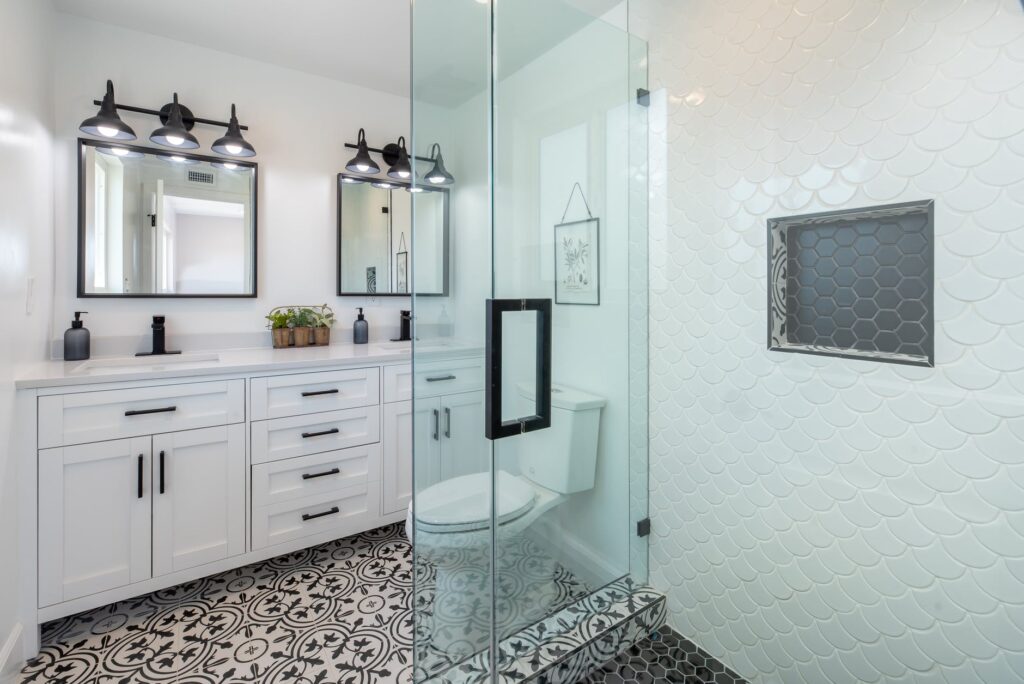 Storage is a necessary evil in bathrooms. Recessed shelves and shower cubbies are your best bet. They do not take any extra space and do the job just fine. For other storage options like cabinets, stick to the walls.
Floating vanities, glass-front cabinets, open shelves are your best choices when it comes to storing essentials in your bathroom.
Keep It Simple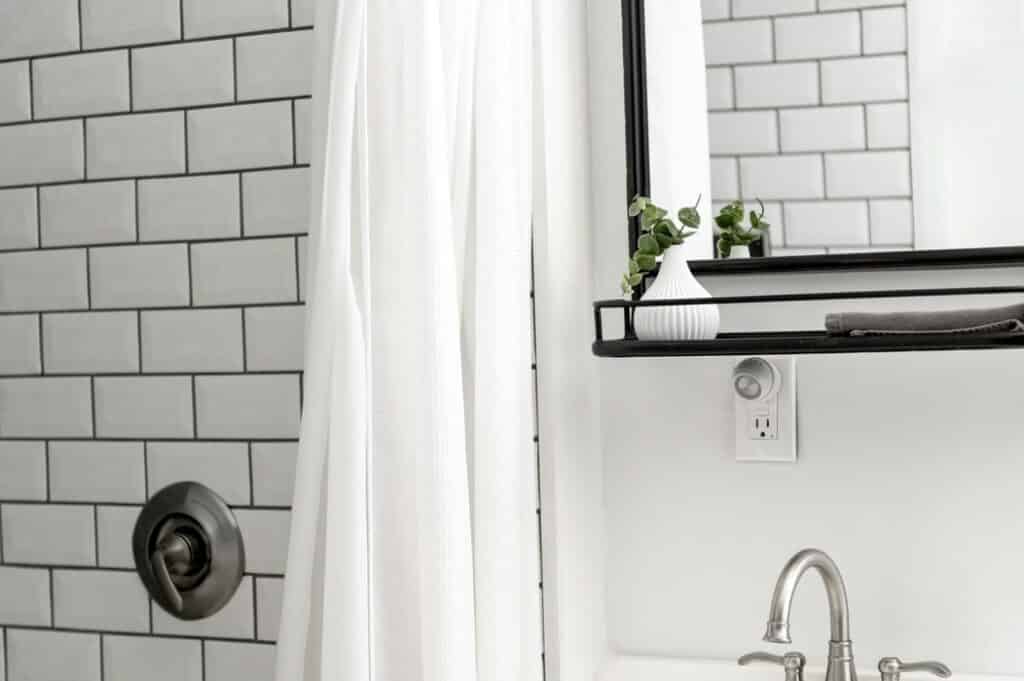 Looking for design ideas for small bathroom on a budget? Well, it's relatively easy to get carried away while designing your small bathroom.
However, it's always better to keep things as simple as possible. Clean lines and simple designs will give your bathroom a sharp look. On the contrary, if a lot is going on with patterns, designs, and fixtures, it will look more crowded and compact than it needs to be.
Add an Accent Wall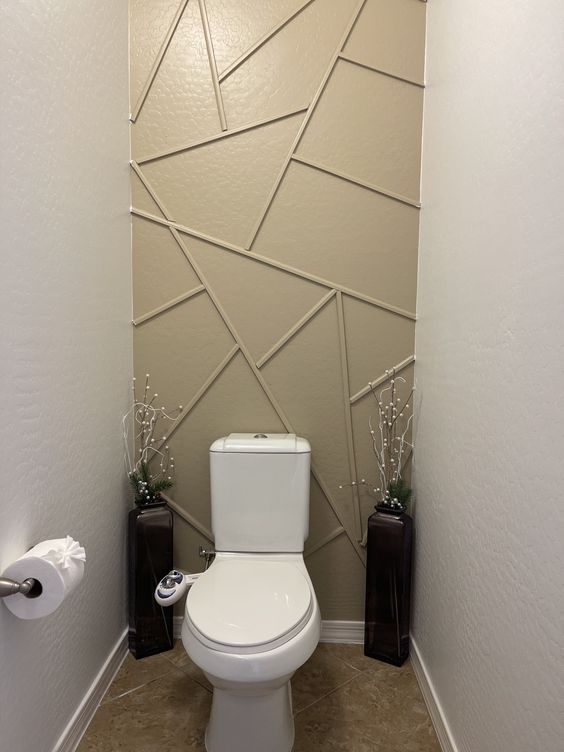 Keeping things simple doesn't mean that it has to be boring. An accent wall is one of the small bathroom renovation ideas on a budget. It is a great way of introducing some color and brightness in your bathroom space.
Ideally, the back wall should be the accent wall. You can choose to color the whole wall or simply a patch. Here, the idea is to introduce a break from the monotony of the standard bathroom design and add a focal point to space.
Printed Shower Curtains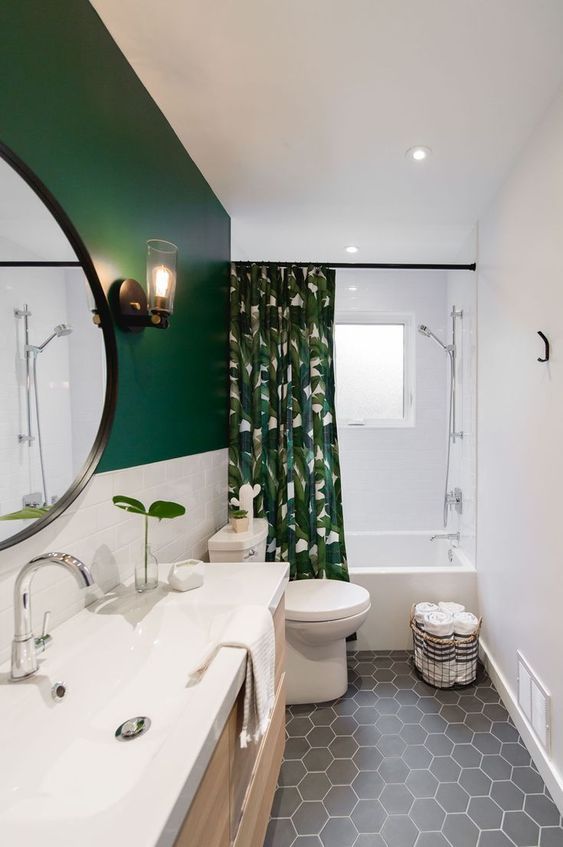 One of the small bathroom remodel ideas on a budget is to hang a shower curtain in a bold print or bright patterns. shower curtain. The curtain wouldn't just work as an accessory but will also perk up your plain, neutral looking bathroom.
Improvise the Light Fixtures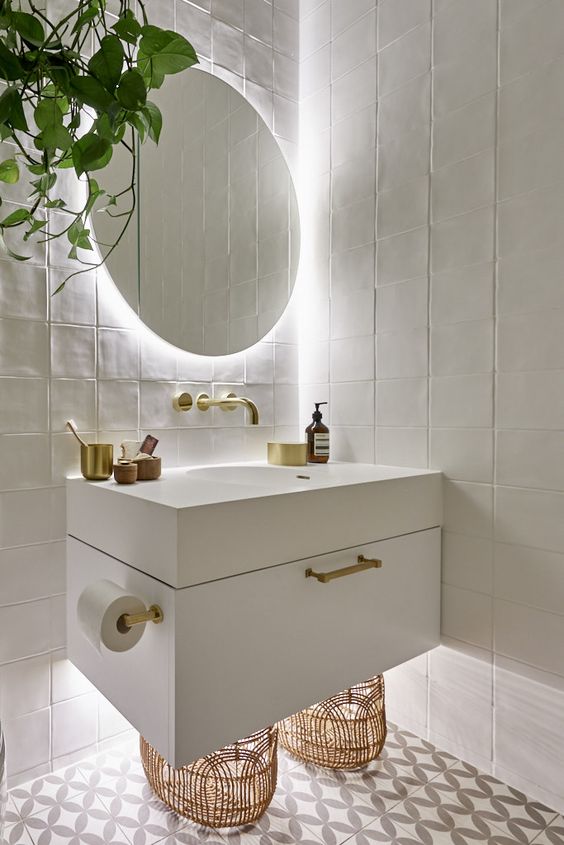 The right kind of lighting can change the contours of a room, making it appear large than it really is.
Invest in LED mirrors, flush mounts, or recessed lights to brighten up the space. These are great options to lit up rooms that have limited space.
You can also install strip lighting under the cabinets or get a lighted mirror medicine cabinet.
Declutter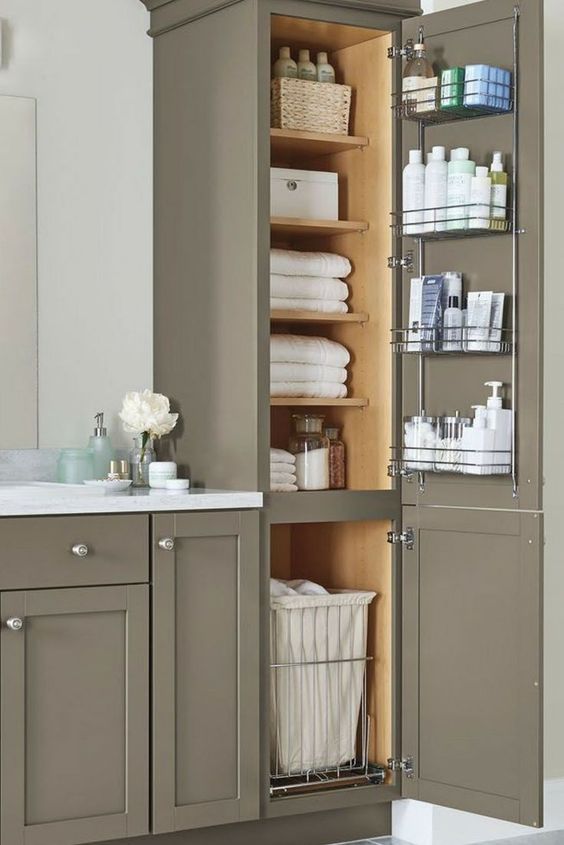 This is one of the necessary steps to open up any space. When your bathroom is compact, you need to ensure that things are organized so the space doesn't look cluttered.
Get rid of those unsightly plastic toiletries and replace them with decanters. To give your bathroom a luxe upgrade, you may store your shower gels, lotions, and shampoos in matching glass dispenser jars and line them on a ceramic tray.
This way, your space is tidy while also showing some character
Window Treatments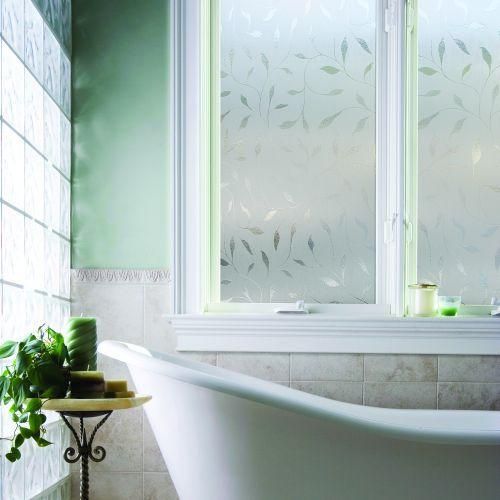 Windows are often taken for granted in a bathroom, but they can add some nerve to the room besides offering privacy.
For a compact bathroom, window films can be a affordable and suitable option. They are fuss-free adhesives that can be easily attached to your window. Before sticking them over the window glass, just make sure the surface is clean and dry.
You can also consider roller blinds to style windows in a small bathroom.
Accessorize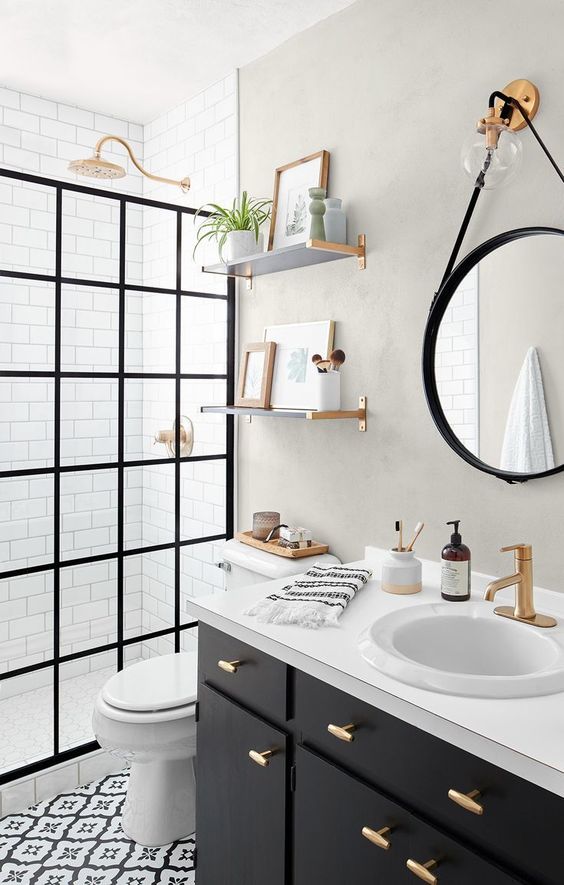 That's right! You don't have to give up on accessorizing your bathroom just because it is small.
Some suitable accessories to enliven your space include caddies, bath trays leaning ladders, compact stools, quirky bath mats, multi-functional shelves, etc. While these items let you organize your toiletries, they do not take up much space while also elevating the vibe and look of the room.
Designing a small bathroom is as simple as it is tricky. The key is to make smart decisions and to work with what you have. We hope our bathroom remodeling ideas for small bathrooms on a budget will help guide you in the process. Remember, just because the space is small, doesn't mean that you cannot make it beautiful and functional. By following these tips and small bathroom ideas, you can get a good head-start on your next bathroom project.