Home » Kitchen Backsplash Trends 2021
Kitchen Backsplash Trends 2021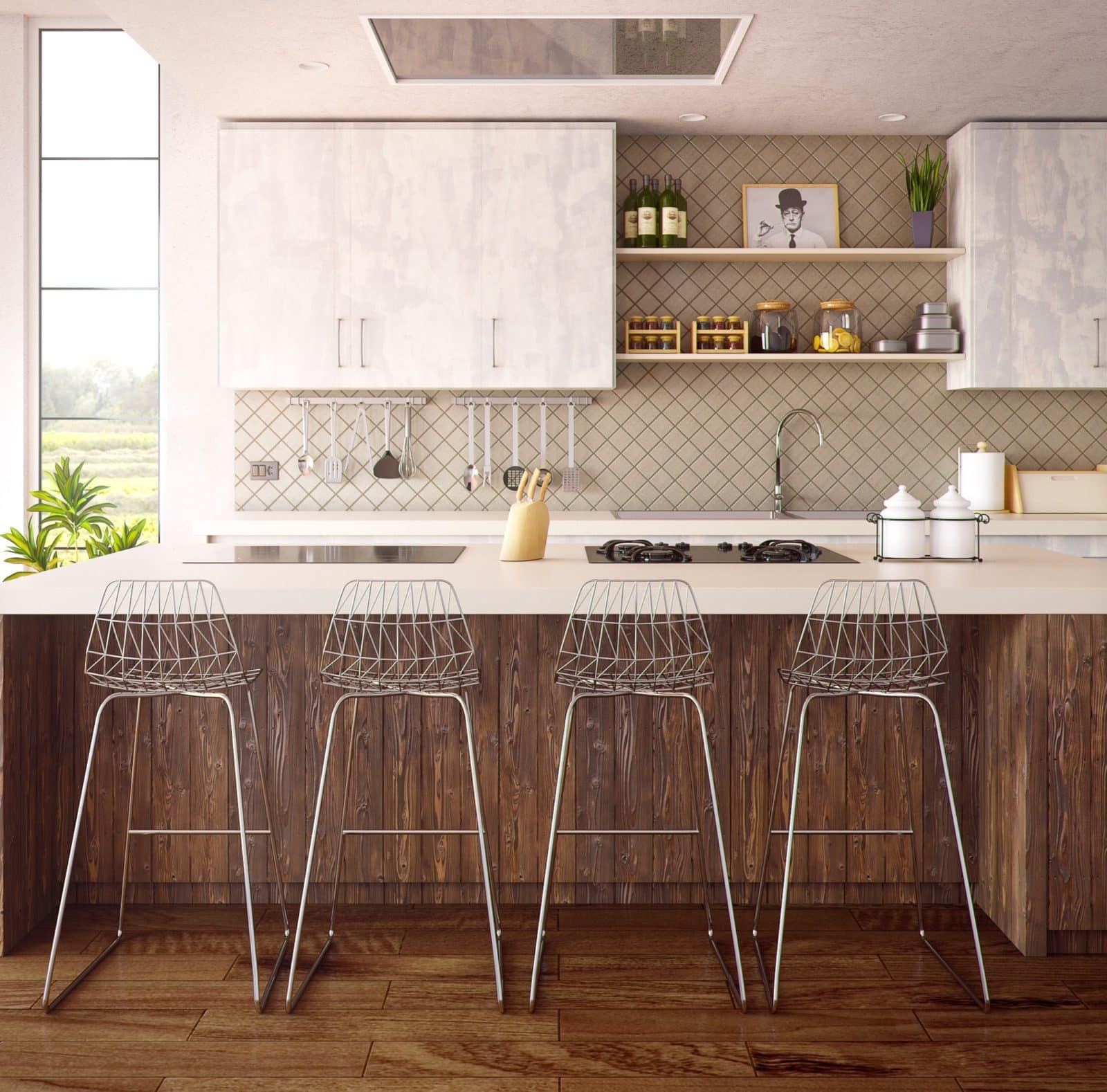 If you want to upgrade your kitchen without going for a full-blown redo, a simple yet stunning addition like a backsplash could be just the thing for you. Besides adding a style quotient to your kitchen, they also protect the wall from oil spills while the food is being prepared. That also often translates as being a vertical extension of the countertop itself.
In 2021, besides the counter, backsplashes also find a way behind the sink area. Here, their job is to protect the wall against splashes of water. That being said, their purpose can be achieved by having only a few inches behind the sink/countertop. So, it's up to you whether you want the backsplash just a few inches high or all the way up to the ceiling.
Whatever your preference, remember that having a backsplash is about much more than just covering an area behind the countertop. On the contrary, it's one of the principal design elements in your kitchen, and requires careful selection of materials and the design to get the wow impact.
In 2021, we have seen a number of backsplash design styles making waves. And materials like metal, glass, mirror, wood, brick, and stone are predicted to rule the design charts with their luxurious presence.
If you, too, are ready to change things up in your kitchen this year, you can pick from these backsplash design trends that are most likely to lead in 2021.
Tile Medallions
Tile medallions are meant to highlight those features of your kitchen that you want to flaunt.
So, this backsplash can instantly transform your kitchen interiors. They work at accenting a room, in this case, your kitchen, by creating a central visual focal point. From compass styles to stars to round formats, there is a wide range to pick up from.
Use them as the focal point in your kitchen remodeling project without being too over the top.
Metal Tiles
Go beyond the usual. Opt for a metal backsplash.
Penny tiles in stainless steel have a bright shimmering quality to them. Match them with floating shelves fitted with recessed LED lighting to make them shine even more.
Tiles made up of white bronze with a light patina finish will be an excellent look for a contemporary kitchen too.
Take them right up to the ceiling and get ready to be bowled over!
Vertically Stacked Tiles
Get narrow tiles to stack up vertically, creating visual glamor in your kitchen.
When set up against your favorite elements like a rosewood cabinet with gold details and half-open and half-close shelving, the backsplash will create visual splendor.
Shimmering Coherence
Play on harmony between silver, black, and white tiles stacked in vertical bands. Get symmetrical black shelving units and gleaming stainless steel appliances to go with the style to get the ultimate ambiance within.
Stone Appeal
Create a mural of sorts on one wall with stone tiles of different shades and shapes to characterize a period-style kitchen.
Use beveled subway tiles on the next wall to instill an old-world appeal.
Rough textured and earthen shades of stone tiles in diverse forms create a backsplash that gives your kitchen an all-natural look.
Glossy Tiles
Create a cushiony effect by placing glossy triangular-shaped tiles at irregular angles to create a backsplash. A beautiful layering effect comes on the surface with a 3-D texture.
Place them against an expanse of white grout to underline the contemporary character of your kitchen.
Tiles in Contrasting Colors
This works best in all-white kitchens.
Break the monotony of the white canvas by creating a backsplash by pairing tiles of high contrast colors. Try incorporating Cuban style cement tiles to create the backsplash on the wall of the appliances, and go for some other texture like wallpaper on the rest of the walls. The contrasting colors will highlight the white elements and the woodwork of your kitchen.
Create a Herringbone Pattern
Simple and subtle go on to create a stylish impact in this kitchen backsplash arrangement. Install the white subway tiles diagonally to create a unique herringbone-pattern backsplash in your kitchen.
Yes, a cost-effective material can go on to create an edge in your kitchen too.
Textured Tiles
Nothing can beat the suave textured tiles when it comes to kitchen backsplashes.
Get the neutral hues to work by infusing them in rough textured materials. Try hand-pressed clay tiles with their unique ribbed pattern and color. Or mix and match the tiles for some fun in your home.
You can also try stone tiles of different shapes and thicknesses to create a backsplash that will give a rough textured counterpoint to a kitchen's gleaming surface.
Glass Tiles
Gone are the days when the countertop materials like laminate, marble or granite were exclusively continued to the wall to form the backsplash behind the counter.
Now, even glass tiles are foraying into the design world.
A kitchen backsplash made of all glass tiles is bound to reflect light, and hence brighten up dark spaces under the cabinets. Best of all, glass is also super easy to clean, making it one of the best surfaces to have for a kitchen backsplash.
Black Backsplash
Let's admit. Black is timeless.
A black backsplash looks insanely sleek, giving a regal touch to your kitchen. Subway tiles in black add drama to the space. When combined with copper appliances, your kitchen gets infused in vintage vibes.
Marble Backsplashes
A marble backsplash is another trend that has a timeless appeal.
Marble brings an elegant aspect to your kitchen space. Depending on your preference, you can either combine the backsplash with darker hues for a delicate impact, or with white cabinetry to brighten up the space. If you are a fan of marble, make sure to get the backsplash sealed regularly. Not doing so can damage the material.
Brick Backdrop
Looking for a period backdrop in your kitchen?
Opt for a brick wall, fashioned into a rugged background to perfect that centuries-old lived-in look. This works well for both period workspaces as well as modern environments. Thin-brick veneers can also work towards creating an eye-catching architectural appeal.