Best Flooring for Your Kitchen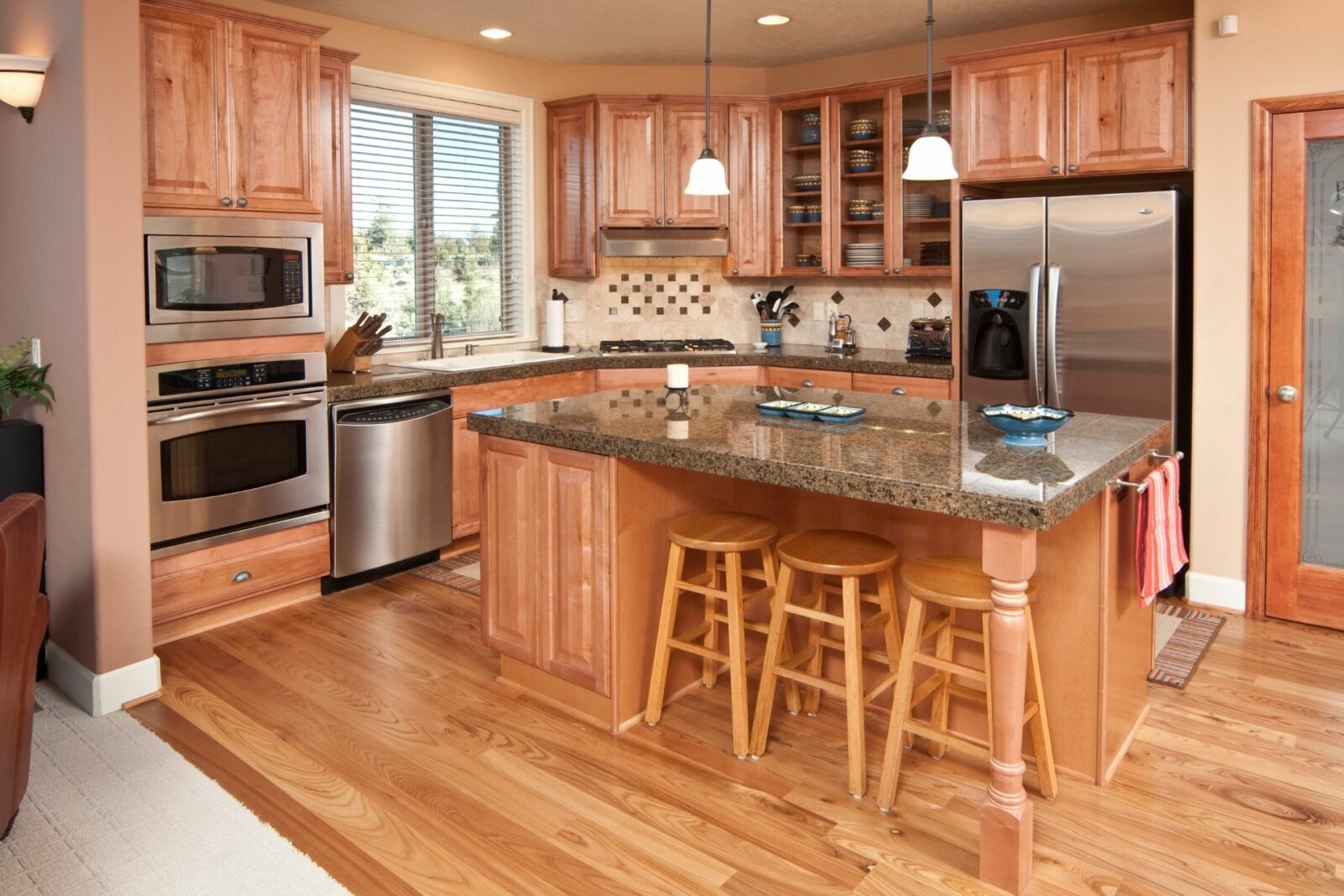 Planning a kitchen remodel? While you are on a spree to update the appliances, fixtures, countertops to get a bespoke effect, don't forget to update the flooring. It's one of the key kitchen elements that can interest a buyer into buying your property.
At the same time, there is a multitude of kitchen flooring out there in the market that can get overwhelming. How do we figure out which is the best for us?
That's what we are here for! To simplify your decisions! You've already made up your mind which flooring to go with, read up all about it and waiting for the right moment to plunge in. We just make things simpler for you by breaking down the information in bits and pieces that can be easily absorbed! So that you make sure that you are on the right track, and in the long run, can have fun indulging in the right material for your kitchen flooring.
But why do you need to choose the kitchen flooring for your home carefully in the first place? That's because your kitchen flooring needs to stand up to the persistent foot traffic besides the mess of spills and the frequently dropped pots and pans.
It also means that your flooring has to be super durable and whatever you choose must look good plus last through time in the same go.
Enough of all this! Can we move to the kitchen now?!
Slate Tiles
Large -sized slate tiles lend a stylish flooring surface to your kitchen.
Slate floor tiles are available in a range of solid colors and combinations. Slate is easily one of the strongest natural stone flooring materials that can withstand scratches, chips, breaks and likewise. When maintained well, the flooring will go on for years together without any impact on its looks. Slate is a high-end flooring material that adds substantial value to your home resale.
However, it may have to be sealed regularly when installed in a damp environment. Unless you plan to install floor heating, slate can be cold underfoot.
Ceramic Tiles
Ceramic tiles have for long enjoyed being the best option for kitchen flooring and are relatively inexpensive.
Besides, they can be accessed in a range of style options. Ceramic tiles are exceptionally hard that work well for kitchen flooring. Ceramic flooring can put up with the regular kitchen spills and slops when treated to proper grouting and sealing. Opt for large pieces if you are looking for a seamless appearance with minimum grout lines.
The downside is that they can feel cold under your feet if you stand on it for prolonged periods.
Sheet Vinyl
Sheet vinyl is practically seamless with a capacity to shed water and hold up in the face of heavy traffic. It's hard to believe that water can stand on vinyl till the time it actually evaporates! All this without damaging the sub-floor or the flooring finish! Besides, the sheets have a wear layer that makes them stain and spill-resistant. When properly installed and taken care of after the remodel, vinyl sheet flooring can last up to 20 years!
However, low-quality vinyl sheets may discolor with time and sunlight. Also once damaged, you have to either replace the area with a patch or replace the complete floor.
Hardwood Flooring
You just can't beat hardwood flooring. Timeless and everlasting! It gives wonderful warmth to your kitchen interiors and is available in an array of finishes. The best part about investing in hardwood flooring is that whenever you decide to remodel your kitchen, you just need to sand and stain the floor to match with the new look!
The downside is that you need to be extra careful with the spills when it comes to hardwood. Liquids can damage your floor substantially unless cleaned immediately. Another drawback is that since wood tends to scratch and dent easily, it needs periodic finishing to maintain the surface.
If it is wood you love, consider going in for engineered hardwood. The material is composed of many layers that lend it durability. A scratch-proof finish which is the first layer, real hardwood is another layer, a core layer that makes it super durable and finally a backing layer that resists moisture.
Laminate Flooring
Laminate flooring is great for kitchens subjected to frequent attacks from pets, small kids, or any other type of heavy usage! It imitates the look of tile or hardwood and is cost-effective as well. Essentially, it's a practical alternative to hardwood flooring that brings a host of realistic-looking textures in a range of styles including self-adhesive tiles.
The flooring is scuff and scratch resistant with no muss upkeep. Laminate is an easy DIY installation, especially for the kitchen.
The downside is that laminate cannot hold up to moisture as well as tile and vinyl. It tends to warp when wet. The flooring can be difficult to maintain.
Linoleum Flooring
Linoleum is a stain-resistant, tough eco-friendly material that works perfectly for kitchen flooring. Linoleum has a resilient surface that gives bounciness to the floor which is important if you spent considerable time on your feet in the kitchen. Linoleum is especially ideal for classic and retro designs.
Linoleum is very durable and is known to last up to 40 years. Besides, scratches and gouges are not easily visible on linoleum as compared to vinyl. It's easy to care for that can be managed with time to time sweeping and damp-mopping.
On the downside, linoleum flooring is susceptible to moisture as it is porous and can absorb spills easily. Hence, sealing is a must with linoleum flooring for protecting it against water and other staining products. It may be dented by sharp shoe heels or furniture legs which is a big drawback. It may darken or yellow with age and exposure to sunlight.
Brick Flooring
Brick flooring is durable besides being warm and easy to maintain. Brick can give your kitchen a distinct homely flavor. In addition, it is strong and long lasting that doesn't damage so easily.
There are ample brick patterns, sizes, and shapes available to give your floor the desired design semblance. Besides the natural brick shades, bricks may be stained or tinted to get a range of greens, blues, silver, and black.
However, brick kitchen floors are highly porous and can present serious water issues. Any spilled liquids will enter the brick and damage the sub-floor. Besides, stains from spilled colored liquids will show on untreated floors. However, sealing the floors every 6 to 12 months will create an invisible layer over the surface. Other than this, a brick waxing agent can be applied for sheen. Having said that, brick floors are hard that can take a toll on your legs if you spend hours in the kitchen.