Home » All You Need To Know About Walk-In Closets 2021
All You Need To Know About Walk-In Closets 2021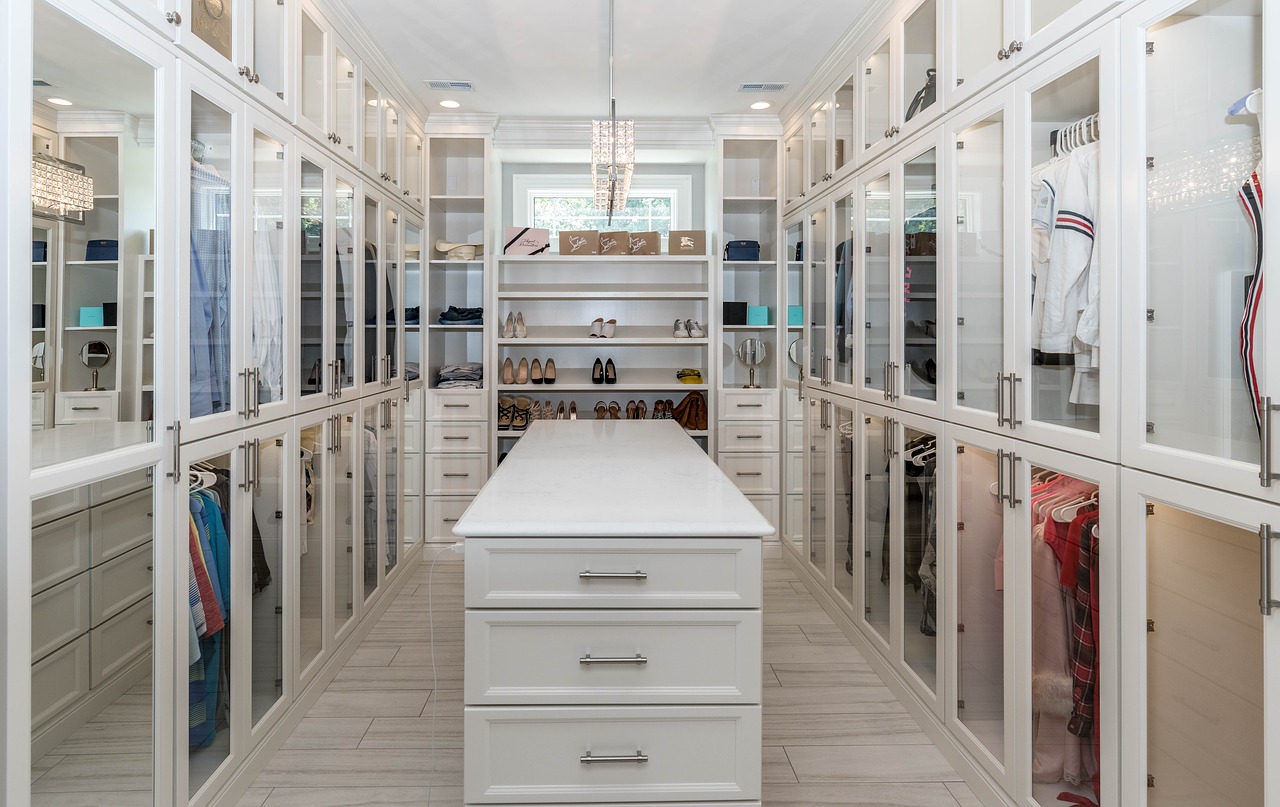 Call them a dressing cabinet, changing area, or a room within a room; walk-in closets are a delight to have in a house. An excellent way to update your home, walk-in closets have long been synonymous with luxury and sophistication, but that seems to have been changing over the past few years. It's gradually turning into a much-coveted addition to middle-class households. According to a survey run by Braun Research, 97% of realtors in the US believe that homeowners prefer closet space over basement and attic storage space. Here's all you need to know about walk-in closets.
And why not? Besides offering an expansive space for storage, walk-in closets are also associated with the concept of a private retreat. Whether you wish to unwind after a long, tiring day or steal a little me time away from the regular hustle, you can escape into your closet without any inhibition. Owing to this very fact, people also like to customize their walk-in closets to add a unique, personal touch to them.
If you're looking to add a functional yet chic walk-in closet to your home, we have a few tips that you might like to consider. Let's dive right in!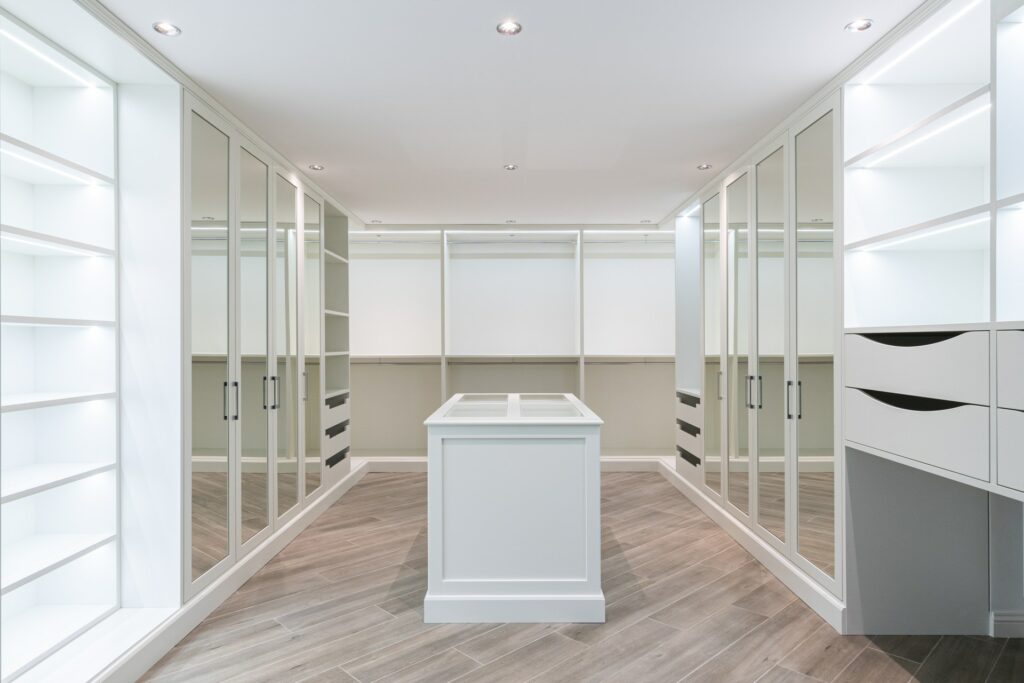 Factors to consider:  
Before deciding to update your home closet systems, you must first identify your needs. Does your home have enough space or a provision for a walk-in closet? Do you have a set budget set in mind, and if so, can it cover your expenses? How can you maximize your storage space without burning a hole in your pocket? 
Once you can figure out the answers to these questions, it'll be easier for you to plan ahead. If your storage needs are low, you might reconsider your decision. There is no point in designing a walk-in closet just for the looks of it. But if your issue is lack of space, there are ways to tackle it. With a little forethought and clever space planning, you can bring your dream closet to life!
Standard dimensions for a walk-in closet
A full-size walk-in closet should ideally cover an area of 100 sq. ft. This size is spacious enough to accommodate two people's belongings and even allows for a sitting area. If you prefer a smaller closet, it could be around 25 sq. ft. to fit you comfortably. A lower sizer than that can become claustrophobic.
Walk-in closets come in three common dimension ratios. They can be small and square-shaped with a minimum of 4 ft. width and 4 ft. depth. The second type is long and narrow with double hanging space, preferably 7 ft. in width or more. This provides space for a 3-feet entry into the closet. The large size can be 10-12 ft. wide and about 17 ft. deep for free walking space as well as a seating area.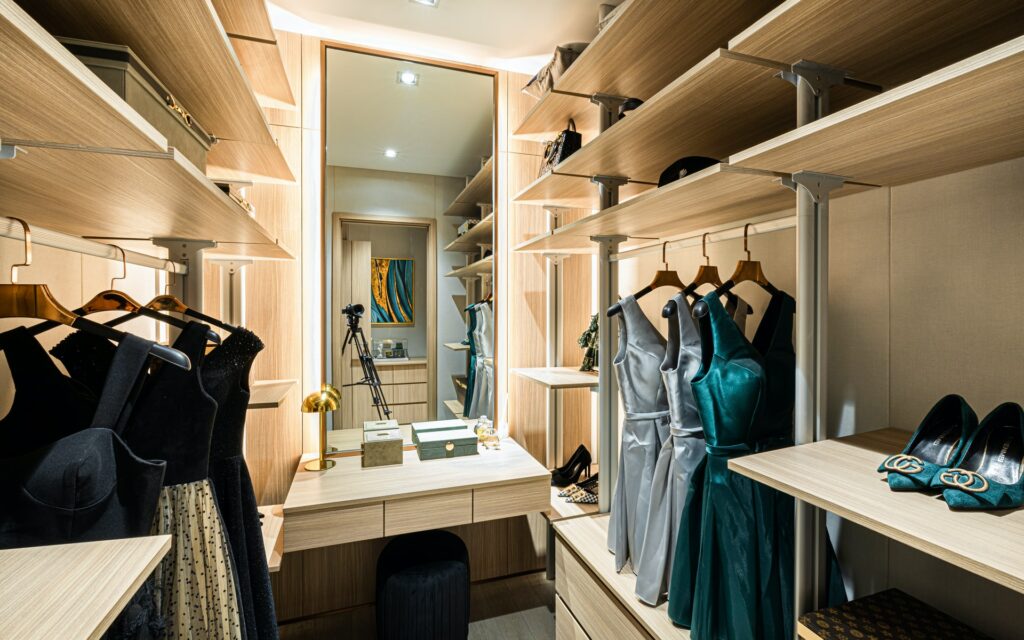 Layouts for a walk-in closet
While there is a sea of designs for walk-in closets available in the market, here are some of the design considerations to keep in mind:
Double-sided 
Double-sided walk-in closets are of medium size and offer storage provisions along two walls divided by a clearance space. The side walls are usually occupied with shelves or rails, while the end wall could have a dressing table or full-length mirror. The minimum dimension for this type of walk-in closet is 6 ft. in width and 4 ft. in length.
Single-sided
This type is for the ones who prefer a smaller space. As the name suggests, it only has one wall for content storage and a small clearance area for dressing up. It is ideally 4 ft. wide and 4 ft. deep, leaving around 34 inches for clearance.
Wrap-around
A wrap-around closet is an excellent idea to optimize storage space. It utilizes the back wall along with the sidewalls for content storage. It comes with a door on one wall while the middle area is used for changing. In most cases, this type of closet is designed in a U shape or an L shape. 
The depth of such closets can vary as per the homeowner's convenience. But for functional effectiveness, the ideal depth could be 5-6 ft. L-shaped closets have a minimum width of 5 ft., while U-shaped ones can be 7 ft. wide.
Peninsula
This design requires a lot of space because you are essentially splitting the closet in half to create two separate closets. It is often spotted in master bedrooms and incorporates a shared storage unit of half-height to make the divide. You may consider integrating a connecting door to your bedroom.
Due to its need for space, it should have an adjustable depth to fit diverse floor plans. The minimum width for a peninsula closet is 13 ft. 
Island 
This one's the largest of all walk-in closet designs. It has the layout of a wrap-around, or double-sided closet clubbed with a large island at the center. The island can contain racks or drawers to store accessories or display footwear. Usually found in high-end homes, the island walk-in should at least be a size of 14 ft. by 14 ft. This leaves a clearance space of 3 ft. around all sides of the island, making it fit comfortably.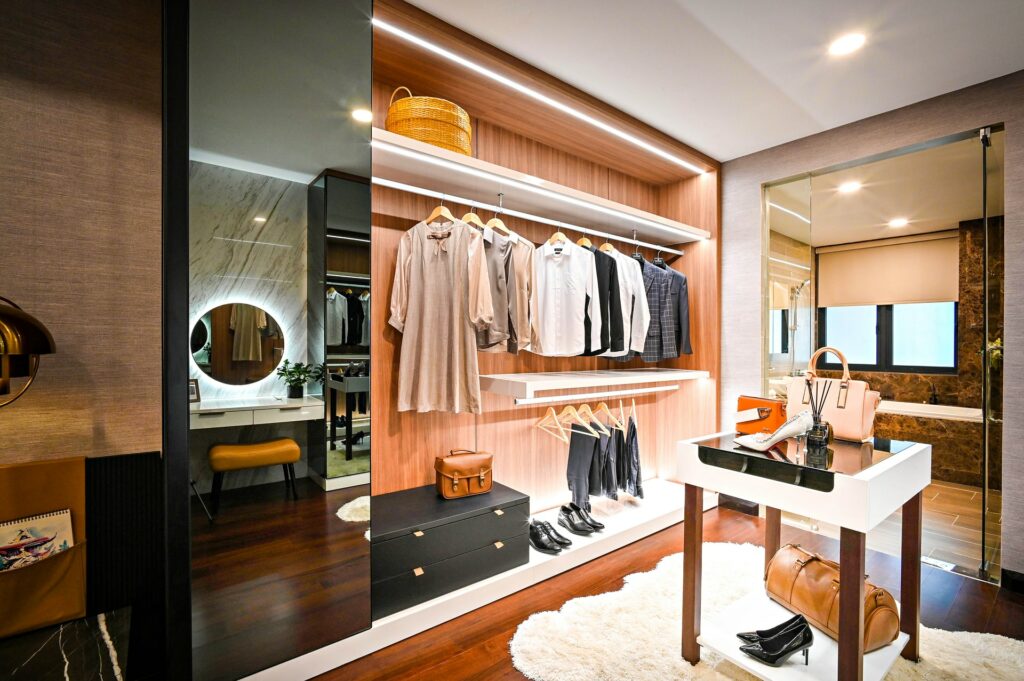 ADA Compliance
Apart from the popular designs, you can also consider taking a look at the requirements set by the Americans with Disabilities Act (ADA). While it is not a mandate, it could be a kind gesture to someone with disabilities. The act specifies a minimum clearance of 30" of width and 48" of depth for easy accessibility of wheelchair users. The ADA also requires shelves, hooks, or hangers to be in a reach of 15" to 48" from the floor.
Final thoughts
There are a wide array of storage elements that you can implement into different closet types. The right walk-in closet for you will depend on your taste, requirements, and available space in your home. But, before you invest in your dream closet design project, be mindful of the complete range of possibilities that it could entail!
100 Master Bedroom Walk in Closet Design Ideas 2021