Home » 10 Best Remodeling Companies in Bowie, MD
10 Best Remodeling Companies in Bowie, MD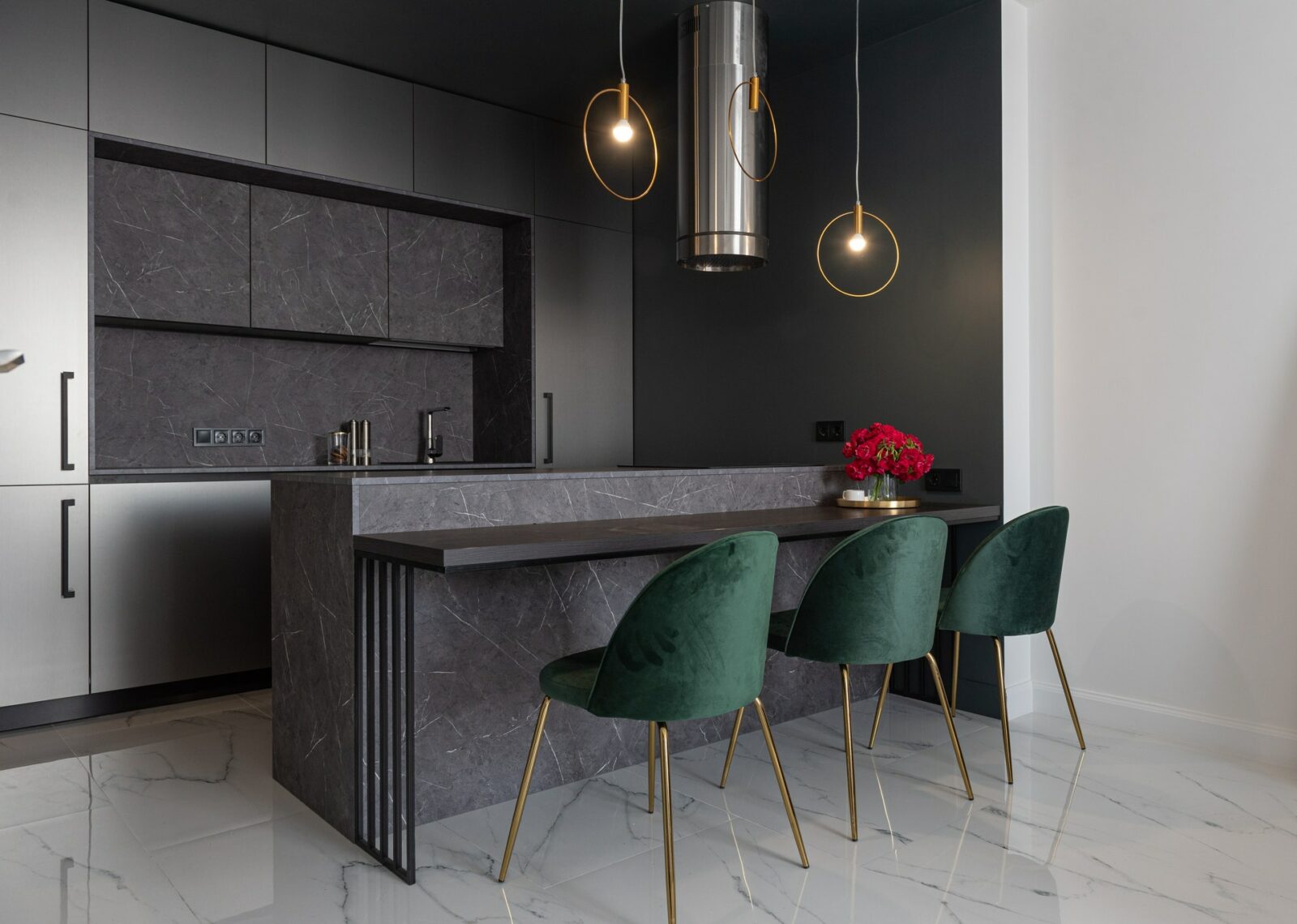 Photo by Max Vakhtbovych from Pexels
Are you planning to spruce up your house for the next season? Getting a kitchen remodeling done or bathroom renovated may be one of the most exciting things you experience with respect to your house. However, in this process, finding yourself the best kitchen and bathroom remodeling companies that will understand all your needs and provide you with the desired results is vital. 
From minor additions to significant makeovers, everybody has different expectations from these home improvement projects. And when it comes to the contractors in the market, the competition is cut-throat. There are over 600 remodeling companies and 20,000 freelance remodelers in the DMV area. Each one of them promises to make you proud and give you your dream house.
However, to be able to let someone rip out your walls, break down your sinks without burning a massive hole in your pockets, you need to trust them entirely. Hence, to prevent you from going through the same, here is a list of the 10 best remodeling contractors in Bowie, MD.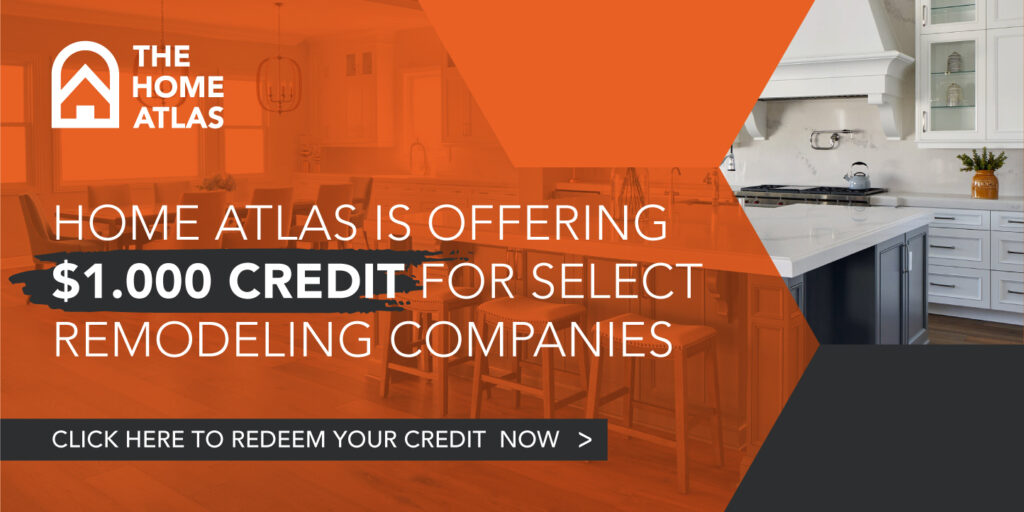 Beyond Kitchen And Bath Remodeling, LLC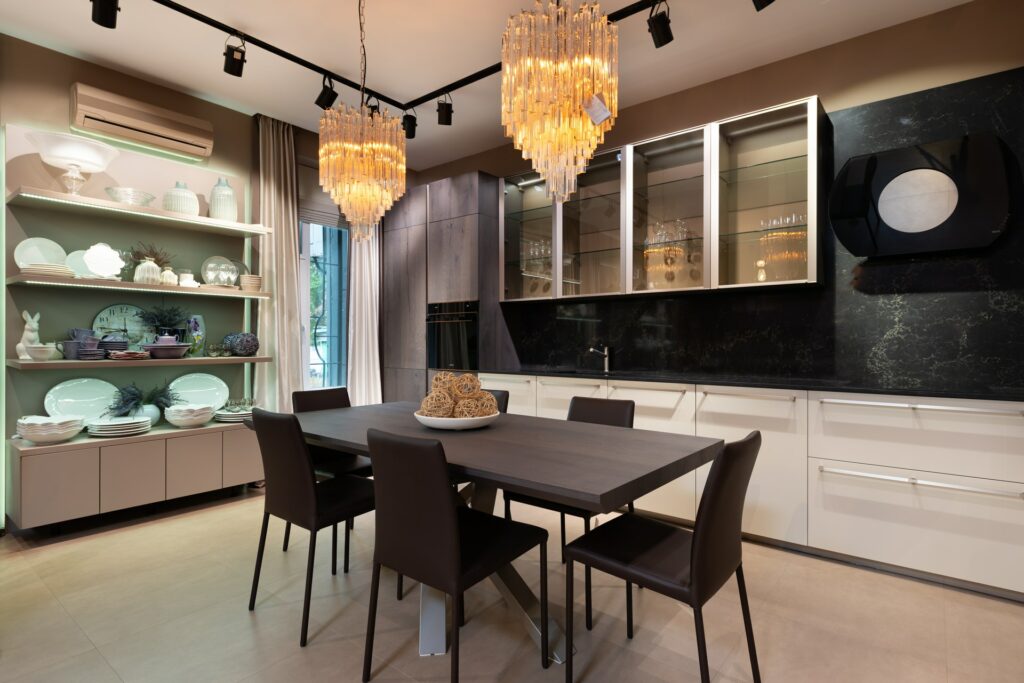 They specializes in remodeling the kitchen, bathrooms, and floors. Beyond Kitchen And Bath Remodeling, LLC is fully bonded, registered, and licensed in the state of Maryland. The most crucial indicator of success for the team of Beyond Kitchen And Bath Remodeling is customer satisfaction.
Providing the customers with the exact end product as they expect from this company is their primary goal. The professional team at BKBR consists of interior designers, architects, and general contractors to provide you with wholesome service in all aspects of your project. In addition to that, they collaborate with material suppliers to give you the best and most reliable. They also offer free estimates to their potential customers! Hence, they are one of the best kitchen and bathroom remodeling companies in Bowie, MD.
Bowie Kitchen and Bath Granite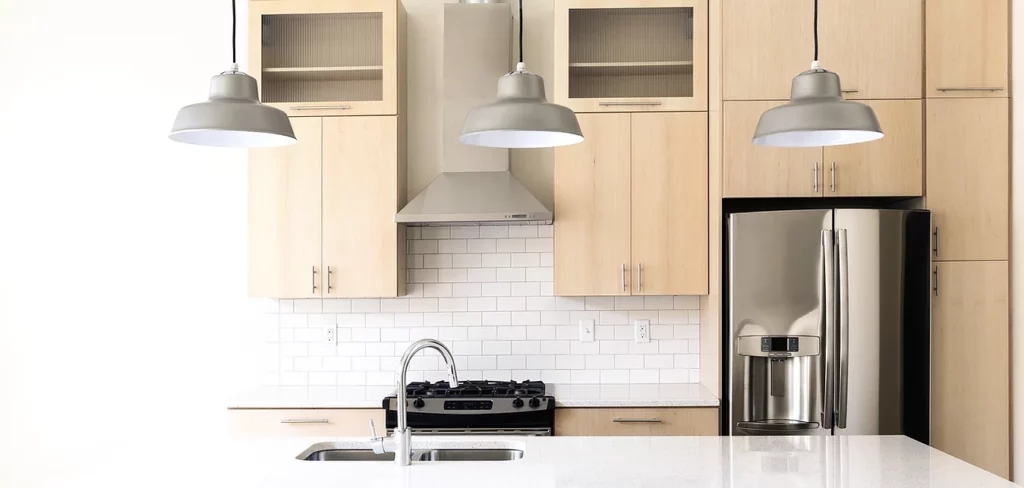 The Bowie Kitchen and Bath Granite promise to give you breathtaking results, specializing in high-quality stone countertops and custom-made cabinetry. They have been in the home-design industry since 2007 and have served innumerable customers with an impeccable kitchen and bathroom remodeling service record.
From design to sourcing materials to the final installation, they will help you throughout. Bowie Kitchen and Bath Granite are popularly known for the quality and beauty of their products. They also offer exquisitely crafted Maplewood cabinets to fit your kitchen and bathrooms.
Their design team is trained to carefully evaluate your space, color choices, and the appliances that suit the space. Hence, Bowie Kitchen and Bath Granite is the perfect contractor to suit all your needs and budget. 
J&E Modern Construction LLC – General Contractor and Construction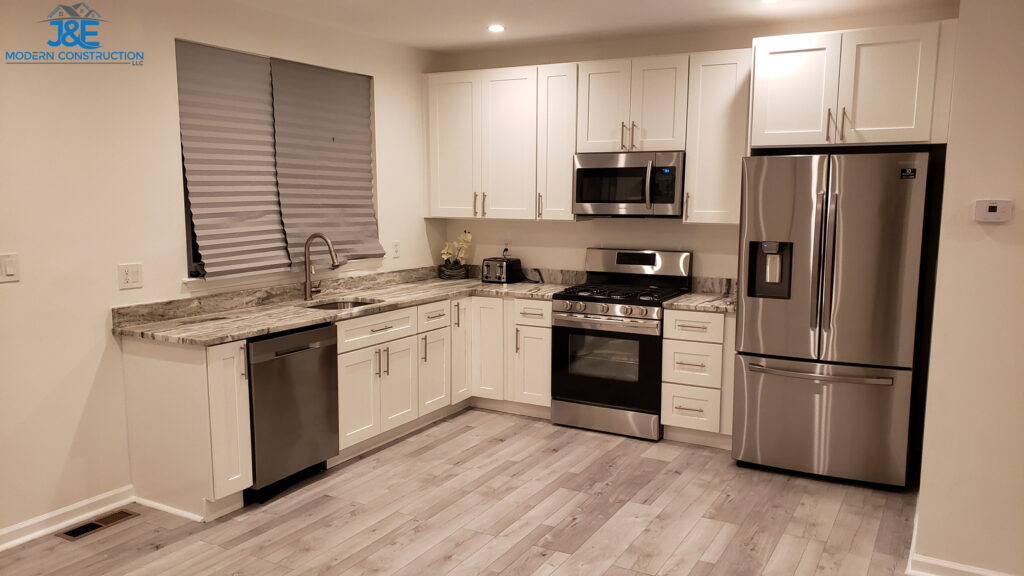 Look no further if you're searching for a general contractor that provides satisfactory commercial and residential improvements at cost-effective rates. J&E Modern Construction LLC has an excellent track record of completing projects well within the deadlines. Websites such as Houzz, Yelp, and Thumbtack accurately provide the contented reviews of pleased customers who have availed of their service.
J&E Modern Construction LLC ensures that you get your desired results well in time by maintaining healthy professional business ties with various sub-contractors. Their slogan "No project is too small" helps them equally give importance to all their projects, leaving no customer disappointed. 
Kitchen and Bath Shop – Laurel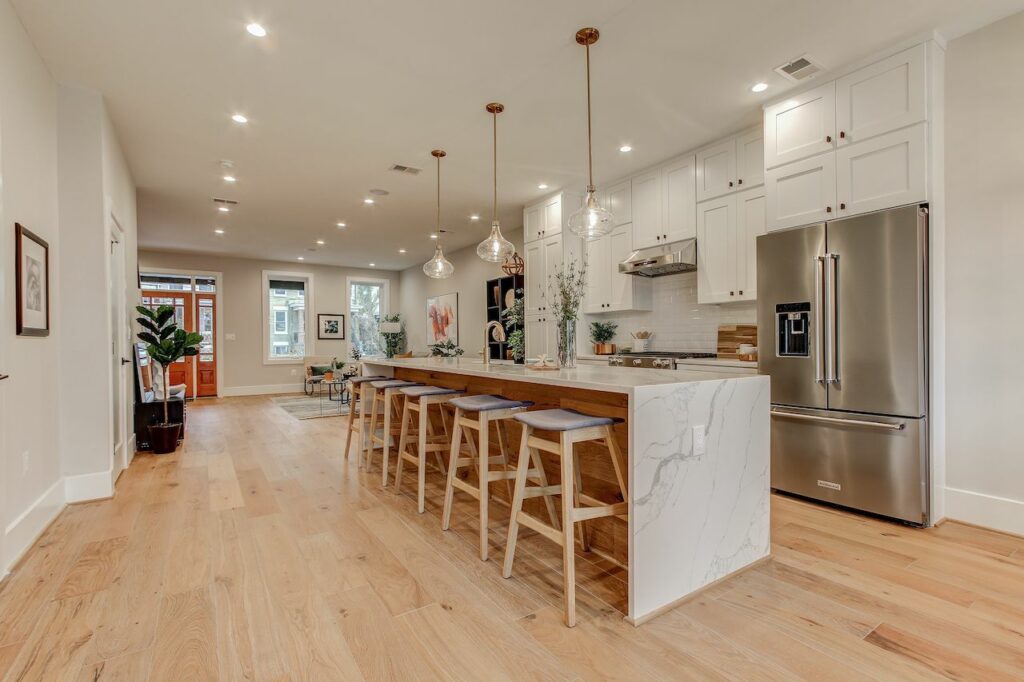 The Kitchen and Bath Shop is dedicated to giving its customers a variety of classic, modern, and traditionally designed kitchens and bathrooms. The experience of the professionals at the Kitchen and Bath Shop together spans over a period of two decades.
The team can work within any budget provided to them and build incredible interiors to give you your dream home. They have over a dozen showrooms all over the DMV area. The crew does all the work, from demolition to build-up to completion, without the help of any subcontractors. Hence, KBS is the perfect choice when it comes to hiring the right contractor for kitchen remodeling.
Stone Guys Remodeling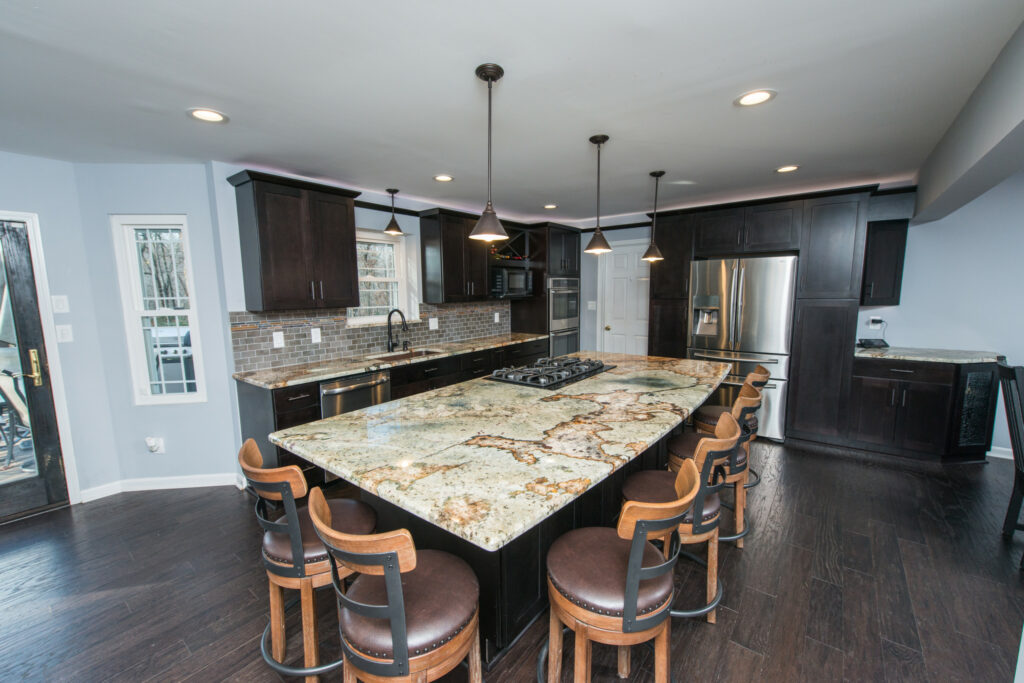 Once you approach them, the first thing the team at Stone Guys Remodeling – Kitchen, Baths, Cabinets, Countertops does is to provide you a 3D rendering of your project. This technologically advanced process helps you visualize and see precisely what your house would look like.
This home improvement company is a full-service remodeling contractor from interior and exterior remodeling services to sourcing materials. They have a unique financing option on their website, which offers between 0% and 9.99% financing to their customers. The funding is based on the customer's credit score and annual income. All you have to do is log onto their website and fill in the form provided to start the process!
Professional Building and Renovations, LLC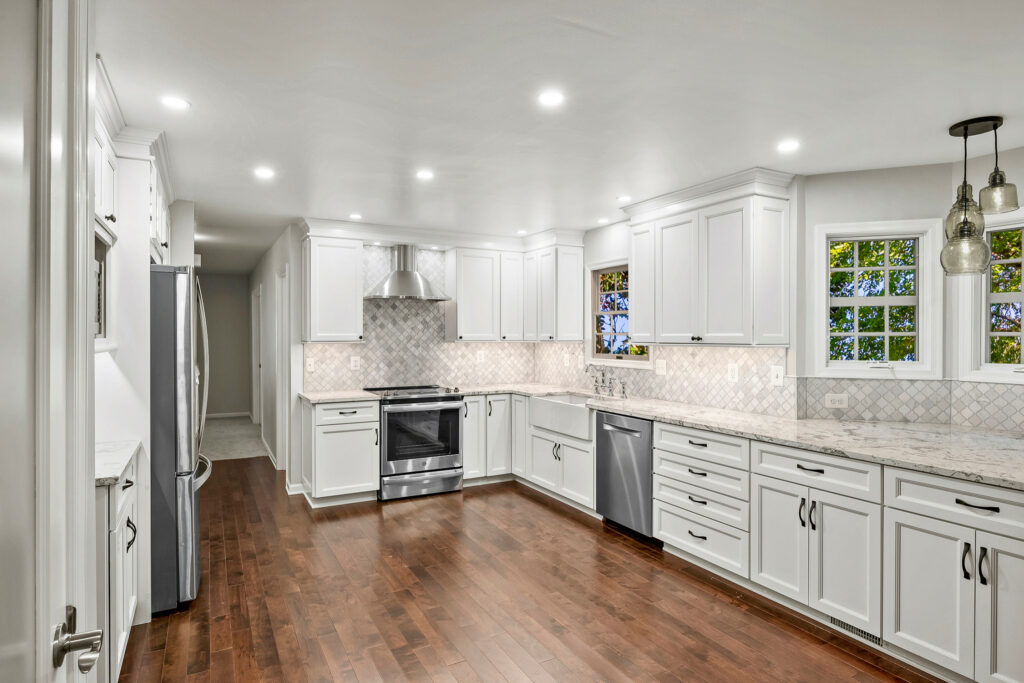 A top-tier remodeling company, Professional Building, and Renovations, LLC specializes in whole house remodeling. The company does it all, including but not limited to remodeling bathrooms, kitchen, bedrooms, basement, painting, and trim carpentry projects. From design to construction, they take up everything singlehandedly and complete the task entirely.
Professional Building and Renovations, LLC has been in the industry for over 10 years. This one-stop-shop aims to save your time and money by giving you all services from the beginning till the end. If you often find yourself googling 'kitchen remodeling near me', this is your place to be. 
NV Kitchen and Bath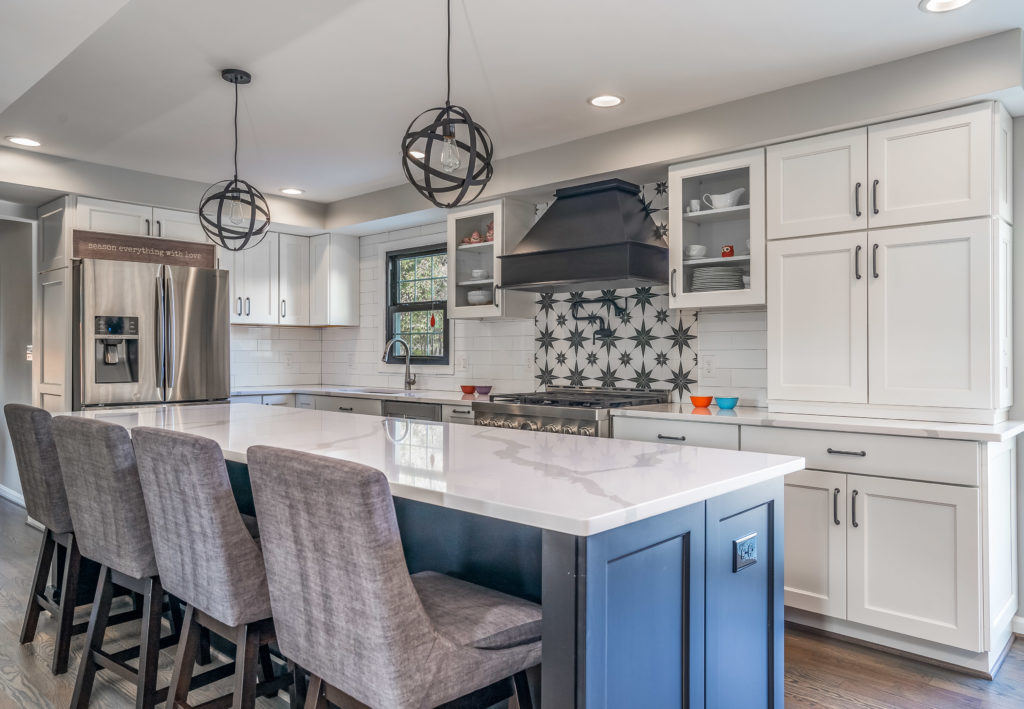 A decade of professional experience in the home décor industry has helped NV Kitchen and Bath serve their customers with world-class home improvement services. They have expertise in kitchen, bathrooms, basement, closet makeovers, and redos making them one of the best kitchen and bathroom remodeling companies.
Their team of licensed remodelers and carpenters is exceptionally well at renovating countertops, cabinets, electricity, plumbing, heating, and cooling. NV Kitchen and Baths aim to cater to all the needs of their customers at the most affordable prices. They have even won various awards for their exceptional services, such as the Angie's List Super Service Award, consecutively from 2013 to the year 2019.
Kitchens and Baths by Cardigan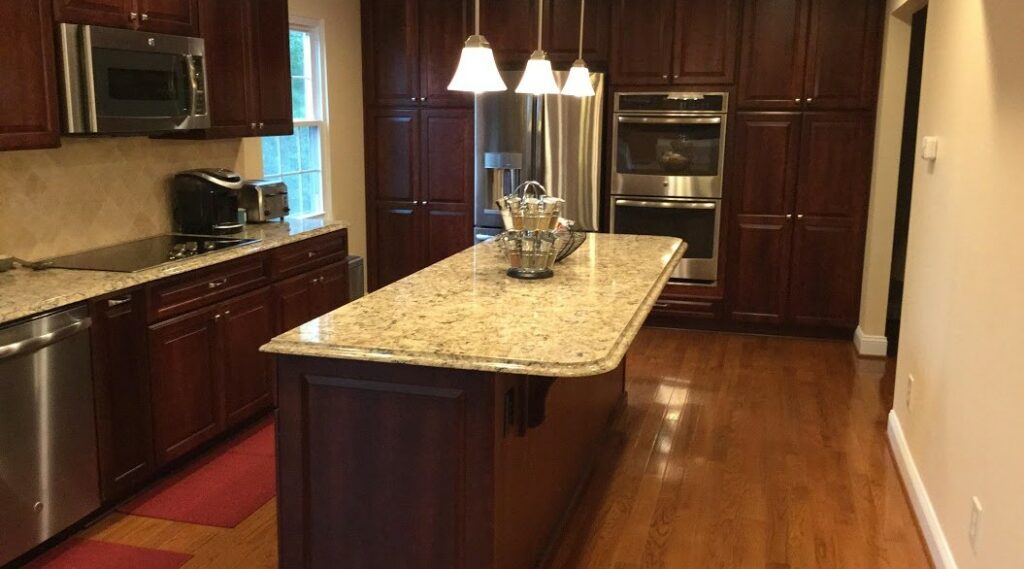 The Kitchens and Baths by Cardigan are a family-owned and operated business established in the year 1971. This company commits itself to provide you with the high quality of work that you will ever experience. From kitchen and bathroom remodeling to overall plumbing services, they have expertise in it all.
Cardigan is handled by a brother-sister duo, Kim and Jim. They have over 40 years of experience in the home design field and understand your concerns about your house. They are highly equipped to take up any and all home improvement projects and deliver an outstanding finished product. 
BST Design and Build – Kitchen and Bath Remodeler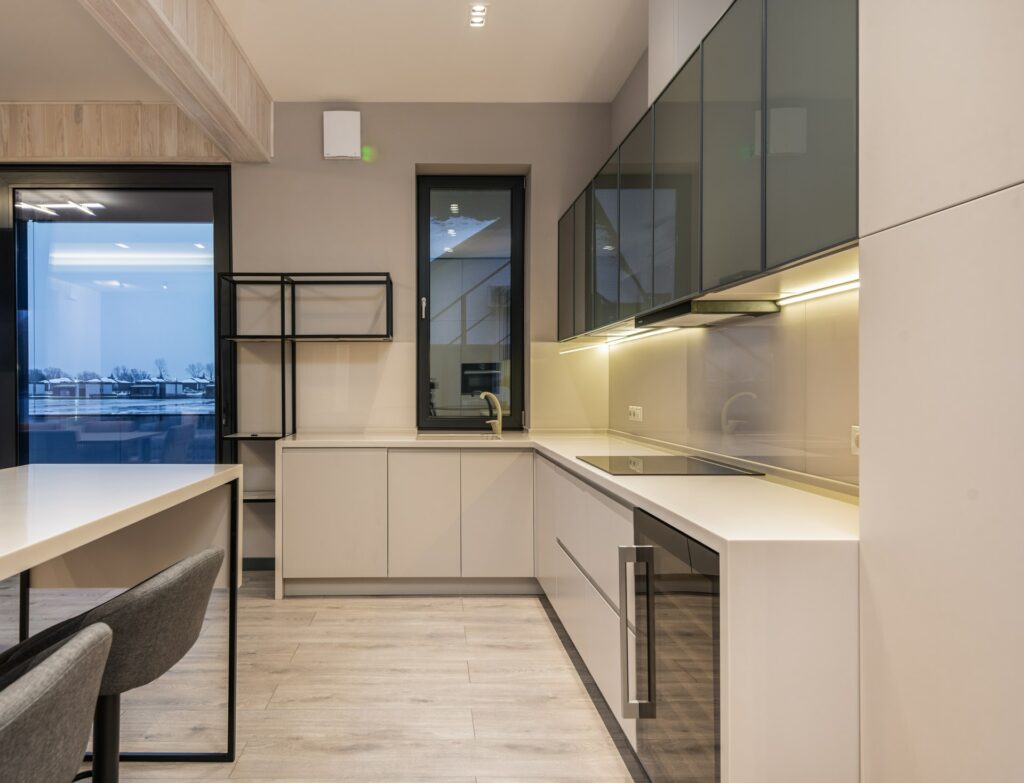 The brand is successfully spread over all of Maryland and has provided satisfactory services to a number of homeowners. There are innumerable customer reviews in their favor to prove their work.
BST Design and Build – Kitchen and Bath Remodeler aim to establish close and personal relationships with the customers to understand their desires on a deeper level and give long-lasting results. They even provide free estimates and designs on their website.
Hence, with all the services they offer, BST Design and Build – Kitchen and Bath Remodeler must be your go-to remodeling contractor for your next kitchen remodeling or bathroom upgradation project! 
Zion Home Remodeling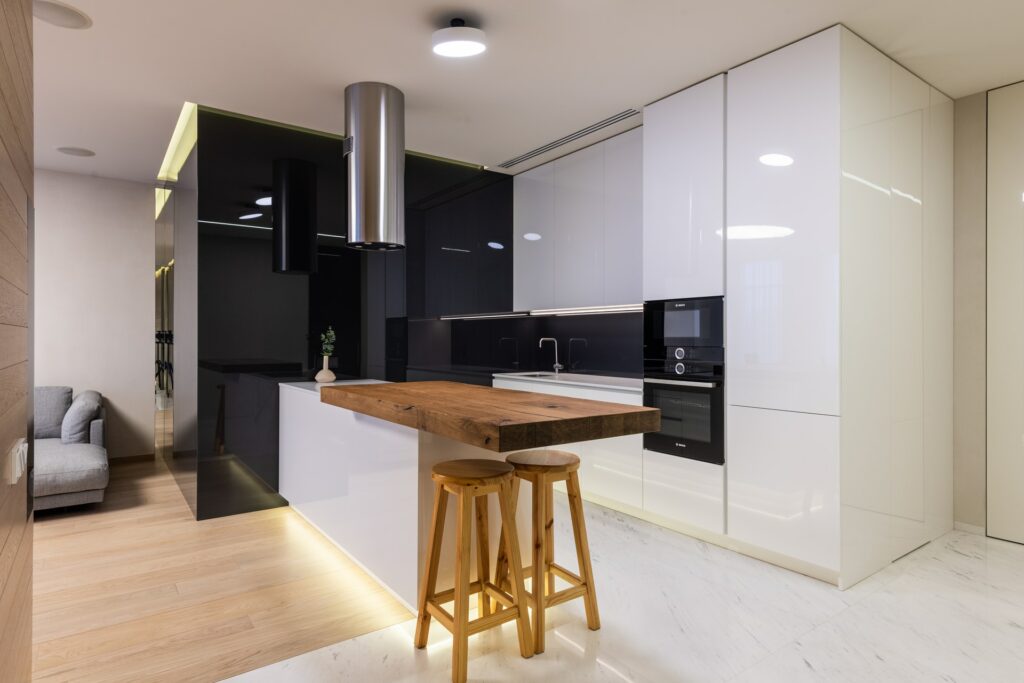 It is the right place to be if you are looking for top home updates. Another family-owned and operated home improvement company, Zion Home Remodeling, provides remodeling services to all of Maryland.
Zion Home Remodeling knows that the home is the reflection of one's reputation. And that is why they take all their projects so personally. One of the best kitchen and bathroom remodeling companies, their artistry and attention to detail are commendable. They also ensure that each of their projects is one of a kind and gives their customers lasting satisfaction. Hence, if you wish to have your home redone on schedule and at a reasonable price, go for the 5-star rates Zion Home Remodeling.