Refinishing Kitchen Cabinets: Guide and Ideas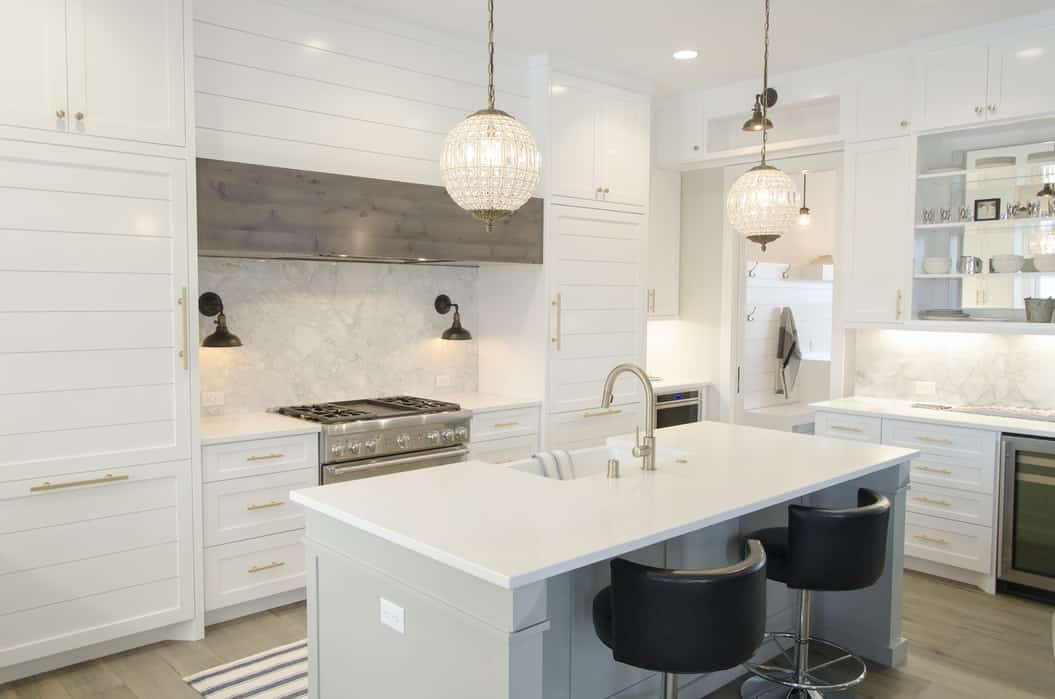 Did you know that your kitchen cabinets consume the most real estate space in your kitchen? It shouldn't come off as a big surprise. Once you visualize your kitchen, you will notice the impact of good cabinetry design. Even though your kitchen might be in good shape, you will need to rethink your cabinets if they are old and falling apart. This is where you have to start thinking about refinishing kitchen cabinets.
Not many people have the time (or money) to replace their entire cabinetry as it accounts for a significant part of the overall remodeling costs. Perhaps, this is the reason why most people choose refinishing over replacing the kitchen cabinets. That being said, you may not know where to start. To help you out, we've collected some best ideas to refinish the kitchen cabinets.
Before we move ahead with refinishing ideas, you need to know about the entire refinishing process. Let's begin with the steps you need to follow to have a newly refinished cabinetry.
Refinishing Kitchen Cabinets: Step by Step Guide
Gather the Supplies
An essential list of supplies include: 
Cabinet knobs and pulls

Kitchen cabinet doors and drawer fronts

No. 10 finish washers

No. 8×1-1/4″ wood screws

Sanding block

Sandpaper

Scrubbing pads

The paint of your choice
Once you have collected the necessary supplies, it is time to prep your kitchen. To refinish the kitchen cabinets, you need to disassemble them. Remove the doors and hinges. While you're doing this, don't forget to label the hardware (hinges, screws, handles) and the cabinets to avoid any misplacement.
Sanding the Cabinets
Sanding is a crucial step to make sure your cabinets look professional at the end of the refinishing project. Cabinet sanding is a two-step process. After you're done sanding the cabinets once, use a towel to remove the dust particles and repeat it once.
Do not skip this step if you want your paint to last longer. Sanding removes the top glossy layer of the wooden cabinets and allows the primer and paint to seep in.
Paint the Cabinets
Before you paint the cabinets with your favorite color, you have to apply a coat of primer. The reason behind this is to allow the paint to seep in further and 'stick' to the wooden cabinets.
Once the primer has dried, you can go ahead with painting your kitchen cabinets. Painting your kitchen cabinets is the last and the most time-consuming part of the refinishing process.
With your choice of color (more on that later), you can use either a brush, spray, or roller. It is recommended that you use two coats of paint for your kitchen cabinets. 
Tip: You have to give the cabinets ample time to dry between both coats. Do not rush this process as it will damage the paint coat and adversely affect the refinishing process.
Reassemble the Cabinets
Once you've allowed the paint to dry completely, it is time for the last step. All you have to do is match the hardware to the cabinets and assemble them one by one. There you have it, your newly refinished kitchen cabinets.
Refinishing Kitchen Cabinets: Best Ideas
Now that you are aware of the refinishing process, it is time to look at some ideas and get inspired. Here are some ideas to help you refinish your kitchen cabinets.
Two-Tone Cabinets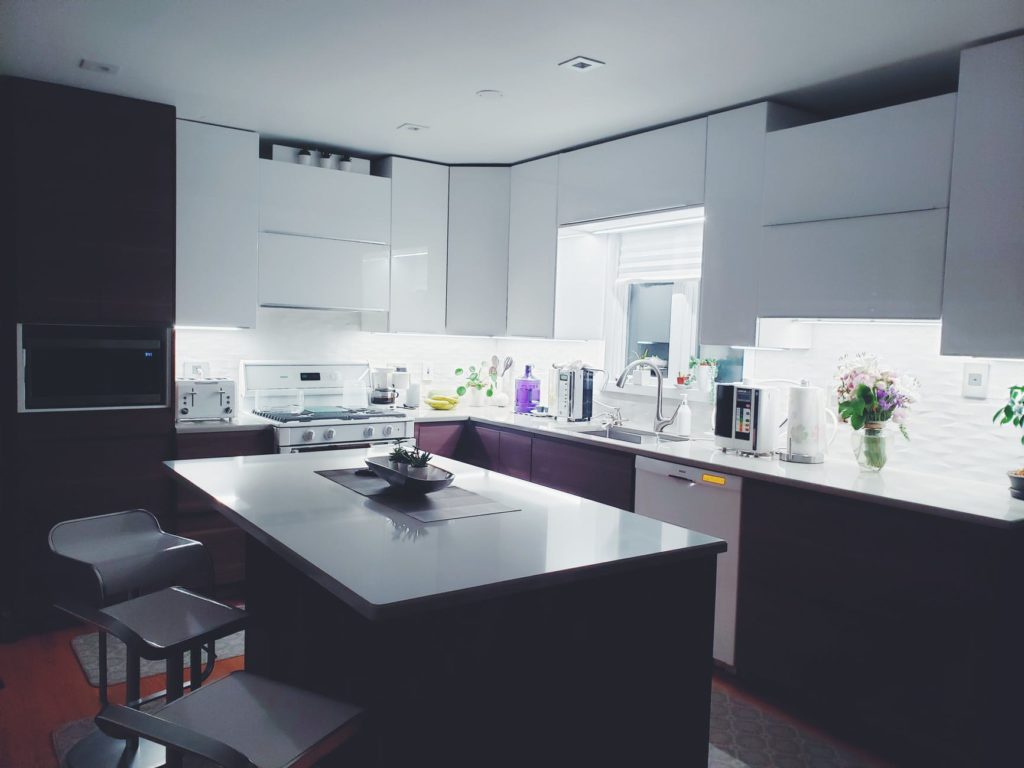 A refinishing project is a perfect opportunity to think out of the box. Why settle for one color when you can choose two and make your kitchen stand out?
Two-tone cabinets are gaining popularity among homeowners due to their uniqueness and design value. Most homeowners use a light color for the upper cabinets and a darker one for the lower cabinet storage. 
Go Classic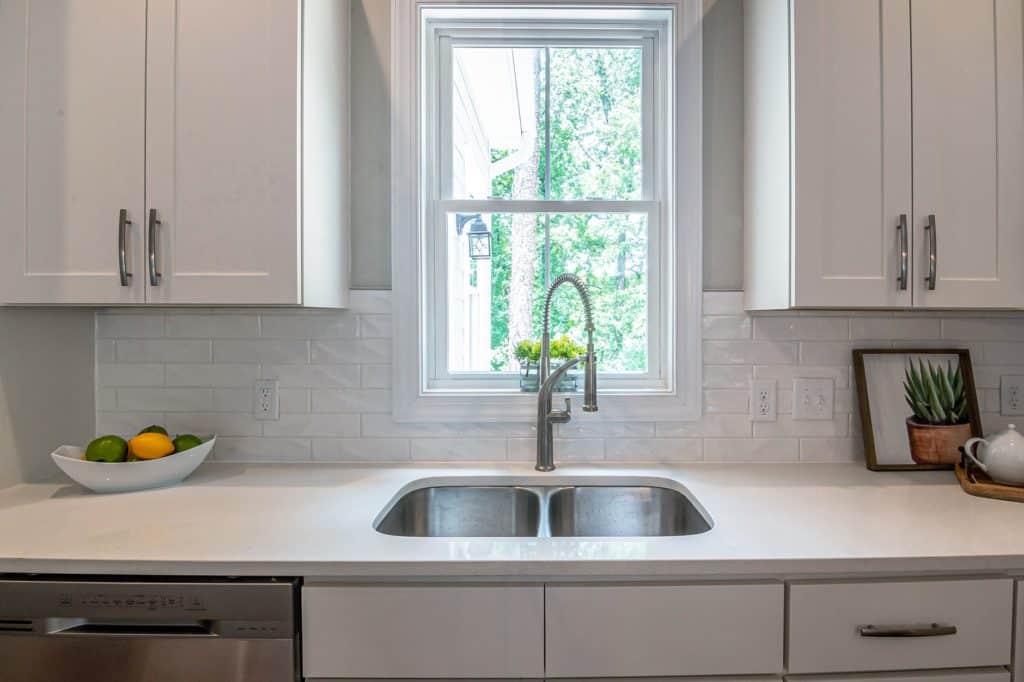 One of the best ideas when it comes to refinishing your kitchen is to stick to a classic color: white. Kitchens aren't particularly famous for their sprawling space. To make the most of it, you should consider refinishing your cabinets and painting them white.
Similarly, you can also opt for wooden cabinetry that lends a timeless look to your kitchen.
Stick With Warm Colors
Your kitchen is the heart of the house. No one wants to walk into a dull kitchen and feel underwhelmed. A warm color palette will help counter that. Warm colors like yellow, orange, red, and even green can be used in varying degrees. 
Just because they are warm, they do not have to be loud. You can choose a shade and a finish that suits your personality and run with it.
Chalk it Out
Like we said earlier, refinishing kitchen cabinets is a perfect opportunity to explore new avenues. For instance, switch regular paint with chalk paint to convert the inside of the cabinet door into a chalkboard. Not only does it give it an edge, but it can also be used to label the contents inside the cabinet.
Install Glass Fronts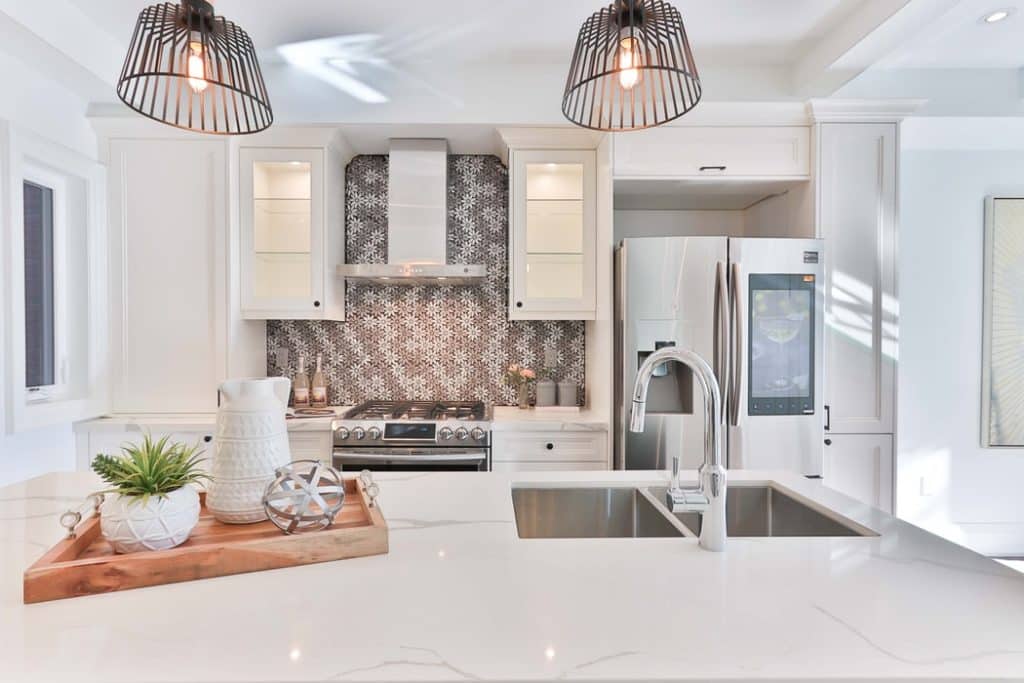 This particular idea, while useful for all is extremely useful for those who have a small kitchen. Cabinets tend to shorten the size of any kitchen. If you want to open up your kitchen, consider installing glass fronts.
Glass-front cabinets are a great way to 'expand' any kitchen with minimal effort. Since you will be refinishing the cabinets, why not replace wooden doors with glass ones and give your kitchen a new look?
Why You Should Be Refinishing Your Kitchen Cabinets
It is proven that refinishing kitchen cabinets is a cheaper process. Some experts estimate that refinishing costs upto ⅓ of what replacing cabinets can cost.
Before you begin refinishing kitchen cabinets, you must understand that it might take you several weekends or an entire week to finish it. However, it is also proven to be a much more affordable alternative than replacing (especially if you're on a tight budget).
From choosing the colors to the style and layout, refinishing kitchen cabinets is a decision that will make your kitchen a lively and beautiful space for you and your family.