Kitchen Remodeling Cost in 2022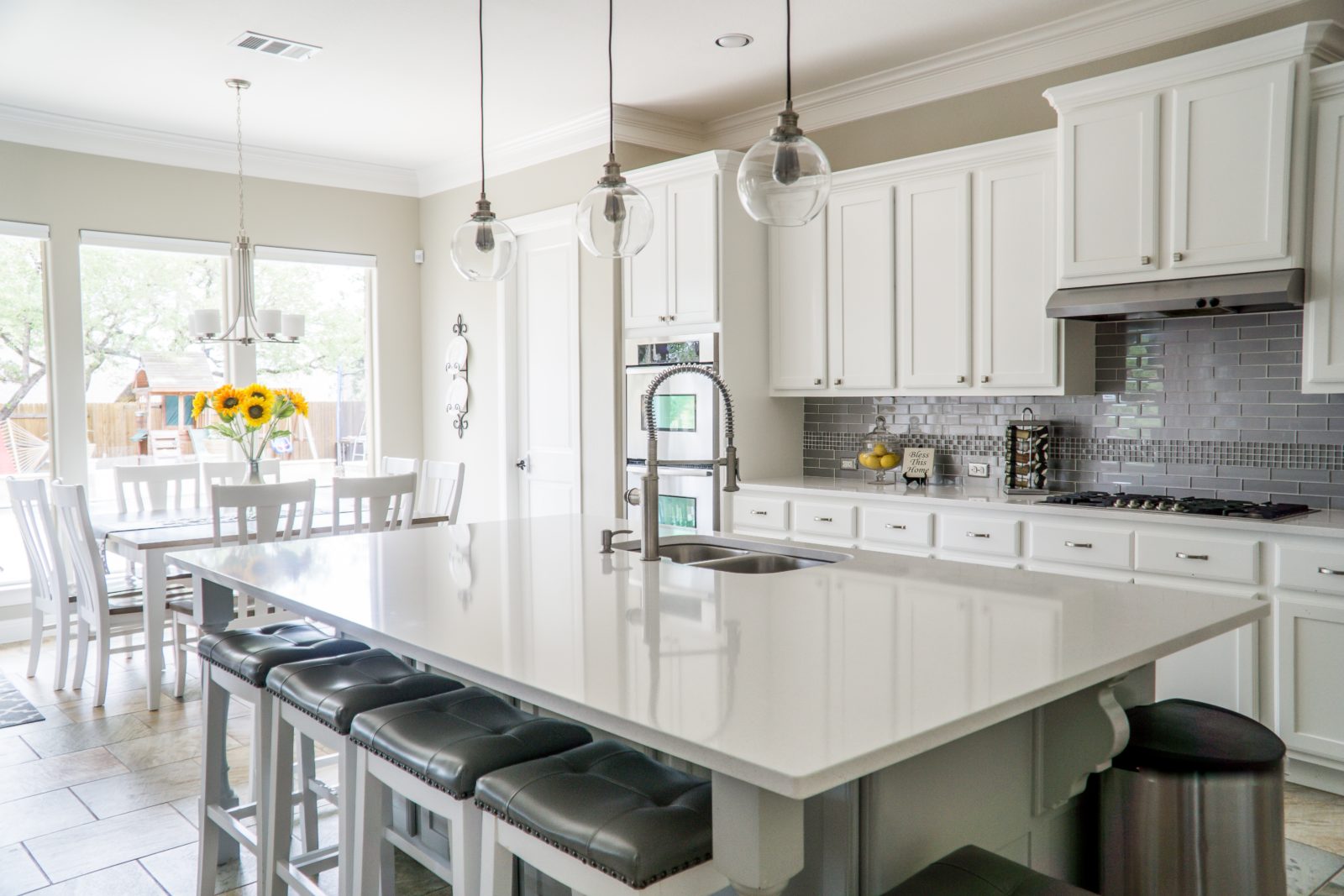 The Cost of Remodeling a Kitchen in 2022
Kitchen remodeling can be quite fun…yet it is easy to lose control and go overboard. This is why experts suggest getting an idea of the expenses involved, including the labor cost before you even plan a remodel. Furthermore, this helps to plan your budget accordingly.
Now, how much does it cost to remodel a kitchen?
While there is no definite answer, we can draw an average. On average, most homeowners spend between $12,800 and $21,200 for kitchen renovation. The lower limit includes basic refurbishing like painting, repairing or resurfacing the cabinet, changing the handles on the cabinets and so on. While on the other hand, the higher limit includes changing the flooring, going for high-end appliances and changing the layout of the kitchen.
The Cost of Kitchen Remodeling Per Square Foot
It helps to understand the basic cost of kitchen remodeling before starting off with the project. As one would expect, the costs vary according to the size of the kitchen but can be narrowed down to a range of $100 to $250 per square foot.
The Cost of Remodeling a Small Kitchen
For a small kitchen, a remodel can cost anywhere between $4,000 to $20,000. A small kitchen implies a space of around 75 sq. feet or smaller. That is if the layout remains the same and other changes are brought in.
There are a number of substantial changes that can be brought about here. First of all, corner spaces can be filled with carousal; a narrow sink can be opted for. Also, midway cabinets for storage can be installed. Likewise, drawers with cutlery trays can be installed. Finally, pull out wicker vegetable baskets and sliding cabinets can be used as well.
However, it is noteworthy that as you expand the size of the kitchen beyond 75 sq. feet to a medium-sized kitchen, the cost will also go up. For instance, the cost of kitchen remodeling for an area between 75 to 100 sq. feet will be between $15,000 and $30,000. For a kitchen that is sized between 150 to 175 sq. feet, costs can run between $20,000 to $45,000.
Cost of Remodeling a Large Kitchen
If it is a large kitchen of around 200 sq. feet, get ready to pay between $45,000+ to $100.000. The cost can go even higher if you go for an upscale renovation.
Here massive refurbishing is brought about. Therefore, appliances are changed, a kitchen island may be added with an island hood, and roofing and flooring might be changed. Even with just cosmetic changes, the size contributes to accrued costs.
How Different Changes in the Kitchen Accrue Different Costs
Small changes in the kitchen cost somewhere between $12,000 to $21,000. Consequently, if you want to go in for more than basic changes then you will have to shell out between $29,000 to $64,000. If it is a high-end remodeling and you are using premium cabinetry or premium gadgets, it can even cost you up to $126,000.
Small Changes
This includes a change in flooring that may not be too expensive as a new countertop, cabinet handles, electricity fixtures & repainting. In this case, the basic design of the kitchen remains the same; so, the costs run between $12,000 to $21,000.
Mid-Level Changes
This range also involves cosmetic changes like repainting, changing electrical fixtures, a change in flooring, new handles for the door, and new cabinets and new faucets. Again, the basic design remains untouched. Here the cost falls anywhere between $29,000 to $64,000.
High-End Remodeling
The complete kitchen changes here. In this case, everything is stripped from top to bottom. As a result, we get a new floor, all electrical wires are changed, plumbing is reinstated, electrical appliances are changed, old lights are done away with to be replaced with new ones, and new tiles are installed. The cost of kitchen remodeling, in this case, is somewhere around $126,000.
Even then, the cost may be lowered in high-grade kitchen remodeling if you do not change the basic design of the kitchen. This implies that you don't need to change the layout of the kitchen such as relocating the window or your sink. With a full-blown remodel, excluding the purchases, the added cost is a result of permits. These permits have to be obtained only when you make big changes to the layout. Consequently, with the addition of the clearing of dust, re-installation of windows, sink and new plumbing plus electrical work — you have a huge sum right there.
Cost breakdown of Remodeling the Kitchen
According to the National Kitchen & Bath Association (NKBA), the average cost of kitchen remodeling is as follows:
| | | |
| --- | --- | --- |
| Item | % of the Whole Budget | Average Cost |
| Cabinetry | 28% | $6,550 |
| Installation and Labor | 18% | $4,130 |
| Appliances | 15% | $3,390 |
| Countertops and Backsplash | 11% | $2,450 |
| Flooring | 7% | $1,650 |
| Lighting | 5% | $1,050 |
| Painting and Drywall | 5% | $1,150 |
| Windows and Doors | 4% | $1,020 |
| Designer | 3% | $720 |
| Plumbing | 3% | $730 |
| Other | 1% | $310 |
Average Cost of Kitchen Cabinets
Since cabinetry takes up the maximum budget allocation, you should know what you can expect to pay for different types of cabinetry:
Pre-made cabinets cost anywhere between $75 and $150 per linear foot. They can be bought from home décor stores and are affordable.
Semi-custom cabinets are priced between $100 and $900 per linear foot. The cost may go high in case you change the door front, resize the drawers or add additional cabinet depth.
Custom cabinets are pricey with costs going up to $1500 per linear foot. The reason for this is because this cabinetry is premium and requires a professional hand for installation.
Labor Costs for Kitchen Remodeling
When it comes to labor costs, you can expect to pay anywhere between $2,000 and $6,000 in installation fees. It is advised to put aside 15% of your budget for labor costs. Depending on the size and space of your kitchen, as well as the features you desire, hiring a kitchen remodeling contractor might not just be a matter of convenience but also a necessity — so it's important to factor in the costs well in advance, especially if you are not good with DIY.
Average Cost for Remodeling Kitchen in Terms of Services:
When it comes to the expenses involved in kitchen remodeling, services only come in next to products in terms of expenses. Here's the average cost of services required for a kitchen remodel:
| | |
| --- | --- |
| Remodeling Service | Average Cost |
| Electric wiring and lights | $2,500 – $4,800 |
| Plumbing | $3,000 – $6,000 |
| Designer fees | $400 – $3,500 |
| Install Cabinetry | $3,000 – $8,000 |
| Appliances | $2,500 – $9,000 |
| Install flooring | $1,100 – $5,500 |
| Permits | $100 – $900 |
| Reface Cabinets | $1,000 – $9,000 |
| Repair or refinish countertop | $80 – $1,600 |
| Install countertop | $900 – $5,000 |
| Tile backsplash | $400 – $600 |
| Paint walls | $1,000 – $2,500 |
| Hardware | $150 – $1,200 |
Final Word
A kitchen remodel is a major project — so it is important to be mentally prepared for the expenses that will follow. Although averages are an indicator of what the range should be, costs may vary depending on your location, size of your kitchen, and the type of products you buy. We recommend studying the market and obtaining a rough range for the specific type of cabinetry, countertop, sink, etc. that you have in mind. An experienced kitchen remodeling company should also be able to help you understand your costs. Hence, understanding these things beforehand will allow you to triumph over buyer's remorse later on.