Home » Redefine Your Space : Kitchen Island Ideas with Seating
Redefine Your Space : Kitchen Island Ideas with Seating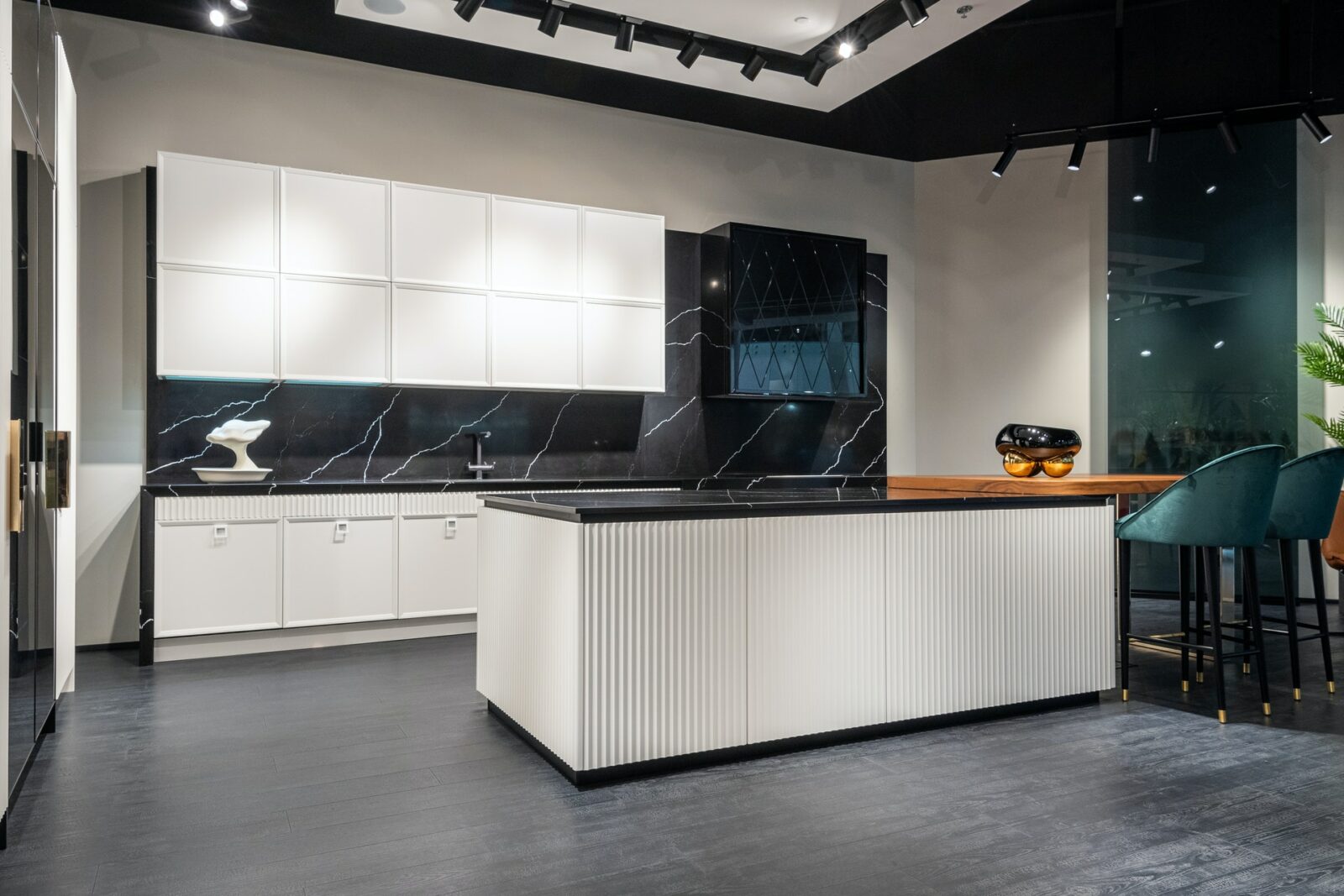 When you're remodeling your kitchen, designing an island is crucial if you want the space to be functional. An island divides the kitchen floor and keeps traffic away from the cooking zone. It's even better if the island comes with enough space for seating. That way, you can use it to entertain your guests with wine and a little chit-chat while cooking. You can also help your kids with their homework if you have no extra time to sit with them. Depending on your taste and requirements, the below-listed kitchen island seating ideas can prove to be truly beneficial for you.  
On average, kitchen island dimensions for seating should be 2 ft. long and 2-3 ft. deep. This is excluding the area adjacent to the cooktop or cabinets where you can move about. Unless your kitchen is 8 ft. wide and 12 ft. long or more, don't think of installing an island as it could be claustrophobic.
Additionally, If you want to add 3-4 seats to your kitchen, consider the size of your stool or chair. Every seat should be at least 24 inches apart from each other. This is to prevent your guests or family members from elbowing each other by accident. In case you decide to add open shelves to your kitchen island, opt for fewer chairs or no seating at all.
Keeping this in mind, let's check out some fun and creative ideas to boost the aesthetics and feel of your kitchen.
Types of Kitchen Island Seating 
As long as there's something like a kneehole or an overhang, you can fit in a seating space (moveable or not) of any size in your kitchen island. Now, a kitchen island doesn't always have to be rectangular in shape, it could be square or L-shaped, provided it satisfies all your needs. Here are some design ideas for island seating that can help you remodel your kitchen. 
Breakfast Bars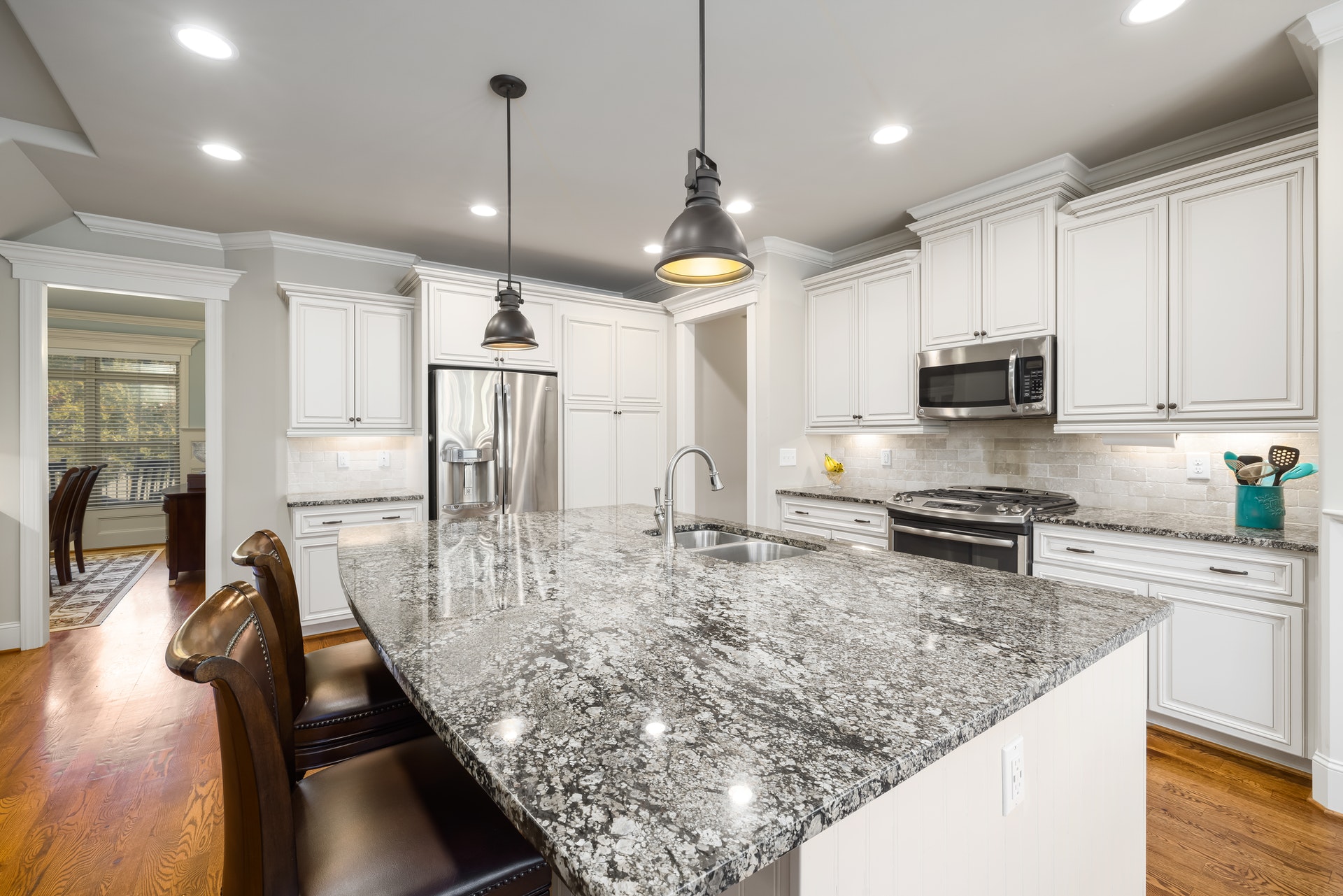 If your mornings are super busy and you like to finish your breakfast in the kitchen, consider getting a breakfast bar on your island. This is a slightly unique design where one end of the island is curved to act like a separate tabletop. The remaining length of the island can be used for food prep, cooking, washing, etc., depending on your preference. You can also have cabinets installed on the opposite end for additional storage. 
Worktable Island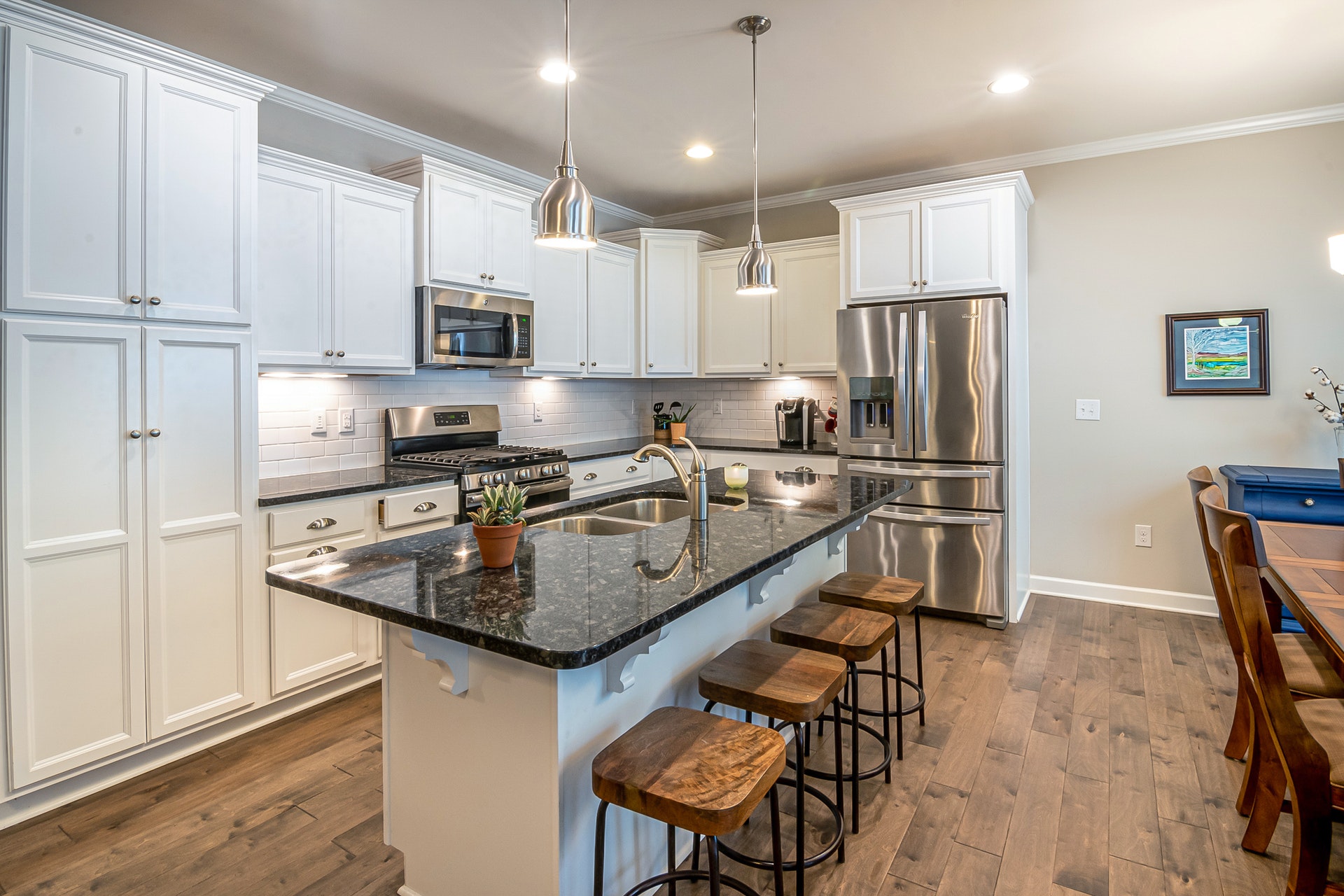 If you prefer this design, you can have the kitchen island seats below a tabletop at one end of the island. The longer side could have cabinets running downward or other necessities like a built-in sink. You can place the longer side towards the cooking zone so it's easily accessible to the cooks. As the tabletop will be placed away from the stove and appliances, it won't come in the way of your cooking. Visualize a kitchen island with end seating, that's what we're talking about. You can supervise your kids while they study or quickly reply to an urgent mail in between dinner prep scenes.  
For increased mobility, choose low-profile stools that can be easily tucked under the tabletop and out of the traffic flow when required. You can also add a pop of color to your kitchen decor by picking backless metal stools in teal, emerald, or bright yellow.
Wine & Dine Extension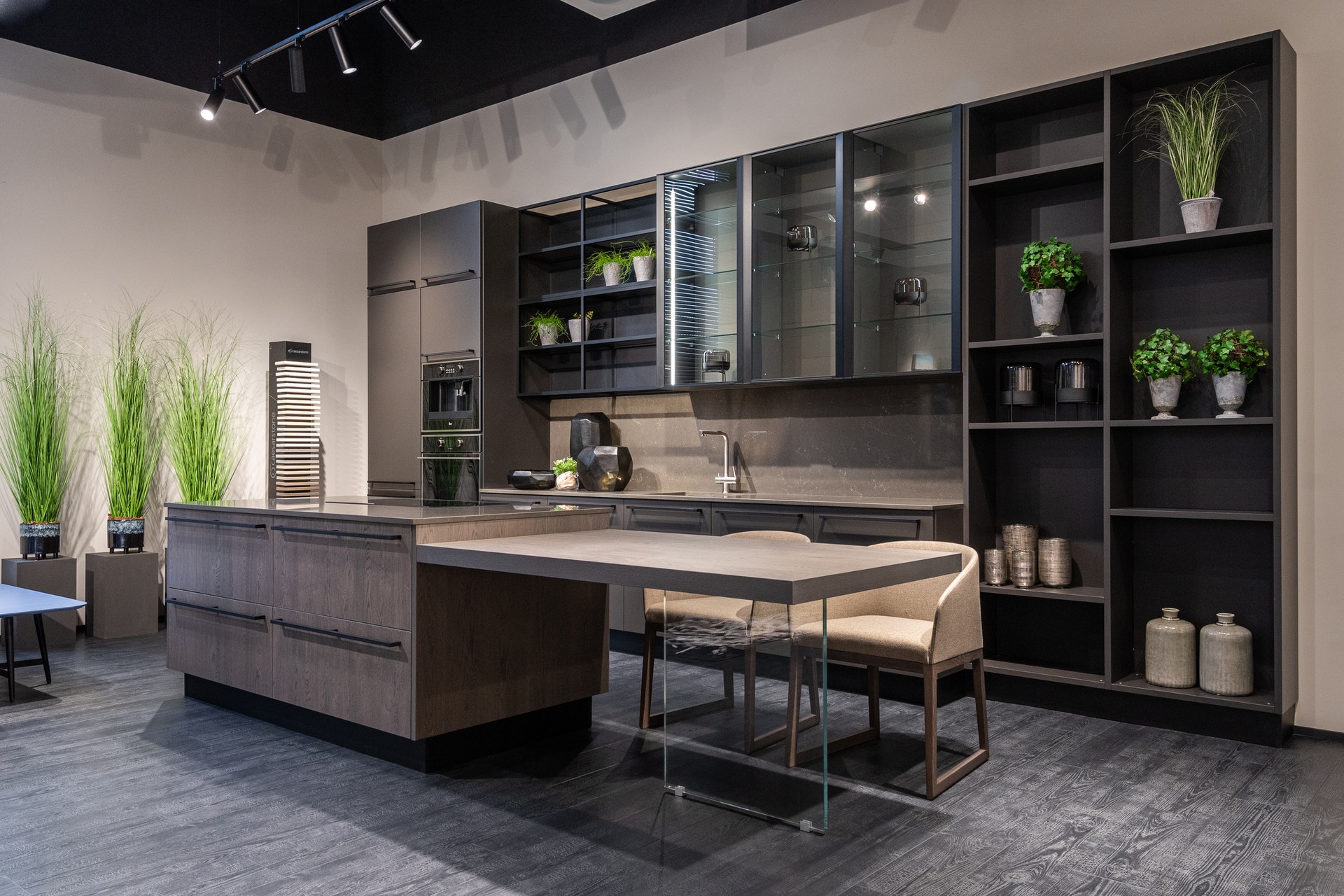 Many homeowners like their kitchen to be an open space where cooking and conversation go together. If you like to entertain your guests while cooking, you can remodel your island by adding an extension for casual dining. It could be round or square in shape with upholstered backless stools placed on three sides. To save space, you can skip the cabinets in the extension and stow away your stools beneath the tabletop.
Dining Island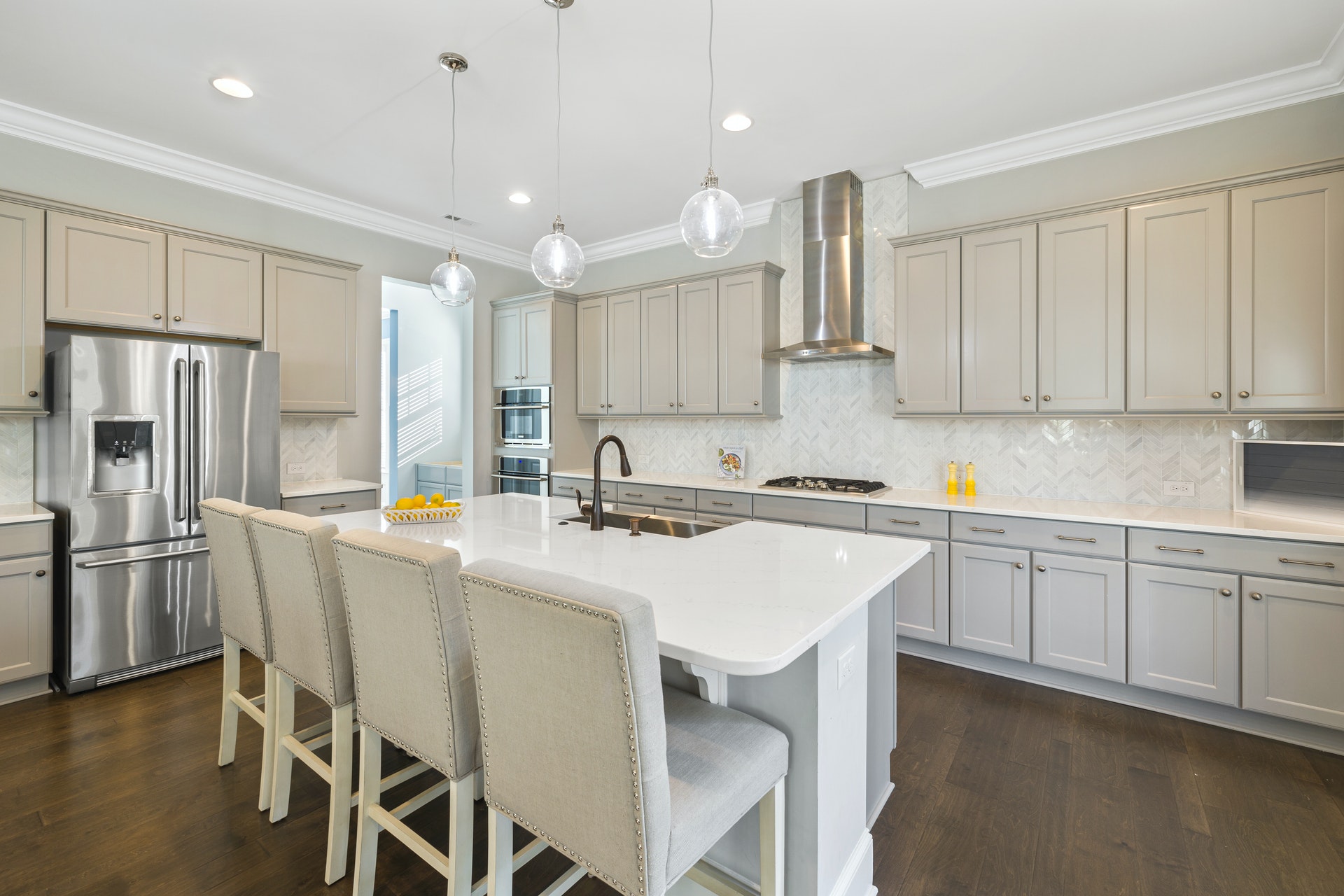 If you want to combine your kitchen and dining area, you can consider using your island for dining. For easy accessibility and flexibility, you can place it at the center of your kitchen. Kitchen islands with seating for 4 can act like a proper dining table for a nuclear family. You can also design your kitchen island with seating on both sides but to keep your cooking area traffic-free, consider positioning it a little away from the main kitchen. For proper dining, go with comfortable seating for the perfect meal with your family.
Peninsula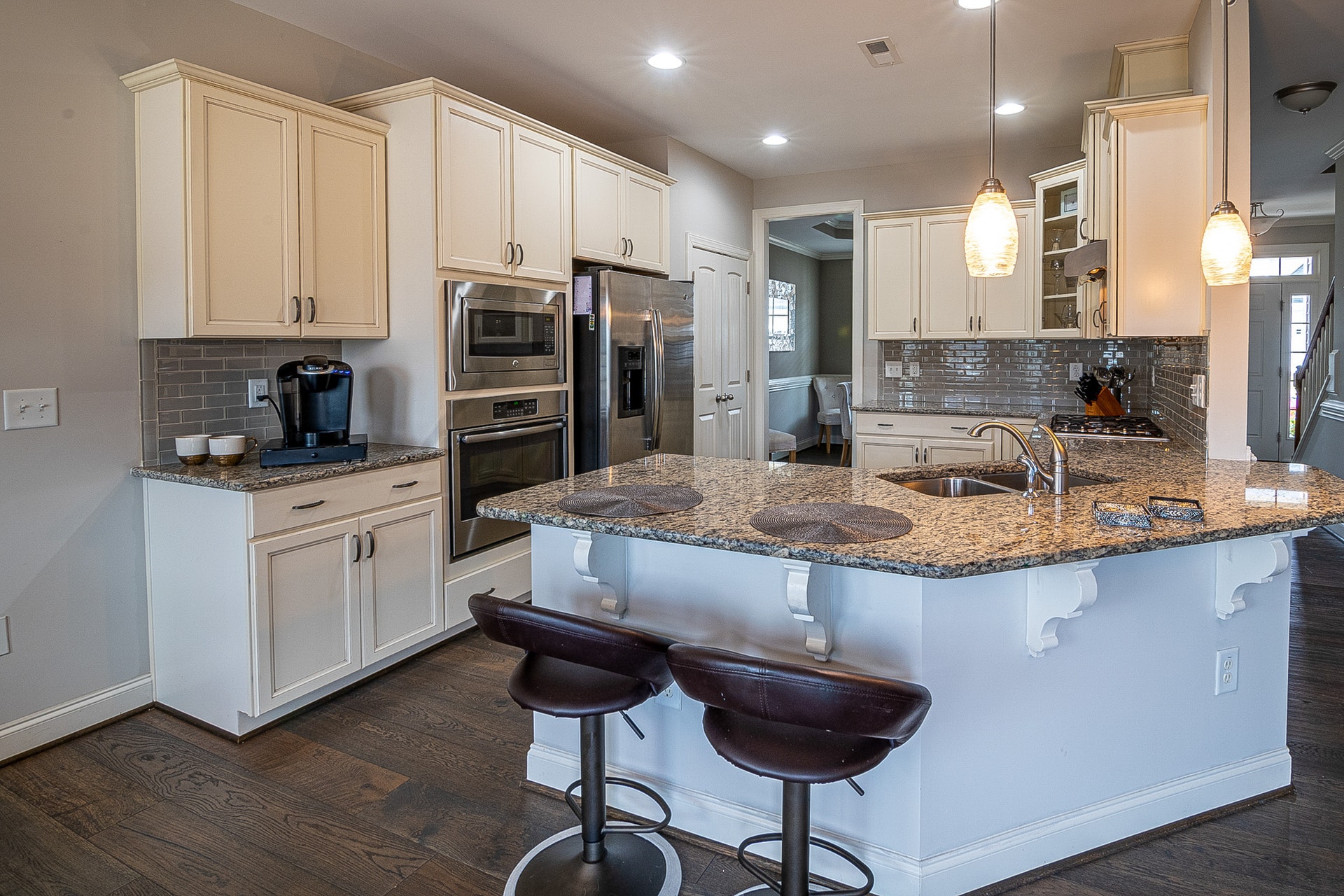 If your kitchen area is not wide enough to house an island, you can leverage the utility in the form of a kitchen peninsula with seating. The difference between an island and a peninsula is that the latter is not a free-standing installation but rather an appendix to your existing cabinets or counter space. Just place a few chairs or metal stools on the outer side of the peninsula and turn it into a casual dining space. 
Ideas to Style Your Kitchen Island Seating
There are many ways to make your kitchen island an eye-catching spot, if not the highlight of your kitchen. Whether you have a contemporary decor or a traditional style kitchen, the right design for the island can make or break the look of your cooking space. Having said that, you need a little planning in advance when you're finalizing the style and kitchen island dimensions with seating. Let's glance at a few wonderful ideas that can transform island seating. 
Create a Welcoming Vibe with Light Wood
How about remodeling a wooden table with a larder cabinet or wide shelves and transforming it into your kitchen island? It would sure exude a rustic, farmhouse feel warming your kitchen up. Go for a muted shade of blue, olive, or maroon to add a calm vibe. It would make for a perfect spot to enjoy breakfast or an evening snack. You can pair it with 
Luxury Velvet Stools
For those of you who would like your kitchen to look high-end, try adding a few lush, velvet stools or furry cushions to your chairs. If you want the seating to be comfortable, go for stools with back support. This way, your bottom won't go numb from sitting through the dinner and you won't end up crippling your back. 
Invest in Swivel Seats
Another alternative for comfortable and ergonomic seating is a swivel seat. The market abounds in a variety of styles when it comes to swivel chairs or stools. You may get one with padded seats and footrests for additional comfort. Besides, such seats easily fit under the countertop as well. They are a great choice in terms of mobility and also easy to clean up. With these rotating chairs, you can comfortably switch to watching an interesting ad or news on the TV in the adjacent room. 
Enhance Space with a Floating Effect
You can create the illusion of cantilevered dining space to give it a floating effect. This style can transform an ordinary island or cabinetry into something extravagant. Pair it with stools cushioned with faux fur to jazz up the look. 
Extended Leg Space
If you like to dine in the kitchen, a kitchen island seating with an open bottom will be convenient. This will allow space for your family to sit around the island and have dinner together. A kitchen island to seat 6 will make enough room for an elaborate dinner right on the kitchen floor. When there's a lot of leg room, the island can be turned into a dining table of sorts. 
A Mix-n-Match of Cane and Concrete 
To promote a chic yet boho look, you can try getting cane chairs with concrete legs or vice versa. Let the intricacy of cane flirt with the industrial aura and weathered texture of concrete to create a fine balance. 
Bring Back Classic French Glamor
While everyone likes their kitchen to be functional, it wouldn't harm if it looks like a glamorous diva. Accentuate the decor of your island by incorporating French-style high-back stools to soften the utilitarian look of a plain Jane kitchen. It's okay to mix work and play, what say?
Banquette Style Seating
Get a diner-like vibe in the comfort of your home by trying out the banquette seating design. It not only saves space but also creates a unique pattern while offering you the cozy elegance of your favorite diner. A fitted seating requires less floor space than freestanding stools or chairs. Cover the seats in faux leather and tada! You can host a luxurious banquet without booking an event planner.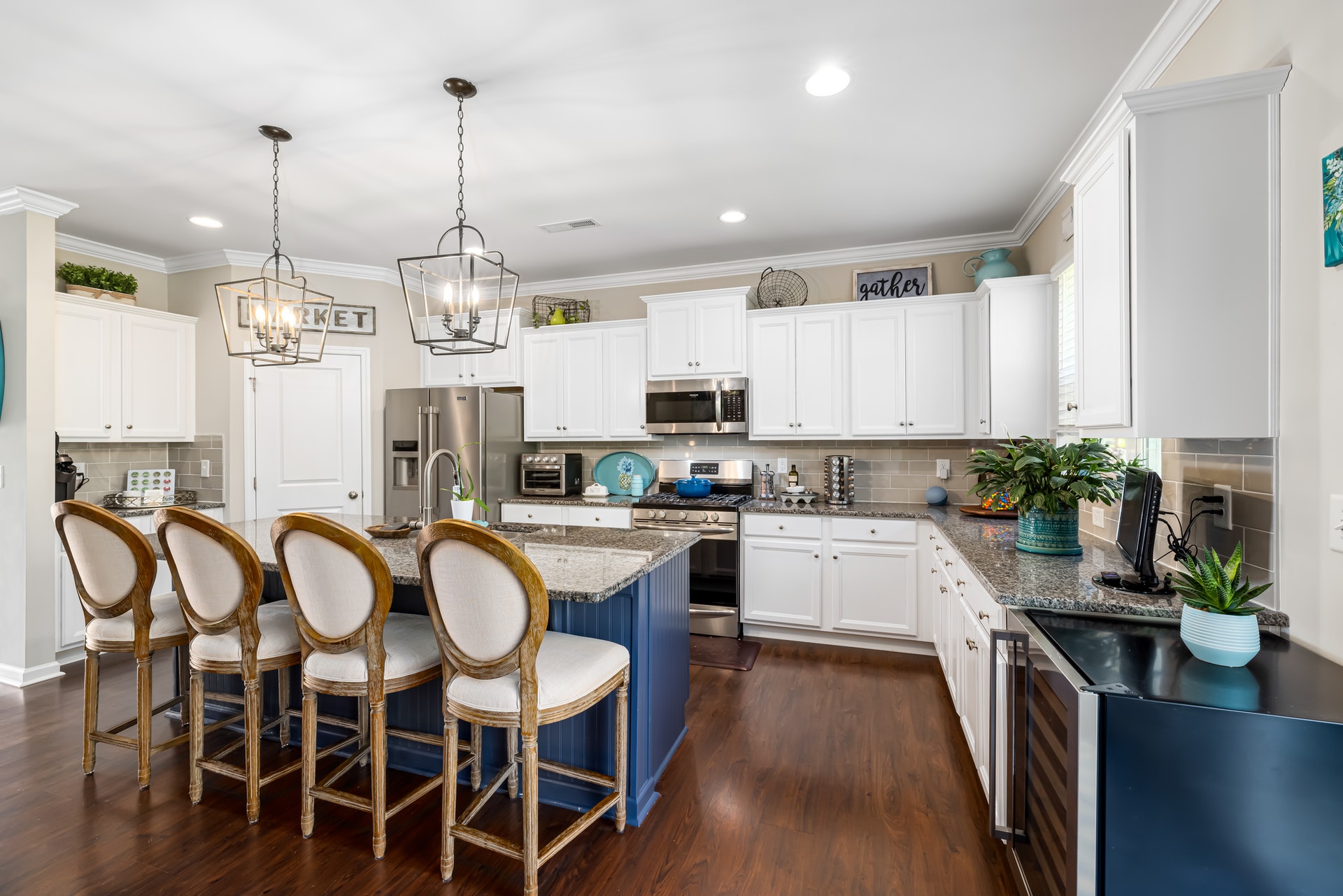 Final Thoughts
Whether you want a kitchen island with seating for 8 or 2, you can choose designs that are both practical and aesthetic. With a few clever tips, you can utilize a peninsula to work like an island or pull up a few bar stools to turn a compact island into a cozy dining space. We hope our styling suggestions will come in handy if or when you plan to remodel your kitchen. Happy designing!