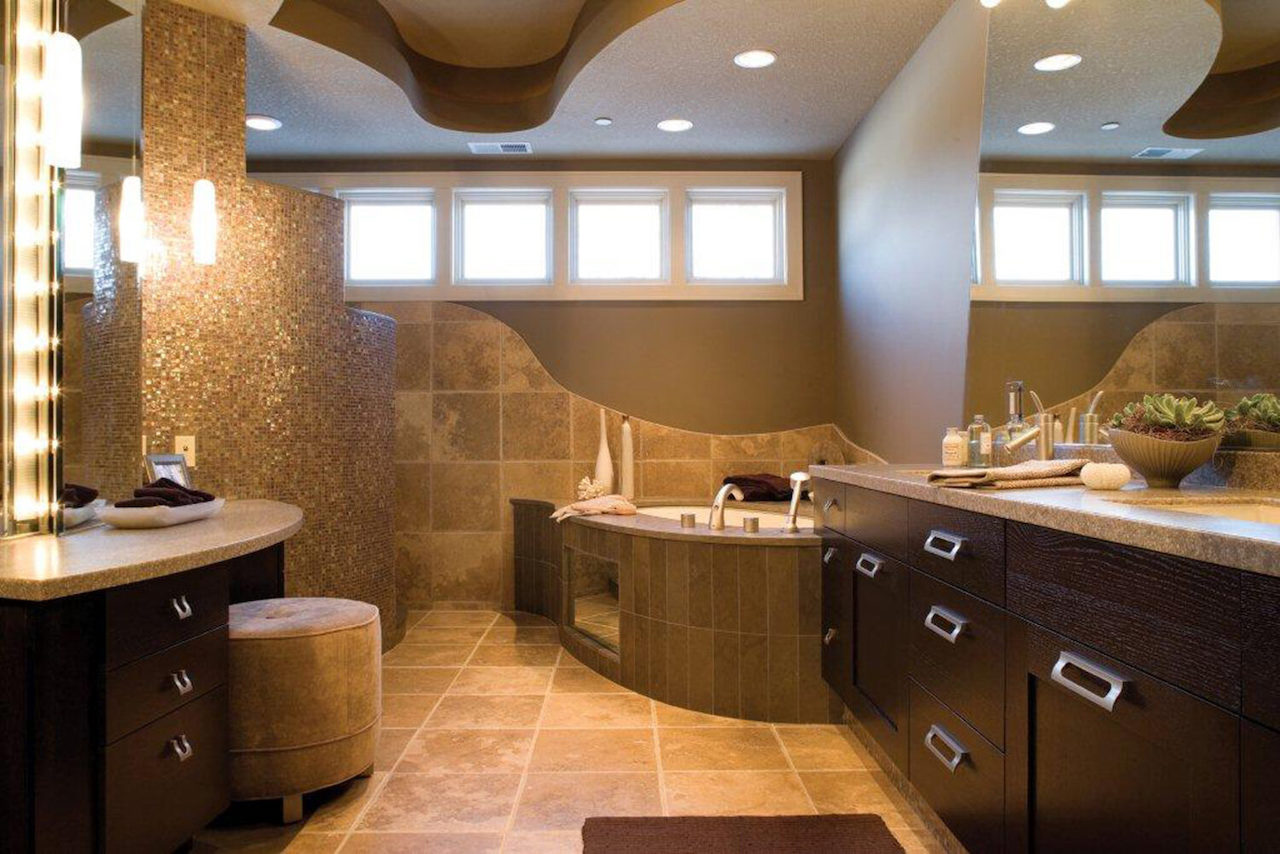 When choosing tiles, picking one from ceramic and porcelain can be a bit confusing as they look and feel almost the same. And why wouldn't they? Porcelain and ceramic might not be like twins, but they belong to the same family. However, there are a few differences in their composition and characteristics that you must know if you want to make the right choice for your home. Let's dive deep into the mind and refresh our knowledge on ceramic and porcelain tiles.
What is ceramic tile?
Ceramic tiles are made of natural brown, white, or red clay. The clay used in ceramic is less refined and hence more affordable. The clay is first fired in a kiln at a high temperature to reduce the water content and then glazed in a given pattern. Ceramic is an ideal flooring option in warmer climates because its naturally cooling effect acts like a welcome perk during summers. 
What is porcelain tile?
Porcelain is made of refined clay kiln-fired at a higher temperature than ceramic. So, they are hard to the touch and offer greater durability. After being fired, the tiles are left in their natural state or transformed to resemble other materials like wood, stone, concrete, etc. Porcelain tiles are not always glazed; unglazed pieces have color coursing through the thickness (or the inside of the material), which makes them more durable and chip-resistant. 
The Porcelain Enamel Institute (PEI) rates the material based on its quality and hardness to help homeowners determine which tile will suit each area of their home. 
Factors that Differentiate Ceramic and Porcelain
The key difference between porcelain and ceramic tile is the quantity of water they absorb. Porcelain tiles absorb less than 0.5% water, while ceramic tiles absorb more. The clay used to make porcelain tiles is denser and less porous, which is why it is slightly more expensive than ceramic. 
Let's check out the other differences between the two materials to understand how they behave and what they can be best used for. 
| | | |
| --- | --- | --- |
| Parameters | Porcelain | Ceramic |
| Composition | It is composed of sand, clay, and feldspar and kiln-fired at high temperature, making it hard and dense.  | It is made from red, brown, or white clay. As it is fired at a lower temperature than porcelain, it is less dense in texture and softer to the touch. |
| Ease of shaping | As it is harder in texture, it is difficult to cut for shaping. | It can be easily cut into different shapes.  |
| Strength | It is brittle and prone to cracking.  | It can crack if exposed to extreme cold.   |
| Durability | As it absorbs less water, it remains hard and lasts for a long time | Due to a higher water-absorption rate, ceramic is less durable than porcelain. |
| Cost | It's made from refined elements, which add up to its cost.  | It is more affordable. |
| Water- and heat-resistance | It has an excellent heat resistance and is impervious to water. | Ceramic is heat-resistant but susceptible to water infiltration. |
| Design consistency | Porcelain comes in simple, basic designs.  | It is available in intricate patterns, colors, and designs.  |
| Cost | It is slightly expensive.  | It is usually cheaper than porcelain. |
| Best suited for | Floors, walls, wetrooms, high foot traffic areas, commercial spaces (retail outlets, hotels, offices, etc.), outdoor porches | Walls, backsplashes, floors, interior low foot traffic areas  |
Comparison of Ceramic and Porcelain Based on Their Properties
Appearance
Porcelain
Ceramic

If you care about appearance, porcelain could be an excellent material for your home. With new age technologies, porcelain can be manufactured to resemble natural stone like marble. It can even be structured to mimic wood minus wood's susceptibility to water damage. 

Fired at high temperatures, porcelain is harder and sturdier in texture. Unglazed porcelain tile has a uniform color throughout its thickness, so small chips aren't evident. They also have a smooth finish.

Ceramic is softer to the touch, so cutting it into intricate shapes and designs is easier. It is also lighter and can be customized based on colors, patterns, and textures, making it suitable for DIY projects. 

However, ceramic absorbs more water and is prone to chipping or cracking. If there's a chip in the glazed top, it'll reveal the actual color under the coating.
Durability
Porcelain
Ceramic

Being water-resistant and sturdy, porcelain is more durable than ceramic. It also has good resistance against heat, which makes it a good choice for countertop surfaces. However, porcelain is relatively brittle and can chip or break by a hard object. 

Porcelain tiles with a PEI 4-5 rating are super sturdy and will comfortably last you a lifetime. These tiles are usually installed in spaces with heavy traffic areas.

Ceramic is less durable than porcelain, owing to its high water absorption rate. While it works well in warmer climates, it is prone to cracking when exposed to extreme cold. 

Under normal conditions, ceramic tiles will last a maximum of 20-25 years. If exceptionally maintained, they can go up to 30 years or more
Maintenance
| | |
| --- | --- |
| Porcelain | Ceramic |
| You can easily clean porcelain tiles by wiping the surface with a damp cloth or scrubbing it with soapy water. However, the gaps between the slabs might attract bacteria and mold over time, so it is advised to seal them periodically.  | The process of maintaining ceramic tiles is similar to that of porcelain. It is easy to clean but requires sealing from time to time. Besides, as ceramic is more porous than porcelain, germs and liquid can easily penetrate the surface leading to stains. |
Cost
Porcelain
Ceramic

As porcelain is composed of refined elements and takes longer to manufacture, it is more expensive than ceramic. On average, porcelain tile is at least 60% costlier than its ceramic counterpart. The standard price of porcelain tiles ranges from $3 to $35 per sq. ft.

Ceramic tile is less dense, coarser in texture, and made from unrefined clay. Naturally, its price is much lower than that of porcelain. On average, a square foot of ceramic tile will cost between $0.50 and $35.

As it is lightweight, many homeowners also consider it for home DIY projects.
Sustainability
| | |
| --- | --- |
| Porcelain | Ceramic |
| If you're into green buildings, porcelain is a good choice for your walls, ceilings, and floors. Made from natural materials, porcelain doesn't cause any harm to the environment while also being durable.  | Like porcelain, ceramic tiles contain no polyvinyl chloride (PVC) or other plastic materials. It is equally eco-friendly and is a great choice when it comes to hygiene. Ceramic is also more comfortable to walk on and cooler than porcelain, which is why it is widely preferred in warmer regions.  |
Which is better, porcelain or ceramic tiles?
We can deduce from the above comparison that ceramic and porcelain both have pros and cons. When it comes to durability, porcelain gains the upper hand but then ceramic is lightweight, cooler, and comes in a plethora of designs. In terms of sustainability, both the materials promote green building and are easy to maintain.  
Best Porcelain & Ceramic Retailers 
Below are some of the top American brands that manufacture ceramic and porcelain tiles. Each brand's warranty period is different and comes in various price ranges.
American Marazzi
Founded in 1935, American Marazzi is known for its leading-edge designs, exceptional quality, and ready availability. One of the brand's specialties is Italian ceramic tile featured in unique, daring styles.
​​Mohawk 
Mohawk has established itself as the world's largest flooring manufacturer. It also has the largest market share in the US when it comes to the manufacturing of ceramic and porcelain tiles. The brand offers diverse styles and patterns while promoting sustainability by crafting products from recycled and renewable resources. 
Ann Sacks
Ann Sacks opened its doors in 1980, specializing in premium quality tiles. The company has multiple showrooms across America and Vancouver, BC. Ann Sacks might be your go-to destination if you want to go beyond the typical tile.
Daltile
Daltile allows you to transform your personal space into something extraordinary. The company is known for its comprehensive product line featuring unglazed ceramic mosaics and glazed porcelain slabs. You can find Daltile products in hundreds of retail stores as well as Home Depot and Lowe's. 
Florida Tile, Inc.
With over half a century of presence in the market, Florida Tile, Inc. is a popular name in the flooring manufacturing industry. It is headquartered in Lexington, Kentucky, producing some of unique porcelain and ceramic floors and wall tiles.
Modwalls
If you're looking for modern, contemporary designs, Modwalls would be an excellent choice. This online-only company based in Aptos, California, manufactures and designs its ceramic and porcelain tiles. Colorful subway tile and unusual shapes are a few specialties at Modwalls.
Clayhaus Ceramics
Jason and Megan Coleman founded Clayhaus Ceramics, a boutique tile studio specializing in custom designs for porcelain and ceramic tiles. It might have a vast selection, but every slab here is well-wrought and uncommon.  
Conclusion
So, which one's better for you? Ceramic tile or porcelain tile? Well, that depends on which part of your home you plan to cover. Two of the most significant considerations are usually your budget and functionality. Both ceramic and porcelain are clay-based and eco-friendly. However, porcelain is more water-resistant, while ceramic is more affordable. We hope the above guide helps you pick a tile best suited for your home per your taste and requirements.