Understanding the Cost of Kitchen Remodeling in America in 2023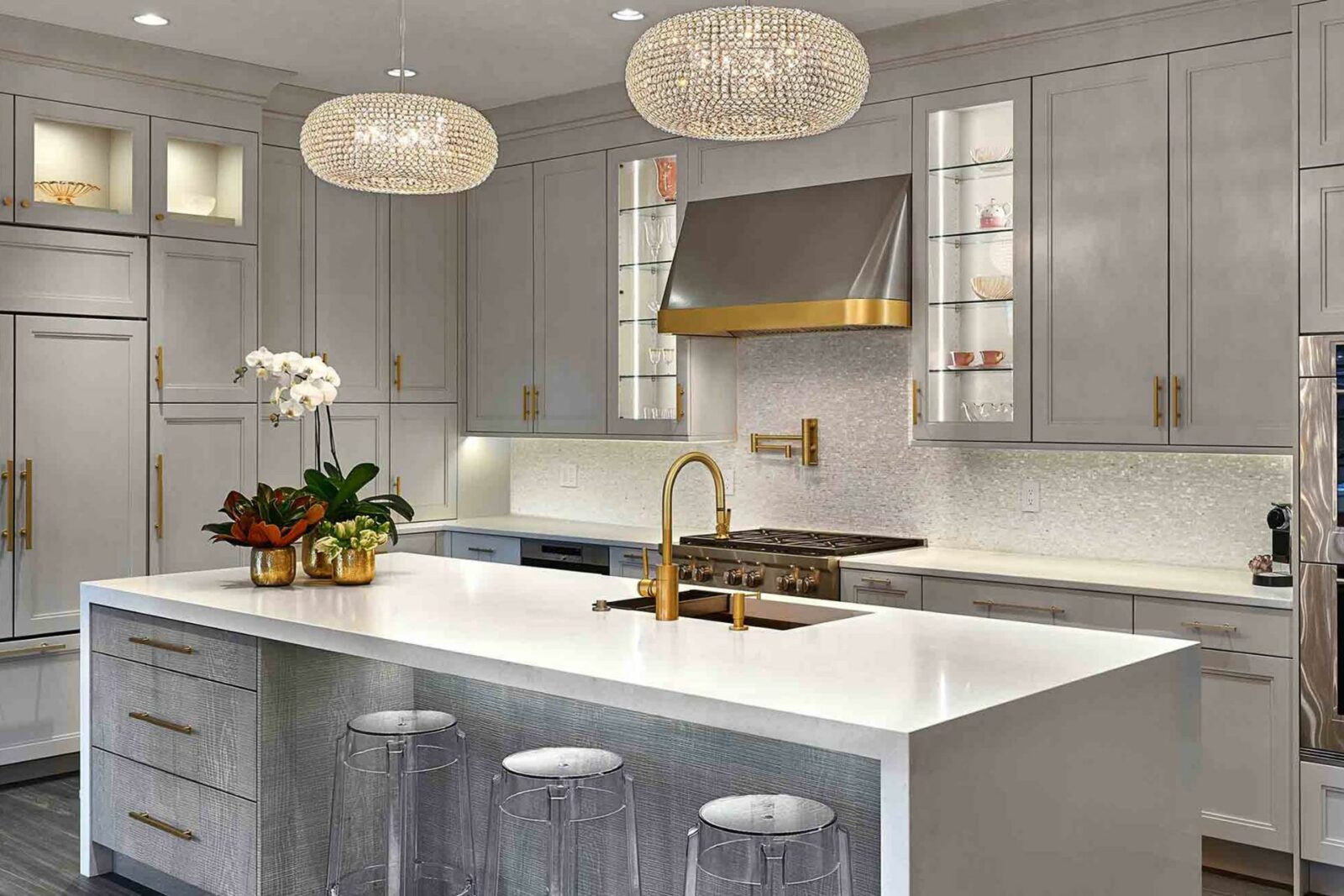 Kitchen remodel cost can vary widely, largely depending on three significant factors:
1. Type of cabinets
2. Type of contractor
3. Level of customization and quality of materials
If you're not looking to invest significantly in your kitchen or if you plan to sell your house soon, imported cabinets might be the most economical choice. However, if you wish to invest more in your kitchen, require a fair amount of customization, or have a complex kitchen layout, American-made cabinet lines would be the optimal choice. It's worth noting that American-made customizable cabinet lines, which come with a lifetime warranty, can be almost 3 to 5 times more expensive than cheaper Chinese-made cabinet alternatives.
Cost Based on Type of Kitchen Cabinets
The cost of kitchen cabinets plays a major role in the total expense of your remodel. Here's a breakdown:
Imported Cabinets:
Typically from countries like China and Vietnam.

Price ranges from $5,000 to $13,000.

They offer less customization and are pre-assembled.

Often in stock and can be delivered within 2-4 weeks.

Generally of lower quality.

Come with a limited manufacturer's warranty of 3 to 5 years.

Ideal for small and mid-sized kitchens with no customization required.

Note: This cost estimate does not include countertops, backsplash, lighting, flooring, paintwork, plumbing, or electrical work.
American Cabinet Lines:
Start at a higher price point, around $15,000, and can exceed $100,000 depending on the size of your kitchen and the level of customization you desire.

Delivery time is between 6-10 weeks.

They offer a lifetime warranty.

Known for high-quality craftsmanship.

Suitable for mid-to-large sized and complex kitchens.
If you're planning to relocate appliances, remove a wall, or conduct any structural work, additional electrical and plumbing work will be required. Typically, electrical work costs will not fall below $3,000, while plumbing work should not exceed $1,500.
Cost Associated With Choosing a Contractor
The type of contractor you hire also impacts the overall cost of your kitchen remodel. There are three main options: independent contractors, high-end design and build firms, and licensed, insured mid-sized kitchen and bath remodeling companies.
Cost of Independent Kitchen Contractors:
Independent contractors present a high-risk option. While their overall kitchen remodeling costs may be lower, they can come with hidden expenses such as high labor costs and the responsibility of procuring your own materials. 
There's also the risk of them disappearing on you, and any damage to materials during shipment, delivery, or building falls on the homeowner. Independent contractors also don't usually offer a workmanship warranty. Your kitchen remodeling process will also definitely take longer because you will be basically the project manager and shop around for materials that need your price and taste. With an independent contractor, you get: 
High risk for lack of accountability

High labor costs

Low material cost

No project management process

No workmanship warranty

No credit for damaged materials
Cost of High-End Design and Build Services:
High-end design and build firms or independent interior designers, who sometimes also work with verified, very expensive contractors provide high-quality designs and a lot of attention to your project. 
However, this comes at a premium cost, often three times higher than other options due to less competition. The advantage is less headache during the building process. With these firms, you get: 
Outstanding design

Flawless labor and installation

Exorbitant fees

High-end cabinet lines

A lot of attention
Cost of Mid-Sized Kitchen and Bath Remodeling Companies:
Licensed and insured mid-sized kitchen and bathroom remodeling companies that have been in business for at least a decade offer a balanced approach. They offer decent design quality, a reasonable amount of attention, and a competitive price due to the fierce competition in the market. 
These companies are responsible for possible damages to materials, offer a decent quality of process for the project, and provide up to 2 years of workmanship warranty (often even more to keep customer referrals coming). With mid-sized kitchen and bath renovation companies, you get: 
Project management

Affordable pricing

Credit for damaged materials

Workmanship warranty

High-level of accountability

Decent design quality

Decent amount of attention
It's worth noting that it is almost impossible to do a bad job in this industry and get away with it. So look for kitchen and bath places that have been in business for more than a decade. If they could survive for a decade, they are reasonably legit. 
Keep in mind that contractors may likely charge more if you come across as a demanding, high-maintenance customer. This is because they anticipate potential issues and confrontations that could erode their profits. 
However, if you are kind, reasonable, and understanding, they are more inclined to offer generous discounts to win your business. The remodeling process is often lengthy and challenging, and many kitchen and bath remodeling businesses are prepared to compromise on their profits in favor of a more easy-going customer. Being rude and demanding is expensive. 
Level of Customization and Quality of Materials
More than half of your kitchen remodeling cost will typically go towards kitchen cabinets, especially if you opt for American-made lines. Around 20-30 percent of the cost will be allocated to natural or engineered stone countertops. Some countertops are quite affordable, but others can start at $100 per sq ft. For flooring, your most expensive option is high-quality hardwood, while the most affordable choice is LVT flooring.
If you plan to relocate anything that requires changing plumbing and electrical work by at least one foot, you will need to pull permits from the county, pay extra for electrical and plumbing work, and potentially see a significant increase in your costs. Contractors generally prefer simple pull-and-replace jobs, and any customization can substantially drive up prices.
Structural changes, such as adding an island, relocating your stove, sink or appliances, or removing a wall, can likely add an additional 30-40% to your project costs.
If you want Home Atlas to review your estimate or cost or provide you an estimated cost for your project at no charge, feel free to reach out to us.