Kitchen Remodel Costs in 2022 [7 Tips to Save Money]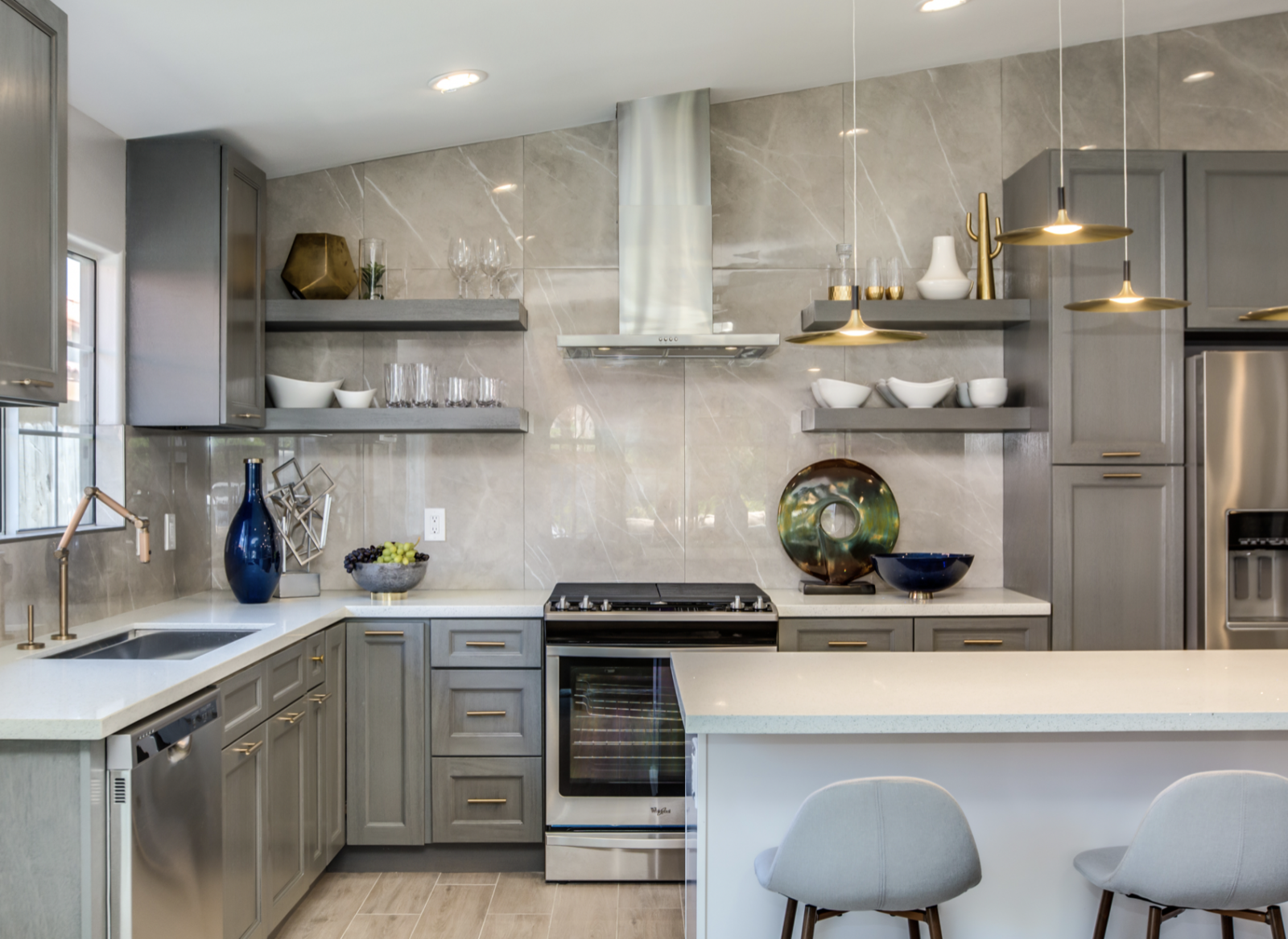 What is the Average cost to remodel a kitchen?
According to Homeowners, the average kitchen remodeling cost for American households in 2022 is currently at $26,460 and could go up to $62,000. Projects with small kitchens may cost as low as $11,000, including painting, replacing the sink, installing a tile backsplash, and changing the cupboard's facade.
What's included in a kitchen remodel?
Cabinets

Countertop

Sink 

Backsplash

Plumbing

Lighting and Electrical

Painting

Demolition and Removal
How Much Should I Budget to Redo My Kitchen? |

Is $30000 enough for a kitchen remodel? 
The final cost depends on the size of your kitchen and how luxurious materials (cabinets, appliances) you choose to purchase. The average kitchen remodeling cost for a medium-sized 12×12 kitchen will be over $22,000. A significant kitchen renovation could cost you anywhere between $35,000 to $73,000.
First thing first, which type of kitchen remodel are you looking for:
1. Are you remodeling because the kitchen cabinets are old and it's time to make the change.
 Or 
2. Do you want to invest in solid wood, American-made cabinets with a lifetime warranty while turning your kitchen into a homey space?
If you're in the 1st category, your best bet is to find an affordable and TRUSTWORTHY contractor. Then purchase cheap import cabinets, which would also be beautiful cabinets like Forevermark or Fabuwood. Both are plywood boxes and have dovetail construction, flush inner frames, and full extension soft close drawers. 
How much does it cost to remodel a 10×10 kitchen?
For a 10×10 kitchen, you may get your cost under $12,000 if you work hard to get your prices down. There will be a warranty for a few years, but you get what you pay for. There won't be customizations available for these cabinets. Lead time for those import cabinets would be two-three weeks, and your contractor will probably charge you between $3,500 to $6,000. You can get engineered or natural stone countertops for around $3,000. 
If you choose to hire a freelance kitchen designer, they may charge you a couple hundred dollars.
However, if you pick one-stop remodeling shops, most will estimate and design your kitchen for free. They will get the permit from the county and install the cabinets with in-house installers. Those companies will go the extra mile to satisfy their client because a bad review is terrible for the business. They also have dedicated project managers and assume responsibility for a job gone wrong. 
However, Contractors aren't assuming responsibility if you're unhappy with their work. There are tons of horror stories to listen to. You may even have difficulty reaching them if things go south. 
Going with American-made cabinets would be your best bet if you plan to grow old in your house. American-made cabinets are good quality, long-lasting, usually solid wood, and can be fully customizable kitchen cabinets with a lifetime guarantee.
 When it comes to cons with American-made cabinets, the lead time is 6-7 weeks. They are 3 or 5 times more expensive than import cabinets. They start anywhere from $18,000 to $47,000. 
Suppose you are interested in changing the countertops, the appliances, the floors, the lighting, and adding a pantry or a kitchen island. In that case, the project will cost you somewhere between $38,000 to $75,000, depending on how fancy you get. There is no limit when it comes to spending Money remodeling a kitchen.
3. If you are somewhere between, you plan to stay in this house for around 10 years until you get your dream house. You don't want to invest a lot of money in your kitchen, but you also want to get quality kitchen cabinets; it is a good idea to have a budget of about $25,000.
What Is The Most Expensive Cost in a Kitchen remodel?
Cabinetry.
It tends to be the most expensive part of a kitchen remodel.
According to the National Kitchen and Bath Association report, cabinetry costs can vary between 20%-40% of the total budget.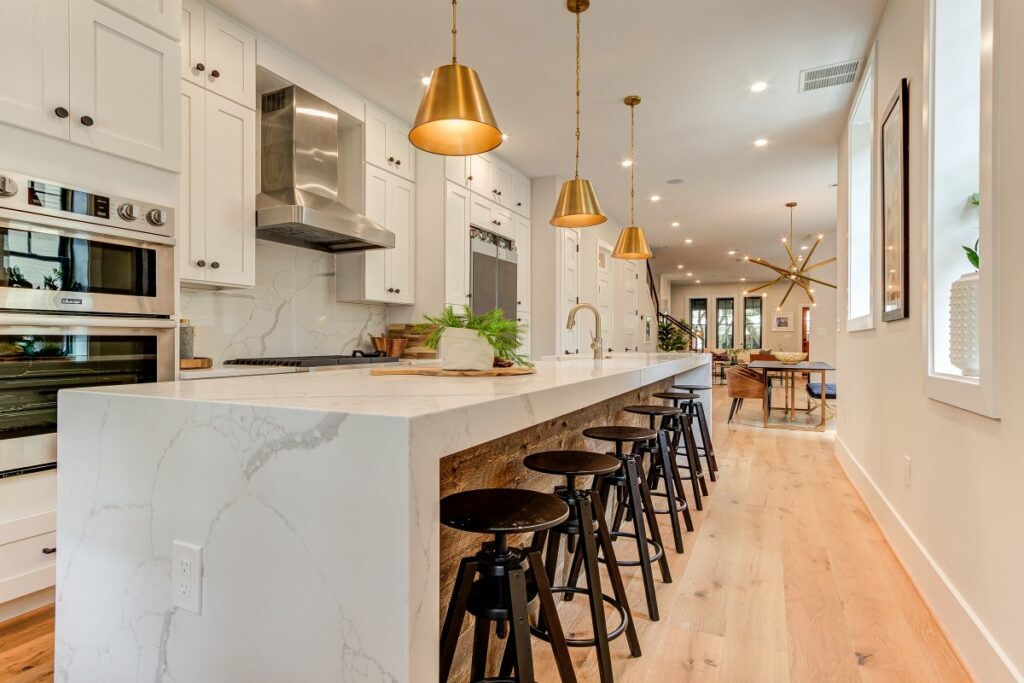 7 Tips to Save Money on Your Kitchen Remodeling Project:
1) Make a budget; And Stick to It
An average American household spends $23,000 on kitchen remodeling. 
You can spend a lot less by making a list of absolutely must-have items and ensuring their costs are first covered.
Ask these questions yourself first:
Are you in need of changing the countertops or kitchen flooring?
 Is it necessary to change the fridge, or is it essential to fix the electricals?
Do you want to change up the sink, or do you have to fix kitchen drainage problems?
Do you need a new cooktop, oven, or microwave? Or are you just influenced by social media?
Don forget that keeping your kitchen layout will go a long way in keeping your costs down. A small kitchen can be remodeled for as less as $13,000.
No one enjoys the new-look kitchen if it severely dents your finances. 
2) Are Kitchen Remodeling Costs Worth it?
Your long-term dreams play a crucial role in determining whether or not you should remodel your kitchen. Even if growing old in this house is not the plan, remodeling the kitchen could significantly add market value to the home when you sell it.
If you decide to redo the kitchen, make sure your kitchen remodeling investments are entirely focused on improving the house's bones if needed.
Ensure kitchen cabinets are not falling off hinges, the flooring is intact, and the electricals are up to date. 
Keep in mind that appliances like; refrigerators, ovens, and stoves can be refurbished rather than be replaced.
How much does a kitchen remodel add to home value?
Remodeling a kitchen is the most efficient way to increase the value of a house. An average-looking kitchen in a premier house will bring down its price. It would be best if you don't overdo, but definitely, do not underdo the renovation. Roughly $17,000-worth kitchen remodel a return of 93 percent resale value.
However, if you plan to grow old in this home, you can even opt for a 'One item at a time' approach and replace all the things necessary over a more extended period.
You can budget more evenly without worrying about escalating costs by not rushing into remodeling and changing things up all at once. 
3) Can you Do It Yourself? 
The most expensive cost of a kitchen remodels after the cabinetry is labor. 
According to the National Kitchen and Bath Association report, labor costs can vary between 20%-35% of the total budget. 
The first thing that comes to mind to avoid is, can you DIY?
Let's be realistic; if you are not a handyman or at least enjoy working with your hand, it would overwhelm you to do it all yourself. However, if you enjoy working with your hands and fixing things around the house, you can eliminate this labor cost if you decide to take matters into your hands. 
YouTube is full of videos that guide you through replacing your kitchen cabinets, changing the countertops, selecting the right appliances for your house, and picking the right backsplash or tile. 
Going DIY will cut costs tremendously, but there is also always a touch of personalization that you can do.
And the next time someone compliments your renewed kitchen, you can proudly say, "I did that!" 
But if you believe in 'leave it to the professionals, there are more than enough contractors to remodel your kitchen. Find them as per your location here.
Hire only licensed, insured contractors and have references to back their promises. 
Check your contractor online; angry customers always make sure to put their frustrations out to the world to ensure no more people get hurt by those individuals or companies. 
According to a recent survey, 88 percent of those who decided to renovate their kitchens hire at least one contractor.
4) Financing Your Kitchen Remodeling
Unless you have a trust fund to pay off tens of thousands of dollars, you need to focus on financing it well. Because how you pay your remodeling expenses is as important as how much you pay for it.
Your contractor will need you to pay half of the money to buy the materials up front.
If you want to get a loan, you need to get it going before the construction process starts. 
Or, if you work with a one-stop kitchen remodeling company, mostly they have a bank they work together for financing. 
Home equity loans are a crowd's favorite since you can deduct the cost when filing your taxes.
Personal loans and refinancing are other popular options along with home equity loans.
Or maybe you have money, and you like to pay in cash. But before you do that, you might want to consider borrowing money with a low rate of interest and then using up the money that is making you more money with an even higher interest rate.
5) Going Away During Kitchen Remodeling
Wouldn't it be best if you came back home to a brand new kitchen with which you are in love? 
If you are thinking about staying somewhere else until the renovation is over, factor the expenses into your budget for the remodeling project.
Or you can always visit your family and stay with them while your kitchen is being renewed.
It may sound like a luxury to live somewhere else during the construction phase, but it is not. 
In a time like this, when most of us are working from home, it is not fun to have electric axes or some pounding noise to have your background music. 
6) Factor in Contingency
It is always wise to factor in around 15% additional for contingency when taking on a big project such as a kitchen remodel. 
Especially after Covis-19, there have been many backorders, delays in orders from kitchen cabinets to furniture like sofa or dining table, to lumbar; anything related to home improvement. 
Plus, there could be labor delays with your contractors, nasty weather, or other inevitable circumstances like an accident on the job. 
Nonetheless, after you assumed everything is finished, there could be a problem with inspection because your contractor didn't comply with some of the codes in the permit. All of that is going to add to the expenses. 
If you are lucky and nothing unfortunate happened, you can use the extra money you set aside to purchase the items for the kitchen in your shopping cart you were debating buying.
7) No Second Thought After You Settle
Do not keep going back to Pinterest to check all those glamorous kitchens once you have done your research and set your budget for the project. Remember that everyone has a very different budget, and those pictures only reflect a tiny percentage of a kitchen in real life. 
Ask yourself, can you go with standard size cabinets, or do you have to pick a custom-built cabinet that would at least double the price? 
Read The Contract Carefully
Be aware of those gimmick sales for remodeling package deals. Ask those companies what the package includes. Raed the contract and job descriptions very carefully. 
It is frustrating to find out once you signed the contract and went into the project to find out later you have to pay extra for some materials.