Home » Cheapest Way to Renovate a Kitchen and Save Money
Cheapest Way to Renovate a Kitchen and Save Money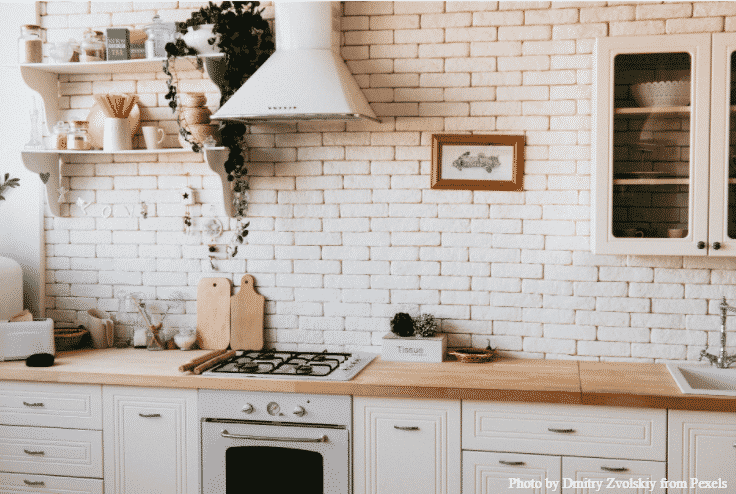 A kitchen is the life of every household, owing to the amount of time you spend there. Every homemaker has the vision of a perfect kitchen in their heads, equipped with all the necessary equipment, and features a modular design. The mere thought of renovating a kitchen can be very tempting. Here's the cheapest way to renovate a kitchen that won't burn a hole in your pockets.
Remodeling your kitchen with latest trends is a fun and exciting home improvement task, but it can also be equally time-consuming and expensive. A kitchen is the most expensive area of the home to renovate.
The first thing that any homemaker thinks about here is the cheapest way to renovate a kitchen if they're on a budget. The kitchen remodeling process involves a lot of moving parts that can amount to a lot. Many people tend to put off the idea of renovating a kitchen solely due to budget issues.
Do you want to renovate your kitchen on a budget? Here is a guide to the cheapest way to renovate a kitchen.
How Can You Remodel a Kitchen on a Budget?
Whether you enjoy cooking or not, a well-equipped kitchen can make the process fun. With all the necessary equipment and a modern layout, a modular kitchen can help save time and effort. A kitchen remodel tends to cost anywhere from $20,000-$50,000, depending on your project's scope.
If you're looking for effective ways to remodel a kitchen without spending much, here are few tips to keep in mind:
Stick to the Same Layout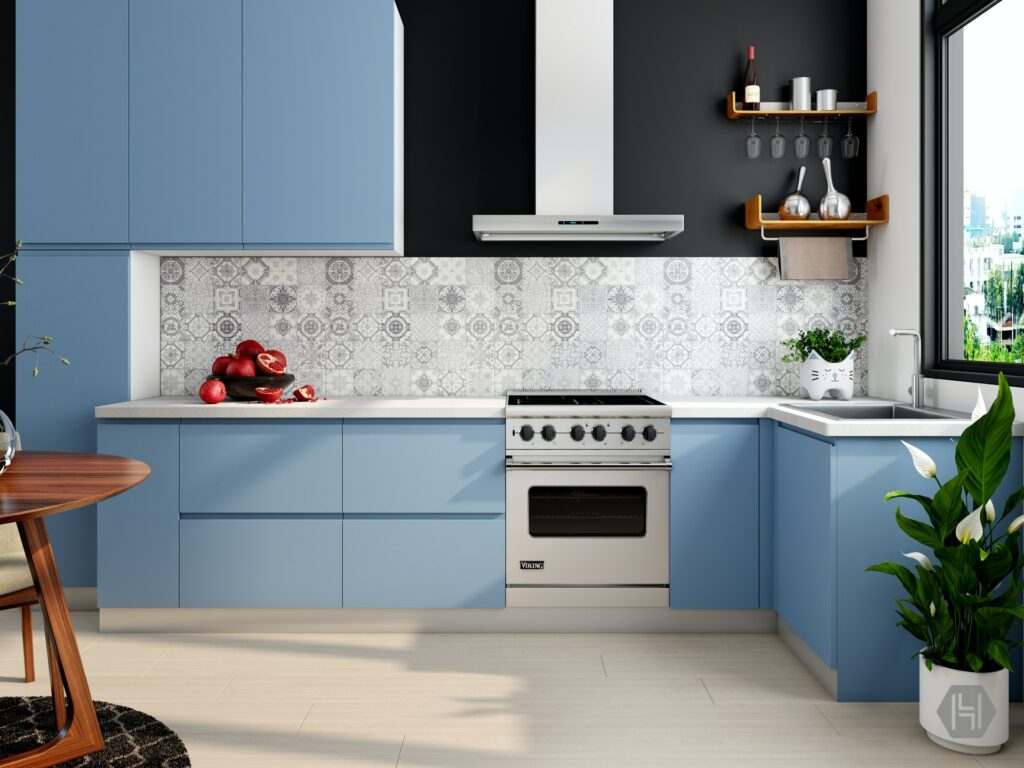 The cost of renovating a kitchen can vary on the number of things you wish to change. One way to drive up the cost is by changing the entire layout of your old kitchen. It encompasses moving the position of the sink, refrigerator, or dishwasher. The process will not only involve more labor but also add to the cost of materials.
If you decide to keep the kitchen layout the same, it will reduce the work and make it highly cost-effective. You will not have to add new plumbing or electrical work. If the floor is in good shape, you can also keep the existing flooring.
Changing the entire layout isn't possible in a gallery style or kitchen corridor. But, you can easily alter the layout in a one-wall kitchen design. 
Update the Cabinets
The next thing you need to decide for a kitchen update is whether you want to keep the same cabinets or get new ones. New kitchen cabinets can occupy a major space of your renovation budget, especially if you go for custom-made pieces. If you want to save up on the cost, you must not go for new cabinets.
There are ways to refresh existing cabinets that will not only prove to be economical but also eco-friendly. The classic watch to revamp the old cabinets is by adding a layer of new paint. You must carry out the complete process of sanding, priming, and then painting the cabinets.
If not, refacing is also an easier yet a little more expensive way to give a new outlook to cabinets. It adds a veneer to the outer surface of old cabinet boxes and replaces drawer fronts and doors. Changing only the doorknobs and handles can also help you add a brand new feel to the kitchen.    
You can also consider adding some new open shelves to give it a modern feel if you don't want to spend a lot.
Refurbish Old Appliances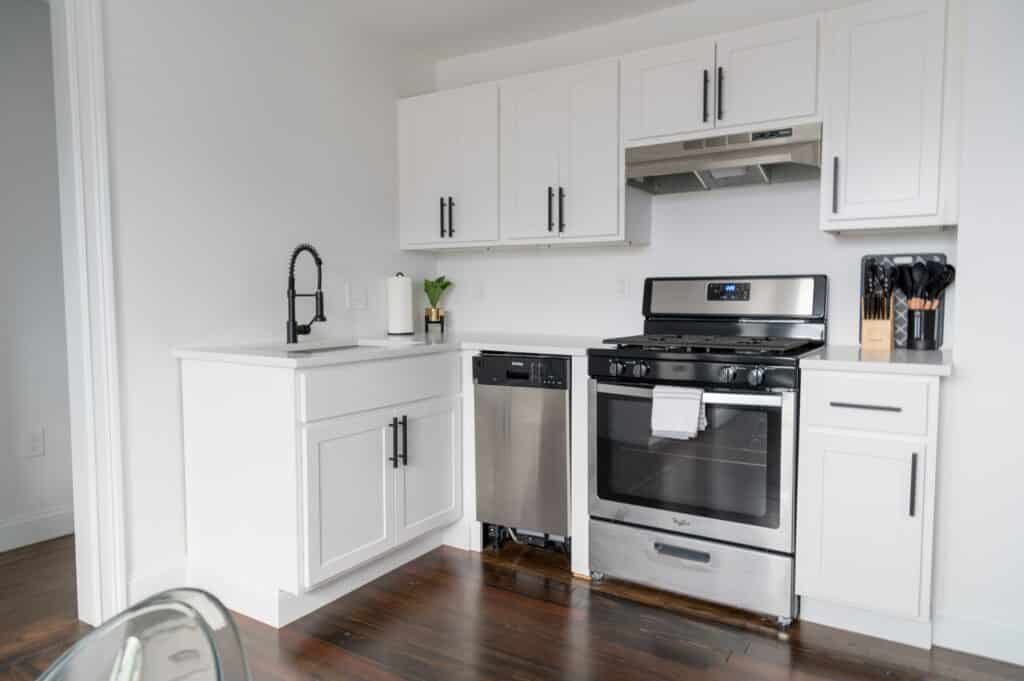 Electrical appliances make up the base of any modern kitchen. If you decide to tear out all the old appliances and replace them with new ones, the renovation budget will certainly go up. In case the appliances are serving their purpose and not giving any trouble, you can use the same ones.
There is plenty of information available on fixing kitchen appliances. You can use that information to refurbish the appliances yourself and then add them to your newly renovated kitchen.
Add New Paint
The easiest and also the most cost-effective way of a budget kitchen remodel is by adding new paint. A new coat of paint will help cover up all the untidy or dirty spots in your kitchen. Painting the kitchen is not just adding a new color on the walls or timber rims. Rather, it also covers painting over timber paneling, outdated tiles, or even discolored stainless steel sinks.
Update the Lights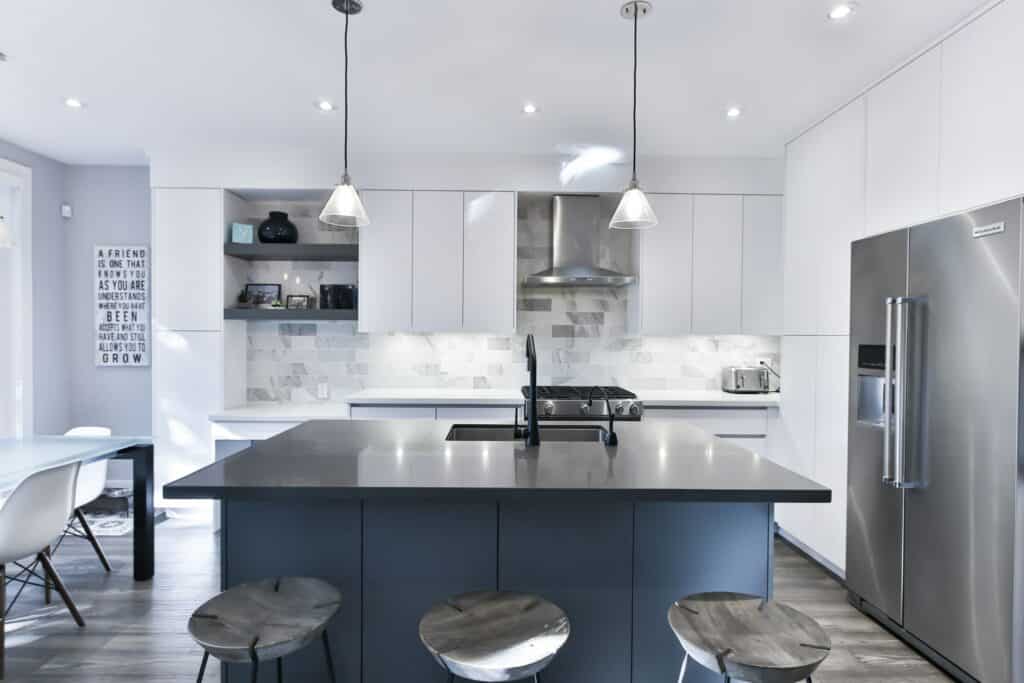 While most people don't realize it, your kitchen's light fixture can play a major role in your kitchen's aesthetic appeal. If you're carrying out a renovation, you can play around with the lighting. When it comes to buying new lights for the kitchen, go for brighter and warmer lights.
Find a local hardware store that sells affordable yet creative lights. For an extravagant appeal, you can add pendant lights over the kitchen island. Besides that, opt for new switchboards that match the area's overall look and don't stand out.
Add a New Backsplash
If you wish to amp up the whole style of the kitchen by making a single change, adding a fancy new kitchen backsplash can help you achieve that. Undoubtedly, it can have a big impact on the look of the kitchen. Adding a new backsplash or swapping out the old name is also a relatively easier process.
You can choose the subway tile backsplash available in varying colors to add a character. To make the process much simpler, you can opt for a peel and stick tile backsplash. An essential thing you must keep in mind here is that the backsplash material you choose is water and dirt-resistant.
If it still goes out of your budget, you can go for stencils and spray paint or even use wallpapers.
Do the Work Yourself
While renovating a kitchen, you may think hiring a professional is the best way. But it can involve kitchen remodeling contractors, electricians, plumbers, and even carpenters. In the end, the labor cost can prove to be a hefty expense at around 10-15% of your total budget.
You can avoid the cost of labor by making the remodeling process by carrying out the work yourself. Whether it is adding new lights or painting the walls, you can easily perform these tasks. This is the cheapest way to renovate a kitchen and save money.