Home » How Much Should A 10×10 Kitchen Remodel Cost?
How Much Should A 10×10 Kitchen Remodel Cost?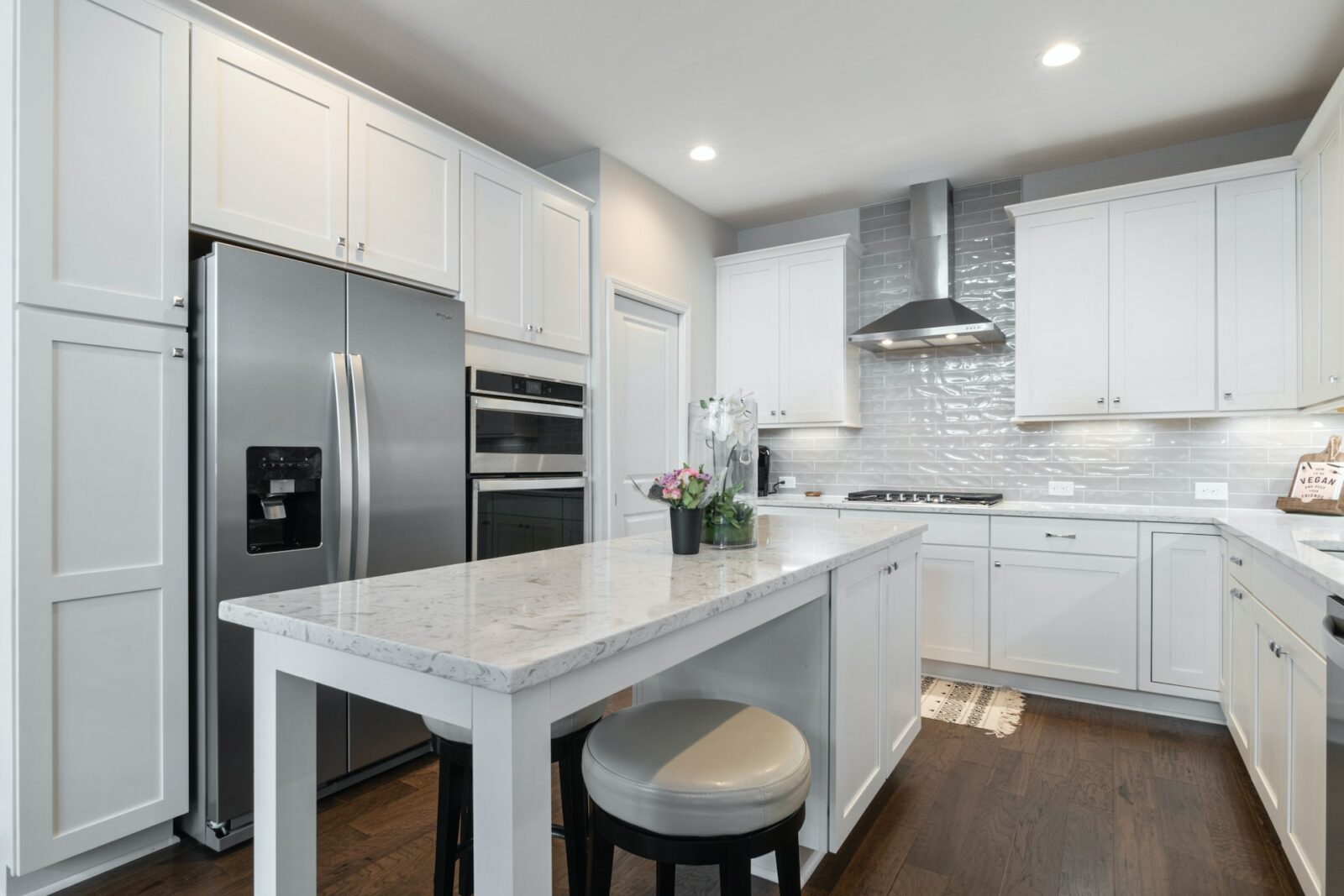 On average, you can expect a 10×10 kitchen remodel cost to be around $15,000 to $30,000. Typically, homeowners spend somewhere between $80 to $200 per sq. ft., while the overall cost depends on a lot of factors. 
If you wish to incorporate high-end equipment and accessories, the costs might go a little higher. With accessories, installation, and labor charges taken into account, the average cost can be anywhere between $30,000 and $45,000.
According to designers, 10×10 is a standard size for a regular kitchen and it is large enough to accommodate all the necessary appliances along with the food preparation and storage area. The good news is that a 10×10 kitchen comfortably fits into a moderately sized house and can be a significant investment. 
Kitchen Remodel Cost Breakdown
Now that we know what the average cost could be, let's check out what factors add up to the final cost. Below is a breakdown of a 10×10 kitchen remodel cost. 
Design
A simple kitchen makeover might not require a lot of changes. But a full-scale kitchen remodel might involve a layout alteration as much as an upgrade in fixtures. For this, you'd need to hire a designer along with installers.
The standard rates for designers start at $150 to $200 per hour. Based on the size of the project and the changes required, you'd be able to calculate the overall cost in the design aspect. 
If you plan to book an in-home consultation, it can cost you around $800. Whereas, if you get a 3D rendering of the design and request for a follow-up, it could cost you an additional charge of about $500-$700. 
Flooring and Wall 
The kitchen flooring and walls play a significant role in the decor of your 10×10 kitchen. Different materials will be priced differently, so you can make an estimate based on the material you choose. 
One of the affordable options is ceramic or vinyl flooring. A few other durable options are marble, laminate, and wood. Kitchen floors are prone to stains, grease, and moisture. Hence, choose a material that is resistant to these factors. The same goes for the walls and backsplash. 
Typically, flooring costs run from $1500 to $4500 while tile installation on walls will cost around $5 to $10 per sq. ft.   
Kitchen Countertop
Like the flooring, the price for countertops will also vary depending on the material. Popular countertop materials are granite, quartz, laminate, wood, and marble. These are not only heat- and stain-resistant but also stylish and durable.
The typical cost of a kitchen countertop can range from $1500 to $5000, including installation and labor charges.
Kitchen Furniture 
Kitchen furniture is not a mandate, however, you can invest in them considering their functionality and the availability of space. If you have a peninsula or a spacious island, you can level it up by adding a couple of stools or chairs around to make it work as a dining space.
Depending on the type and number of furniture you choose, it's going to cost you between $1,500 to $3,000.
Cabinetry
This is one of the most essential components of any kitchen. The price range might vary for readymade cabinets and customized ones. Installing new cabinets can cost you anywhere between $5,000 to $30,000, based on the material type.
On the other hand, refacing cabinets will only cost you just a fraction of this amount.
While stock cabinets range from $80 to $150, semi-custom cabinets will cost you between $100 and $1200. Custom cabinets are slightly pricier, ranging from $500 to $1500 per linear ft. 
Appliances
When choosing new appliances, you must focus on the functionality and the quality of the products. Some of the key appliances include a dishwasher, stove, refrigerator, oven, etc. Each of these appliances should cost you around $100 to $300. 
Electrical and Plumbing Fixtures
Besides all the other components, you also need to ensure that the water pipes and gas lines are working fine in your kitchen. If you're replacing electrical panels or getting wiring work done, it's going to cost you $1000.
Plumbing, installing a new sink, and replacing faucets will cost you an overall $700-$1000. It's prudent to prepare ahead and keep aside an additional sum of about 15% of the total estimated budget to take care of miscellaneous expenses. 
Tips to Save on Remodel Cost
It's not impossible to bring down the remodel cost for a 10×10 kitchen. If you're a little creative and choose budget-friendly products, you can easily save about $2000 to $5000 on kitchen remodeling. Here are a few tips that might come in handy to you. 
You can get a natural stone appearance on your kitchen floors by picking a vinyl surface. It's trendy as well as affordable, saving you almost $3000. 
Instead of installing new pipes and gas lines, you can possibly utilize the existing sockets and fixtures to reduce costs by about $3000 to $5000.

Thirdly, you need not alter the entire layout to upgrade your kitchen aesthetics. Make a list of priorities and stick to it, so you can attain the desired look while staying within your budget. 
Final Thoughts
Although a 10×10 kitchen remodel might sound intimidating, you can significantly cut down on the cost through careful planning. Remember that labor costs will take up 50% of the total costs and you can't get rid of it. However, you can always make clever decisions while choosing materials and accessories.
If you can stop yourself from going overboard, you can save a lot of bucks. Hope this article helps you in planning your next kitchen remodel! 
FAQs
How many cabinets can fit into a 10×10 kitchen?
A 10×10 kitchen is large enough to fit in about 10-12 cabinets. 
Does a 10×10 kitchen fall into the category of small kitchens?
As per designers and cabinet retailers, a 10×10 kitchen layout is the standard dimension for a regular kitchen. This size is ideal for a moderately sized house and can accommodate the necessary food preparation and storage areas.
How much does it cost to install cabinets in a 10×10 kitchen?
Replacing cabinets in a 10×10 kitchen can cost you anywhere between $3000 to $6000, depending on the number of cabinets and the material you choose. 
Should I install flooring before cabinets?
It's safer to install flooring before cabinets to avoid damage. It also helps you gauge the height of the cabinets from the floor. 
Is there a perfect kitchen layout?
Designers recommend a U-shape floor with an island at the center as the most versatile layout for any size of the kitchen. This layout opens up space for longer countertops while surrounding the user from three sides for easy accessibility. It also allows you to incorporate extra storage cabinetry.