Kitchen cabinets occupy as much as 25-35% of typical modern kitchen space and account for at least 40% of your kitchen remodeling budget. 
There are so many aspects one needs to consider when deciding to remodel or choosing cabinets to their kitchens. Some of these factors are material, size, method, and much more. Therefore, a comprehensive kitchen cabinet guide is a must to begin the kitchen remodeling process. 
Kitchen Cabinets Based on Manufacturing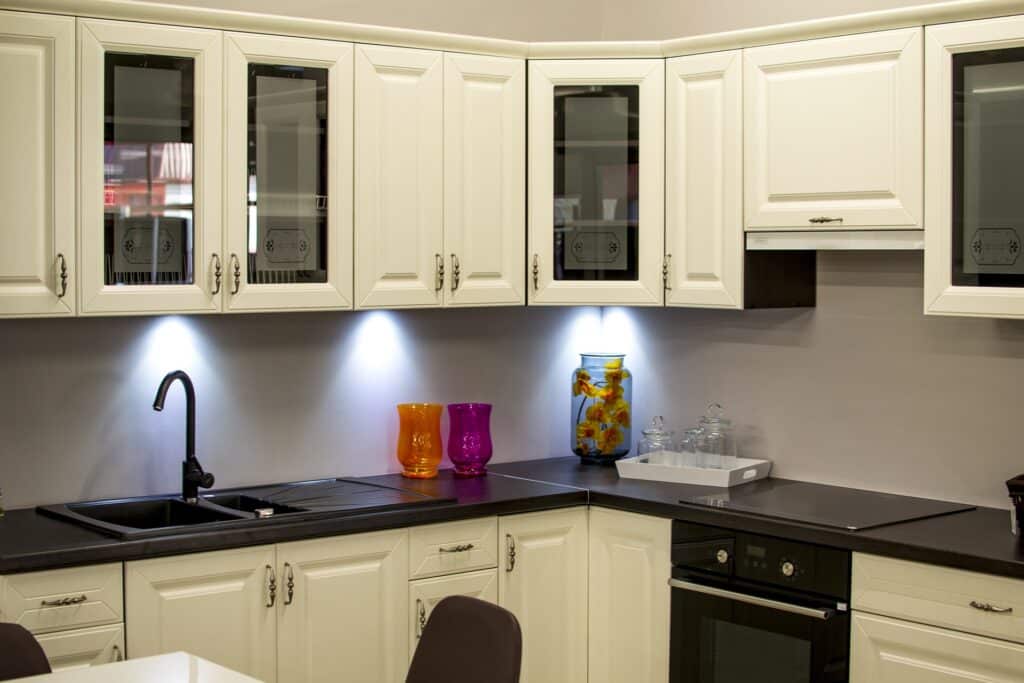 There are mainly three types of kitchen cabinets available based on manufacturing, and these are stock, custom, and semi-custom. Each one has its pros and cons that you should consider before making a decision.
Stock Cabinets
Stock cabinets are the least expensive option that may cost you under $100-$250 per square foot. The stock cabinets mostly come pre-assembled, but some may require assembling depending upon the design and style. 
While these are cheaper, these stock cabinets are available in only a handful of colors, styles, and patterns. If you wish to incur more styles or patterns to their design, you can opt for custom cabinets or semi-custom cabinets for your kitchen remodel. 
Custom Kitchen Cabinets
As the name suggests, custom kitchen cabinets are made as per your kitchen's style, size, and requirements. You can include your plans and customizations in such cabinets to enhance their functionality.
You can have various modifications in any custom cabinet, including a coffee station, glass doors, integrated wine racks, furniture-touches, and much more. Plus, the size of the cabinets is another thing you shouldn't worry about as you can pretty much make it as per your wish.
Custom kitchen cabinets are somewhat expensive considering the craftsmanship and attention to detail that goes into their manufacturing. You can expect to pay anywhere between $500-$1200 per square foot for custom kitchen cabinets.
Semi-Custom Cabinets
If you are comfortable with the readily available stock cabinets but prefer some extra details to personalize their style and storage capabilities, you can go with semi-custom cabinets.
For instance, you can alter the dimensions of the drawers, replace the existing material, change the lamination, etc. In a nutshell, a semi-custom cabinet usually costs $150-$650 per square foot. 
Based on your alterations, a semi-custom cabinet may take up from four to eight weeks for delivery. 
Kitchen Cabinet Sizing Is a Critical Aspect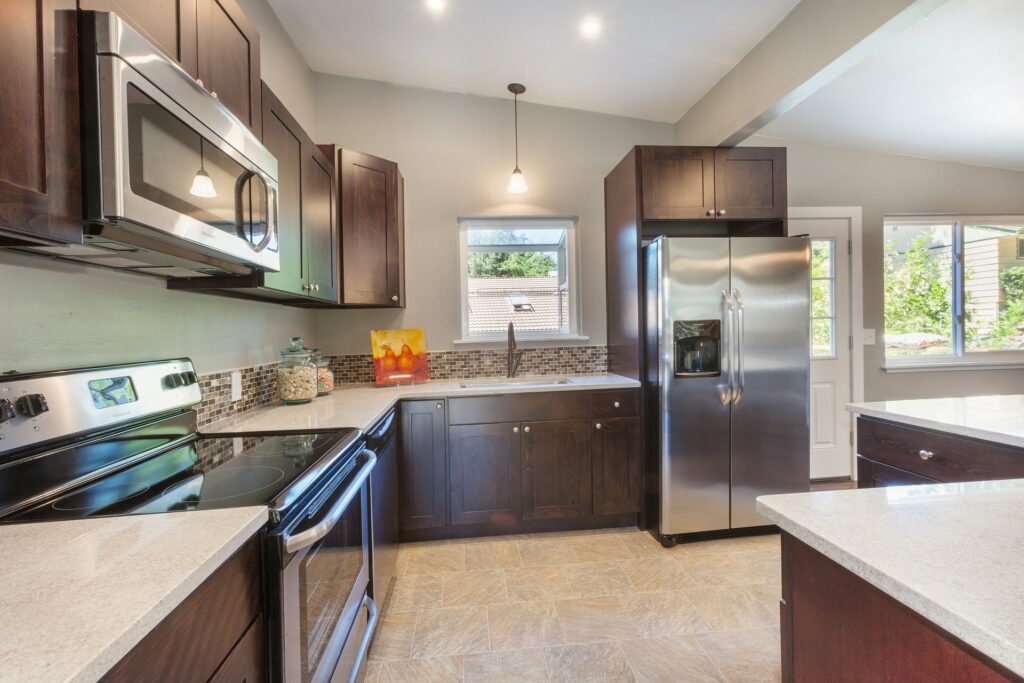 The next step of the kitchen cabinet guide is about the dimensions. Its depth, height, and width is a crucial topic of discussion as it'll help you store the various kitchen goods accordingly. 
Remember that every sort of kitchen cabinet will have distinct dimensions that may or may not be changed later. For example, custom cabinets are available in widths ranging from 12-36 inches while stock cabinets come in a standard range that you cannot alter.
Choose Between Framed or Frameless Cabinets
There are high chances of you coming across another two types of cabinets: framed and frameless. From the outside, both may appear similar in structure but have a minute difference when you look closely.
There's a face frame attached to the main cabinet unit (or cabinet box) in the framed kitchen cabinets to which the hinges and other attachments connect. This gives these cabinets a cleaner look and strength.
Contrarily, there is no such face frame in frameless cabinets. Thus, the door hinges and other attachments connect directly onto the central unit, so their durability is less compared to the framed variation. 
For cramped spaces, frameless cabinets are the best deal as they take less space than the framed cabinets. 
Closely Assess the Cabinets' Quality 
Assessing the quality of the various elements of a cabinet, like the drawers, doors, shelves, etc., is a must while choosing kitchen cabinets. Such a measure will help you understand the true value of the kitchen cabinets.
In the case of drawers, ensure they are made from solid wood, have a smooth sliding structure, and are made of a single wood piece. Even if there are multiple pieces in the drawer, make sure none of them come off easily. 
For the doors, it's suitable to check the quality of hinges, smooth movement of the doors, the material used, etc. If there is any doubt, talk to the supplier.
If you want shelves within the cabinet, ensure that the shelves are at least three-quarter inches in size. Anything less than this may cause the shelf to sag down under the weight of the items that you store. 
Similarly, the width of more than 4-5 inches can occupy more space and make the cabinet appear odd. 
Decide on the Budget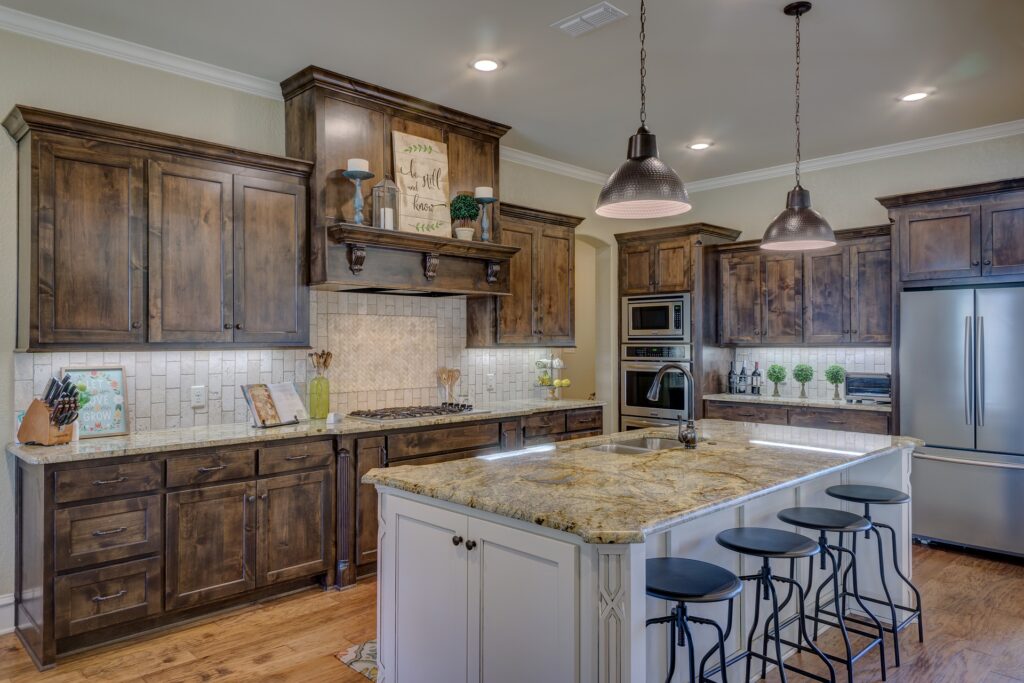 A kitchen renovation is generally not much rewarding if you wish to sell off your home in the coming future. Hence, have your intentions and budget sorted before you start planning out the kitchen cabinet design and budget. 
If you are planning for a prolonged stay in your home, you can invest in a dream cabinet design and set a high budget to accomplish it. If you're planning to shift to another place within some months or years, it's better to set an upper limit and avoid lavish kitchen cabinets. 
This way, you will have no issues setting a realistic budget to transform your kitchen through this complete kitchen cabinet guide. Plus, be mindful of all the factors and additions you plan to execute, as that will affect your budget and cabinet costing to a great extent. 
Another thing to notice is that irrespective of the period you're going to live in the current place, it's a good idea to invest in high-quality and long-lasting kitchen cabinets. 
Look Out for Trusted and Renowned Designers or Retailers
If you're going forward with stock kitchen cabinets, you can pick any renowned and experienced kitchen remodeler near you to procure your desired cabinetry. 
On the other hand, if you wish to go with custom kitchen cabinets, you should contact an esteemed interior designer. A designer will assist you in getting the most appropriate style and size of each element.