If you're pondering over where do I start with a bathroom remodel, here's a complete checklist to assist you in this. Remodeling the bathroom is an exciting chapter of home improvement, and that's why you should approach it in the best way possible. 
A bathroom is often assumed to be just a common place with a sink, bathtub, shower, and toilet. 
But in reality, it's that place of your home with a slice of surreal serenity where you can shut out the world. Your bathroom is the only place where you have the space to yourself and create a sanctuary easily.
While renovating it, it's essential to ensure that it delivers the required comfort and reflects your personality. However, before this part of the renovation, there comes a not-so-exciting part of preparing your bathroom for the finish you dreamt of. 
Before you start asking yourself about where to start with a bathroom remodel, use this guide to help you plan the right bathroom remodel steps.
Decide on the Budget
When you're working on your bathroom renovation, you may feel dazed by thinking about the numerous bathroom designs. In such a scenario, you should always start with planning out your budget. 
While renovating a bathroom, the budget will help you decide what all to include and what not. For example, if you have a tight budget, you will refrain from going too big and vice-versa. 
Once you have a budget lined up, subtract the labor costs from it, and you can divide the leftover sum towards the major and minor elements of the bathroom.
Time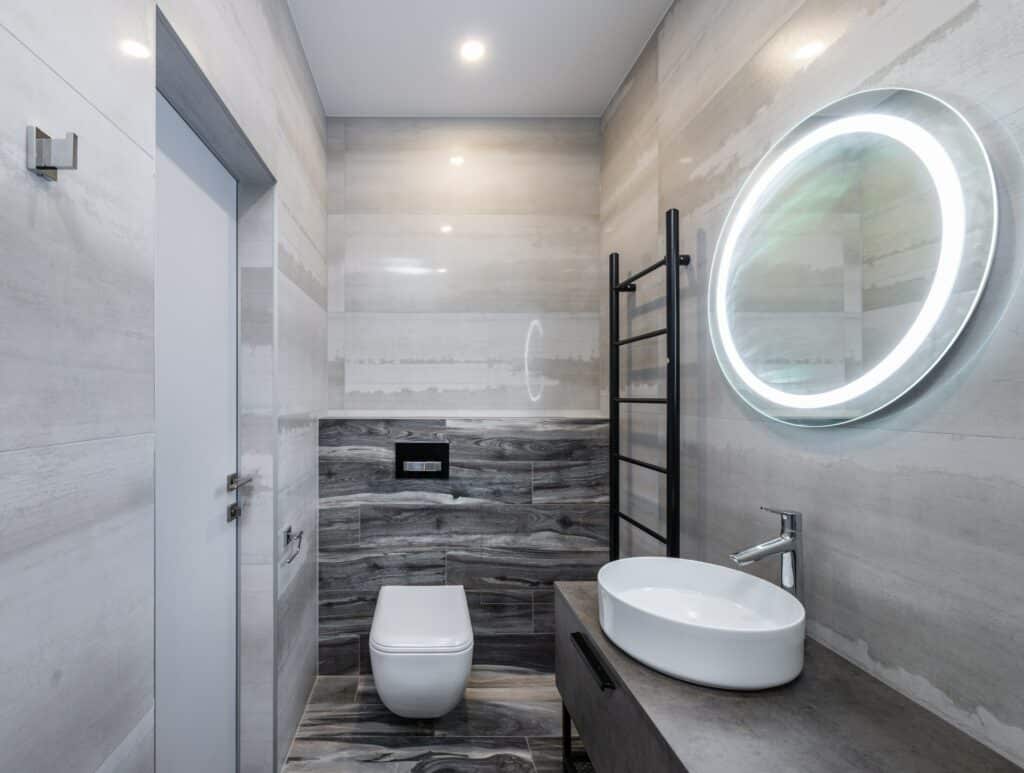 It's a misconception that time required for remodeling a bathroom is directly proportional to its size. That is, the smaller the bathroom, the lesser time it will take, and vice-versa. But this isn't true. 
In fact, a bathroom remodeling company near you will decide the actual time the project will take. Furthermore, planning out the time also means completing the intermediate steps like purchasing the required elements you've decided on for your bathroom.
This will ensure they get delivered as soon as possible or whenever the designers ask for them.
Work Sequence
Deciding on the sequence is a critical bathroom renovation tip.  If you follow a proper sequence, you can save yourself some valuable time for clearing the mess and working on the mistakes, if any. 
For example, whether it's the demolishing part or repainting part, start from the ceiling. This way, you won't cause damage to the other elements of the room.
As a thumb rule, revamp the ceilings first, then the walls, and then the flooring in the end.
Don't Leave Any Space Unattended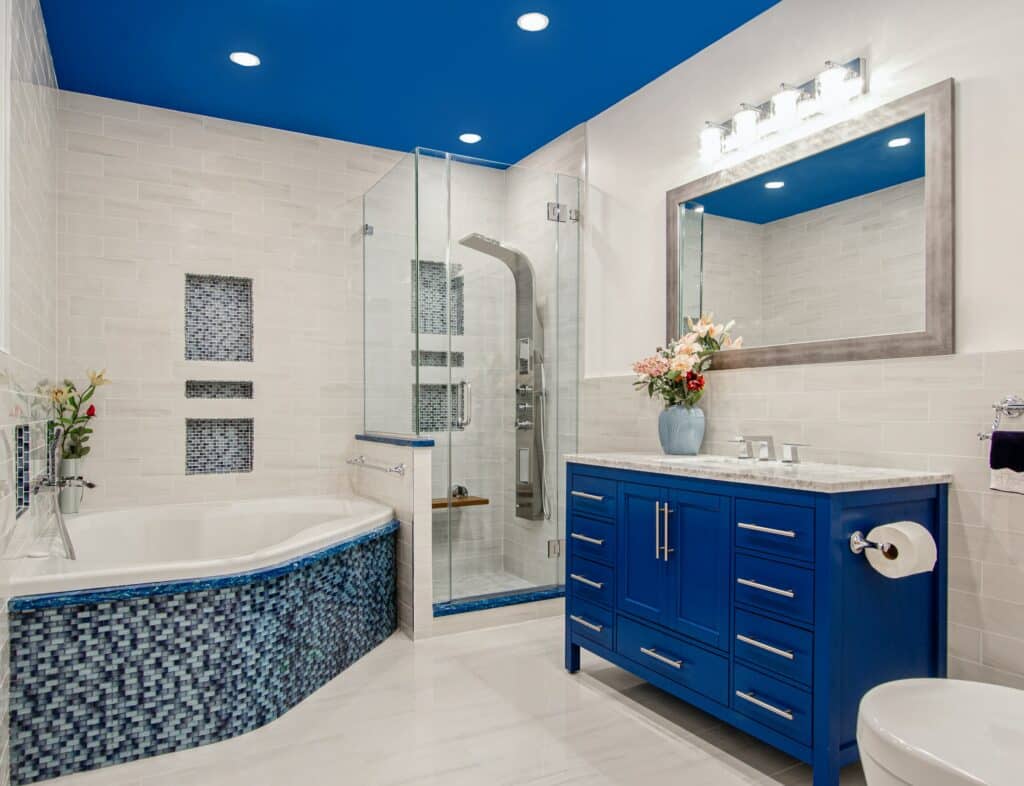 This step holds true if you're doing a head-to-toe renovation of your bathroom. In that case, you should consider fixing issues that you feel are too small. Since you're renovating a bathroom, it's a good idea to fix as many issues as possible to avoid conflict later on.
This includes installing brand new water pipes, floor tiles, structural deficiencies, and every other thing which you feel is not required at the moment. This will ensure the smooth functioning of your bathroom with zero issues for many more years to come. 
Looks and Functionality of the Bathroom
When it comes to the design of your bathroom, there are many factors to ponder over. Floor tiles, color palette, dividers, bathtub material, vanity, sink, and similar things are vital to deciding upon. 
You can start with basic research and build upon that. As a starter pack, imagine and position the various major and minor bathroom elements according to your preferred bathroom layout plan.
If it's overwhelming, pick one element and work out the rest of the layout around that element. You should also focus on its functionality, i.e., who will use the bathroom, etc.
Plus, you should ensure that whatever design comes out should blend with your house's design.
Start With the Measurements
The existing plumbing system measurements, electrical wiring, and other bathroom fixtures are crucial for you to proceed ahead. While planning to purchase the bathroom materials, these measurements will ensure you don't buy any unnecessary stuff or stuff that doesn't fit.
Hire a Contractor
Are you planning to hire separate workers for the plumbing job, electrical job, and other fixtures? If yes, drop your plan!
Bathroom remodeling is a complex job and not an ordinary DIY sort of thing. Hence, hiring a bathroom remodeling contractor near you is a better option that will save both time and resources. Don't forget the misery of communicating every step to different individuals every time.
Plan the Right Height of the Sink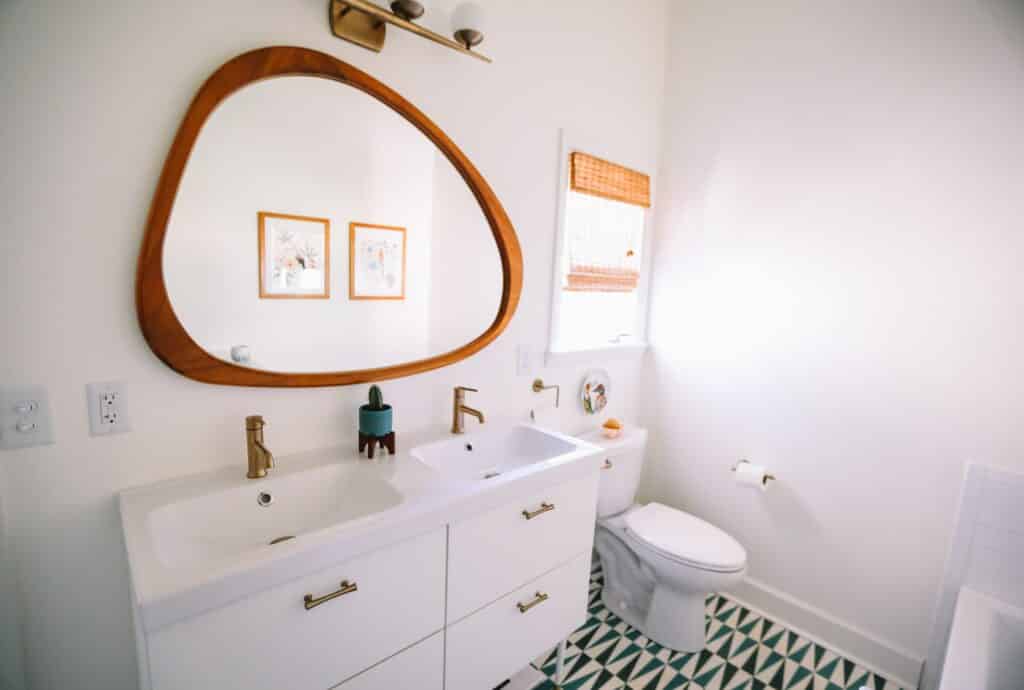 Typical bathroom countertop height is around 32-34 inches off the floor. Now, the type of sink you're planning to install should be such that you or others don't find it difficult to wash their hands.
The lower height of countertops is a point to ponder for above-counter vessel sinks.
Pick the Right Vanity
A right bathroom vanity is vital to the space. If it's too big, the vanity will obstruct your movements, and if it's too small, you'll find yourself looking for more storage space. 
If the material isn't perfect either, prepare yourself for added maintenance costs in the future.
Check the Tile Size
Tiling is one of the major aspects that comes to the mind when one asks 'where do I start with a bathroom remodel'?
There are different types of tile sizes and shapes available in the market. Before looking out for your restroom's tile sizes, be careful of their measurements. 
Tiles are available in European measurements, and such sizes don't match most of the bathroom. 
Have More Ways of Drying up Your Bathroom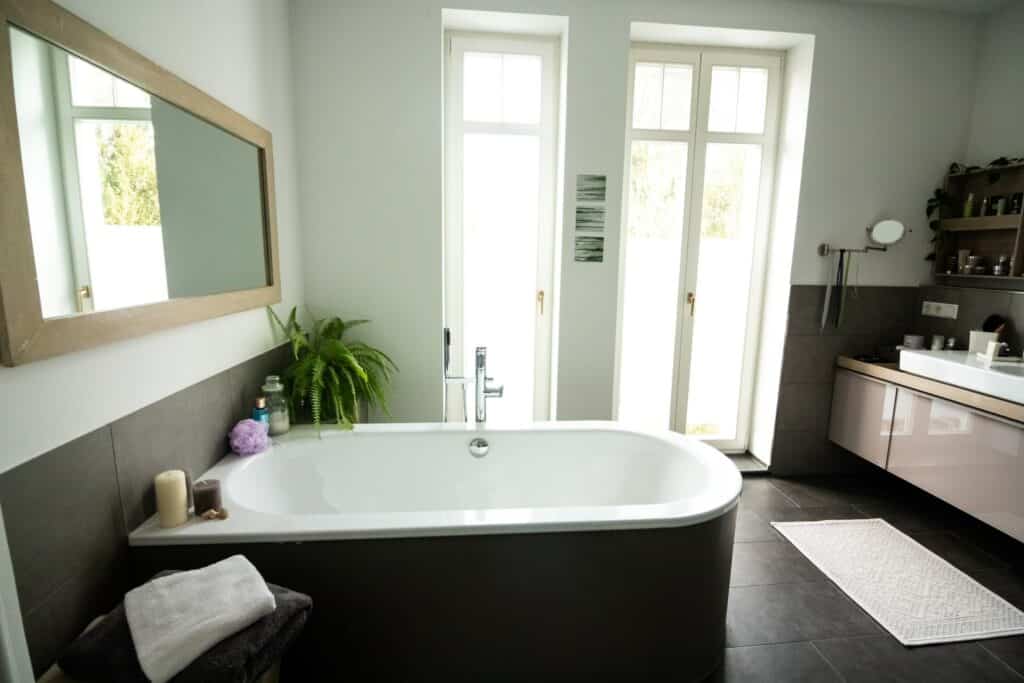 The mechanism for drying out of the bathroom is another important aspect of any bathroom. Removing mold and mildew starts with removing the moisture from the bathroom. For this, a great fan is a perfect addition. 
Check How Your Bathroom Floor Meets the Surface Outside
You may have a tiled floor inside the bathroom and a wooden or marble floor outside it. Now, how two surfaces meet each other is essential to think and check. 
Hence, plan with your contractor on this topic and develop a proper way of connecting these two surfaces.