Home » Common Bathroom Layout Mistakes to Avoid in 2021
Common Bathroom Layout Mistakes to Avoid in 2021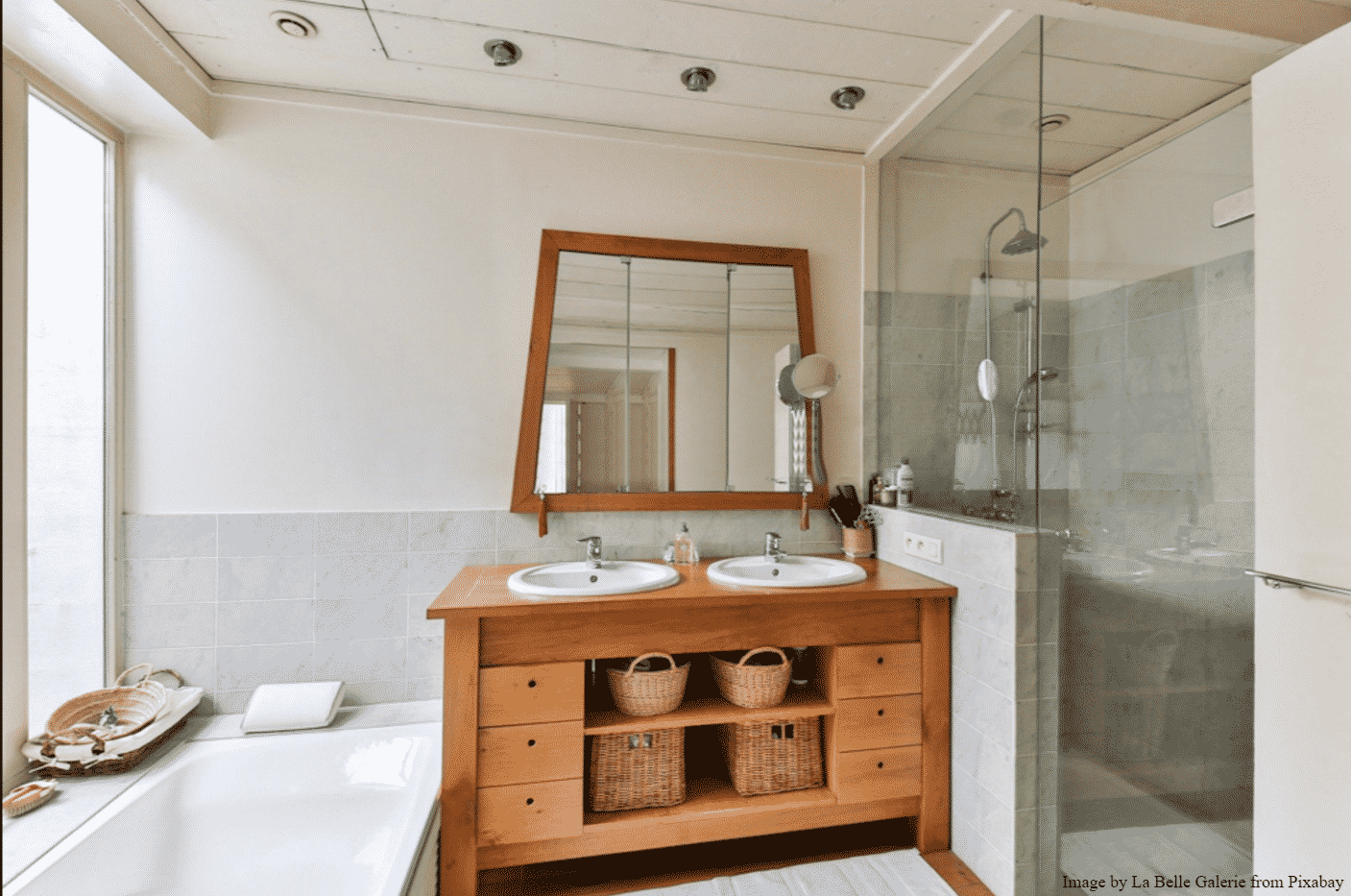 There's a lot more that goes into the layout of a small bathroom than choosing showers or tubs. Besides being the most used part of the house, people focus on its color scheme and aesthetics instead of focusing on functionality— ending up with bathroom layout mistakes that they could have easily avoided.
The key to successful bathroom design is preparation, which applies to plan a completely new look or just a few updates. Moreover, putting in a modern bathroom isn't cheap, so you will want to make sure that it delivers. Although that striking freestanding tub or elegant shower may make your heart beat faster, it is the bathroom layout that determines how well the space works.
So if you are planning to build a bathroom or in the middle of a bathroom remodel, you need to take a closer look at these bathroom layout mistakes and avoid them when you begin remodeling.
Lack of Ventilation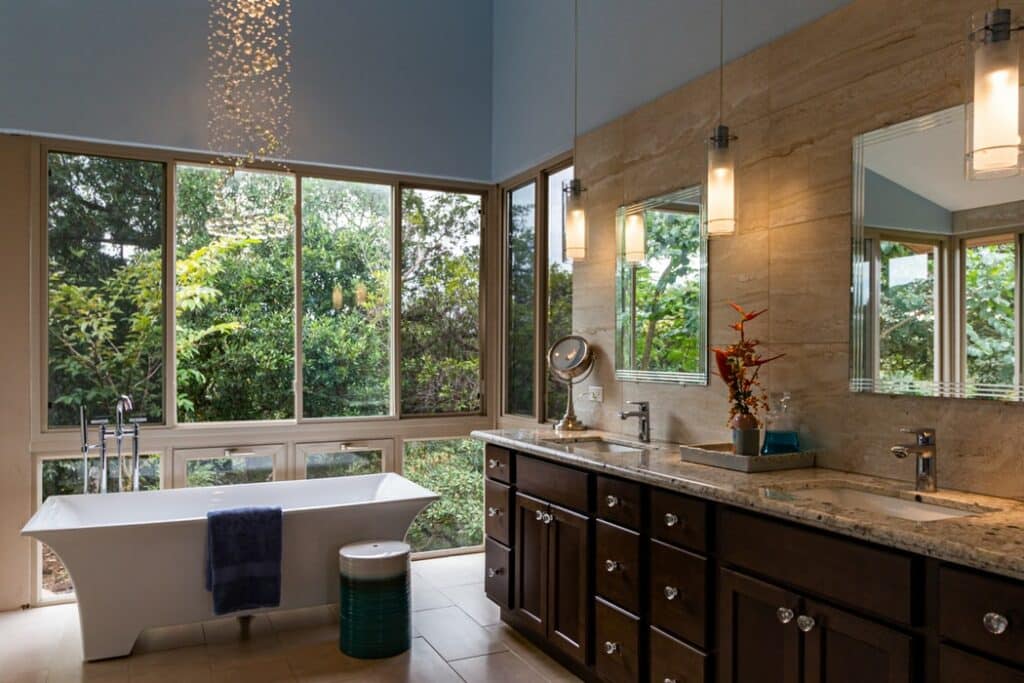 Easily the most humid room in a house, bathrooms can become breeding grounds for bacteria and fungus. This is the primary reason why all bathrooms need good airflow. Unfortunately, most bathroom layout plans forget to include a window or any other type of ventilation.
Further, if you are constructing your house, the best way to avoid this bathroom layout mistake is to design your bathroom next to an exterior wall. This will allow the easy addition of a window for ventilation and sunlight. However, windows in your bathroom don't have to be huge, but you must install screens or blinds for privacy. 
In case the addition of a window isn't possible, you can opt for an electric exhaust fan to circulate the airflow. Furthermore, many exhaust fans are available in the market with timers and blinds, allowing you to open and close them conveniently.
Letting the Toilet Take Center Stage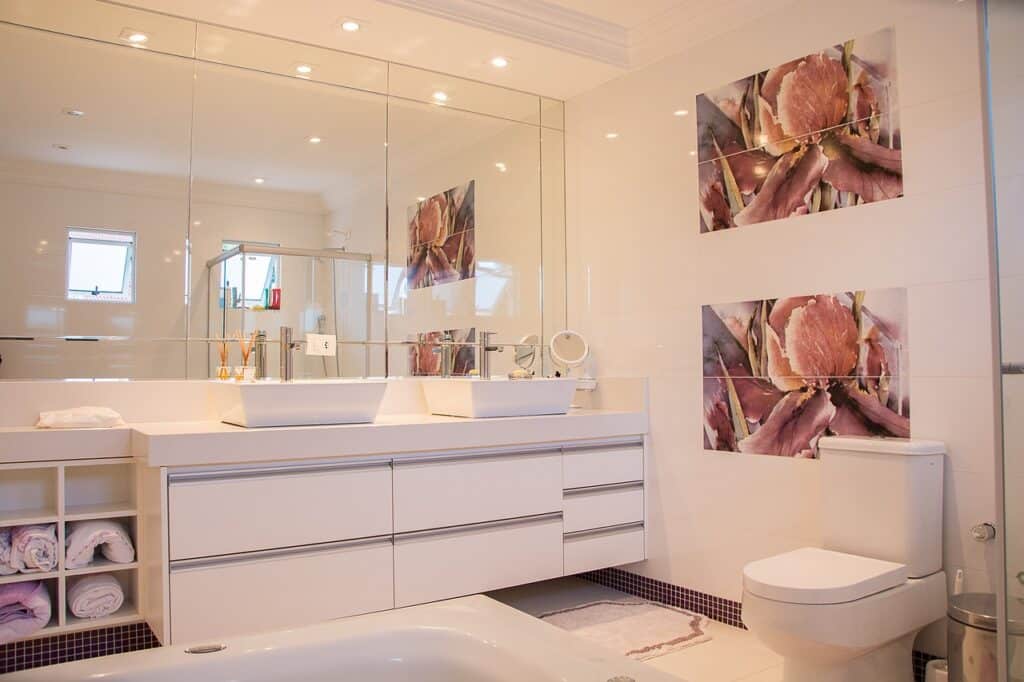 The toilet isn't the first thing one should see as soon as they enter your bathroom and the easiest way to avoid this bathroom layout mistake is to tuck the toilet behind the door towards the side where it isn't directly visible.
Nevertheless, one should avoid this mistake and make sure the toilet doesn't take center stage or is in full view when someone opens the door. Additionally, while deciding on your toilet position, allow at least 8 inches of elbow room on both sides. 
Insufficient Storage Space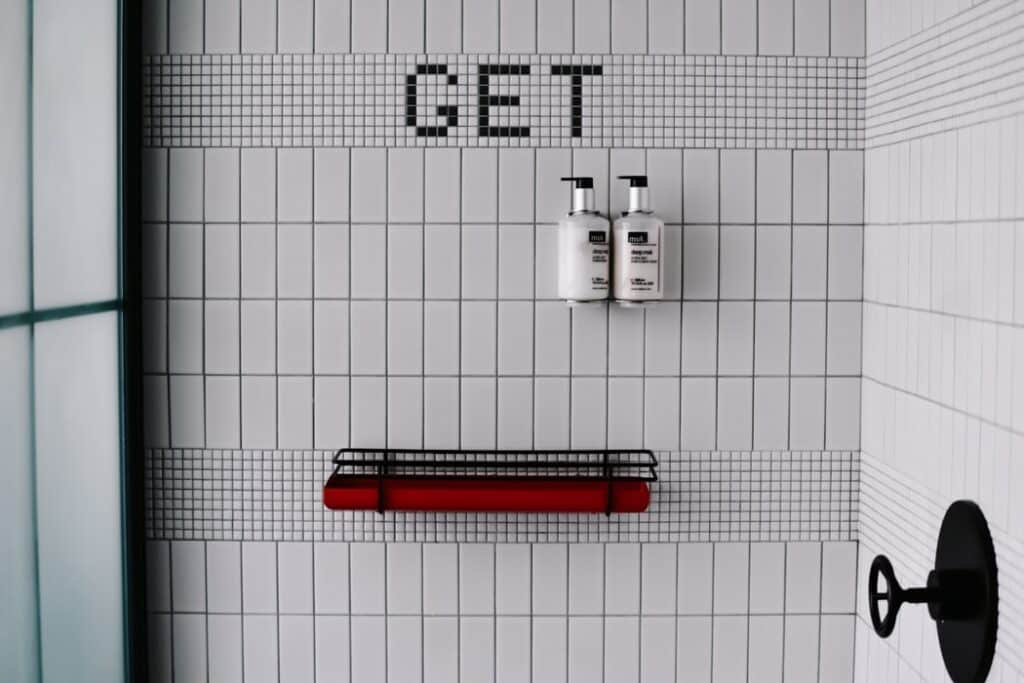 Unsurprisingly, adequate storage is one of the most important requirements of a remodel. While finalizing the layout, you need to make sure that there are enough bathroom vanities, built-in drawers, shelves, and cabinets for storing towels, toothbrushes, soaps, and other products.
In case you are struggling with a small space, replace the mirror above the sink with a multi-purpose cabinet that has a mirror on the front. Further, you can also opt for open shelves to make your bathroom more spacious. As for toiletries, instead of allowing them to clutter your bathroom counter, put them in a wicker basket for a cleaner look. 
Poor Lighting
While poor lighting makes your bathroom look cramp and small, too much light can make it unnecessarily bright. Presuming you want to make your bathroom feel like a spa, you have to include several lighting sources in your bathroom layout.
Installation of hanging pendant lights in the middle and LED strips under cabinets or behind the mirror adds ambiance to your bathroom. Moreover, you don't have to worry about higher bills because they don't consume much electricity. Further, they add value to your bathroom decor.
Likewise, strategically placed lights also create an optical illusion of having a large space. In addition to this, you can also install LED bulbs on either side of your bathroom mirror that will help while putting on makeup or shaving your face.
Incorrect Measurements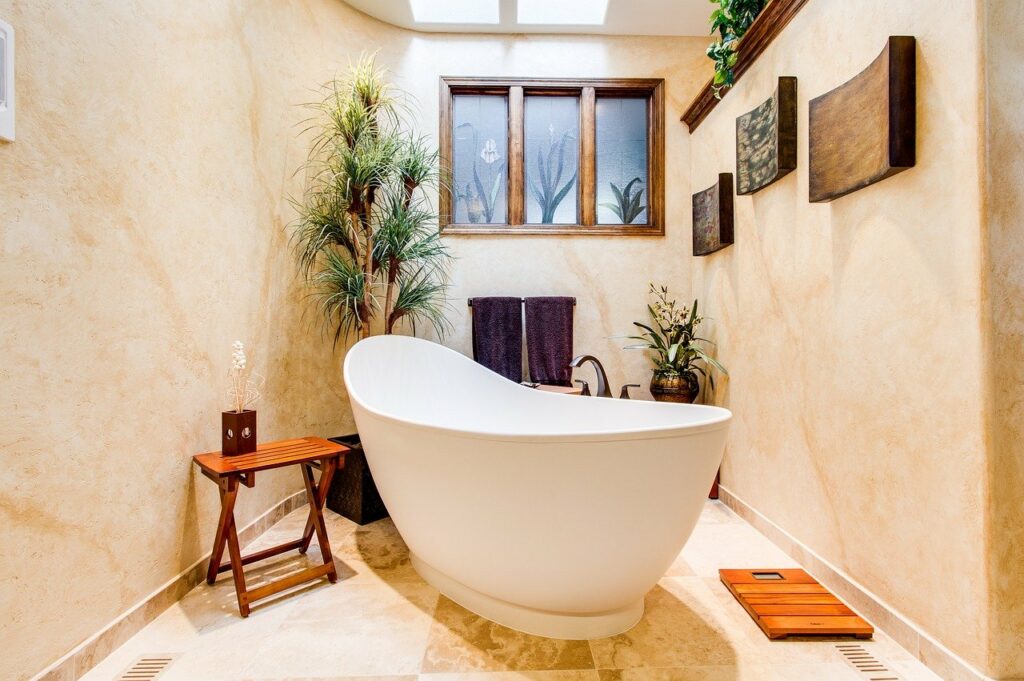 Incorrect measurements are the main reason behind bad bathroom layouts. Furthermore, rectifying these mistakes is not at all cheap. While meaning bathrooms, most people fail to take into account little things.
For example, homeowners don't think about the distance between the door and sink. To eradicate this, you have to make sure your bathroom door doesn't slam against the toilet every time you open it. Besides, none of the bathroom fixtures is too big or small to fit properly. Finally, you have to measure everything twice or even thrice to avoid measurement mistakes.
Overlooking the Flooring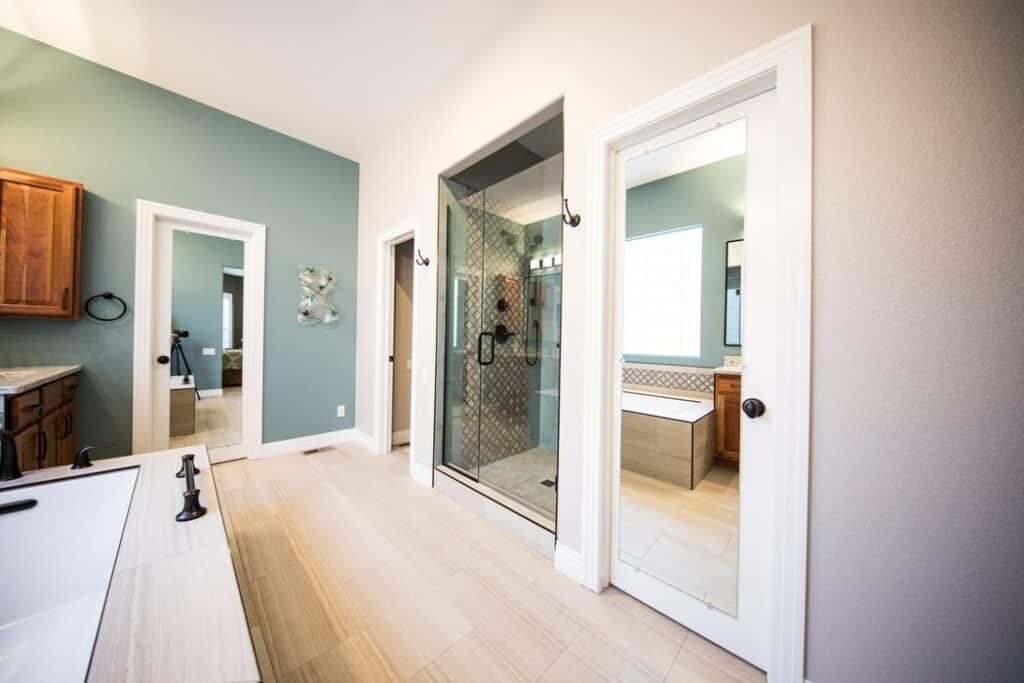 Bathroom flooring can easily become an afterthought; however, it's actually a significant area of your bathroom where you can make a statement. Floors are known as the fifth wall these days.
A feature floor in the bathroom can make all the difference between a kind of okay room to the one with serious credentials. Patterned floor tiles with bold, eye-catching print will add impact to your bathroom and liven the space. 
Choosing Incompatible Products
You need to check your home's type of water system before settling for a new shower or tap. It won't help if you get a stunning shower kit and your water system isn't compatible.
Taking advice from a professional plumber on your water system will help you choose the most optimal products that will help you rectify this mistake.
Creating a Dull Space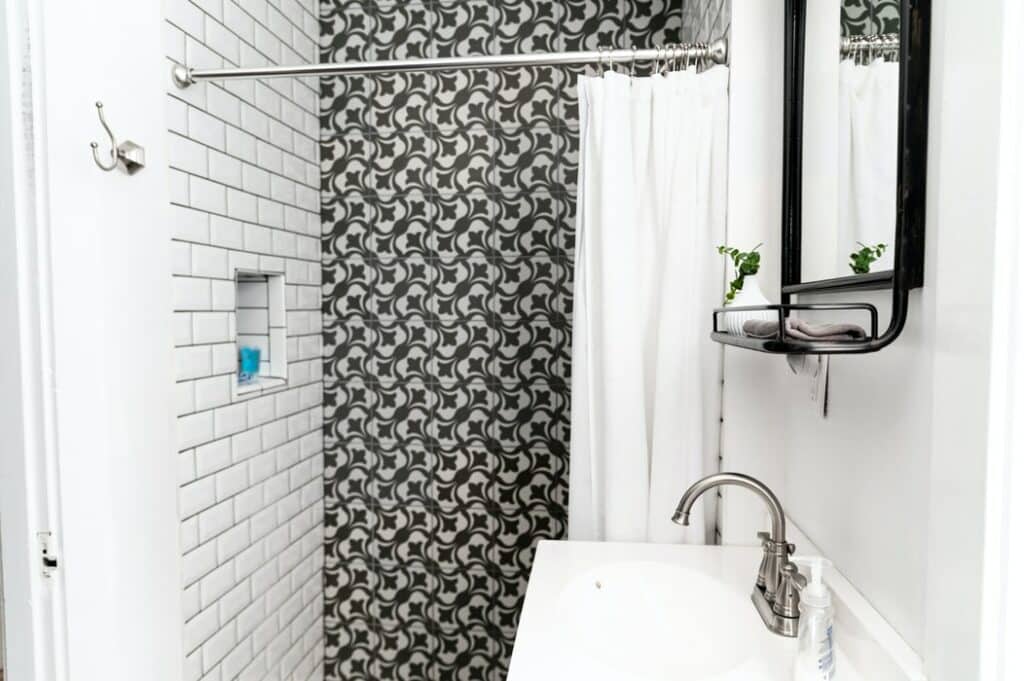 Your bathroom doesn't need to be straightforward and white, so don't be scared to use textures, colors, and patterns. If you are making some simple changes to your bathroom, colors and textures can easily be added with plants and accessories.
In contrast, if you are doing a major revamp, opt for some patterned tiles or create a feature wall with wallpaper in bold print. Generally, we spend a lot of time in the bathroom, so it needs to look as chic as the other rooms in your home.
The truth is, a great layout is not about how a bathroom looks and more about how it works. Great bathroom remodels translate to a house that functions better, is more efficient to maintain, costs less to build, and gets you more for less.