Home » How To Choose Bathroom Vanities?
How To Choose Bathroom Vanities?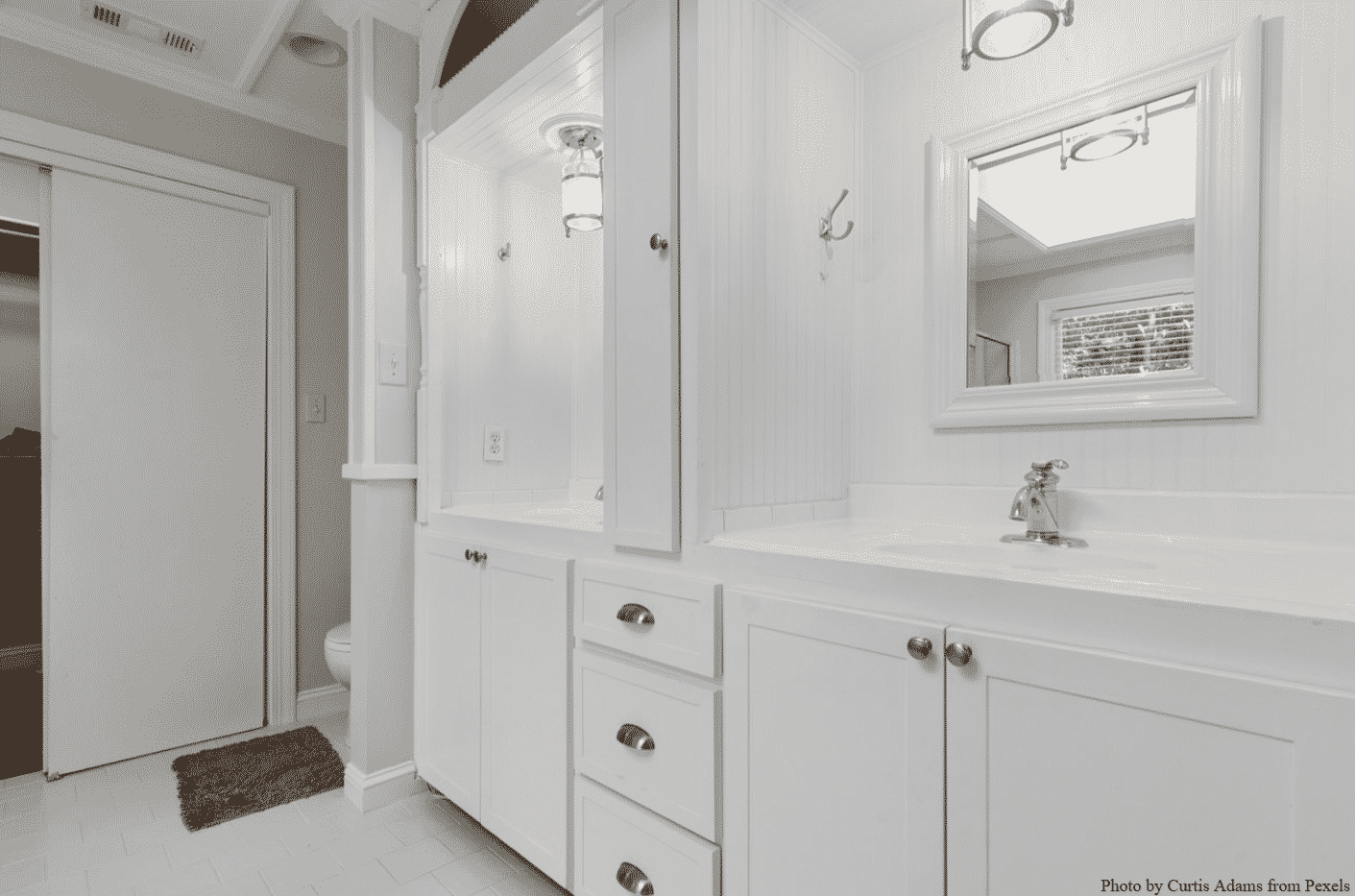 The vanity is no doubt, the most crucial feature in any bathroom. However, you often overlook it in favor of more dramatic fixtures like glamorous tubs and luxurious showers. Besides, bathroom vanities are so significant that they are the focus of activity in the room. Furthermore, bathroom vanities provide excellent functionality and outstanding aesthetics.
Bathroom vanities represent a significant investment and that's all the more reason to get it right. They can end up shaping the theme and design of your entire bathroom. 
Now, if you are beginning a bathroom remodel and considering boosting your home value, here's our ultimate guide to bathroom vanities.
Things to Consider Before Making a Decision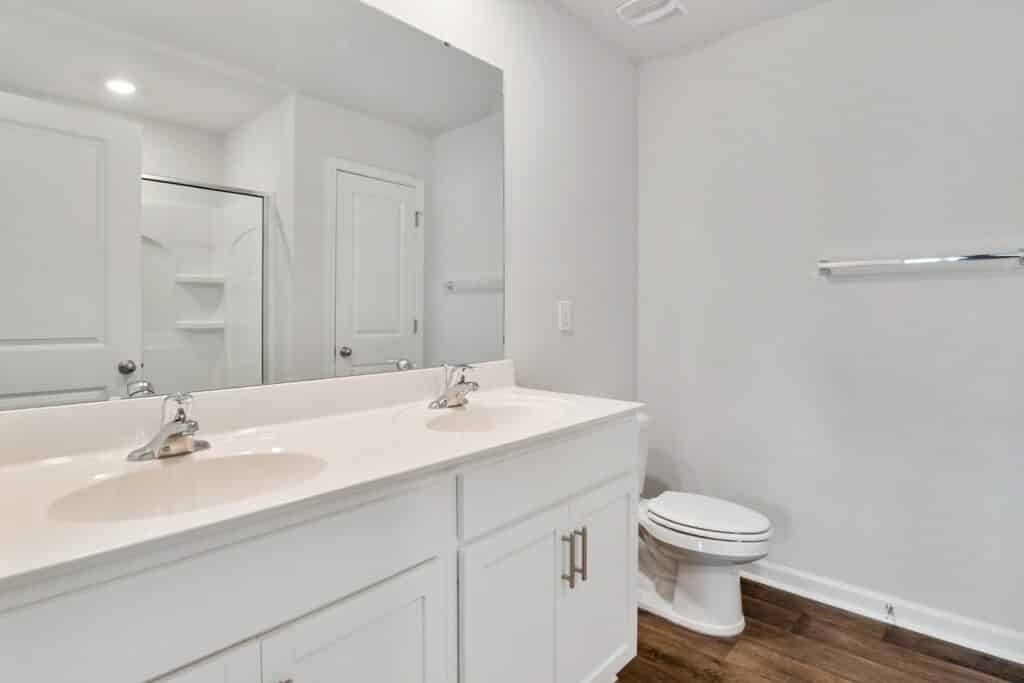 Bathroom vanities have grown to become an essential fixture of a contemporary bathroom. Nowadays, there's a massive variety of designs available in the market. It can be intimidating to think about where to begin your search. Once you know which shops sell bathroom vanities, you can start thinking about which vanity unit style is ideal for your bathroom. 
It will also help if you consider who will be using your bathroom vanity and how they will use it. For example, if you and your partner will be using the vanity simultaneously in the morning, a double vanity will be the best option. If you are a single homeowner with a small bathroom space, you should prefer a compact, single vanity. 
Besides, you should think about how you'll be using the vanities. For instance, if you use makeup, you will need plenty of countertop room. Further, you will also need adequate storage space for your makeup and toiletries. 
What Should be the Size of the Bathroom Vanities?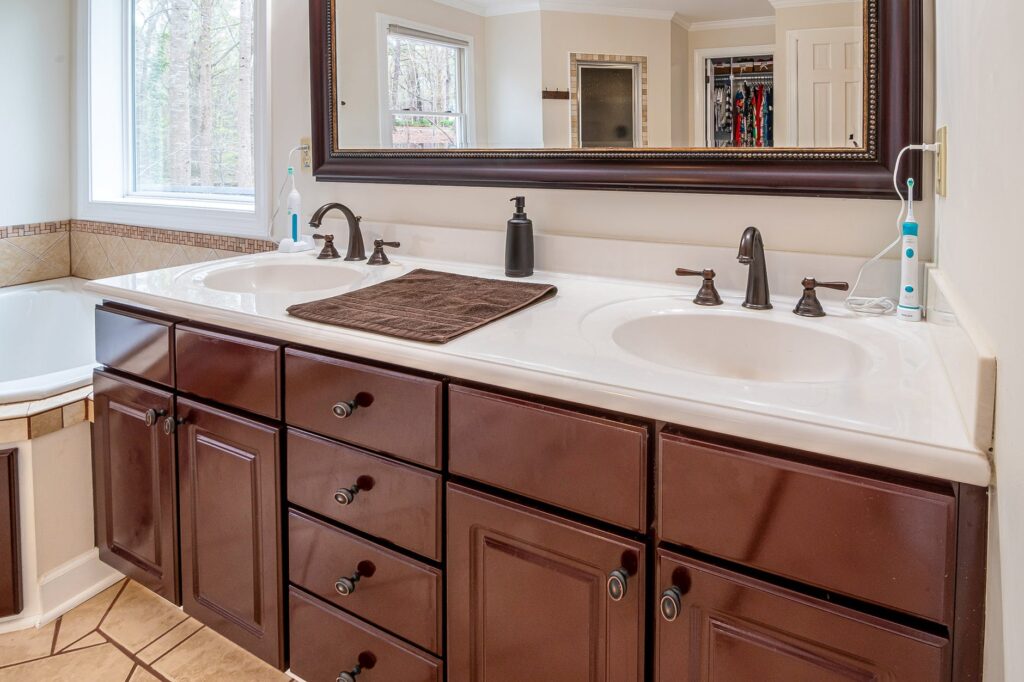 Freestanding bathroom vanities usually stand above 32 inches. However, unusually compact design provides notable exceptions. We advise opting between a 36-40 inch tall bathroom vanity as this is an overall bathroom vanity height. But for freestanding designs, following this part is what you should not go wrong with.
Moreover, you are bound to have a little more space with floating vanities. First, these are positioned off the floor, so you can decide how much space to leave beneath. This way, your vanity can be installed at a comfortable height. Meanwhile, you should also think about nearby bathroom lighting and the positioning of the mirrors in your bathroom. 
Where to Place the Vanity?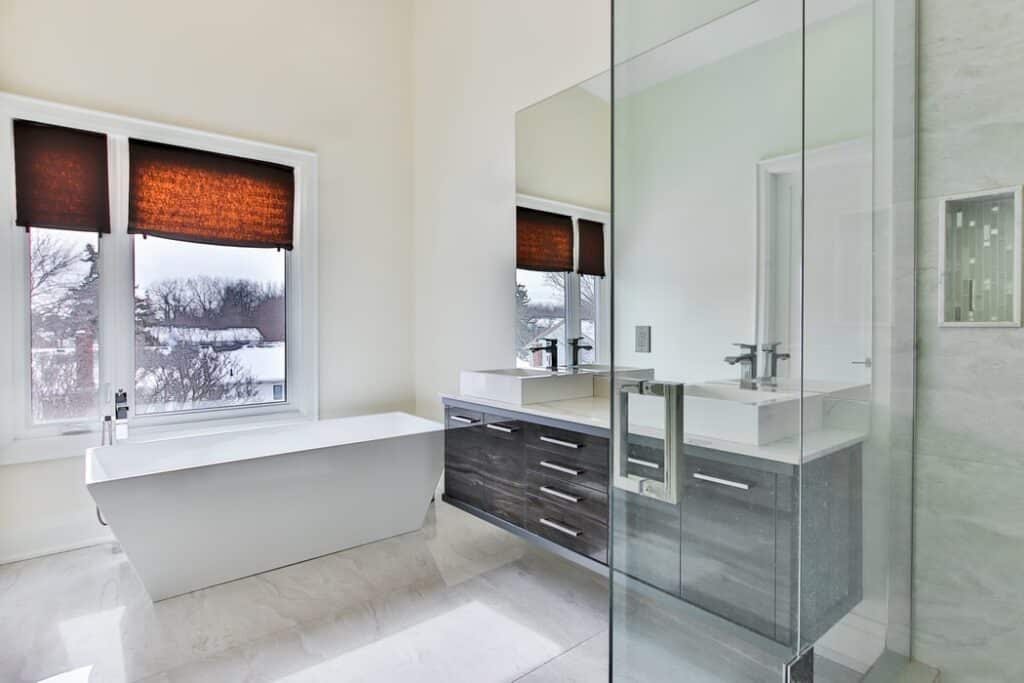 Your bathroom layout can prove to be the biggest challenge to place vanities effectively. The positioning of walls and doors proves troublesome for many. Below are a few potential nuisances to navigate when deciding where to place the vanity.
Shower 

– A plethora of modern bathroom areas encase shower systems or panels with enclosures. If your bathroom follows a suite design, you need to account for the shower door's swing and make sure it doesn't collide with other units. 

Door Swing 

– If your bathroom door faces inwards, similar rules apply. You will need to place your vanity at a reasonable distance, away to avoid contact when it opens.

Toilet – Just make sure you leave enough room to not bump into the unit while using the toilet.
Other Factors –

Your vanity unit should not make it difficult to access important fixtures and fittings. Ensure that you can get to your vanity and every other thing you need without having to duck or dive.
Most importantly, don't just visualize; measure to make the right decision. You need to take a walk around your bathroom and explore the space. Perhaps place a substitute box where you are thinking of installing the unit. This will give an idea of how it will impact the rest of your bathroom.
Once determined, you must gain a more specific idea of what size bathroom vanity you want to use. Use a tape to measure precisely how tall and wide your ideal vanity will have to be.
Types of Bathroom Vanities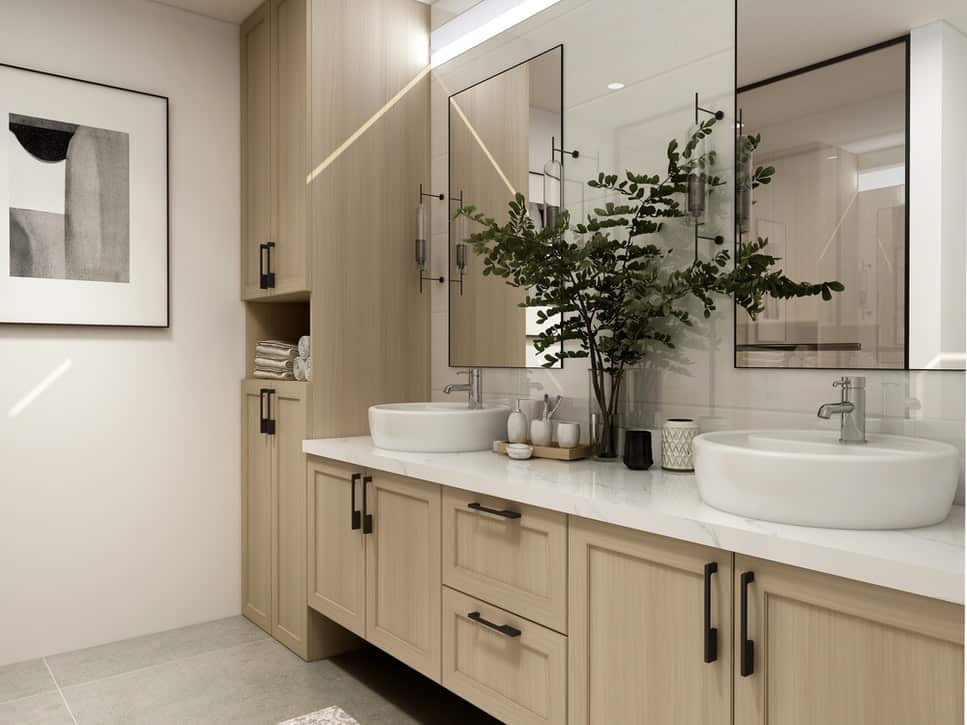 There's plenty of varieties to choose from. The kind of bathroom vanities you go for will ultimately depend on your sole bathroom layout and design preferences and bathroom budget. A brief overview of the different styles available is given below.
Freestanding Vanities – 

This is the most common and traditionally popular modern vanity type available. Along with that, freestanding vanities are floor mounted, and they can be secured to the floor and wall using mounting screws.

Wall-mounted Vanities – 

Also referred to as floating vanities, these vanities do as their name suggests. They mount to the wall without having support from the floor. Wall-mounted vanities are stylish, space-saving, and offer a remarkably sleek appearance.

Corner Vanities – This is an ideal option for small bathrooms with limited space. However, these units are dependent on the design of your bathroom or suite. Further, corner vanities offer a perfect bathroom storage solution without getting their way into anything else.
Console Vanities –

 Console vanities are best for those who look to create an open bathroom concept. Additionally, this type of vanity often incorporates a sense of vintage appeal that doesn't intrude on the surrounding area. 
It's just not the case of merely choosing your favorite design, though. You will have to weigh up vanities with tops against vanities that don't have it. If you prefer greater scope to customize your vanity, then vanities without a top are the exact pick.
What Kind of Vanity Sink?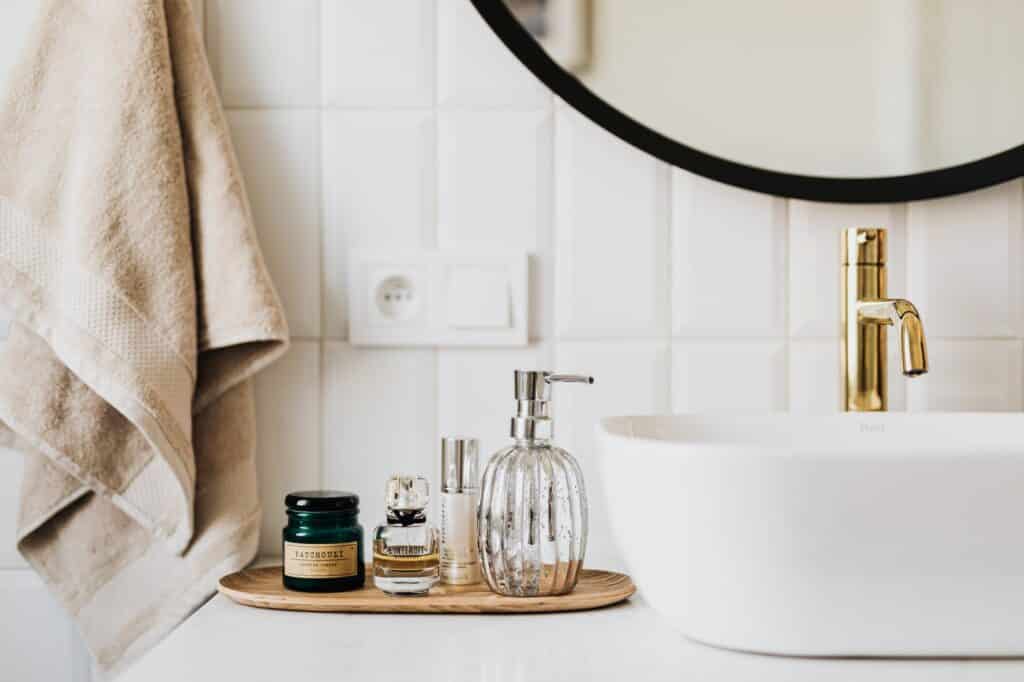 Choosing the vanity sink upgrade will be one of the most significant decisions you have to make. No matter what style you go for, your sink is sure to take up some counter space. In contrast, you can minimize the amount, though, depending on which design you select. Below we have listed a range of different bathroom sink cabinets to consider.
Vessel Sink – 

It is a unique bowl that sits atop the countertop.

Integrated Sink – 

These are directly built into the countertop, ensuring a simple installation process. In addition to this, integrated sinks seamlessly combine with the vanity top.

Undermount Sink – 

These models fit beneath the countertop, and the counter acts as the sink's rim making them much easier to clean. They are also available in a variety of materials to opt like laminate, granite, or quartz.
Remember, there isn't a right or wrong choice. Bathroom vanities come in contact with several substances after being fitted. Water, shampoos, and cleaning products are just some liquids to grace the surface. Further, the bathroom is often humid. Therefore, you should choose a vanity that can cope with regular contact with these substances. 
You have to go with the bathroom vanities that suit your personal preferences and teams with bathroom faucets you like. 
Ultimately, you should opt for a bathroom vanity that you feel looks good in your bathroom. Along with this, one that also offers an increased level of practicality and the overall resale value of your bathroom.