Home » Small Bathroom Layout Ideas That Will Transform Your Bathroom Space
Small Bathroom Layout Ideas That Will Transform Your Bathroom Space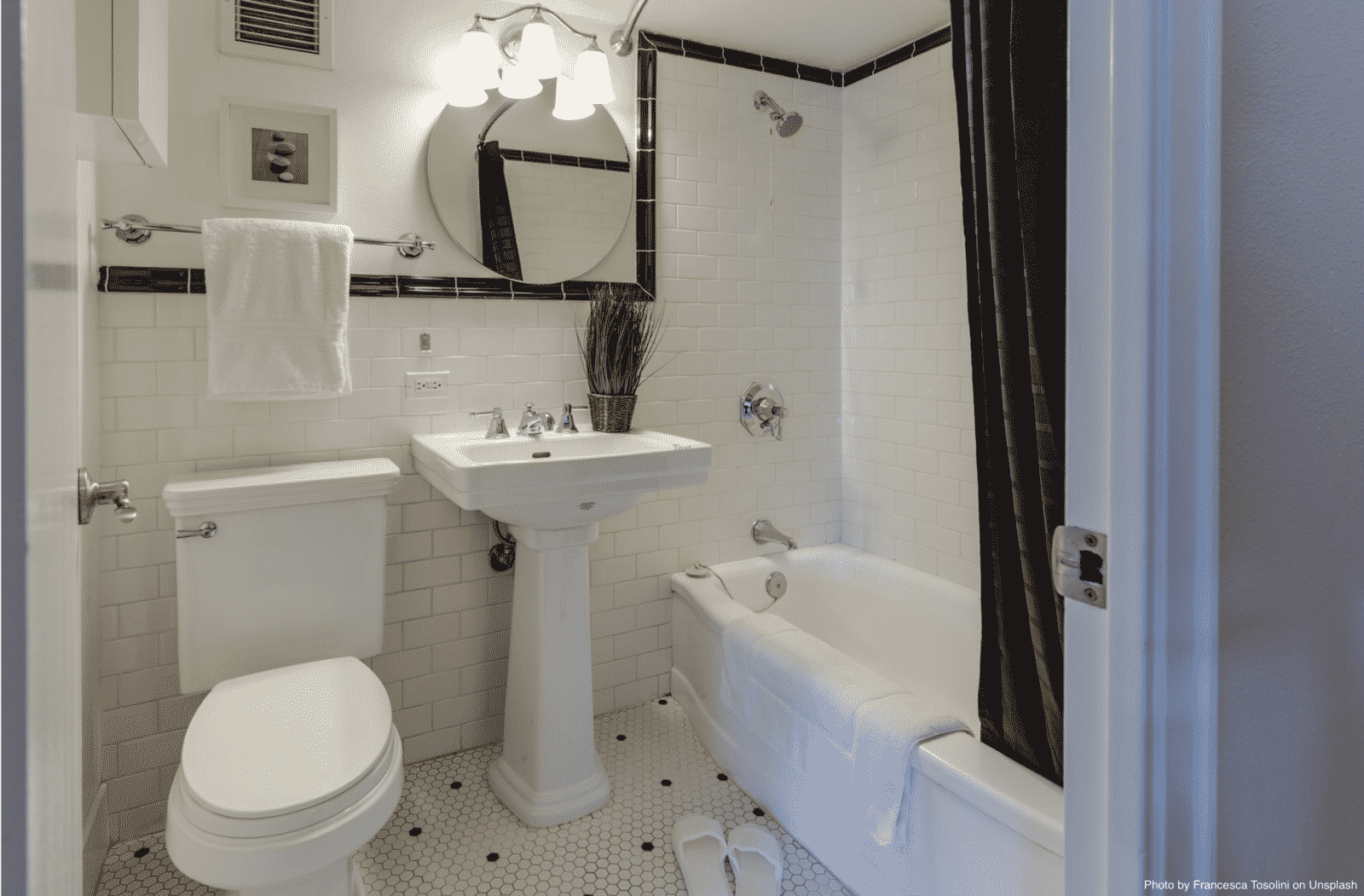 You do not have to have a lavish, multi-functional, expensive bathroom to be content. You can simply do well with a single or double sink vanity, a tub, a shower area, and a fully functional toilet. Yes, it's possible with the right small bathroom layout ideas.
These are the four classic amenities that meet the minimum caliber of sustainability and comfort. Your bathroom may be one of the most challenging spaces to work on in the house, but it is also the most worthwhile.
Narrow spaces can be quite efficient, too, if you plan the layout correctly. And for that, you only need good small bathroom layout ideas.
–
Planning a Small Bathroom Layout
Small bathrooms need a fair amount of thinking and planning as to where everything will go, not to make the place look too cluttered up and suffocating.
The sanitaryware, drainage, storage, lighting, there is a lot to look after! But investing in one's bathroom and upgrading it is very beneficial not just at present but also in the future. These few square-inches can pay the dividends very well.
 A creative and intelligent design can help mitigate the layout restrictions in the bathroom. So here are a few small bathroom layout ideas for your next bathroom remodeling project to give you some inspiration!
–
Classic 4-Piece Set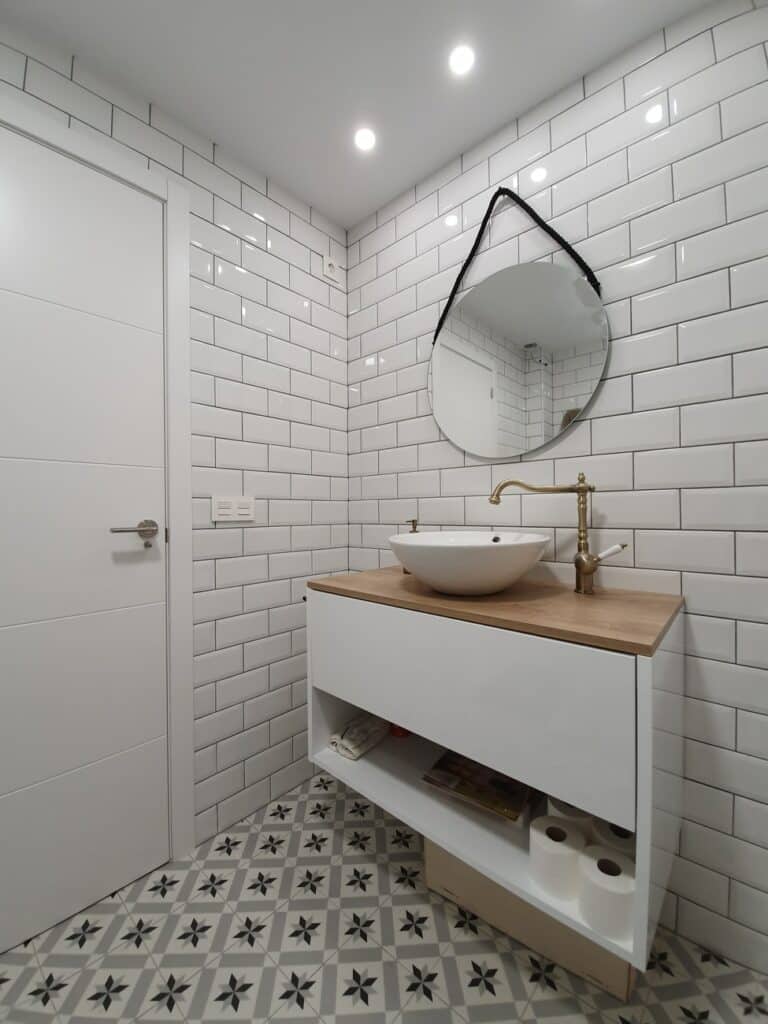 If your bathroom is nothing more than one long sleek corridor, there is still nothing to worry about! Working around closed-in and compartmentalized baths may be a task, but it is not unachievable.
If you plan a bathroom remodel of such an area, do not aim to move around any of the already situated things. Work on expanding the space in the already existing square footage.
Replacing outdated fixtures can help in opening up space. So break down the excess area that the tub is covering, and get yourself a curvy tub with fixtures of brushed nickel and antique brass. To increase the storage, you can build yourself a sleek, extended vanity and a ceiling-long cabinet above the vanity.
Remove any cupboards that are occupying any extra storage in the already narrow bathroom. The trick is to restrict your bathroom to the classic 4-piece set- The sink vanity, the toilet, the bathtub, and the shower cubicle.
–
Step Up Your Game
When you are working with an exceptionally narrow space, you need to think innovatively. Look for things you can chuck out of your existing bathroom, stuff you can survive without. The best way to save some space in the bathroom and still have all necessities is to make your bathroom look like a straight flight of stairs.
As you enter your bathroom, it must start with small sink vanity. This will help you with the storage that you need. As you continue walking towards the wetter region, step it up.
 Create two elevations, one for the shower and one for the tub. If you have a window at the end of the long bathroom runway, place your tub there for a nice relaxing bath view.
On a lower platform, situate your shower. This way, you will not need a cubicle that takes up a lot of space in the bathroom, and you can still keep the wet and dry areas at a distance.
–
Utilize Every Angle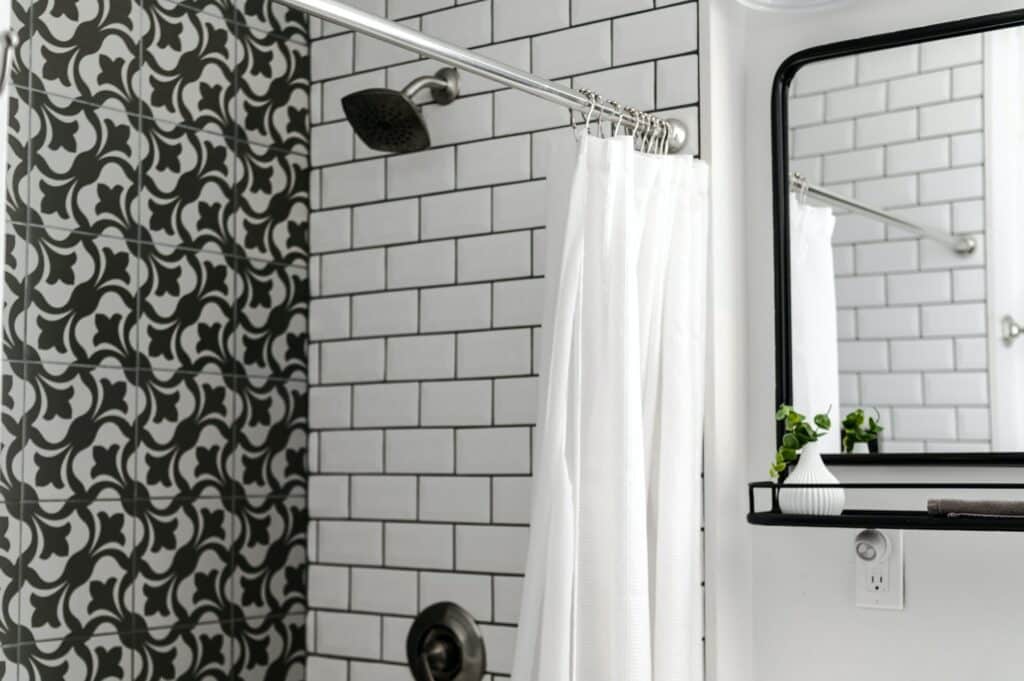 The best way to save some space and yet have everything you want and need in the bathroom is to utilize every little nook and corner in the room. Never underestimate the capacity of a corner to fit something in there.
Instead of building long vanities on vertical, rectangular walls of the bathroom and taking up precious space that one can use for attaching a bathtub, you can situate your custom vanity in the corner of the room, giving it a triangular shape.
This is a very underrated and unused idea. However, it maximizes space in the bathroom without protruding into space and is still as efficient as any other rectangular vanity. Place a long-standing and sleek mirror above it on the wall.
This will give you ample space for floating shelves and wall cabinets on either side of the mirror, if you need extra space, without making it look too cluttered up.
–
Extra Storage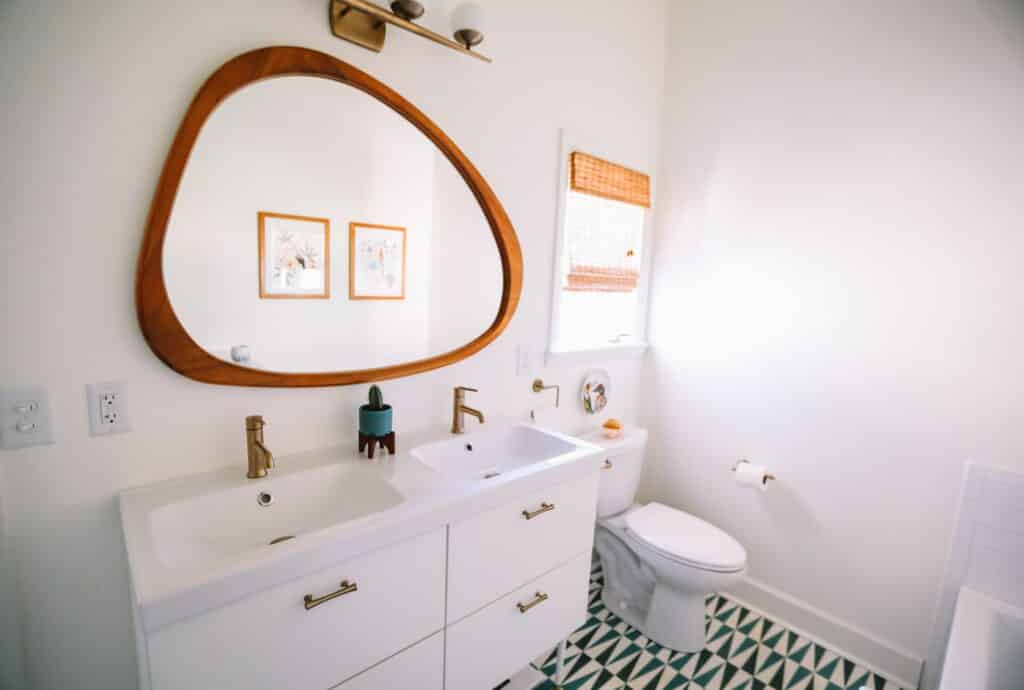 Some bathrooms may be small or narrow but have tall ceilings. So why not use it to your best advantage? If you are lucky enough to have tall walls, make fair use of them by building secret cabinets behind them for additional storage.
The best way to save up precious floor space is to incorporate recessed cabinets into wall paneling. If your bathtub is placed between two walls, utilize both sides of that tub to build yourself hidden shelving or vanities to keep your toiletries, medicines, hang towels, etc.
This way, you do not even have to keep your towels on display by hanging them on hooks on the walls. Disguise these storage spaces as wall paneling so that you can beautify your bathroom and still have extra space. Talk about being smart!
–
You Do Not Need Barriers
Another one of the small bathroom layout ideas is to avoid bathroom barriers. Do you have a small bathroom even in the master suite? So what! There are many ways you can style it up without taking up any extra space in that already limited square footage.
The best way to maximize the space in that small area is to avoid boxing it in. Removing any additional existing walls in the bathroom and replacing them with glass partitions, or better, nothing at all is a modern way to save up space in small bathroom areas!
However, if you still need some separation to cover up the toilet area, use a glass partition that lets in plenty of natural light. Not just that, but it will also give you the privacy you need.
You can even replace your long tubs with a small, compact tub for a sweet and straightforward bath. Give it a contemporary and stylish look by getting black bathroom fixtures such as the tap and the hand shower.