Home » L-Shaped Kitchen Island Benefits And Design Tips
L-Shaped Kitchen Island Benefits And Design Tips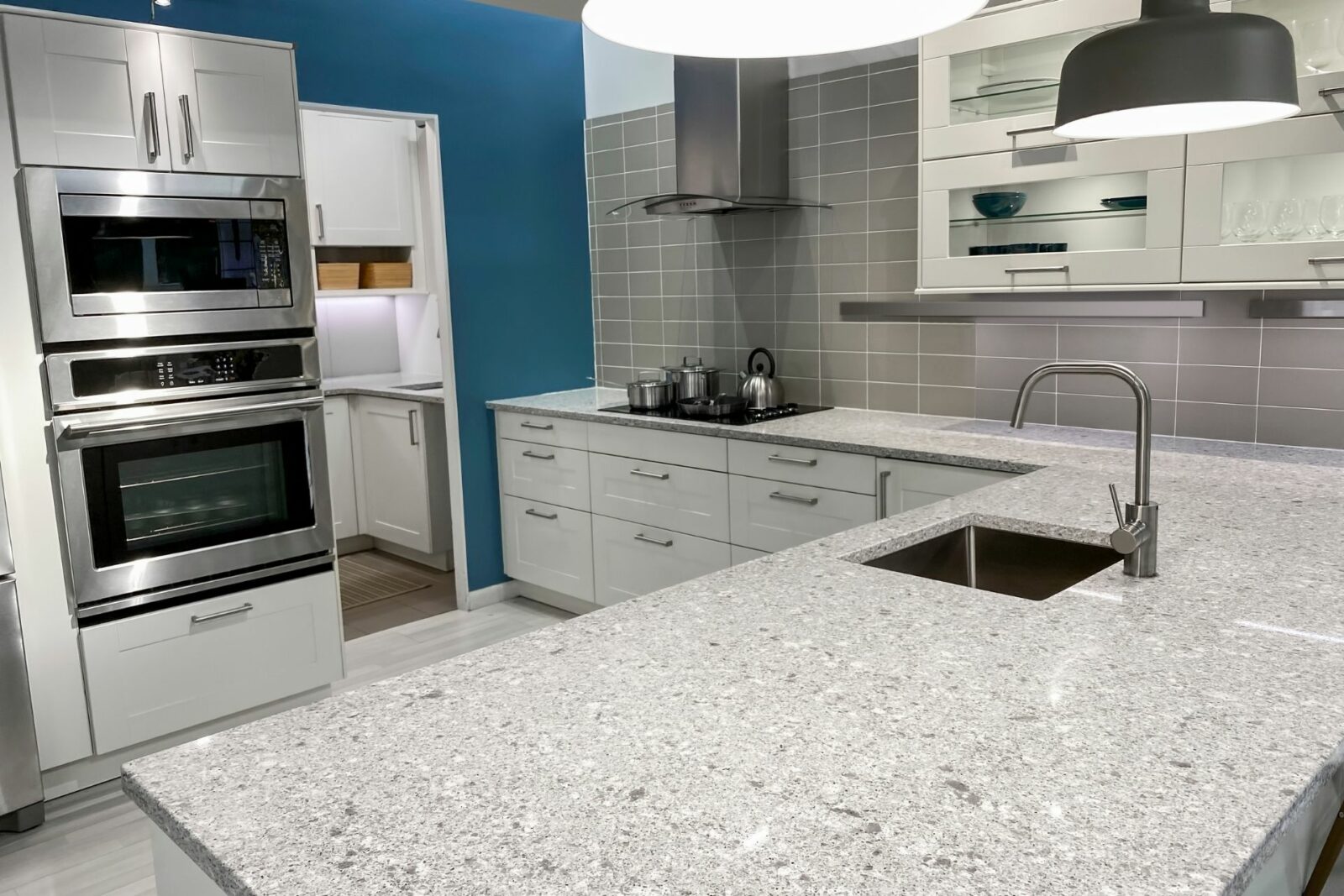 An L shape kitchen island is a classic and extremely popular kitchen design. Thanks to its ergonomic layout, even a small L shaped kitchen with island allows you to maximize your kitchen space. It has two sides that meet in a corner, hence its name. This layout leaves plenty of room to customize your kitchen layout. 
Although incorporated into large and small kitchens alike, an L shaped kitchen with island layout is far from generic. This article takes you through the benefits and design tips for such a kitchen layout.
Benefits Of
L Shaped Kitchen Island
Provides Extra Counter Space And Storage
An L shaped kitchen island design is usually incorporated in kitchens to maximize the available space. Because of its shape, the kitchen island provides two separate countertop surfaces, which can be useful for kitchen activities such as ingredient prepping. 
Additionally, an L-shaped kitchen island design allows for plenty of extra storage space, such as drawers, cabinets, and shelves. This helps to declutter the rest of the kitchen while maximizing space organization. 
Keeps Your Kitchen Organized 
An L shaped kitchen island is a great way to divide your kitchen into two distinct areas. Primarily, this type of island provides ample counter space for food preparation and storage. However, it doubles as well as a place to gather for meals and conversation. The L shape naturally creates two distinct work zones. This allows multiple people to work on multiple things in the same space without feeling cramped. 
On top of keeping the kitchen organized,  the island's L shape also helps to define the kitchen's perimeter, providing visual boundaries that help to make a kitchen feel larger. 
It Gives Your Household A Second Table
An L-shaped kitchen island can provide a convenient place for family and friends to gather and socialize while meals are being prepared. The island gives a very inviting and laid-back eat-as-you-cook space. Not only does this make hosting and cooking more fun, an L-shaped kitchen island naturally invites people to come and go. 
Because the kitchen design allows for maximum efficiency, people can easily move between the island and other kitchen areas. With its versatility, functionality, and style, the L-shaped kitchen island is the perfect choice for anyone who enjoys socializing while cooking for others. 
L Shaped Kitchen Design Tips 
When designed correctly, an L shapeAn kitchen island can completely transform your kitchen and make it more functional and enjoyable. Take note of the following design tips to help you make the most of your space. Not only will incorporating an L shaped kitchen with island layout give you the most out of valuable kitchen space, you can customize this popular design to make it uniquely yours. 
Utilize the Corner 
An L-shaped kitchen island is a great way to utilize the corner of your kitchen. Use the corner of the island for cabinets, shelves and as a general area for storing key kitchen items. It's also great to place large and frequently used appliances such as a coffee machine. 
The corner can also be used to house a sink or stovetop. We suggest using the corner as the anchoring point, and working your way out as how the workflow will go in your kitchen. In other words, design your kitchen island alongside the design of your entire kitchen as a whole. This gives you a clearer picture of how you can section off spaces on the island, starting from the corner. 
Maximize Counter Space
An L-shaped kitchen island will give you plenty of counter space. Make sure to maximize this counter space by making it as wide and long as your kitchen and your needs allow. The more counter space you have, the more surface you can use to work with. 
To maximize counter space, strategically place the necessary items on the counter. These are everyday items such as a coffee machine, blender, knife block, etc. To create extra storage space and keep your counter efficient and clutter-free, utilise organizing tools such as expandable shelves, stackable storage containers, and turntables. 
Add Bar Stools
An L shape kitchen island is a great opportunity to add seating to your kitchen island. Consider adding a few bar stools to create an inviting atmosphere. While there are other seating options such as chairs and benches, bar stools are likely your best choice. They are space-conscious, stylish, and can easily be tucked away when not in use. 
Choose the Right Materials
When selecting a material for your L-shaped kitchen island, make sure to choose materials that are durable and easy to clean. Because the kitchen island is primarily a work space for food, you want the material to make the daily task of cooking easy while making your kitchen look beautiful. 
Granite and quartz are two popular materials that are both highly durable and easy to maintain for kitchen islands. Granite has been a favorite choice for many homeowners due to its natural beauty and classic look. Quartz is another popular material choice but offers a more contemporary look and is also highly durable and easy to maintain. Other materials such as stainless steel, concrete, and wood can also be used for the island, depending on the desired look and feel of the kitchen.
Consider Lighting
When designing your L-shaped kitchen island, make sure to consider lighting.  Lighting is a critical element of any kitchen island, but deciding how to light an L-shaped kitchen island can be challenging. A good place to start is to use recessed track lighting to light the sides of the island. This will provide adequate light for food preparation and give the island an attractive look. 
To provide task lighting over the sink and stove, play around with pendant lighting that extends over the sink and stove. Also, consider using a combination of LED strip lighting and rope lighting to add an ambient glow to the island. This will create a warm atmosphere and enhance the look of the kitchen. 
The various areas that come with an L shape kitchen with island layout, you'll want to incorporate and layer on various lighting. Seeing as the island will host meal prepping, eating, etc, different lights for different tasks are in order. 
An L shape kitchen island is perfect for creating a functional and stylish kitchen. It provides extra counter space, storage space and seating, making it an ideal design layout for many households. With endless options for customization, it's hard to go wrong with an L shaped island kitchen.