Home » Spanish Style Kitchen Ideas to Try In 2022
Spanish Style Kitchen Ideas to Try In 2022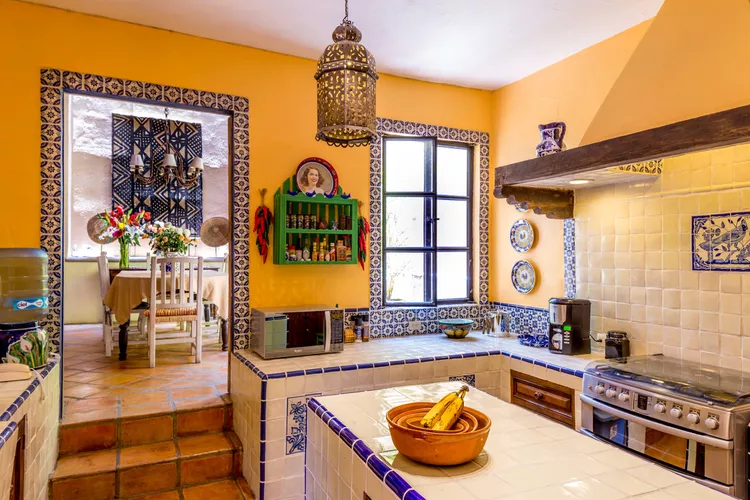 Spanish style kitchens are all about warmth and coziness. Liberal use of terracotta colors, warm and rich details, dark cabinets and painted tile work makes them a space where cooking isn't a tedious task. 
If you're planning to remodel your kitchen to a Spanish style kitchen, here's everything you must now. 
Check out some of the best Spanish style kitchen ideas for your next remodel
Traditional Kitchen with Spanish-Colonial style Tile Backsplash and Arched Wall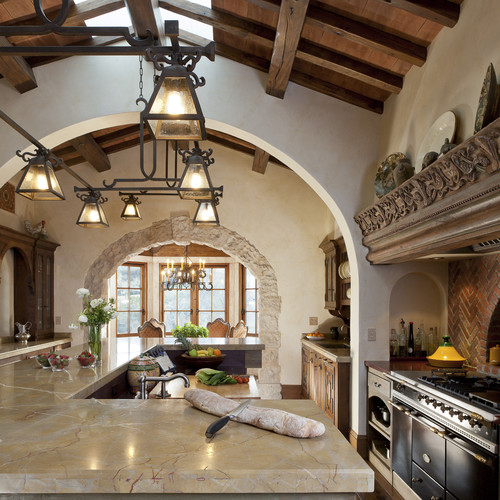 Large arch openings and high ceilings give a traditional kitchen a very genuine Spanish feel and add a more modern touch.
To create this style, you can use strong mahogany cabinets paired with a gray countertop. For the kitchen island, you can use dark-wengue and solid maple butcher's block.
Rustic Kitchen Design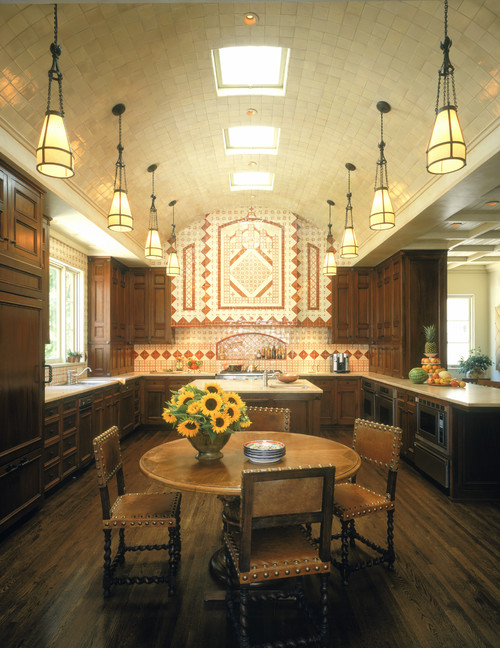 We all want a large kitchen with a warm ambiance. This style brings just that. You can also use some solid teak wood slats for the ceiling. Not to forget the hexagonal terracotta tiles, integrated with orange walls.
Spanish-Style Kitchen with Terra-Cotta Tiles & Rustic Wood Cabinets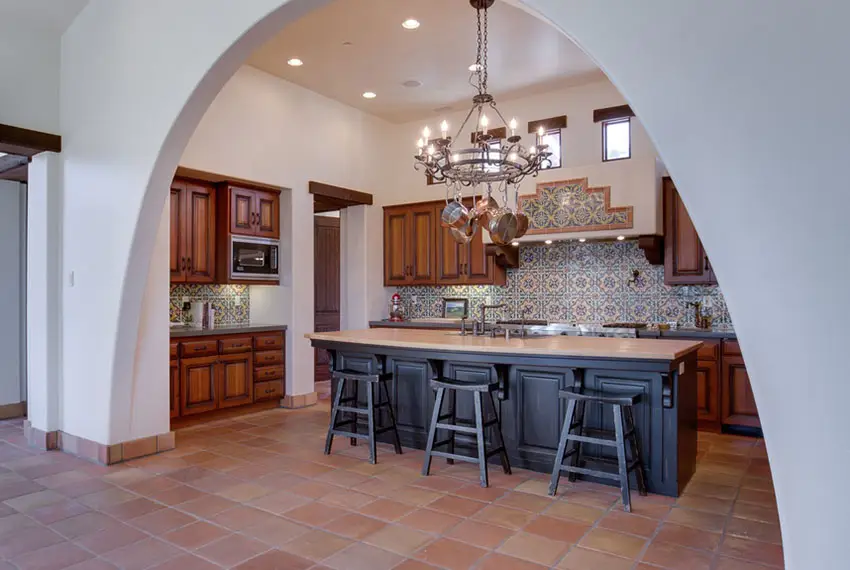 If your kitchen is huge and roomy, you should try this design. For starters, you should go for walnut or dark wood cabinets topped with cream-colored granite.
Rustic Kitchen with Stone Wall with Fireplace and Wood-Beam Ceiling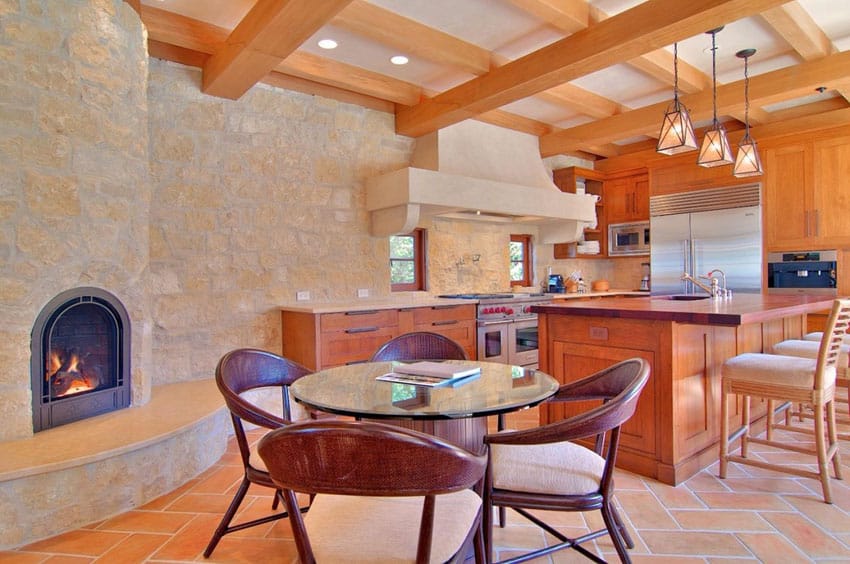 The interior could also use some subtle Spanish Colonial influences. You can also think of elements like terracotta floor covering. Similarly, elements like adding a fireplace and wood beam ceiling further boosts the aesthetics of your space.
High-End Rustic Kitchen with Astoria Granite Countertop and Stone Floorings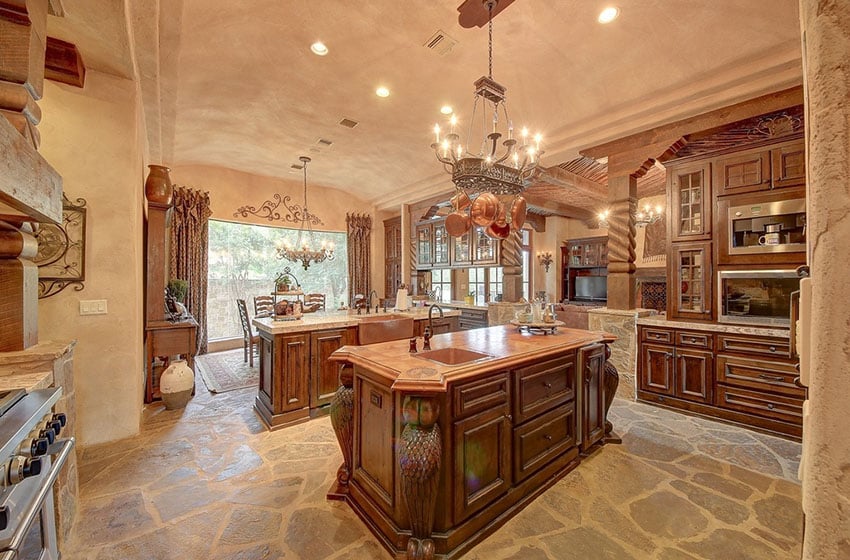 The proper use of colors and surfaces in this Spanish kitchen trend will make any kitchen stand out. We recommend using natural stone blocks for floor covering and coupling it with a rag-rolled cream paint surface for the walls. Doing so lends the kitchen an indoor-outdoor aesthetic.
You can also use the standard Mahogany finish cabinetry with detailed panel information, owl bust accents, and turned posts for a complete Spanish Colonial experience.
A Standard Kitchen with Terra-Cotta Tile Floorings & Stone Wall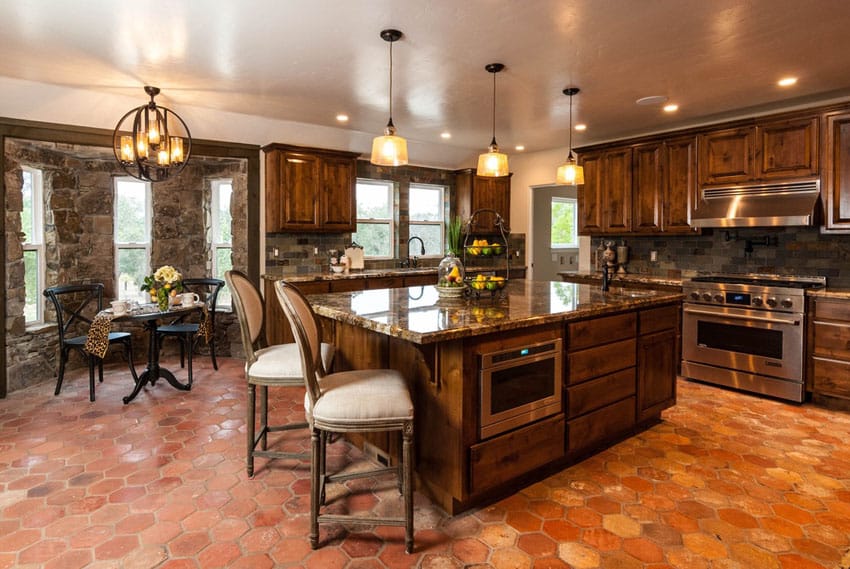 This modern kitchen uses a lot of Spanish influences to produce this appearance. Thus, the ultimate result will have a rustic yet modern-day feel to the area. For the kitchen cabinets, dark walnut can be an option, topped with granite.
Rustic Conventional Kitchen with Spanish Tiles, Wood Ceiling and Terra-Cotta Floorings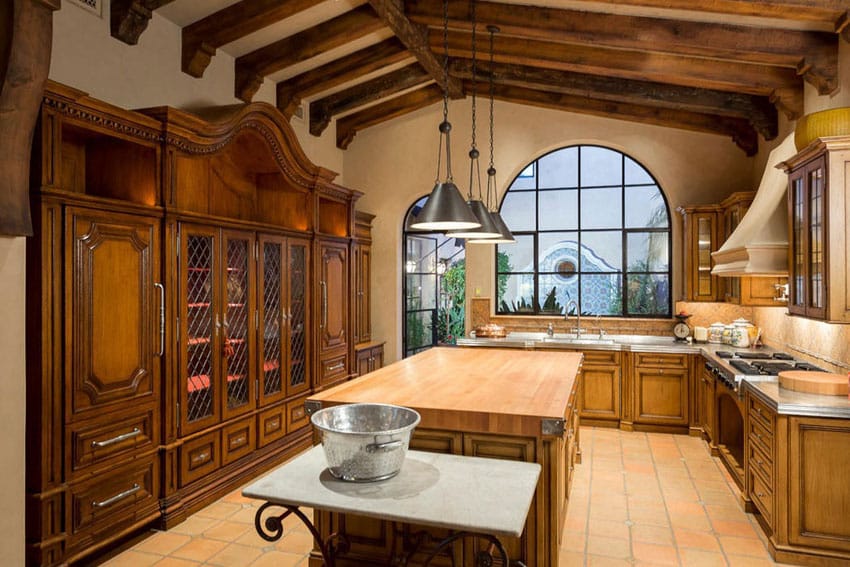 Terracotta floorings and wood ceiling will be the highlight of the kitchen area. The kitchen cabinets could also match the maple wood ceiling boards and beams to produce a cohesive appearance. It also refines the look in a way by eliminating a lot of "visual noise."
Merging Modern Features in a Tradition Spanish Style Kitchen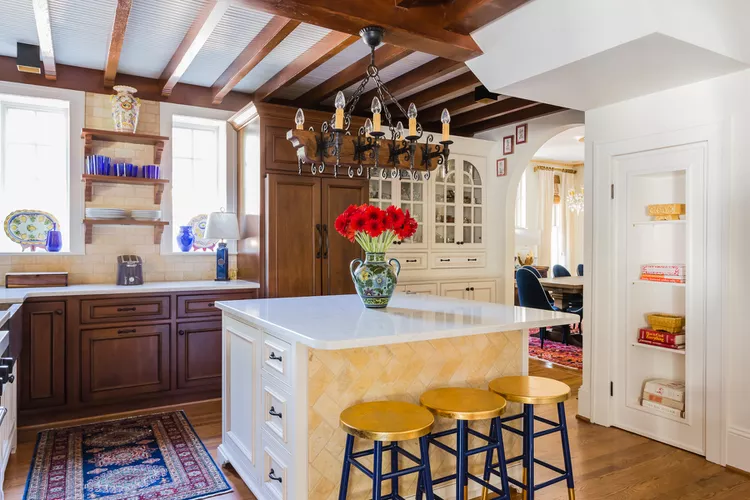 We all love a kitchen that is the best of both worlds like this spanish style kitchen idea – A traditional styled kitchen with modern features. This concept has been brought to reality thrugh the smart usage of crisp quartz countertops and white walls. Along with that we also see white cabinets, traditional tile work, and luxurious wooden ceiling beams.