The scope for kitchen lighting ideas is versatile and vast. Nowadays, the concept of using just one light to illuminate the kitchen is obsolete. More and more experts agree about the positive health effects of proper lighting now. Consequently, kitchen lighting ideas that allow efficient lighting in the correct spots are in high demand.
Now that homeowners are aware of the health benefits associated with kitchen lighting, proper lighting at right spots is essential for a successful kitchen remodel. 
But you don't need to worry. Besides, you can even do this without being too fancy or adding too many lights. All you need is our kitchen lighting ideas guide to brighten up your entire kitchen. 
General Lighting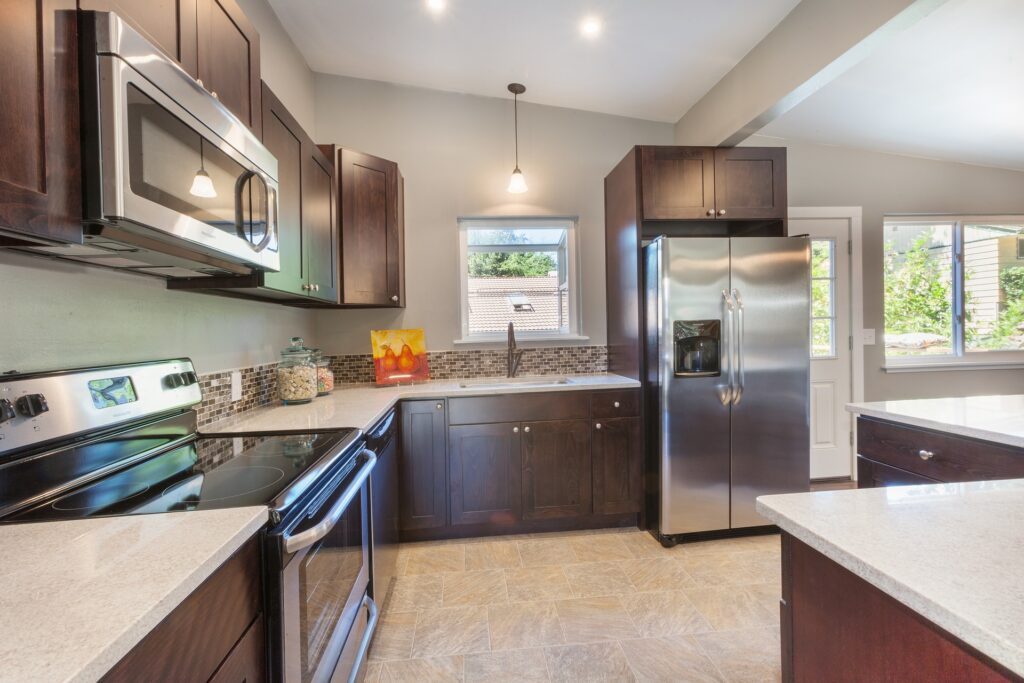 When it comes to kitchen lighting ideas, general lighting is an absolute necessity. It consists of lights that illuminate both large and small kitchens uniformly. 
Earlier, a lone light used to suffice for this purpose. Now, however, there are several modern and stylish options available.
We recommend recessing general kitchen light fittings in their classic position – the ceiling. You should try ensuring that obstructive items like fans or overhead storage are not present within their radius. If you do not have a false ceiling, try using wall-mounted light fixtures to uniformly distribute light in the kitchen.
You can go for a central light fixture or two different light fixtures at the room's opposite ends for such a kitchen lighting layout. The size of your kitchen is a prominent factor in determining this choice. Keep in mind, though, that you cannot rely solely on general lighting to adequately light up your kitchen.
Task Lighting
Continuing with kitchen lighting ideas, another popular concept is that of task lighting. It is usually installed under cabinets and above countertops. At times, general lighting leaves shadows in areas that need better focus. 
In such situations, task lighting allows you to have a good view of your work surface. Like its name makes apparent, it provides adequate light for you to carry out work like chopping vegetables.
Apart from that, proper task lighting also allows you to assess the quality of fresh fruit and vegetables properly and read labels correctly. Puck lights and strip lights are excellent options when it comes to task lighting. You can get it installed under your kitchen's overhead storage in a manner that conceals the internal wiring. Also, try to put up the switches close to the light.
You could also consider covertly installing an LED kitchen strip light near the overhead storage. As a result, you will have a band of linear and regular task lighting above the counter. 
The length of the counter determines the number of light fixtures. If you have limited light points or budget constraints, you could consider adding task lighting only for the central prep zone.
As an aside, you can even install task lighting above your stovetop. Try to go for a chimney that has inbuilt LED lights. That will give you a much better view of the textures and colors of your food. You will be quite surprised to see the amount of difference it makes in your home improvement project.
Cabinet Lighting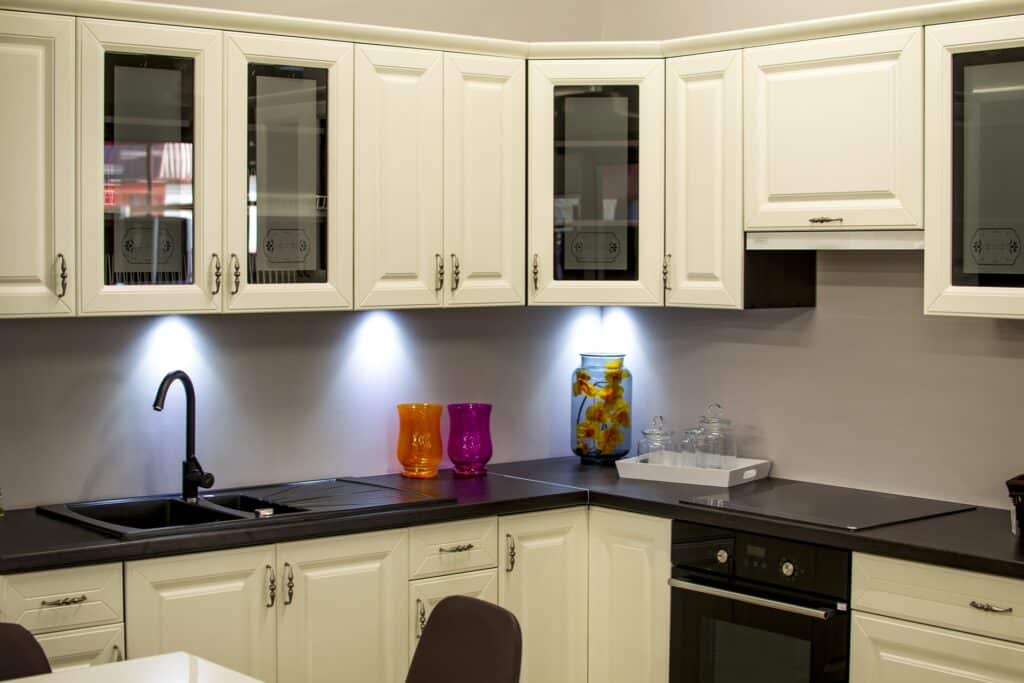 Cabinet lighting is among the more potentially innovative kitchen lighting ideas out there. It helps you go through otherwise dark storage areas with relative ease. 
Such lights generally turn on automatically on opening the shutter and turn off when the kitchen cabinet is closed. When it comes to high-end kitchens, they are a particularly excellent option.
That said, in case of a limited budget, you can consider using them only for under-the-counter cabinets or corner storage. Also, cabinet lighting demands internal wiring within the framework. 
Therefore, you should try to ascertain the need for cabinet lighting right at the beginning of your kitchen renovation or construction process. We highly recommend automated lights in particular.
Decorative Hanging Kitchen Lighting
Decorative hanging kitchen lights like chandeliers and pendants are among the most royal kitchen lighting ideas today. They endow your kitchen with warm and welcoming vibes. Unlike their frivolous appearance, they can serve as task lights as well. 
Decorative hanging lights are especially great options for breakfast and island counters. Additionally, they add an element of warm design in an otherwise mostly functional place.
Put decorative lights like pendant lights and chandeliers about 30-34 inches over kitchen island counters used for preparing food. You can aptly use them over breakfast counters as well. Generally, such lights are best used in sets. You can put more than one kitchen pendant light in one line, depending on the length of the counter.
Ambient Lighting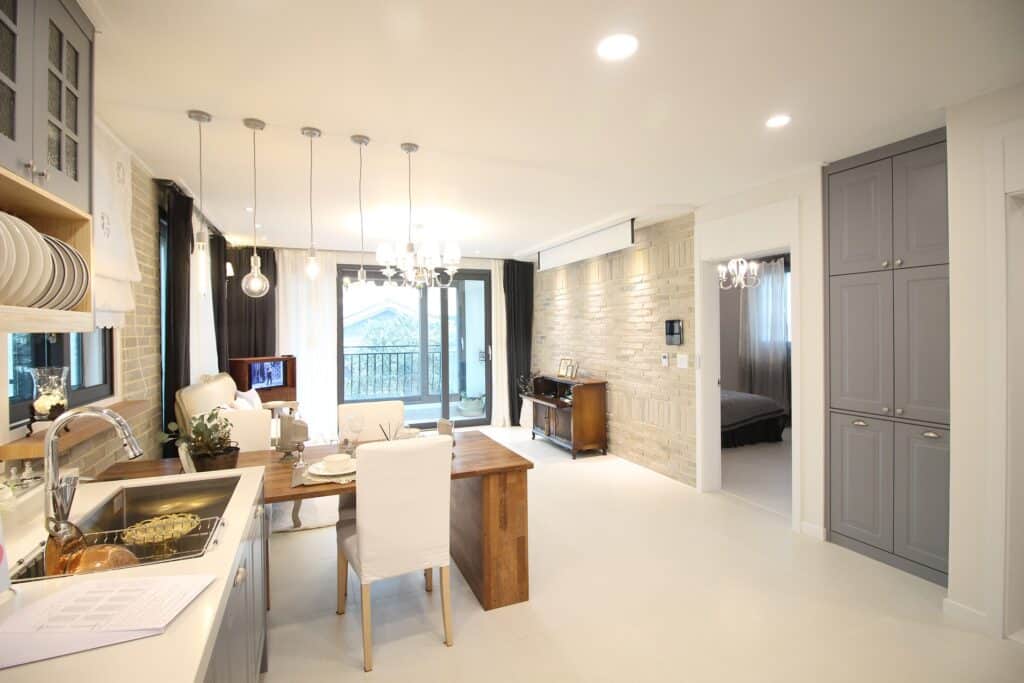 Recessed downlighting is among the best kitchen lighting ideas for ambient lighting in a modern kitchen. You need the light to be distributed evenly throughout the kitchen, with a strong emphasis on illuminating high-use areas. 
For that purpose, you should grid out the lights in straight lines along your counters' axis. Install dimmers to control the brightness levels in various lighting scenarios.
If your kitchen has limited dimensions, you could consider going for flush mount or semi-flush mount lighting. Unlike recessed lights concealed in the ceiling, these allow you to add an element of stylishness to your kitchen. Today, there are a variety of appealing choices for you to choose from in the market.
Accent Lighting
Finally, accent lighting serves as the cherry on the cake for a properly designed kitchen. Correct placement of accent lights allows you to lay better emphasis on your favorite elements in the kitchen. 
For instance, recessed lights help you illuminate visually appealing areas, such as glass cabinets and open shelves. They are refined and out-of-the-way and then can be used in a very versatile manner.
On the other hand, over cabinet lights will help you add an element of dramatic effect to your kitchen. They are created and installed in a manner very similar to under cabinet lighting. 
Additionally, over cabinet lights can provide excellent illumination for architecture and accent décor. Lastly, toe-kick lighting is a perfect option for illuminating pathways. It is produced using an LED tape or rope lights and can be a defining element for your kitchen.