Home » The Timeless Appeal Of Blue Kitchen Cabinets
The Timeless Appeal Of Blue Kitchen Cabinets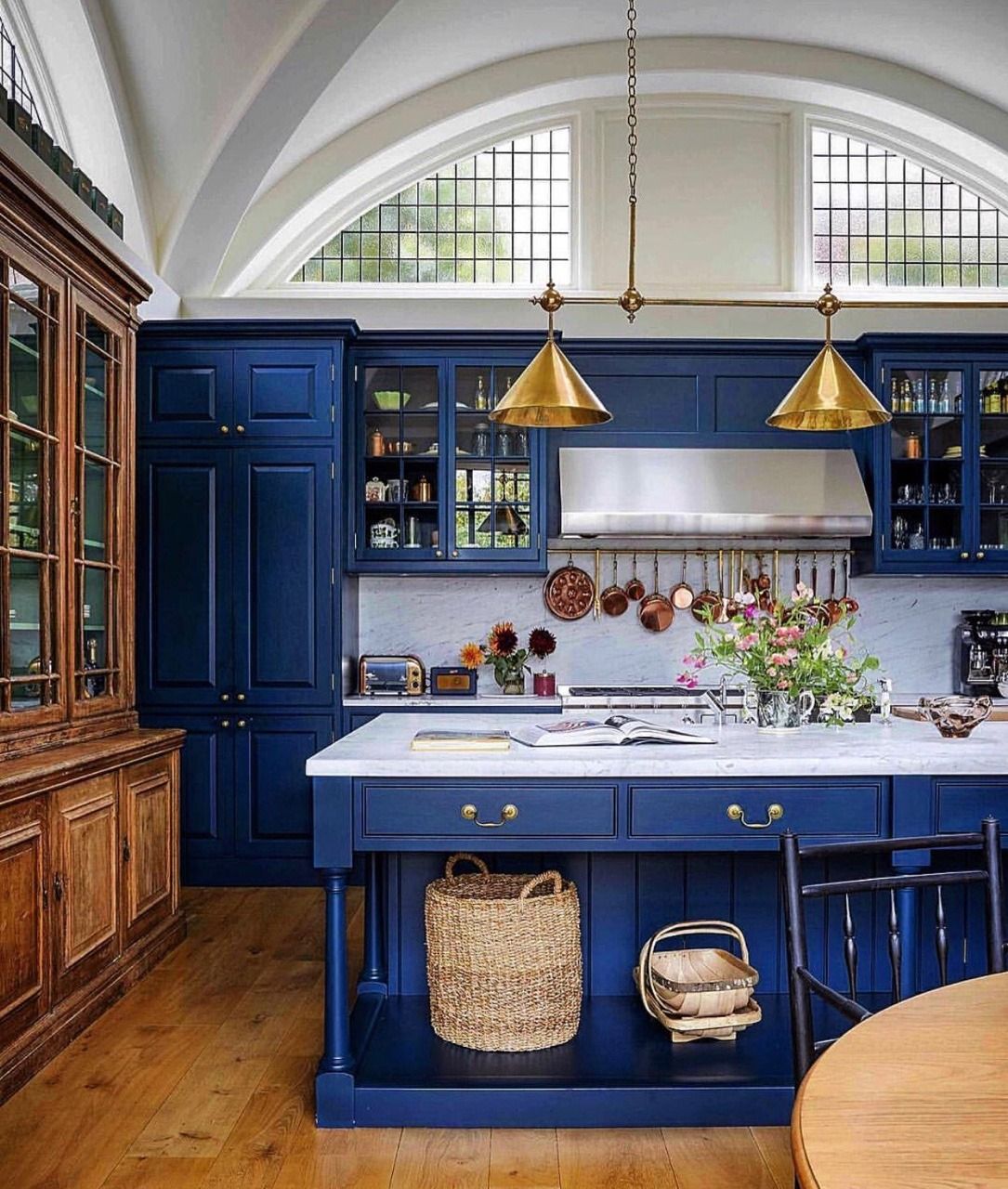 Blue kitchen cabinets are a great way to add a splash of color to your space. It's the color choice for many kitchens and for good reason. Blue and white, although only two colors, leaves plenty of room for variation. Whether you prefer a bright bold blue like royal blue kitchen cabinets or a more muted calming shade, like blue gray kitchen cabinets, blue cabinets are simply beautiful. 
Whether you have a traditional, modern, minimalist, or contemporary kitchen on your hands, adding blue cabinets is sure to complement many elements in your kitchen. Here, we explore the many shades of blue kitchen cabinets to help inspire you to incorporate more of this color.
Farmhouse Blue Kitchen Cabinets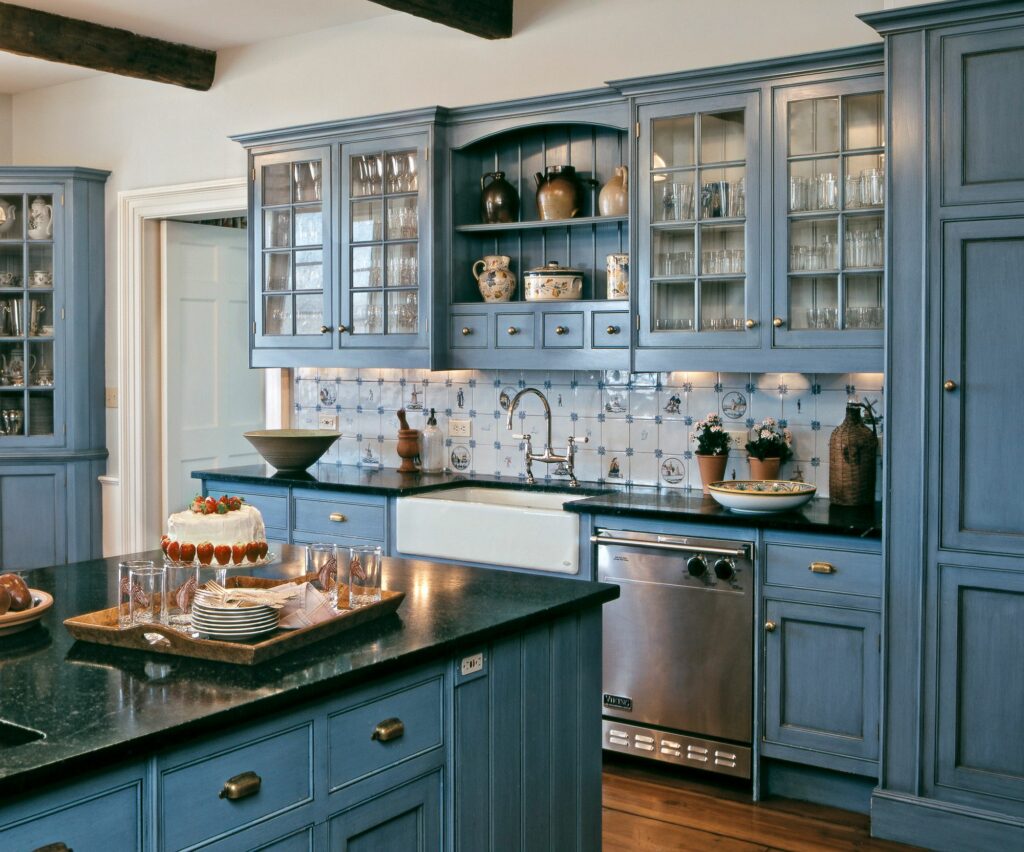 The farmhouse blue kitchen cabinets add a homey and charming touch to any kitchen. They bring a warm and inviting feel to the room while adding a classic and timeless style. The blue color is inherently calming and using it on the cabinets are perfect for rustic and country-style decor. Blu is the perfect way to merge dark and light elements such as a light backsplash and dark kitchen island 
Modern Navy Blue Kitchen Cabinets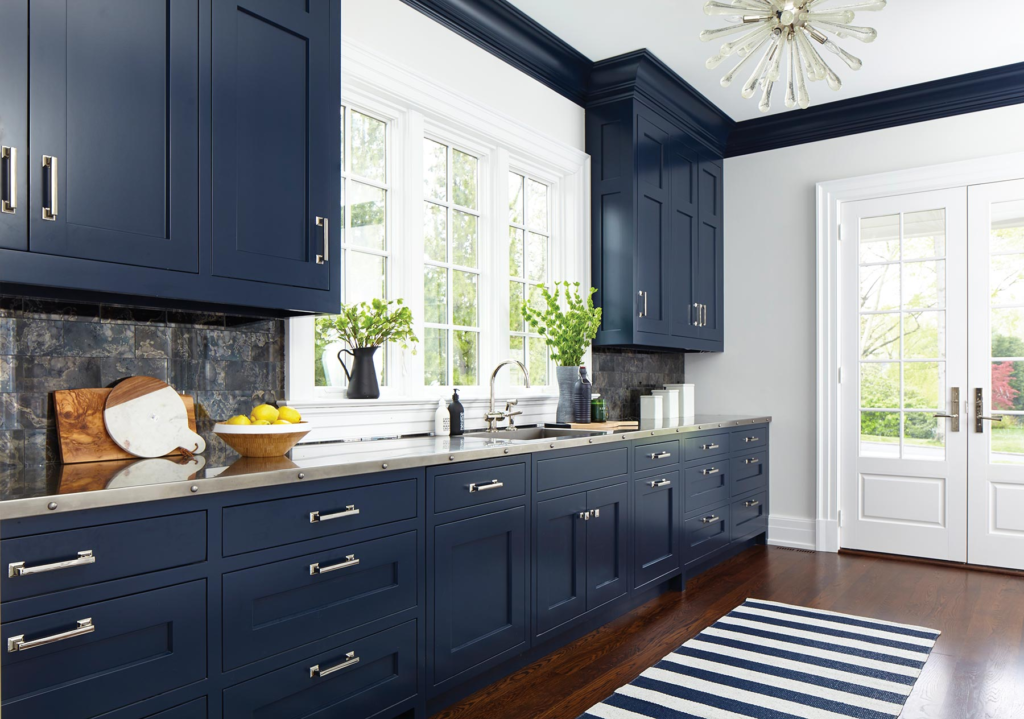 Modern navy blue kitchen cabinets are the perfect way to add a pop of deep color to your kitchen. The deep blue hue adds a sophisticated touch to any kitchen, and pairs well with both light and dark countertops. They also provide a strong contrast to white walls, allowing you to create an elegant yet approachable kitchen. Pair it with red-hued hardwood floors and a multi-toned backsplash to compliment the solid hue.
Blue And White Kitchen Cabinets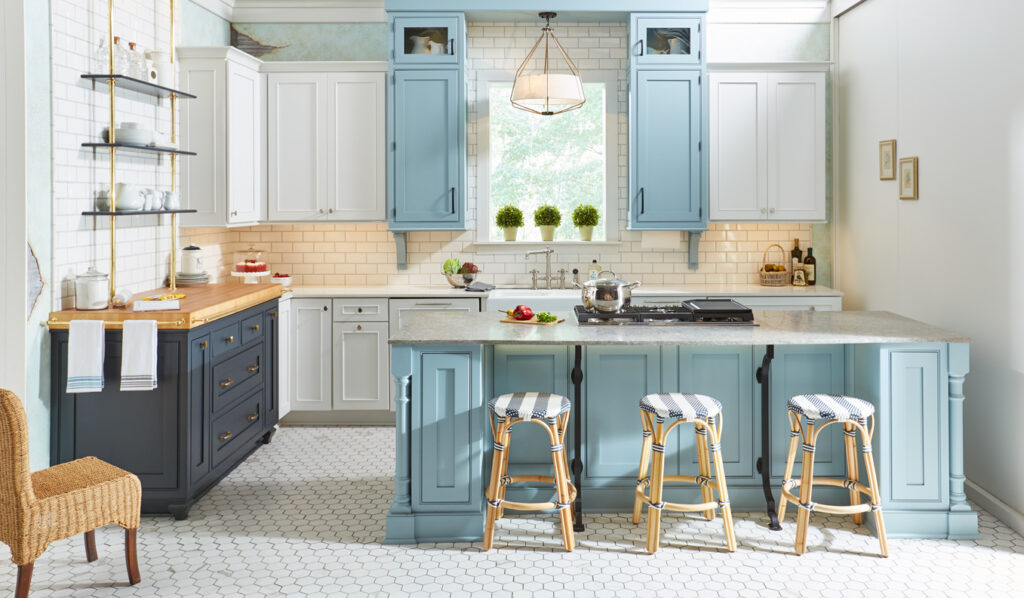 Blue and white kitchen cabinets are a beautiful and timeless choice for any kitchen. They provide a classic, clean look. Whether you choose a bright, bold blue or a more subtle navy blue, these cabinets can look amazing when paired with white or light-colored countertops, backsplashes, and appliances. With a little bit of creativity, you can create a stunning look in your kitchen.
Blue Gray Kitchen Cabinets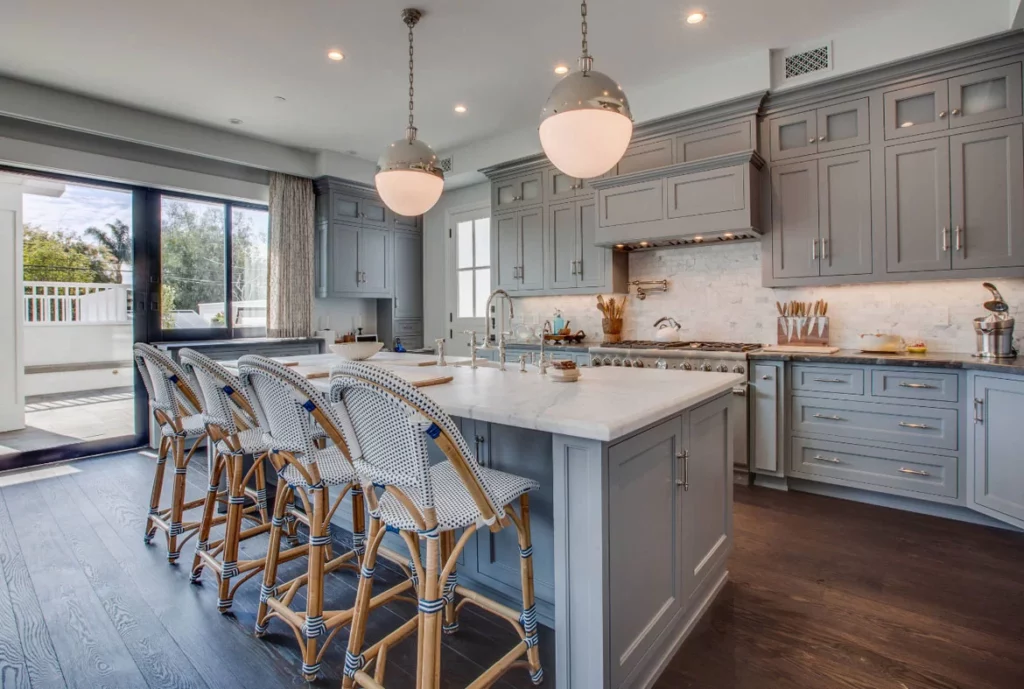 Blue gray cabinets work great for those who want a more subdued blue color palette without making their kitchen look dull. They look sophisticated yet contrasts perfectly well with more casual elements such as polka-dotted kitchen stools. 
The mix of blue and gray gives the kitchen a calming and relaxing feel thanks to its cool tones. We suggest balancing this out with warm lighting and gold accent pieces. Whether you are looking for a modern or traditional aesthetic, this color can be a great choice. Dress it up or dress it down accordingly to showcase or balance out this sophisticated color combination. 
Two Tone Blue And White Kitchen Cabinets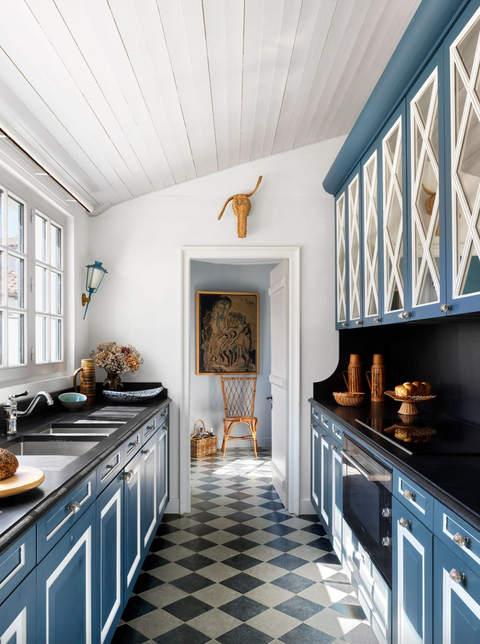 Two tone blue and white kitchen cabinets are a modern and fun way to spruce up your kitchen. This combination of colors creates a lovely contrast to your cabinets. You can keep it either subtle or bold, depending on how you decorate the rest of your kitchen. 
These cabinets create an eye-catching focal point, while the white offsets any heaviness from all the blue. With this color combination, you have the flexibility to choose a variety of shades to fit your style and taste. The addition of glass-front cabinets, granite countertops and a checkered floor help to further enhance this modern and playful look. 
Royal Blue Kitchen Cabinets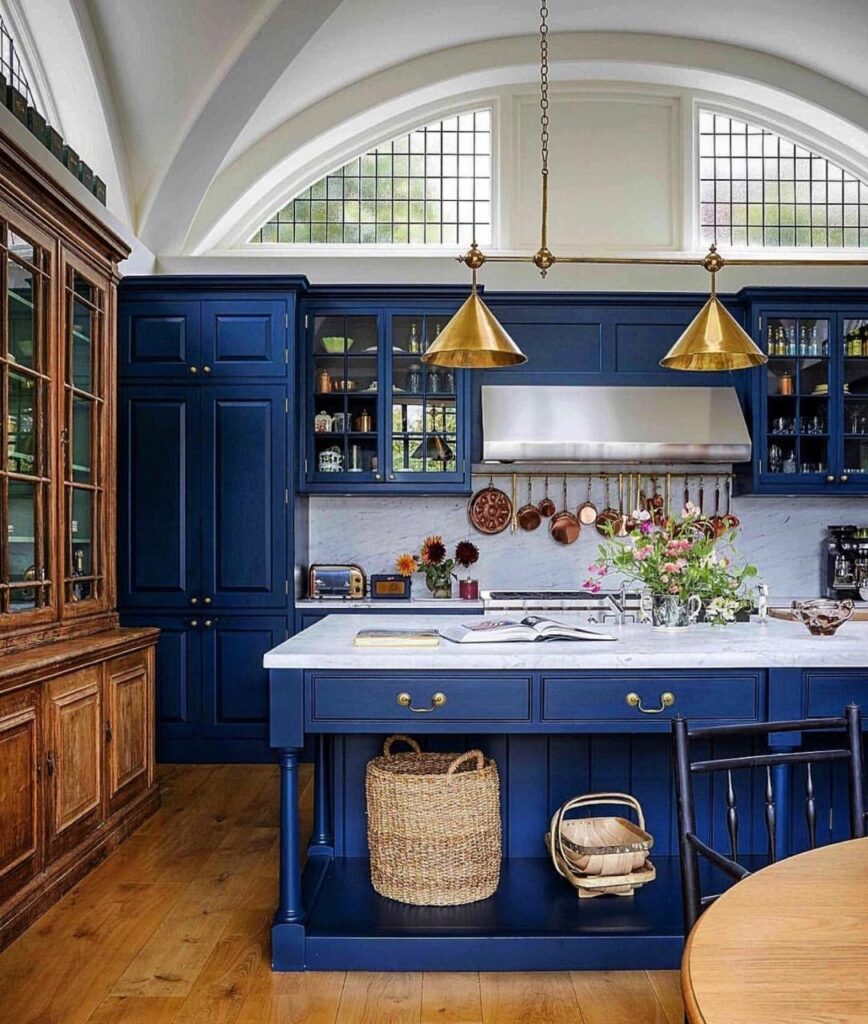 Royal blue kitchen cabinets are bold and beautiful. They are a focal point in a kitchen while simultaneously acting as the perfect canvas for every other element in the kitchen. 
Royal blue pair especially well with light and warm tones to create a rich kitchen environment. Work in copper cookware, natural wood, gold accents, and silver appliances to create a perfectly modern and chic kitchen.  
French Blue Kitchen Cabinets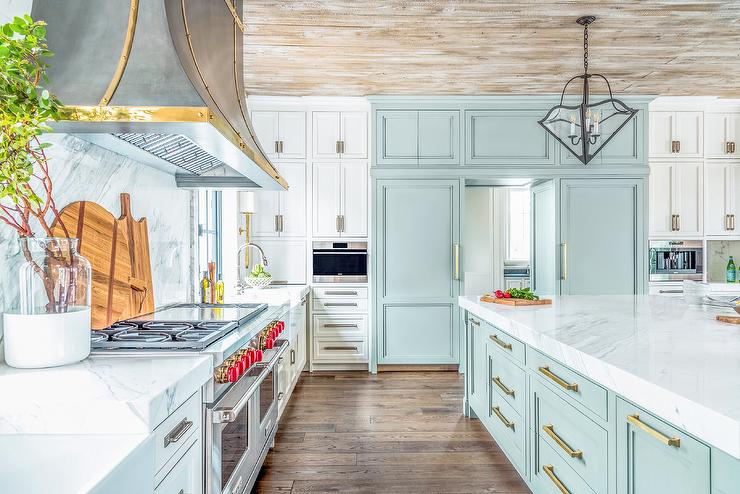 French blue cabinets are a beautiful way to create a classic and natural airy looking kitchen. French blue is a light shade of blue that is similar to a baby blue, or a light teal. These cabinets are typically paired with white countertops, white appliances, and light wood accents. They can be used to create a vintage-inspired look, or a more modern and contemporary design depending on your decor. We recommend adding indoor plants to help tie together this natural and airy kitchen aesthetic. 
Slate Blue Kitchen Cabinets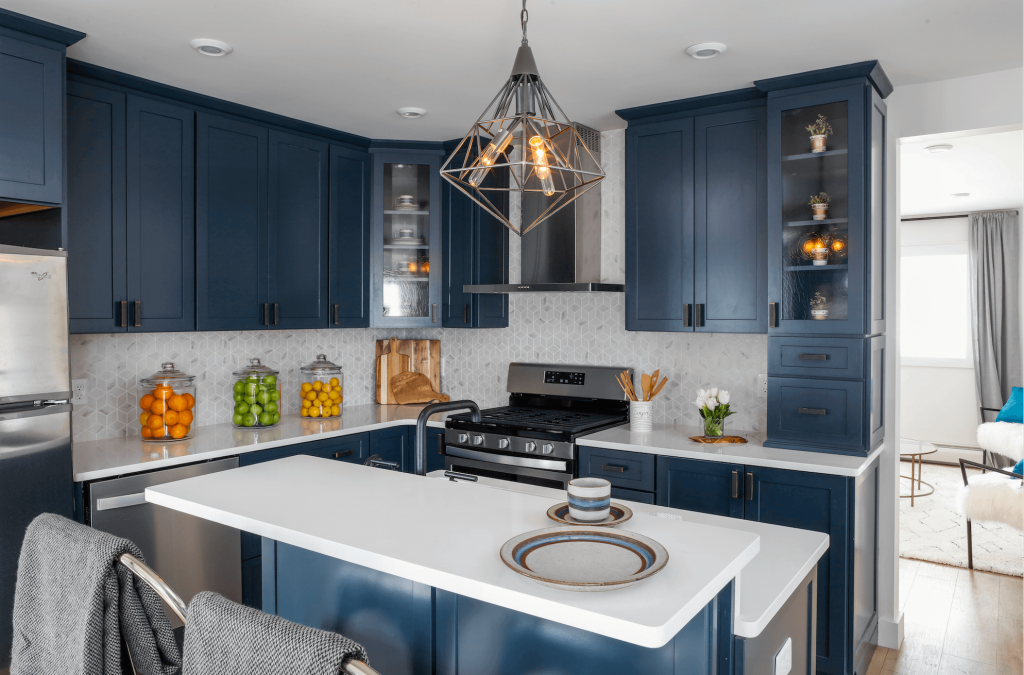 Slate blue kitchen cabinets provide a lovely neutral blue to your kitchen. The slate blue color is a deep grayish blue, usually a few shades darker than navy. This color is great to work with if you're going for a subtle and calming kitchen aesthetic. 
We suggest pairing it with light-colored countertops, stainless steel appliances, and white or cream colored walls. Slate blue can also be paired with other colors for a more dramatic look, such as shades of gray which can be incorporated into a backsplash. Add more dark elements to enhance the sophisticated look of the cabinets. Alternatively, add lighter shades to make the kitchen feel more inviting. Either way, slate blue is a lovely neutral color that can suit many styles. 
Blue kitchen cabinets can be a great way to add a classic and stylish look to your kitchen. Depending on the shade of blue you choose, you can add a sense of fun, sophistication, subtle calm, hominess etc. Whether you prefer a bright and bold shade of blue or a more subtle and calming one, blue kitchen cabinets are a fantastic choice for any style of kitchen.