Home » Tested Storage Space Ideas for Every Room
Tested Storage Space Ideas for Every Room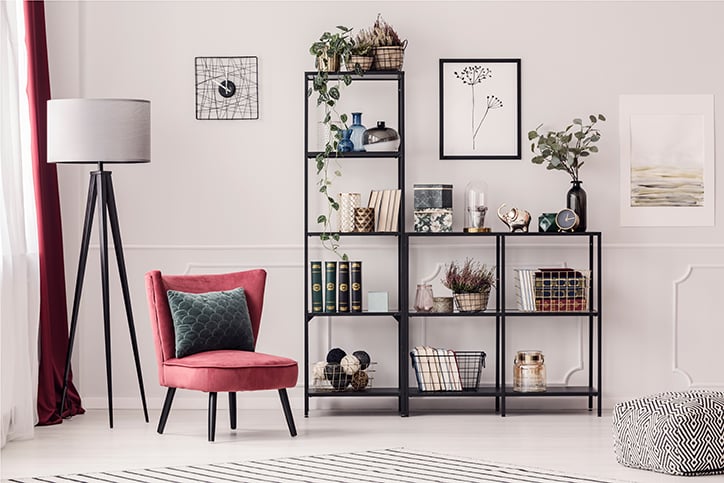 Can you think of anything more important than storage space to keep your home from turning into a messy mad house?
But the thing is: For most homes, the problem of messiness essentially boils down to two things. Either they have too much stuff at home or too little space to store it. But the net result is always the same. We are perennially short of storage space and everything remains cluttered.
We all have been there and back. But because we know why the problem exists, we can easily put a handle on it. In fact, there are hundreds of hacks available on the internet. But be mindful that not all of them work.
As a result of previous misadventures and sorry tales, I can tell you of all things that finally worked for me. And hey, these are tried and tested methods – so you know they work. And the best part is that most of these are practical and budget-friendly too. So, I am going to go out on a limb and say that they might inspire you to de-clutter your space, after all.
Kitchen
1.    Create Zones
Why not start by designating zones in the kitchen for different items as per their function?
Start by tucking your mixer in a corner by the refrigerator with the mixing bowls placed snugly on shelves above the mixer. Place the baking necessities there too.
Move to the opposite side, i.e the breakfast prep zone. Store all the must-haves here like glasses and bowls, coffee mugs, sugar, and cereals. You can have custom shelves to get a clean arrangement here. This ensures that you don't waste space, and organized zones ensure that you don't waste time either.
2.    Bring in a Pantry
Squeeze it just anywhere. Take it from someone who struggled with storage for a very long time — this addition can change your life forever.
A walk-in or freestanding or even a combination storage…everything works here.
A floor to ceiling pantry will store all your kitchen essentials in one place, saving you a lot of hassle. They are also super accessible and declutter your kitchen substantially.
3.    Corner Shelves
Corner shelves are such a clever option for those pathetically ignored corners.
In a swish, the corners are transformed into storage units with swing out shelves for easy storage. Rails on the shelves stop the stuff from falling out, and the swing out function brings every stored item in front when desired.
4.    Drawers in the Kitchen
Mark our words: Drawers can store ANYTHING.
Place trays in your drawers for storing cutlery in its designated spot. Fit in spice racks to class up spice storage. Or use the wide drawers to put away all your pots and pans in complete style. You can also incorporate pull out mechanisms…and you are ready to go. Don't forget to use pegs to keep the items in place, though.
5.    L Shaped Shelves
We just talked about corner units to use up the corner floor space. How about the corners above the floor?
Go for L shaped shelves to make the most of corners for added storage with their continuous stretch.
1.    Storage Tower
The structure uses up the vertical space between the sinks of a double vanity and gives you easily accessible storage for both sink areas. You can add functional élan to the structure by adding a feature in the cabinet to store razors, hair dryers etc too. What a clean hack, right?
2.    Vertical Storage for Smaller Vanities
The idea is almost the same as above. This implies that you employ the vertical storage theory as before but execute it in on expanse of a wall instead. You are basically adding a storage unit in form of a shelf above the toilet. This can be great for guest bathrooms especially, which are very small in size.
A mirrored door on the cabinet completes the look and keeps the stuff intact within.
3.    Add a Folding Unit
Consider the concept of a folding shelf with hidden storage behind it. The idea is ideal for bathrooms that are a tight squeeze.
The shelf will fold out from a particular wall to be within the reach of the vanity to form a makeup counter. Talk about being perfectly tucked away from view, nay?
If you are planning to use extensive hair curling or hair straightening appliances, consider covering it with Quartz though. It will lend it a heat-resistant and easy-to-maintain quality.
4.    Add New Storage
Does your bathroom have a closet?
If no, then think of creative ideas like repurposing a cabinet or a dresser to store linen and supplies on hand. You can use pretty glass jars to store bath oils, cotton swabs and other stuff too!
Living Room
Because the living room space is designated for unwinding and great conversations, the storage in the living room has to take on a different character from any other room in the house.
That being said, it may not require as much storage space as a kitchen or bedroom, but it definitely needs at least some. And it needs one that is effortlessly chic too. To bring out the design aesthetic of the heartiest room in your home, try these:
1.    Use Baskets and Bins
Bring in huge baskets or nice looking bins to put away the blankets, toys or CDs.
In case your front door leads directly to the living room, consider setting up a console table with storage units like baskets concealed beneath for storing umbrellas, pet leashes and other outerwear accessories.
2.    Room for Everything
Everyone in the family is likely to spend considerable time in the living room. It follows that there'll be items strewn around on daily basis.
So, create storage for each class to tackle the issue. Let the books go up on the bookshelf on the wall. The games and the pen drives can be stored in the shelf beneath the TV unit. The bills can go in the drawers in the shelf next to the lounging chair. You can also use stylish photo boxes for stashing near the entertainment center. Divide and conquer, you hear?
Bedroom
1.    Utilize the Foot of the Bed
If a closet is out of question in your bedroom, use the foot-of-the-bed for storage. Use a trunk, bench or even a book shelf for storing extra linen or the less frequently used out-of-season items.
2.    Opt for Multipurpose Storage
Use storage pieces that are multifunctional. For instance, pick up a dresser with drawers that serve as a storage unit as well as a night stand.
3.    Utilize the Walls
Put up Floating shelves on the blank walls to store your bedside belongings and save the room from chaotic clutter.
When you think of floating shelves, think beyond the simple white or the over familiar wood rectangles. Instead, look for shelves in glossy shades and different shapes with enough storage. Make sure that you are able to reach the shelf easily from your bed, though.
4.    Make Your Closet a Storage Well
A single closet can work to store all your different items when incorporated with the right storage accessories.
Insert pull out drawers in the closet to store valuables and documents. Incorporate pull-out shelves for easy access of clothes. Or get pull-out shoe racks to store all your shoes at one place.
Make trouser-pull out an integral part of your closet for an aesthetic and convenient concept. Either place the closet in the conventional style or use up the corners of the bedroom by going in for a L shaped closet – the choice is all yours.