5 Bold Black Kitchen Faucet Ideas To Incorporate In 2022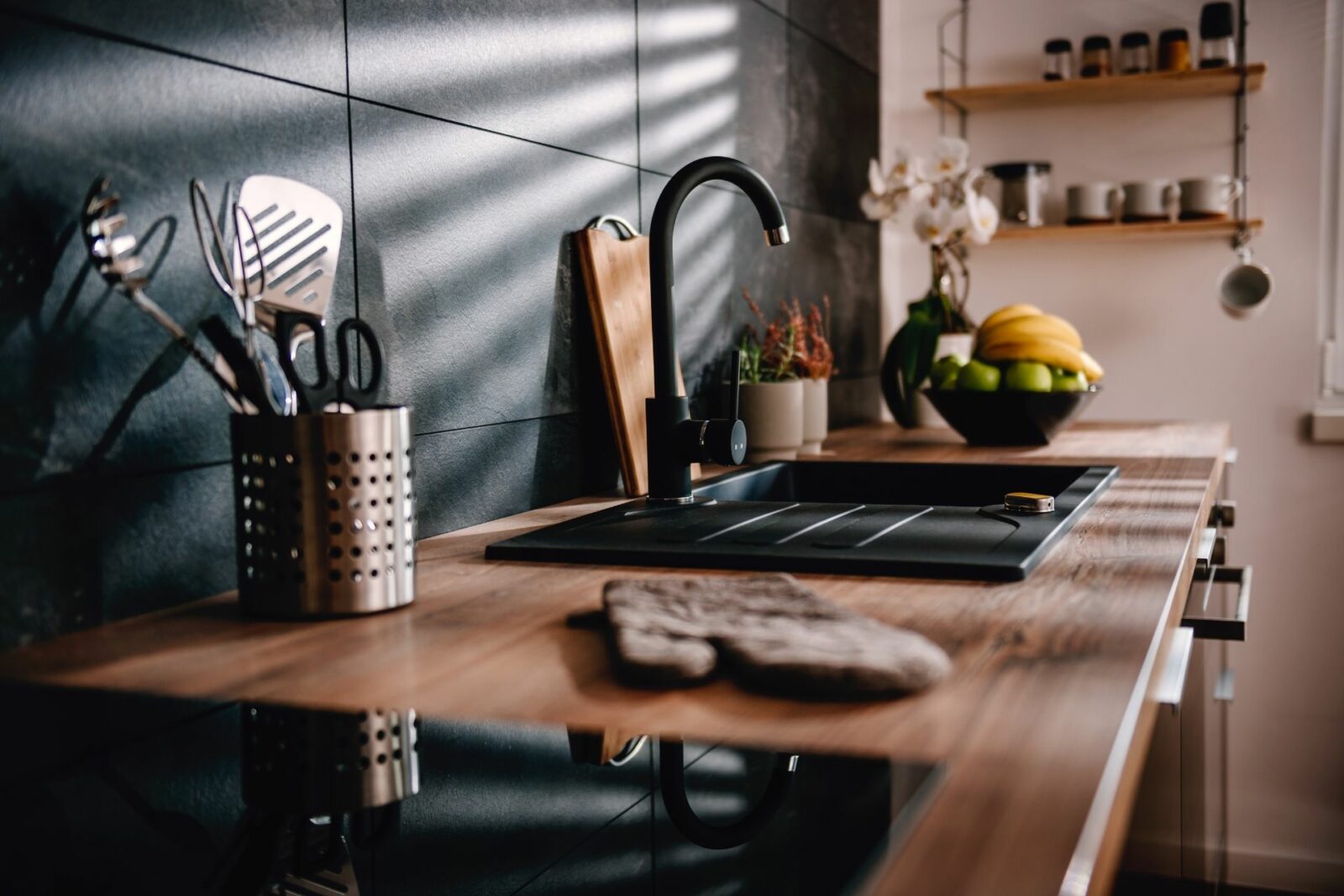 It is the little details that make your kitchen bold and beautiful. If you like edgy and chic styling of your space, these black kitchen faucet ideas are for you.
Gone are the days of boring looking faucets. One of the most important elements of your kitchen, faucets deserve to look good. Black kitchen faucets are minimal and unabashedly modern. The color black is timeless and it is not going out of style anytime soon (or ever).
The Best Black Kitchen Faucets For Your Kitchen
Black Kitchen Faucet With Pull Down Sprayer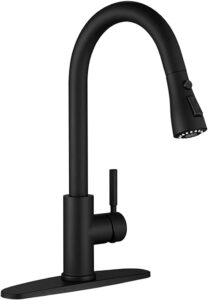 Functionality is everything when it comes to black kitchen faucets. A faucet with a pull down sprayer comes handy while performing your tasks in the kitchen. This faucet by WEWE is not only stylish but also delivers optimum functionality.
The sprayer is pre-connected with food grade cross-linked PEX inner hoses, ensuring you get purified water only. The black kitchen faucet also resists rust, corrosion and tarnishing from repeated use. It is a pre-assembled item and can be installed in your kitchen with simple DIY tools.
SHOP WEWE BLACK KITCHEN FAUCET HERE
Industrial Styling Matte Black Kitchen Faucet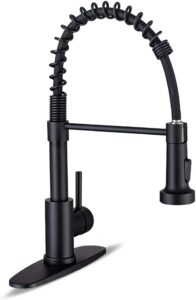 Whether you have a traditional or contemporary kitchen, a matte black faucet for kitchen is the perfect choice for all. It gives your space a high end and elegant look along with being highly functional like this WEWE Sus304 Kitchen Faucet.
It has a pull-down sprayer along with a single handle. It also has food-grade PEX inner hoses that gives you purified, clean water only.
The best part is the faucet spring that prevents deformation faucet over time and usage which means you do not have to replace it anytime soon!
SHOP WEWE SUS304 STAINLESS STEEL MATTE BLACK INDUSTRIAL FAUCET HERE
Minimal Matte Black Faucet For Kitchen With Stream & Spray Feature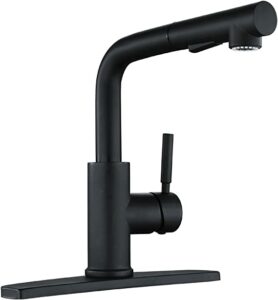 Kitchen faucets with low arc design are excellent to install if you have small space. And the Peppermint Matte Black Kitchen Sink Faucet delivers just that.
It comes with both stream and spray feature to meet your daily needs. It is a durable faucet that prevents leakage along with being super easy to install.
It also has a built-in aerator that regulates flow of water and avoids splashes or side sprays.
SHOP PEPPERMINT MATTE BLACK KITCHEN SINK FAUCET HERE
Modern-Styled Kitchen Faucet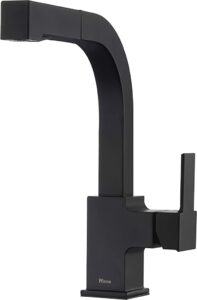 Nothing beats a sleek-styled kitchen faucet like this one from Pfister's Arkitek collection.
Equipped with modern angularity along with an urban design, this is one of the best home additions you can have. It comes with a toggle button that allows you to alternate between stream and spray modes.
It also has a forward only handle preventing any accidental bumps against your kitchen backsplash!
SHOP PFISTER ARKITEK BLACK KITCHEN FAUCET HERE
Black Faucet With Magnetic Docking Head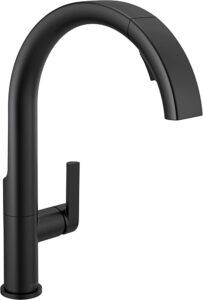 How about a faucet that magically brings back the spray wand to its place each time? If this features excites you, check out black kitchen faucet by Delta with MagnaTite Docking. This features introduces strong magnets that keeps faucet wand in its places and avoids drooping over time.
With a ribbon like spout, this faucet is truly a work of art boosting the aesthetics of your kitchen. It comes with dual features of spray and stream toggle at the ease of a button.
SHOP DELTA MATTE BLACK KITCHEN FAUCET WITH MAGNATITE DOCKING SYSTEM
Are Black Kitchen Faucets In Style?
Black kitchen sink faucets are stylish, elegant and gives your kitchen a high-end look. Going with trend of minimalism, installing a black faucet is one of the best kitchen remodeling choices that you can make.