Home » Spanish Style Kitchen Ideas That are Perfect for Your Next Remodel
Spanish Style Kitchen Ideas That are Perfect for Your Next Remodel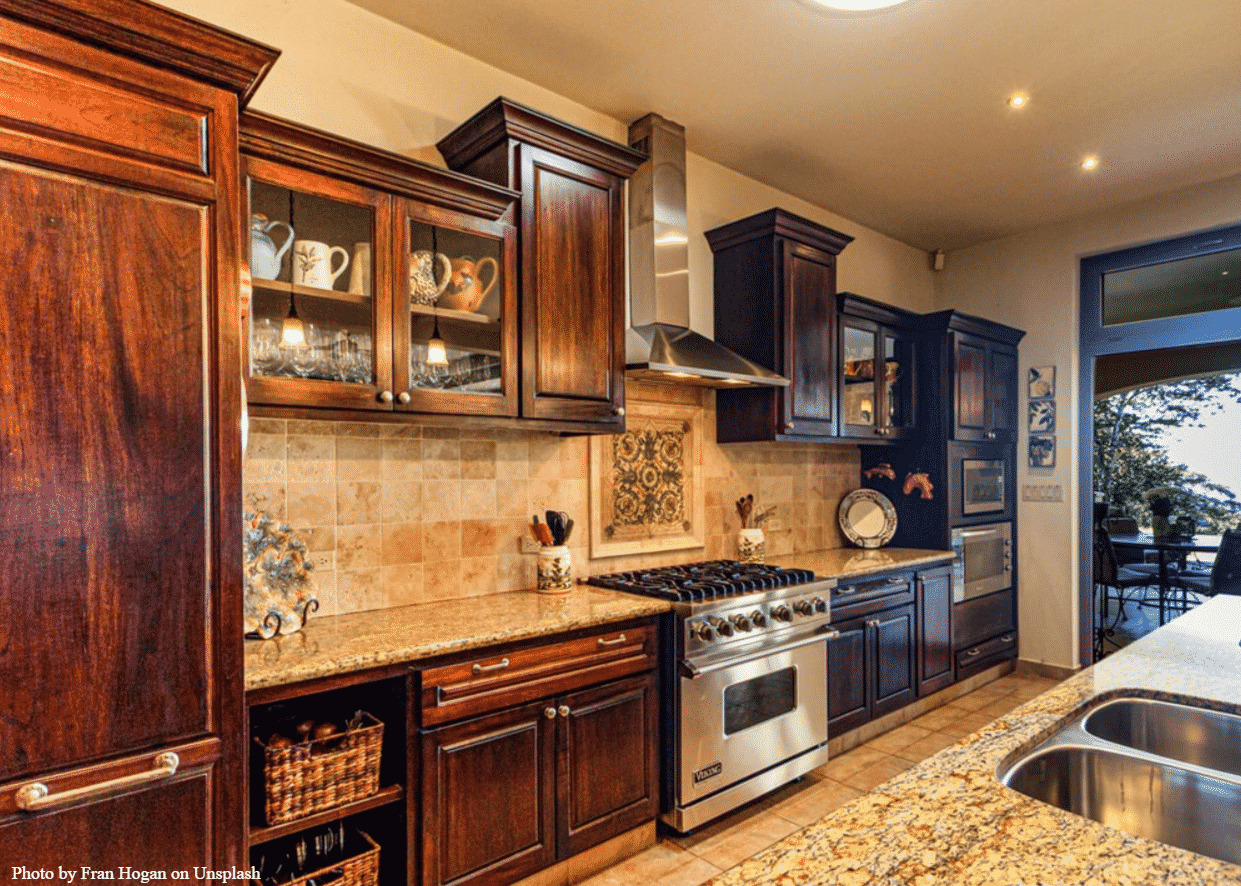 It is true that a Spanish style kitchen design provides a warm and welcoming environment. But the challenge is to create your kitchen with its intricacies. Therefore the whole process of remodeling the kitchen based on some facts from the internet is sure daunting.
But we can assure you that it's one of those things where once you figure it out, you are like, "Yeah, this is easy! Why didn't I think about this before?"
In this blog, we have mentioned the popular style components of a Spanish style kitchen. By following it, you can recreate any Spanish revival kitchen version that you like.
What Defines Spanish Colonial Kitchen Designs?
Spanish kitchens are known for their vintage beauty and architectural detail, Spanish style cooking areas are inviting and stunning. Not just that, these have the traditional interior design aspects like dark wood cabinets, warm, abundant details, and tile work, which is painted over.
Elements Found in a Spanish Colonial Kitchen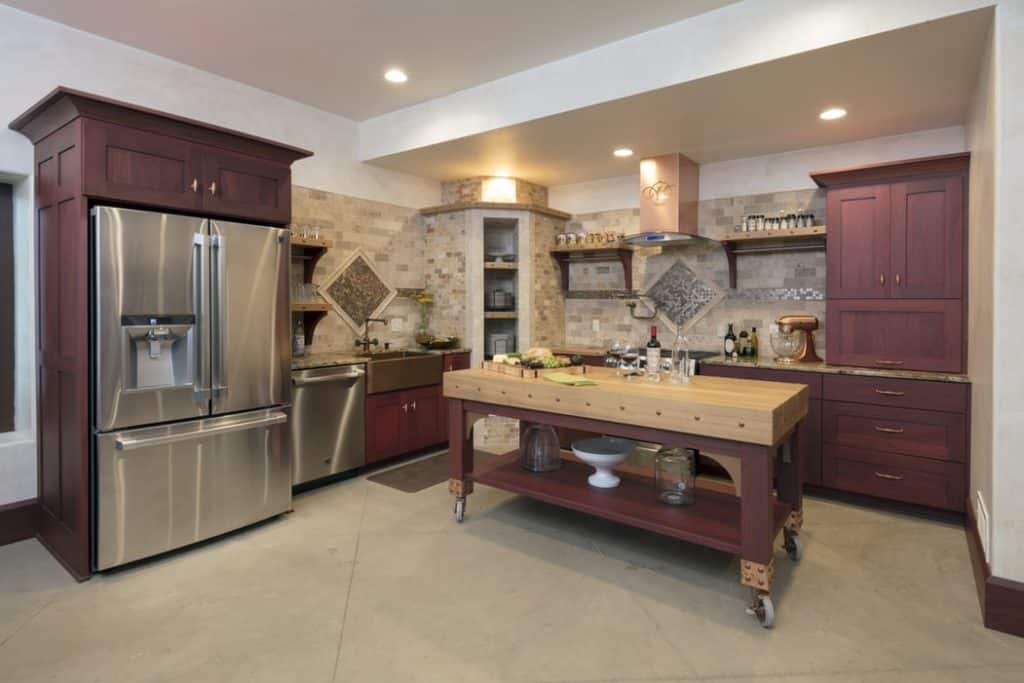 1. Flared Hood
In Spanish styles, curves, as seen in arches and scroll patterns, prevail. This affinity for curves is visible even in flared kitchen hoods.
You can also choose from a variety of materials when it comes to design too. For instance, popular materials include corbels, cast stone, and sheetrock.
2. Cabinets with Ornamentation
Cabinets with ornamentation are crucial for an antique Spanish style. These cabinets and furnishings are usually constructed from walnut.
These designs also typically consist of rope along with beaded trim. However, you can also add wood on the cabinet hood that connects to the rest of the kitchen storage.
3. Hand-Painted Tiles
These hand-painted tiles lend color and style to the backsplash. Not just that, the colors must go in line with the cabinets.
4. Oil-Rubbed Bronze Fixtures
A dark brown color is typically used to lend a classic oil-rubbed bronze appearance to fixtures. It's mainly used for the faucets and hardware to develop a Spanish style kitchen.
5. Arched Cooking Alcove
A big cooking nook makes for a great design. It's essential to make it big, especially since the stove is the heart of any kitchen.
6. Decorative Arches
The Spanish interior design style can be distinctively seen for its significant arched windows and entrances that make a huge impression.
7. Exposed Wood Ceiling Beams
Wooden beams tend to be very pronounced in Spanish architectural style throughout the whole house. Therefore, incorporating that is a sure-shot way to have a Spanish style kitchen.
8. Wrought-Iron Work
In any countertop or cabinet inserts, wrought iron will have a tremendous Spanish impact in the kitchen space.
9. Saltillo Flooring Tiles
You can utilize terracotta tiles in the Spanish Colonial style kitchen remodel to lend a warm environment to your kitchen.
Let's have a look at different ideas that lend to the Spanish style.
Spanish Style Kitchen Ideas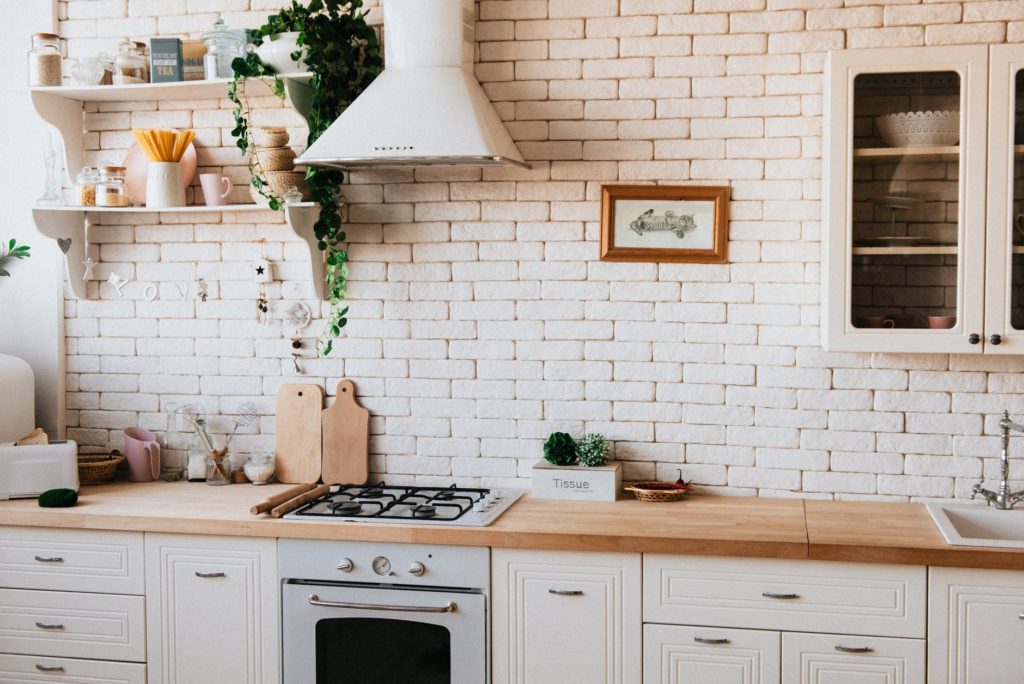 Traditional Kitchen with Spanish-Colonial style Tile Backsplash and Arched Wall
Large arch openings and high ceilings give a traditional kitchen a very genuine Spanish feel and add a more modern touch.
To create this style, you can use strong mahogany cabinets paired with a gray countertop. For the kitchen island, you can use dark-wengue and solid maple butcher's block.
Rustic Kitchen Design
We all want a large kitchen with a warm ambiance. This style brings just that. You can also use some solid teak wood slats for the ceiling. Not to forget the hexagonal terracotta tiles, integrated with orange walls.
Instead of using a more traditional wood finish/stain on the kitchen cabinets, you can also use an emerald green finish on paneled wood cabinetry and top it up with a white granite worktop.
Similarly, the green cabinets' cool tole is a pleasing complement to the warm-colored walls and ultimately makes the kitchen stand out.
Spanish-Style Kitchen with Terra-Cotta Tiles Rustic Wood Tile Island
If your kitchen is huge and roomy, you should try this design. For starters, you should go for strong walnut cabinets topped with cream-colored granite.
Rustic Kitchen with Stone Wall with Fireplace and Wood-Beam Ceiling
The interior could also use some subtle Spanish Colonial influences. You can also think of elements like terracotta floor covering. Similarly, using white tiles as a countertop material, and the terracotta arabesque tiles for the backsplash adds to the design.
High-End Rustic Kitchen with Astoria Granite Countertop and Stone Floorings
The proper use of colors and surfaces in this Spanish kitchen trend will make any kitchen stand out. We recommend using natural stone blocks for floor covering and coupling it with a rag-rolled cream paint surface for the walls. Doing so lends the kitchen an indoor-outdoor aesthetic.
You can also use the standard Mahogany finish cabinetry with detailed panel information, owl bust accents, and turned posts for a complete Spanish Colonial experience.
A Standard Kitchen with Terra-Cotta Tile Floorings Stone Walls
This modern kitchen uses a lot of Spanish influences to produce this appearance. Thus, the ultimate result will have a rustic yet modern-day feel to the area. For the kitchen cabinets, dark walnut can be an option, topped with granite.
Rustic Conventional Kitchen with Spanish Tiles, Wood Ceiling and Terra-Cotta Floorings
Terracotta floorings and wood ceiling will be the highlight of the kitchen area. The kitchen cabinets could also match the maple wood ceiling boards and beams to produce a cohesive appearance. It also refines the look in a way by eliminating a lot of "visual noise."
Similarly, for the kitchen countertop, you can go for concrete dressed with blue ceramic tiles.
The Most Important Aspect in Spanish Style Kitchen
Whatever ideas or design you wish to incorporate, the most important thing is to ensure consistency in design.
That being said, a Spanish Colonial kitchen will look best in your home if it has a similar theme. It should not look very different from the other elements of the house – be it in terms of design, the colors, or the textures. Only then would it provide the feeling of a complete Spanish home.