Bedroom Remodel Ideas, Designs and Tips That Pay Off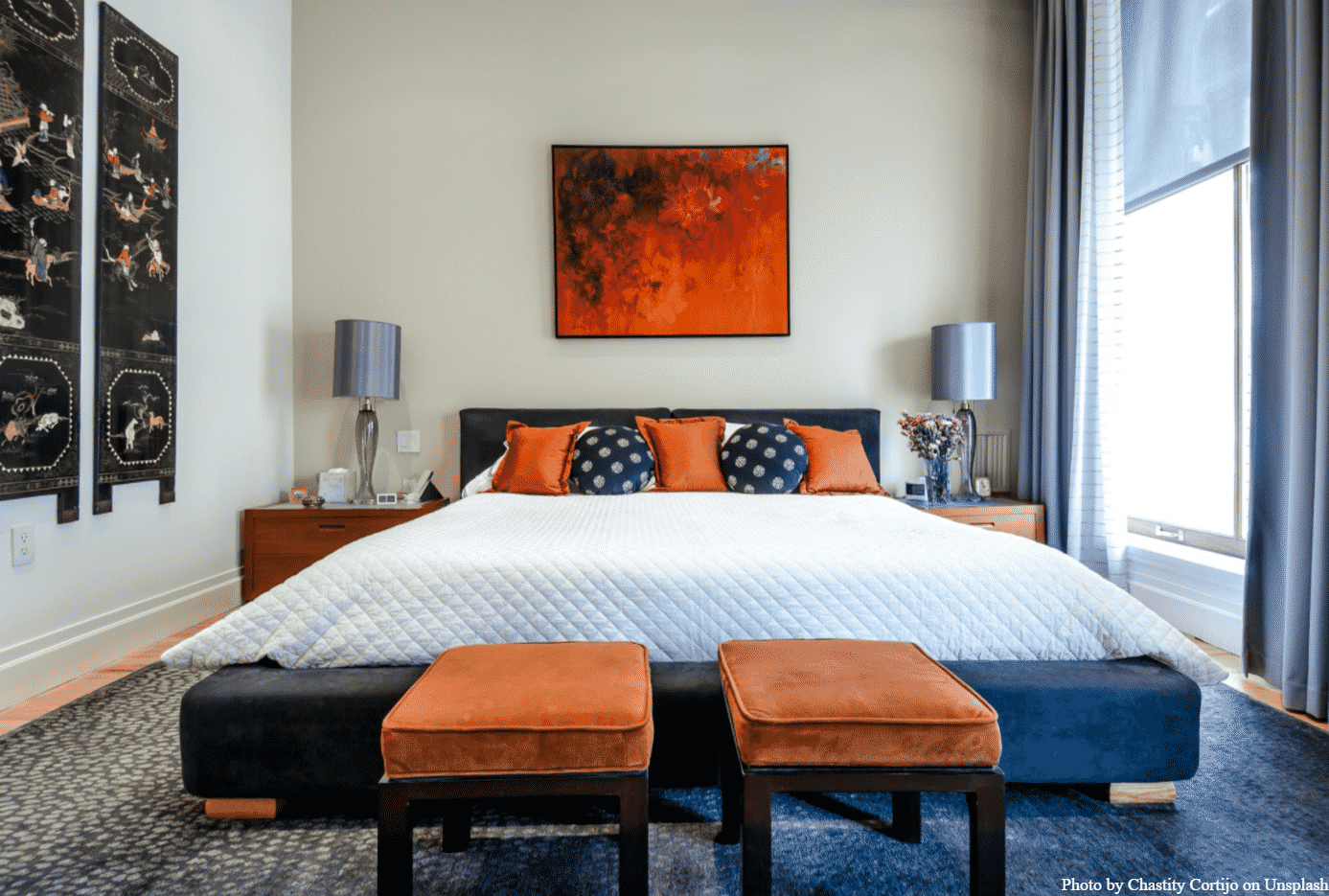 You devote one-third of your life to your bedroom. So don't you think you deserve a room that will contribute to a fair and comfortable time? An unorganized and disoriented bedroom can really tick you off after a hard day of work. Bedroom remodel ideas that pay off the time, energy, and money are essential and useful to help you relax and enjoy your bedroom to the fullest. 
Bedrooms are a focal point for many families, and therefore it should be worth it. Unlike the kitchen and the bathroom, the bedroom does not require in-depth, invasive technical work.
It does not involve any plumbing or purchase of appliances for installations. Bedrooms are about everything excellent, cozy, and appealing to the eye, such as painting, lighting, wallpaper, fabric, flooring, and other materials that are economical and DIY friendly.
Luckily, bedroom remodeling projects are one of the most affordable ones for a makeover. There are barely any structural changes, and it is mostly just about a deep cleanse and a little bit of surface work to make the room look as good as new.
The best part about it is that bedroom renovations are a positive return on your investment. Redecorating and strategic styling an existing bedroom is considerably cheap and fast to accomplish. So here are a few bedroom remodel ideas that pay off and give you a palatial feel without doing much.
Convert Your bedroom Into a Master Suite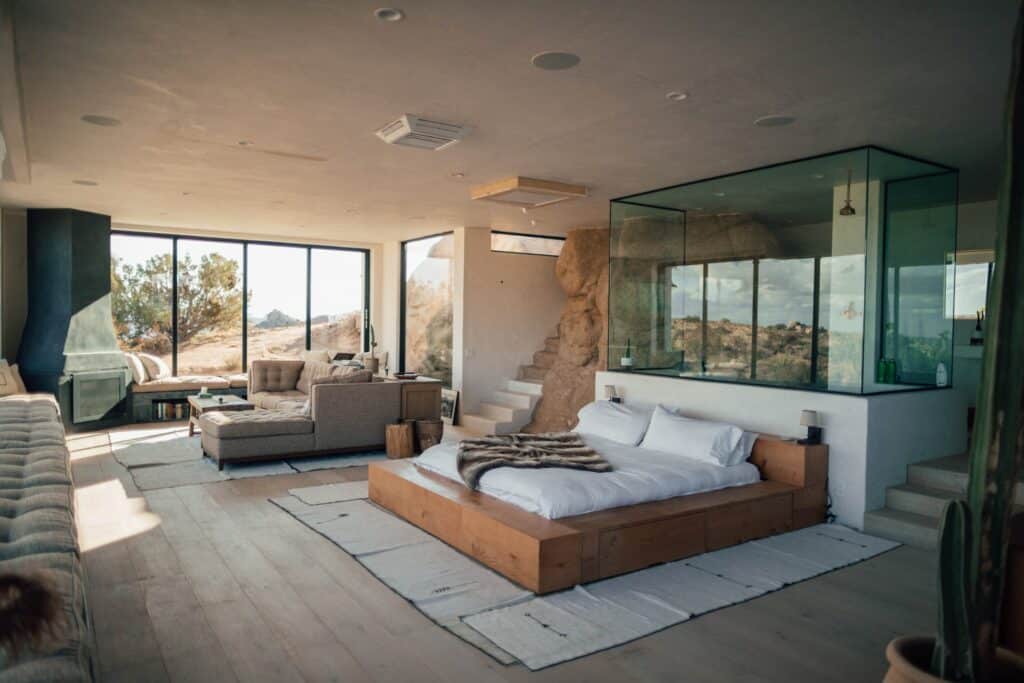 Building an extra bedroom in the house requires structural changes such as a new foundation, roofing, flooring, walls, etc., which will be outrageously expensive.
However, transforming your existing bedroom into a master suite is relatively more comfortable and cheaper. But what matters most is that it can pay back the original investment handsomely.
If you live in a house with extra space and you are wondering what to do with all of that, you always have the option of breaking down the walls and merging rooms to make an oversized suite for the guests that visit you. You can also create this living/sleeping area without adding any extra square foot of foundation at a budgeted price.
Light it Up!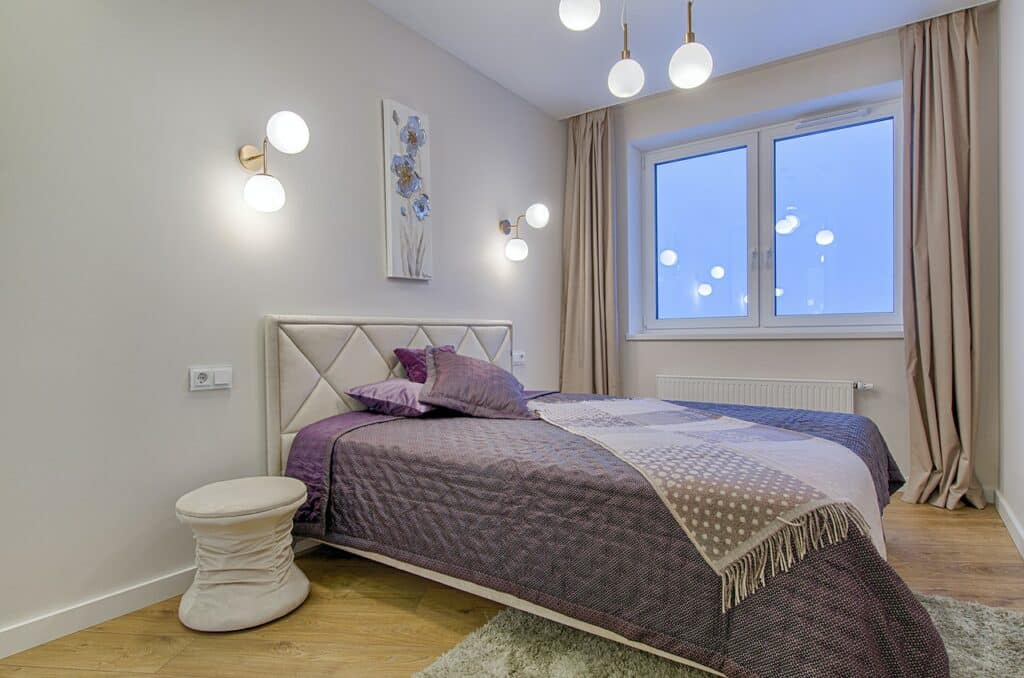 Most homeowners focus more on the kitchen and bathroom lights but tend to ignore the fact that good lighting is equally important in the bedroom. If you are going to be spending a reasonable amount of time in the bedroom, it is important that you light up the place well. A dismal ceiling light that has switch control and a bedside lamp does not do the job anymore.
So instead of just one or two tubes or bulbs, have fun with the shades. Add recessed lighting or grace your bedroom with a chandelier over the bed. To make it look more modern, add sconces for the storytime in bed.
You can rewire the electrical behind the bed for the sconces and add a dimmer switch to suit the mood. If not that, you can always go for track lighting.
Track lightings go exceptionally well in contemporary style bedrooms. They allow you to slide the fixtures down the track, and you can even swivel them to suit the position.
Add New Flooring
When you plan to resell the house, the thing that majorly catches the buyer's attention when he takes a look at the bedroom is the flooring. It is crucial to have suitable bedroom flooring that communicates a sense of style, warmth, and comfort.
The experts recommend hard floorings such as vinyl plank or ceramic tiles in places with high moisture and humidity to keep the area cool. Otherwise, when you redo your floors, think of soft flooring such as wall to wall carpeting or rugs over wood or laminate flooring that is friendly to the bare feet.
However, wood or laminate with area rugs, wall to wall carpeting, or cork flooring is the most favorable option for a comfortable and cozy bedroom. Homebuyers place a high premium on such bedroom flooring.
Add Some Character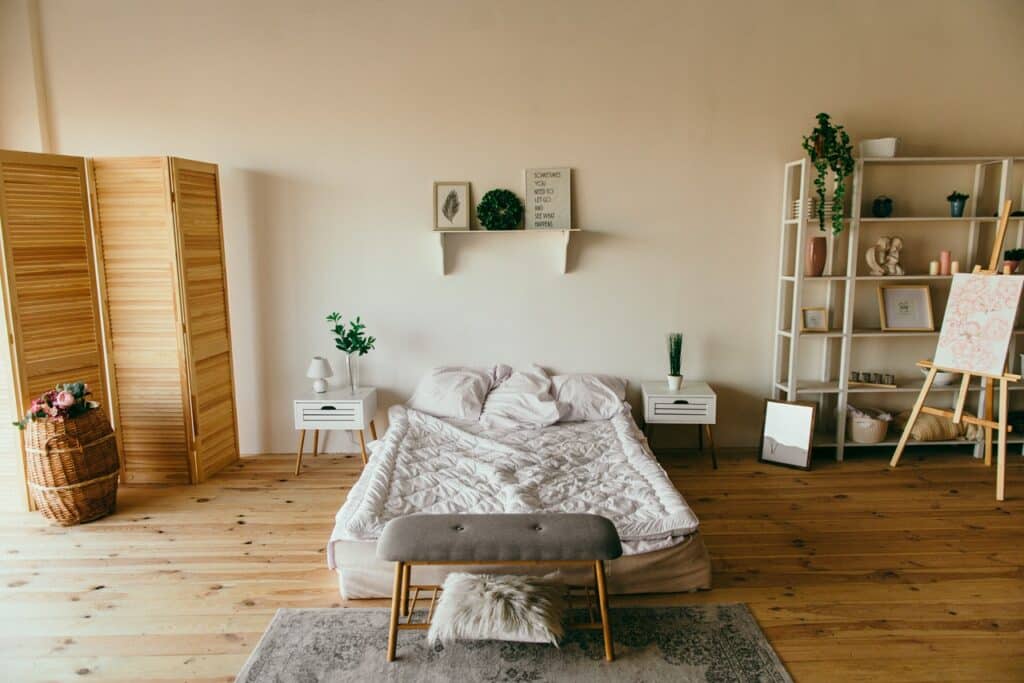 Another one of the many bedroom remodel ideas that pay off is to add some character to your bedroom. Themed bedrooms are very eye-catching and invite a lot of buyers.
Your bedroom theme can be anything you like, from being filled with high pop colors to a jungle-themed room. Adding a theme to your bedroom can help convert it from a sleep-only zone to a hangout spot to have fun.
A good theme for a bedroom would be tropical. It is effortless to make and does not even cost a lot. All you need to do is get a canopy bed, add a ceiling fan, and bamboo to your window shades.
To keep up the sophistication, you can add a plant on the foot of the bed, white sheets, and leafy pillowcases.  It is straightforward and pocket-friendly to follow themes in bedrooms as it does not require any massive changes. Other themes that you can use in your bedroom are contemporary, Tuscan, shabby chic, etc.
Use a Color Scheme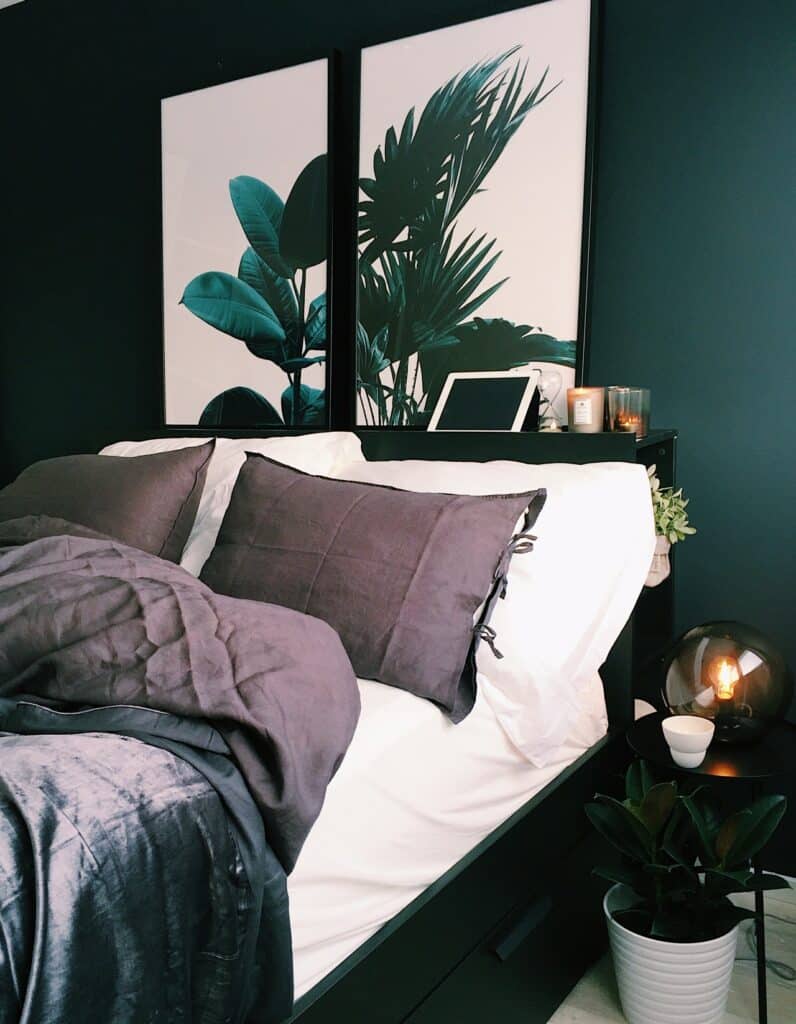 Painting your bedroom in colors of your choice can really help improve the look of the room. If you are newly moving into a home or want to simply renovate it for yourself, go for colors that align best with your personality and liking.
However, if you are planning on selling your property for which you want to make it look better, it is best that you stick to the latest color trends for the highest value of your house in the market. This project is very economical and does not take more than 2 days to complete.
If you have a large bedroom, you can go for darker-toned walls with contrasting lighter-toned items in the bedroom. However, if your bedroom is small in size, light color schemes such as pastels, shades of gray, or neutrals look best in the bedroom.