Home » How to Decorate a Small Living Room: Tips and Ideas For Your Home
How to Decorate a Small Living Room: Tips and Ideas For Your Home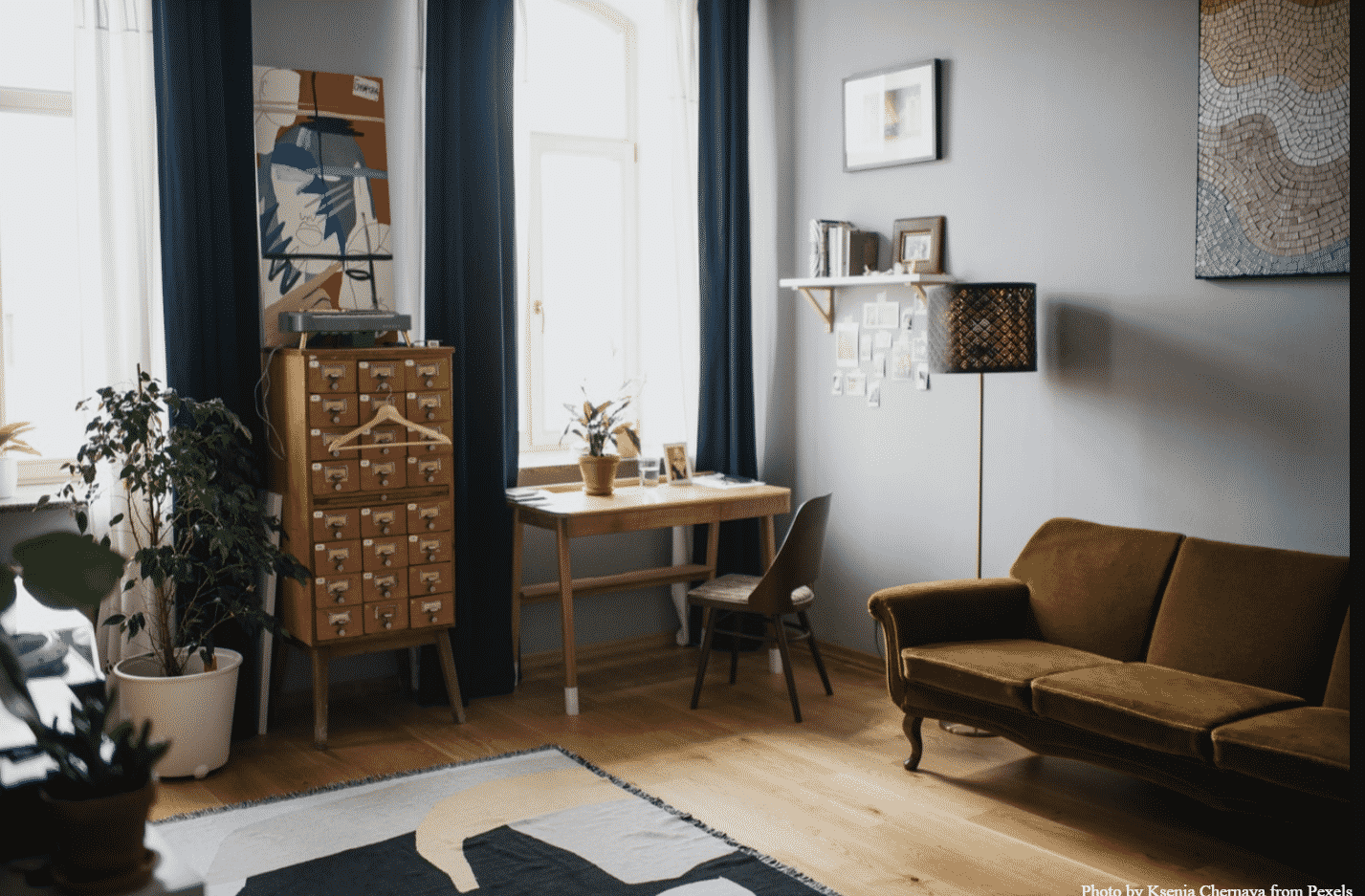 If your living room is cluttered and messy, it is such a turn-off. Nobody wishes to come to a home that has an unappealing and uninviting living room. After a long tiring day, everyone wants something to lighten up their mood, and what better place to do that than your own house?
In apartments of today, living rooms can be relatively small. But that does not mean you cannot style it in the way you want to! Everyone needs a few tips and tricks on how to decorate a small living room to enjoy it to the fullest and transform it into a sweet and stylish living space with maximum comfort and luxury.
One of the finest and simplest ways to make your small living space look more spacious is to fill it up with soft shades of pastel. This also helps in making the room look warm and inviting. So here are a few schemes on how to decorate a small living room to make it feel more personal, captivating, and close to your heart.
White Walls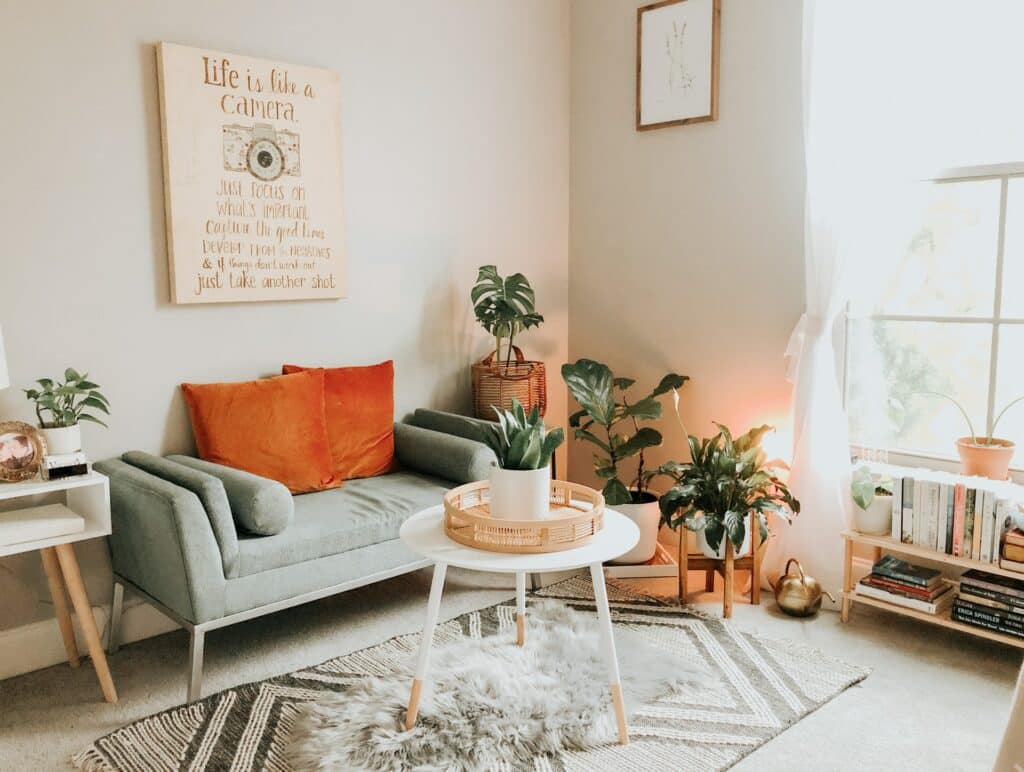 White walls can not only brighten up the place but also create a calming effect on you. Embracing a white-on-white interior gives a very sophisticated and elegant look to the living and makes it look more spacious and airy. You can pair up your white walls with either white/ pale furniture or pastel colors.
For some character, you can add pops of color through eye-catching artwork hung up on the walls and textural accents such as wicker furniture and houseplants. This way, you can make the accents or any colorful furniture the focal point in the room. This will not give you the feeling of the walls closing in on you.
Pour in the Light
You are lucky to have a living room that has access to a ton of natural light. If your living room can afford one large or several small windows with adequate natural light pouring in, do not shut it out with dark-colored curtains. The lighting helps to make the room feel brighter, lighter, spacious, and open.
If you do not have large windows and tones of sunlight, you can choose lighter shades for your interiors to maximize whatever light you have in the room. Semi-sheer and pastel shades help augment the amount of light a place receives. If there is minimal sunlight, go for artificial lights to attach to the walls and hang from the ceiling. It will save up space, as well as brighten up the room.
Use Mirrors
Using mirrors to make the room look more prominent is the oldest and most useful trick in the book. When you add mirrors in your living room, you can create the illusion of more space if you position it correctly.
The best way to place the mirror is to cover up an entire wall with it, right opposite the seating area. This will create an illusion of double the room's interior space by reflecting the light and the interior décor. This will be more beneficial if you keep the color palette of the room light.
L-Shaped Sofas/ Multifunctional Sofas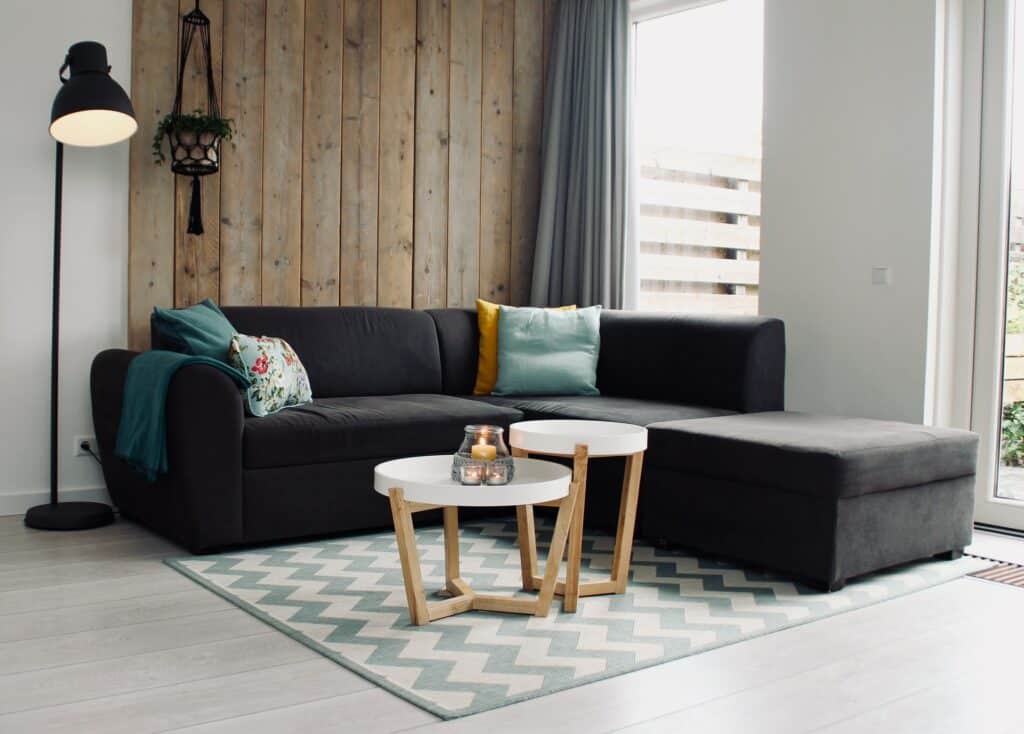 Narrow and small living rooms are especially challenging to decorate. So before you start to decorate your living room, walk around to see how you can utilize maximum space in the place with your furniture without making it look cluttered up and suffocating.
L-shaped or sectional sofas are the best way to make the most of the square footage. So when you are shopping for a sofa, look for one that is lean and long and that can cuddle up next to the wall to give your living room more depth.
When it comes to small living rooms, multifunctional furniture is your best friend. They work as not just one, but two or more pieces of furniture together. For example, get yourself a sofa that you can also pull out and convert into a bed or storage space beneath. Or even a coffee table that also works as a storage bin helps you clear away the clutter on the top in a moment.
Use Ottomans
A small living room means that when guests come over, it does double or triple duty. The one thing that you absolutely should not do is cram up the place too much. When going for living room furniture, look for sofas that are proportional to the size of your living room.
And if you need more seating, go for ottomans. Ottomans are small, require less space, multifunctional, and can easily maneuver. You can use an ottoman as seating, footrest, or a coffee table. You can go for color-coordinated ottomans to give your room that pop of color that it needs. A good thing about ottomans is that you can tuck them away anywhere they are not in need.
Swap a Sofa For a Snuggler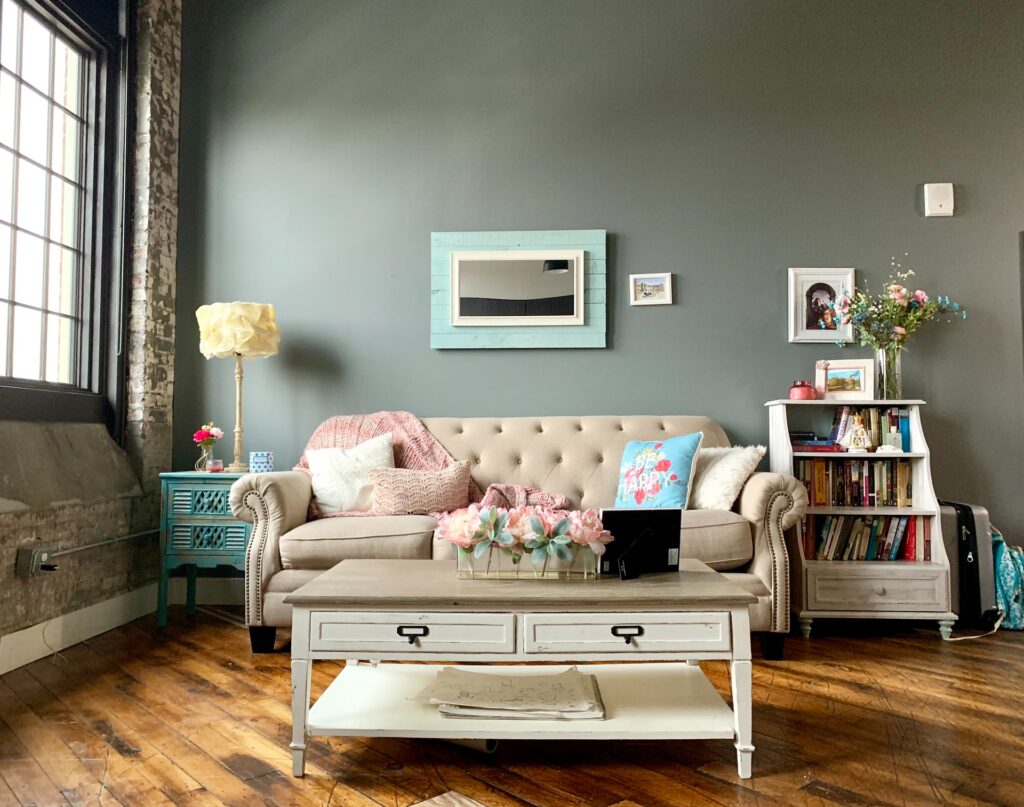 A sofa can take up a lot of space in the living room. If your living room is small in size, you should swap your sofa set for a snuggler. The snuggler, also known as the loveseat, is equally comfy and far less invasive than a couch.
It is a 1.5 seater that can quickly and comfortably accommodate a child and a parent or a cuddly couple. We highly recommend a snuggler if you feel like your furniture is taking up space in your house and your room looks messy and congested. Since the snugglers are small in size, they leave you with enough walking space and room for other furniture.
Decorate Vertically
Finally, the last idea on how to decorate a small living room is to decorate it vertically. If your living room lacks square footage and storage space, you do not have to compromise your interior décor.
You can always utilize the vertical space to decorate your room; however you wish to. If you have a high ceiling, take advantage of it by accentuating tall windows with high curtains, a chandelier, and a show-stopping wallpaper. However, if you have a low ceiling, go for vertical stripes on your wall to make your roof look higher.