Home » The Ultimate Guide for Choosing The Best Bathroom Vanities
The Ultimate Guide for Choosing The Best Bathroom Vanities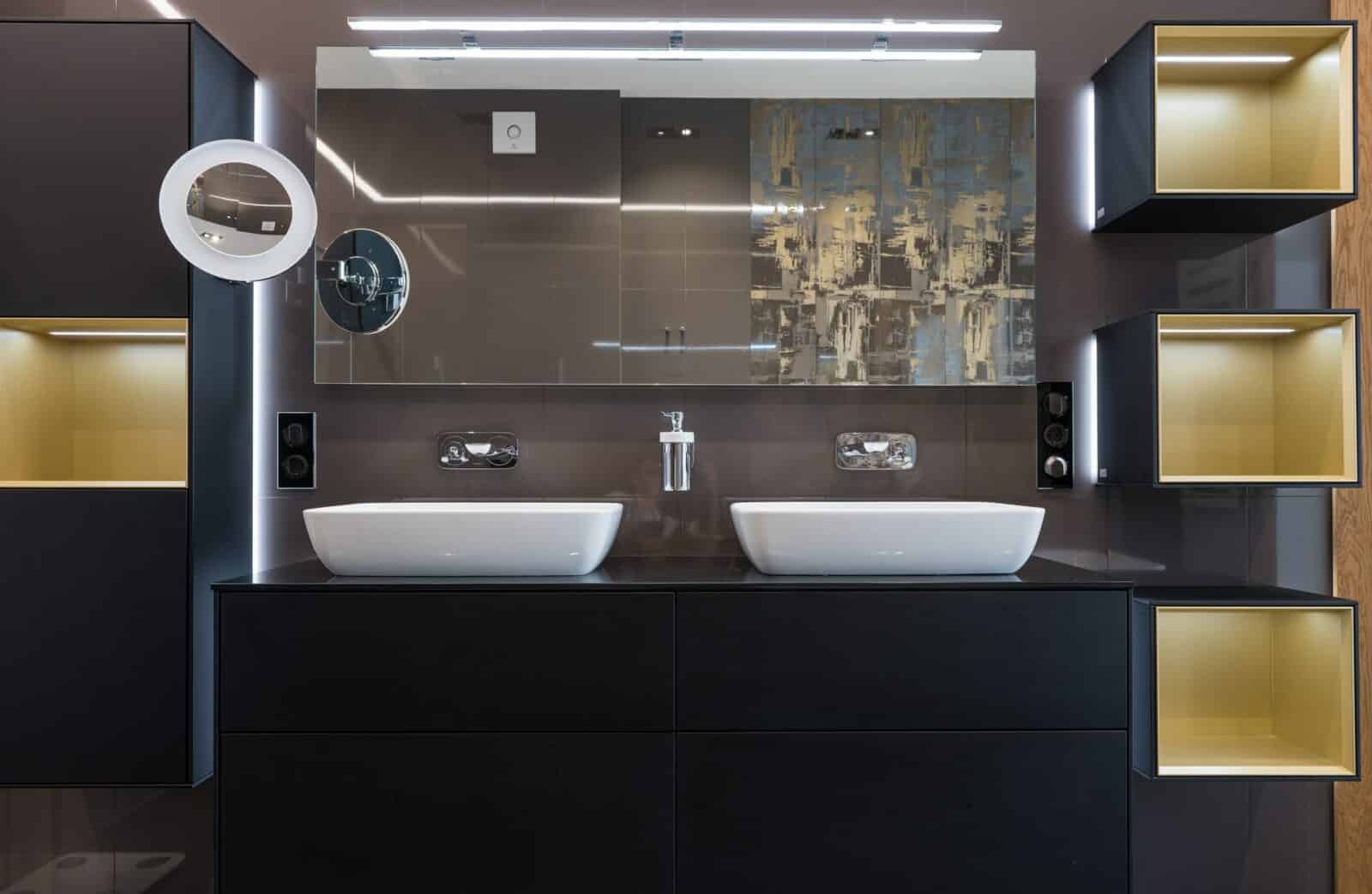 Vanities are great piece of furniture to opt for when looking for affordable bathroom updates. Whether it's big or small when remodeling your bathroom,  you can enhance its functionality by adding vanities. They are not only handy but also complement the decor of any space. To suit your taste and the requirement of your bathroom layout, you need to be careful while choosing vanities. You might have a lot of doubts in mind, like how wide is a bathroom vanity, how deep is a bathroom vanity, what is the standard height of a bathroom vanity, where you buy bathroom vanity, what sizes do bathroom vanities come in, and so on. In this article, we will tell you all about bathroom vanities. Let's dive in!
Bathroom Vanity Types and Styles
Bathroom vanities come in a variety of types and styles. Depending on your bathroom's specification and decor, you may pick the style or pattern that will suit your space the best. Below are some of the common styles for bathroom vanities.
Floating Vanities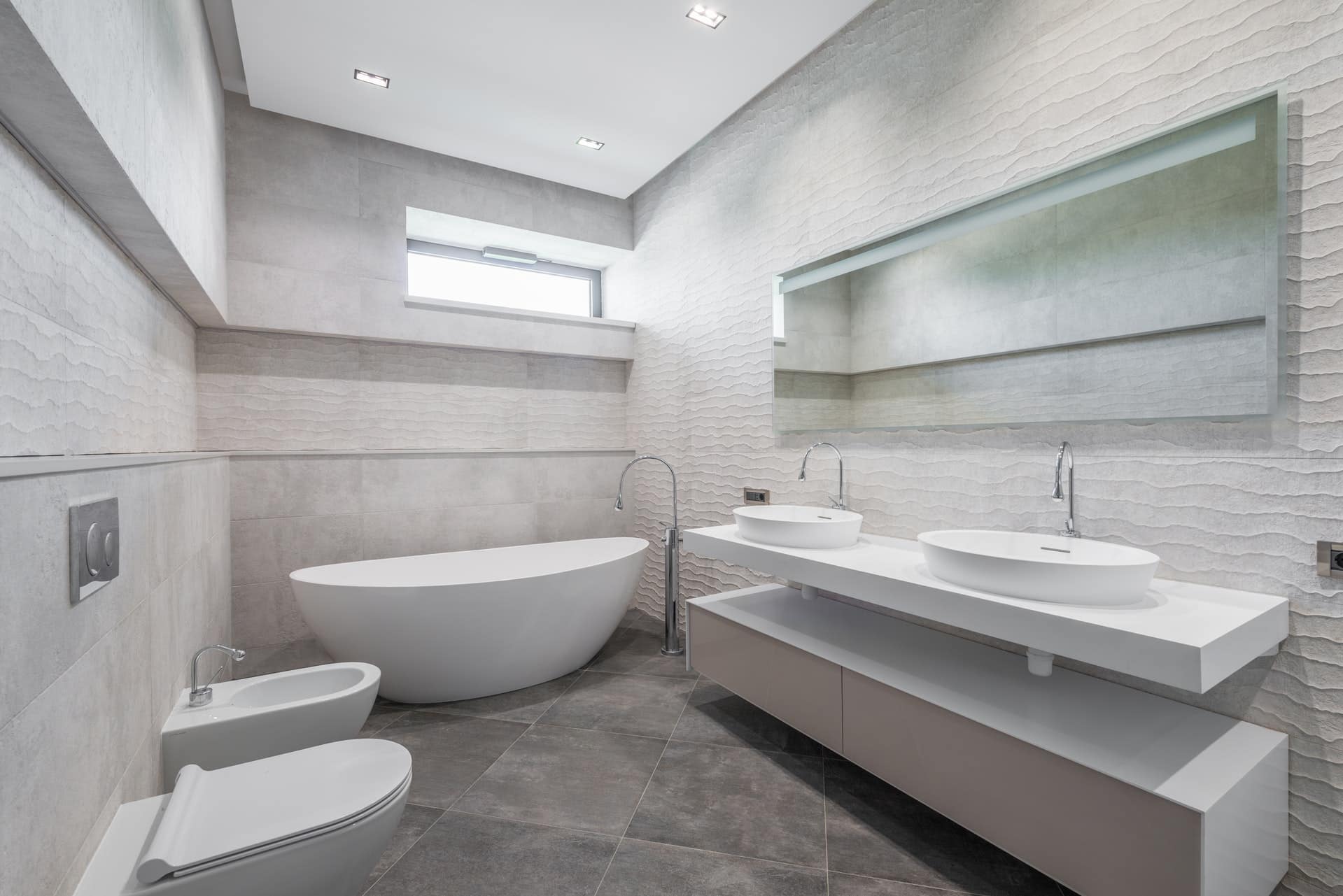 The first question that might have come to your mind is – what is a floating bathroom vanity? Well, as the name suggests, it's nothing but a cabinet anchored to the wall.
If your bathroom space is small, a floating vanity might be the right option for you as it creates the illusion of increased space. There are many benefits of floating vanities. For instance, the open space below your floating cabinets can be used for leaving your slippers before you step into the shower. It is also easier to clean off dust and germs with a few swipes of the mop. Floating vanities lend a sleek and modern look to your bath.
However, installing a floating cabinet will require professional help. It must have a sturdy support frame to keep the entire thing afloat.
Corner Vanities
Such vanities are perfect for powder rooms or a guest bathroom because they take up very little space. The good thing is you can install a corner vanity in a traditional bathroom as well as in a modern style bath. While they can be handy storage spaces, corner vanities offer minimal countertop space. These vanities are only worthy if you have very few accessories to store. They are definitely not suitable for a master bathroom.
Double Sink Vanities
Double-sink vanities work best in a common bathroom, whether you're sharing it with your partner, sibling, or roommate. It really helps when both of you are in a haste to get ready for work or college.
Vanity Customization
To offer greater customization for every individual home, manufacturers sell some vanities as two main pieces: the vanity cabinet, and the vanity top. The top includes the sink (or sinks) and the countertop, with some offering a short backsplash attached as well. The vanity top is usually made of a heavier, water resistant material, such as ceramic, granite, acrylic, or stone, among others. Vanity tops are often built with an inch or more of overhanging edge that measure slightly larger than the cabinet bases. Keep that in mind as you shop, because it is important to order the correct size top to match the cabinet.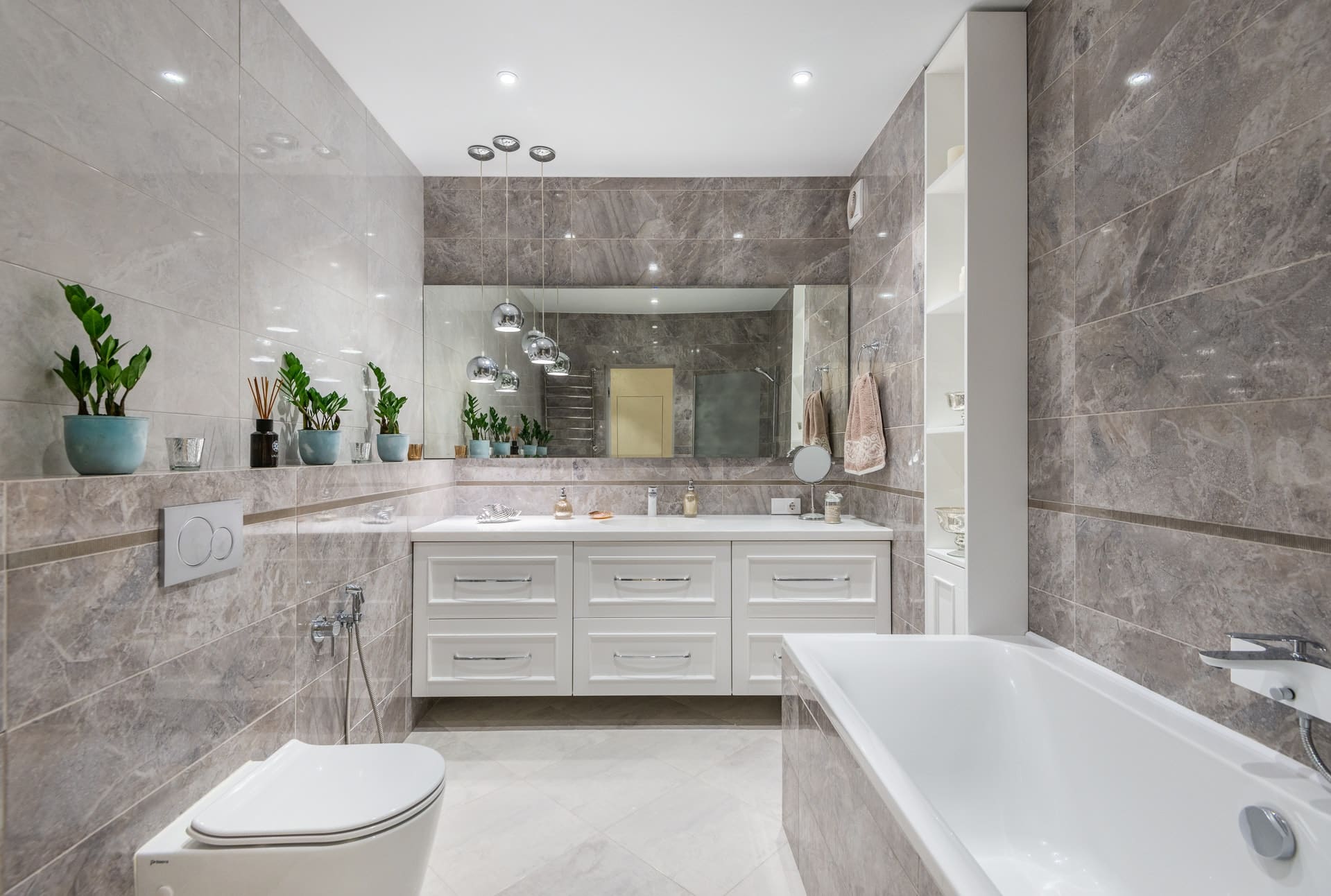 Vanity Sinks
When you're deciding the size of the sink, you must first look into the available space in your bathroom. Can it hold single sink or double sink. Here are the vanity sizes and sinks:
24 inch bathroom vanity can only have a single sink.
30 inch bathroom vanity can only have a single sink.
36 inch bathroom vanity can again only have a single sink.
42 inch bathroom vanity can only have a single sink.
48 inch bathroom vanity has two options: 48 inch double sink vanity and  48 vanity with a single sink.
How to Choose The Right Size Bathroom Vanity?
While determining the size of your bathroom vanity, there are three things that you must take into account: measuring the depth, width, and height of your space. Wondering what the standard bathroom vanity sizes are? Well, a single vanity usually ranges from 24" to 61" in width. Whereas, a double vanity will require enough space for two people to stand and use at the same time. On average, a double sink is generally 48" to 80" wide.
The standard depth of a vanity is typically around 20″, but you can modify it as per your convenience. As for the height, it usually ranges from 30″ to 36″. But these sizes will differ based on the available space and the type of bathroom you're selecting the vanities for.
Master Bathroom
If your master bathroom can accommodate larger dimensions a 60 inch double sink vanity or a 72 inch double sink vanity would be great. For ample storage space, you can opt for a size higher than the standard 30". A 36" tall vanity is ideal for grand master bathrooms.
Guest Bathroom
If you're thinking of adding vanities to your guest bathroom, a 32"-34" tall cabinet could be a nice option. It's an ideal size that easy to reach for both kids and adults, although it might seem like a compromise.
Kids Bathroom
The average height of a vanity for kids' bathroom is about 30". While it's quite low for adults to use, it's designed with lowered counter space to cater to kids. If you don't like to have a bottom drawer, you may add a pull-out step to give a boost to your little one.
Vanity Features
A bathroom vanity is a unit of several things—countertop, sink, mirror, and built-in shelves or cabinets. Modern designs of vanities also include lighting and architectural details. Besides floating vanities, there are also other styles like freestanding or wall-mounted vanities. If your bathroom is tiny, you may consider installing a corner vanity to save space.
When it comes to sinks, you may select from a plethora of design options like a deep bowl shape, a shallow sink, a quick rinse, or even a console sink. The one disadvantage of console sinks is that they do not have much to offer except handles where you can hang towels and soap stands.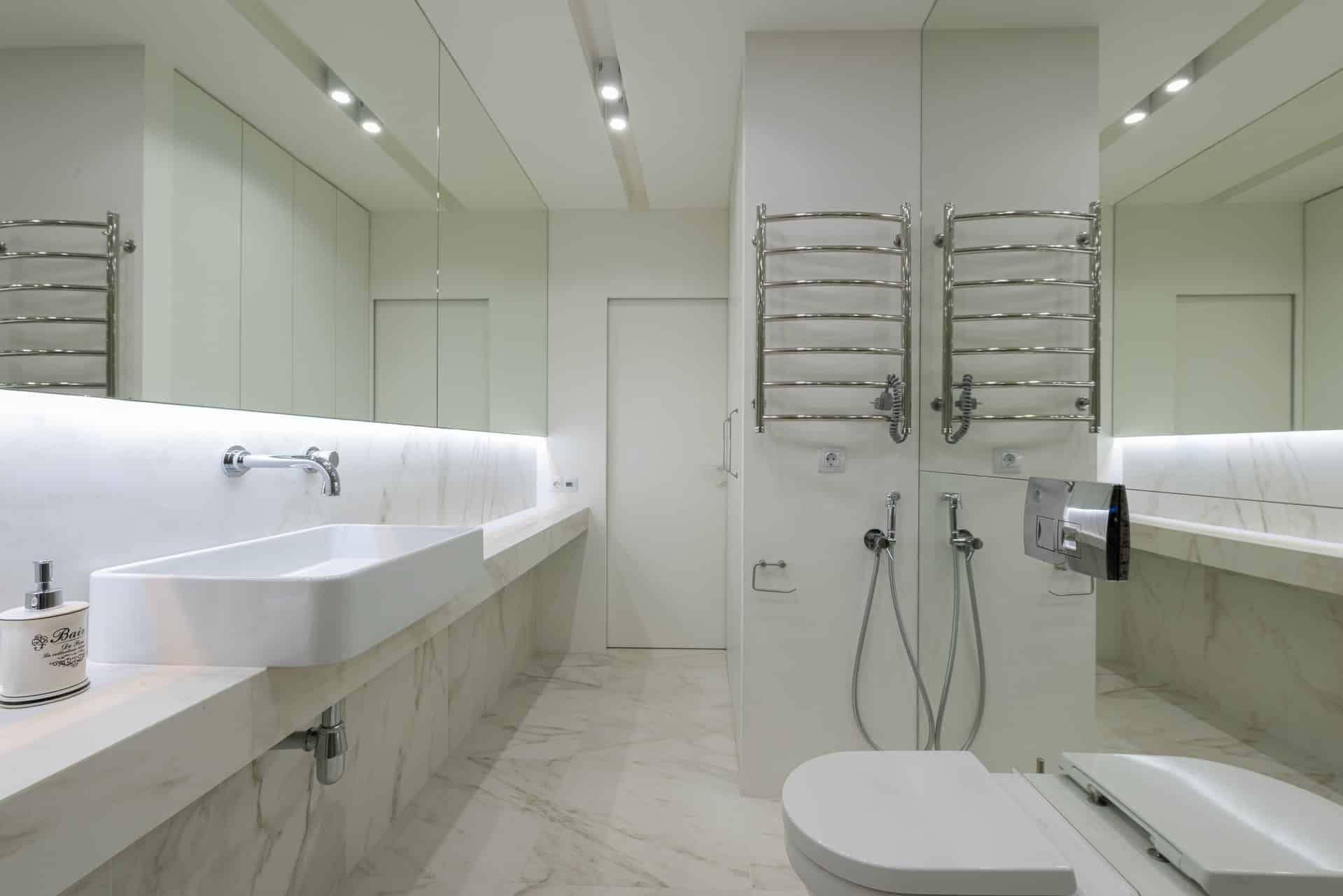 How to Install Bathroom Vanity?
If you're into DIY installation, you can follow these easy steps to install your new bathroom vanity.
Position the new vanity in its destined space and carefully draw an outline on the wall.
Locate the studs using a stud finder and mark them.
If required, you may level the vanity and shim on the ground.
Measure, mark, and drill holes for drain and supply pipes.
Use 3" drywall screws to attach the vanity to the wall. If you want the vanity to be more secure, you can use wall anchors to attach the vanity to the wall.
Double check the level for assurance and trim the shims using a utility knife.
If there are large gaps at the floor or the wall, attach quarter-round moulding along the edges of the wall or floor with finishing nails.
The average cost for installing bathroom vanity is around $1500. But if you can do it by yourself, it will cost you much less. The typical range of pricing is from $300 to $3500. But if you're not experienced in drilling or installation and lack the right tools, it's best to hire a professional.
P.S. Some vanities will come with pre-drilled holes which makes installation even simpler. Always follow the manufacturer's guide before installing a bathroom vanity.
How to Remove Bathroom Vanity?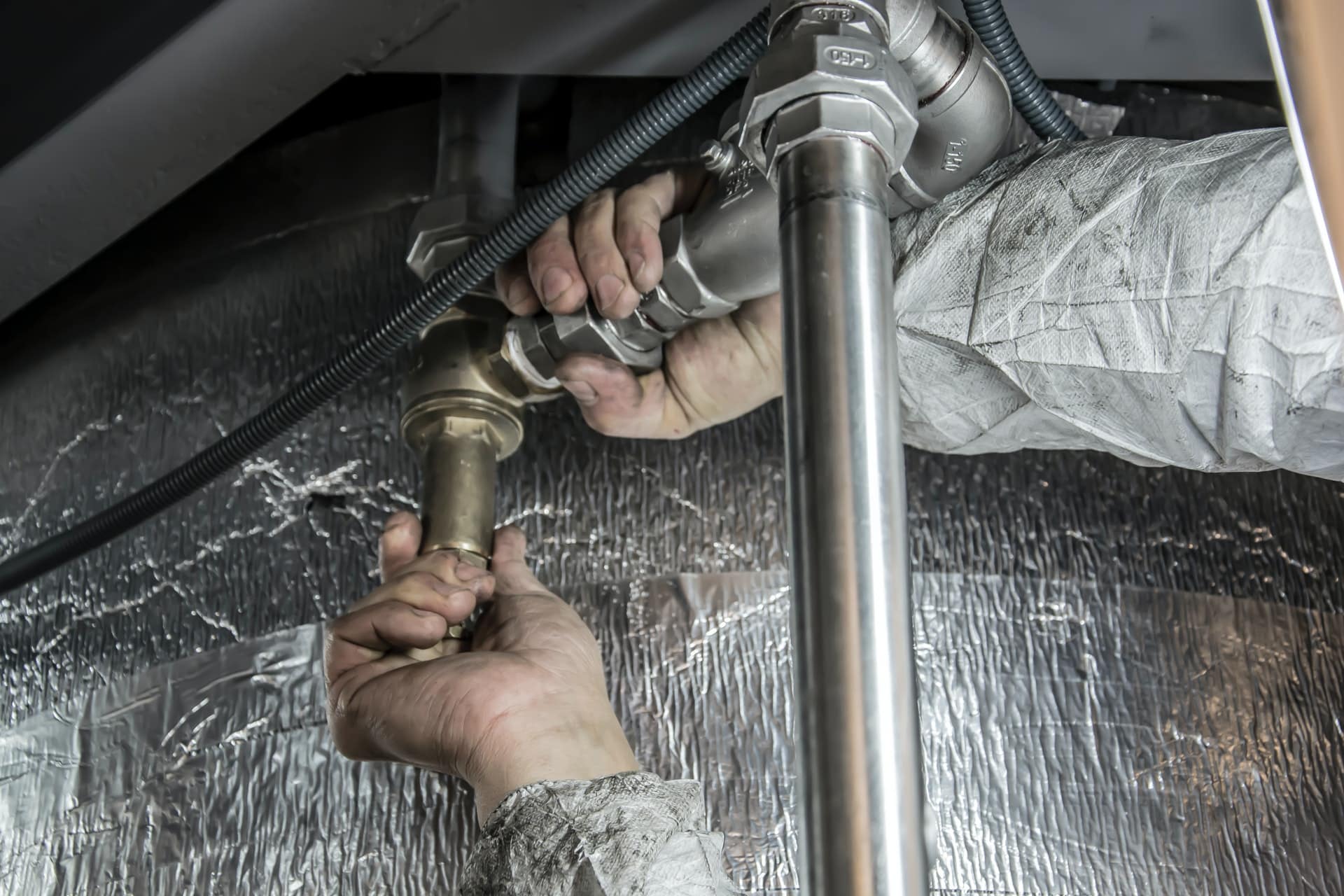 When we want to renovate an old bathroom, the two things that we think of are: how to replace bathroom vanity and how to remove bathroom vanity. Replacing bathroom vanities involve as much tasks as installing them. Unless you decide to hire a contractor, you will need more or less the same equipment used for installation like an adjustable wrench, channel-lock pliers, rag, screw gun, utility knife, flat pry bar, and a putty knife.
Below is a step-by-step guideline for a DIY bathroom vanity removal process.
The first thing that you need to do is shut off the water supply to avoid spillage. Start by disconnecting each of the water supply tubes between the shutoff valves and the faucet.
Place a bucket under the P-trap assembly of the sink to hold any stagnant water that might spill out while disconnecting the drain trap.
Remove the P-trap by unscrewing the two outermost slip nuts. If it's made of plastic, you can loosen the nuts with your hand.
Remove the wall mirror, if any.
Next, cut through any caulk joint along the wall or all the edges between the cabinet and countertop. A utility knife will come in handy here.
Carefully remove the vanity countertop. Unscrew any clips or brackets that might be holding the countertop unit to the vanity cabinet underneath.
Pull the vanity cabinet away from the wall by removing all the screws with a drill or screwdriver.
If the cabinet is attached with nails, use a flat pry bar to carefully remove the nails. Be careful not to turn on any of the water valves as you move the cabinet.
Once the entire set up is removed, clean the wall by removing remaining caulk with a putty knife.
Bathroom Vanity – Building vs. Buying
Whether you should get a custom-made vanity or buy a readymade one depends entirely on your budget and preference. A custom vanity is specifically made for your home from milled lumber. It's a unique piece designed to your taste, so it is usually costlier than the other options available in the market.
Custom vanities involves a lot of work, from creating a design to picking the different materials—countertop, wood finish, hardware, extra features, and so on.
In addition, you will be hiring a professional to get the job done. The cost of installing a custom vanity typically ranges from $500 to $2800. Keep in mind that the costs will vary depending on the size of your vanity. The bigger the vanity, the higher the price.
On the other hand, if you want to cut down on prices, you can go for pre-made vanities. The market abounds in a variety of semi-custom and readymade vanities, be it modern style, traditional, or contemporary. Although they are particularly made for you, they come in a wide range of materials, textures, and sizes.
The average price for pre-made vanities fall at around $300-$800. Semi-custom pieces might cost you a little higher as they are uniquely crafted for specific themes or decor styles. They can start as low as $400 and can go up to $2,000. You'll have to make your choice based on your budget plan.
Difference Between a Vanity and Cabinet
A vanity can be a cabinet but a cabinet cannot be a vanity. To put it simply, a bathroom cabinet topped with a basin is considered a vanity. But if you have a storage unit in your bathroom that doesn't have a sink on top, it is just a cabinet.
A bathroom vanity consists of a sink on the countertop and an enclosed cabinet beneath it. The cabinet door conceals the exposed plumbing. While some vanities are designed to provide ample storage space, some are built just to hide the pipes and offer minimal space of storage. Bathroom cabinets are usually shallower than the ones in kitchens but you can customize the height and size based on your requirements.
Conclusion
All said and done, a bathroom vanity is a much-needed accessory in your bathroom. It's not just to enliven the room's decor but also helps you keep everything organised. We hope our article helps you make the right choice when you buy or install bathroom vanities the next time!
FAQs
How much should I spend on a bathroom vanity?
Your budget will determine how much you are capable of spending on a bathroom vanity. On average, bathroom vanities can cost you anywhere between $300 and $4000. You need to pick the vanity as per your preference, requirement, and budget.
What size vanity should I put in my bathroom?
There are no rules about the size of bathroom vanity. It is all about how much space you have and how much storage space you need in the bathroom. Other than that, buy the vanity you love the most.
What is the most popular bathroom vanity?
Wall-mount cabinets are the most preferred bathroom vanities picked by homeowners.
Can you make a bathroom vanity with plywood?
Yes, you can. In fact, it's an excellent choice for building bathroom vanities. If covered in veneer, it will be as stable as solid wood and there's no chance of chipping or peeling except under unusual circumstances.
Why are bathroom vanities lower than kitchen cabinets?
The most obvious reason behind bathroom vanities being lower than kitchen cabinets is for children to reach it easily.