Home » The Ultimate Guide for Choosing The Best Bathroom Vanities
The Ultimate Guide for Choosing The Best Bathroom Vanities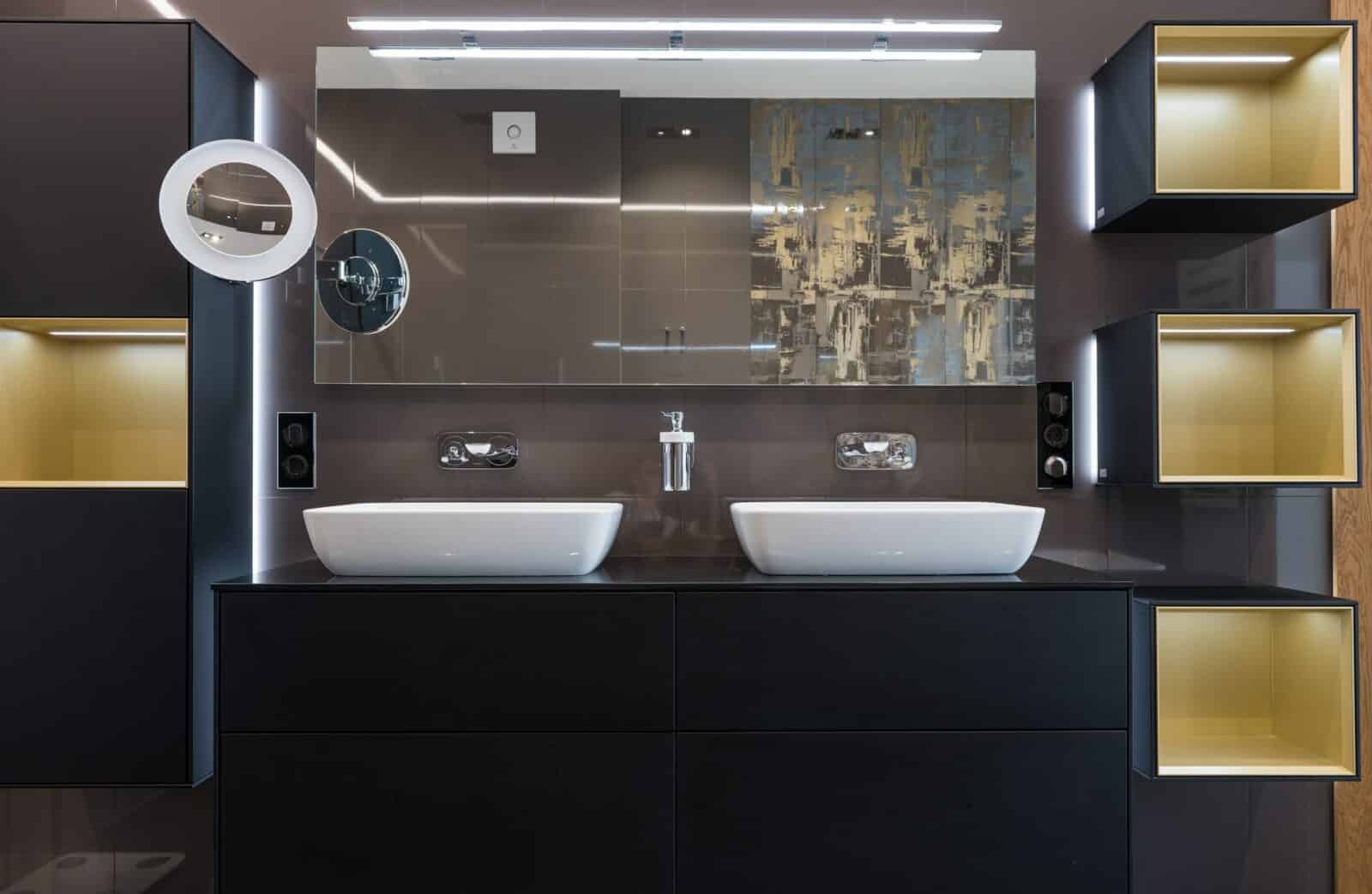 Vanities are great fixtures to opt for when looking for affordable bathroom updates. When remodeling your bathroom,  you can effectively enhance the space by adding this functional and decorative piece. In this article, we'll take you through everything you need to know about bathroom vanities.
Bathroom Vanity Types and Styles
Bathroom vanities come in a variety of styles. Your current bathroom layout and your personal preferences are great reference points for finding the right type of vanity. 
As you explore your bathroom vanity options, consider the following specifications such as: 
how wide is a bathroom vanity

how deep is a bathroom vanity

what is the standard height of a bathroom vanity

where you buy bathroom vanity

what sizes do bathroom vanities come in
Floating Vanities
A floating vanity is a cabinet anchored to the wall, giving a sleek and modern aesthetic. This is a fantastic option for small bathroom spaces because it creates the illusion of more space. The space below the cabinets also serves as a very useful area to store items like bathroom slippers, a weighing scale or storage baskets. 
If you're considering a floating vanity, know that it does require a professional to install it to ensure that the piece is adequately supported.
Corner Vanities
A corner bathroom vanity is also a fantastic option for those looking to maximize space in a smaller bathroom. Not only does it utilize an often-wasted corner area, but it also provides additional storage and counter space. They fit well with powder rooms or guest bathroom. Additionally, a corner vanity can create the illusion of a larger room by opening up floor space. If you're looking for a compact and space-saving option for your bathroom renovation, a corner vanity would be a good choice. 
Double Sink Vanities
Double sink vanities are best suited for large bathrooms and households with multiple people using the bathroom simultaneously. They provide ample counter space and storage, allowing for several people to get ready at the same time. While increasing functionality, they also add a touch of luxury and elegance to any bathroom.
Customization of Bathroom Vanities
To offer greater customization for every individual home, manufacturers sell some vanities as two main pieces: the vanity cabinet, and the vanity top. The top includes the sink (or sinks) and the countertop, with some offering a short backsplash attached as well. The vanity top is usually made of a heavier, water resistant material, such as ceramic, granite, acrylic, or stone, among others. Vanity tops are often built with an inch or more of overhanging edge that measure slightly larger than the cabinet bases. Keep that in mind as you shop, because it is important to order the correct size top to match the cabinet.
How to Choose The Right Size Bathroom Vanity?
Choosing the right size vanity for your bathroom is crucial to ensure it fits seamlessly into the space and provides adequate storage and counter space. 
The first step in selecting the right size vanity is to measure the available space in your bathroom. Be sure to measure the width, depth, and height of the area where you plan to place the vanity.
Next, consider the number of people who will be using the bathroom and their needs. A double sink vanity may be a better option for a household with multiple people using the bathroom at the same time. On the other hand, a single sink vanity may be sufficient for a smaller household or a guest bathroom.
Also, consider the overall style of your bathroom and the design of your other fixtures such as the toilet, shower or tub. The vanity should complement the overall design of the bathroom, and the style of the vanity should align with the other fixtures.
Finally, it's important to keep in mind that the vanity should not only fit in the space but also be proportional to it, and not overpower it, so keep an eye on the proportions and balance. The right size vanity can enhance the functionality and aesthetic of your bathroom, so take the time to carefully consider all these factors when making your selection.
Vanity Features
Bathroom vanities serve as a functional and stylish focal point in the bathroom. The exciting part about choosing a bathroom vanity are the details that make it. When shopping for bathroom vanities, consider the following features to suit your needs and complement the overall style of your bathroom. 
Sink
Most vanities come with a built-in sink, which can be either undermount or drop-in. Some vanities also offer the option of a double sink.
Countertop 
The vanity countertop can come in a variety of materials such as marble, granite, quartz, or laminate. Choose a material that is durable, easy to clean and maintain, and is aesthetically pleasing for you. 
Cabinets and Drawers
Most vanities come with built-in storage such as cabinets and drawers. This is essential in most households, but there are vanities that don't come with storage. 
Hardware
Vanities often come with hardware options such as knobs, pulls, and handles. These can be used to add a personal touch to the vanity and make it stand out.
Lighting 
Some vanities come with built-in lighting, which can be a great way to add ambiance to your bathroom and make it more functional.
How to Install Bathroom Vanities?
The average cost for installing bathroom vanity is around $1500. But if you can do it by yourself, the typical range of pricing is from $300 to $3500. 
For those who are confident doing a DIY installation, refer to your manufacturer's instructions and the below steps to install your new bathroom vanity.
Position the new vanity in its destined space and carefully draw an outline on the wall.

Locate the studs using a stud finder and mark them.

If required, you may level the vanity and shim on the ground.

Measure, mark, and drill holes for drain and supply pipes.

Use 3" drywall screws to attach the vanity to the wall. If you want the vanity to be more secure, you can use wall anchors to attach the vanity to the wall.

Double check the level for assurance and trim the shims using a utility knife.

If there are large gaps at the floor or the wall, attach quarter-round moulding along the edges of the wall or floor with finishing nails.
How to Remove Bathroom Vanities?
When we want to renovate an old bathroom, the two things that we think of are: how to replace bathroom vanity and how to remove bathroom vanity.
Below is a step-by-step guideline for a DIY bathroom vanity removal process.
The first thing that you need to do is shut off the water supply to avoid spillage. Start by disconnecting each of the water supply tubes between the shutoff valves and the faucet.

Place a bucket under the P-trap assembly of the sink to hold any stagnant water that might spill out while disconnecting the drain trap.

Remove the P-trap by unscrewing the two outermost slip nuts. If it's made of plastic, you can loosen the nuts with your hand.

Remove the wall mirror and other fixtures, if any.

Next, cut through any caulk joint along the wall or all the edges between the cabinet and countertop. A utility knife will come in handy here.

Carefully remove the vanity countertop. Unscrew any clips or brackets that might be holding the countertop unit to the vanity cabinet underneath.

Pull the vanity cabinet away from the wall by removing all the screws with a drill or screwdriver.

If the cabinet is attached with nails, use a flat pry bar to carefully remove the nails. Be careful not to turn on any of the water valves as you move the cabinet.

Once the entire set up is removed, clean the wall by removing the remaining caulk with a putty knife.
Conclusion
All said and done, a bathroom vanity is a much-needed accessory in your bathroom. It's not just to enliven the room's decor but also helps you keep everything organised. We hope our article helps you make the right choice when you buy or install bathroom vanities the next time!
FAQs
How much should I spend on a bathroom vanity?
Your budget will determine how much you are capable of spending on a bathroom vanity. On average, bathroom vanities can cost you anywhere between $300 and $4000. You need to pick the vanity as per your preference, requirement, and budget.
What size vanity should I put in my bathroom?
There are no rules about the size of bathroom vanity. It is all about how much space you have and how much storage space you need in the bathroom. Other than that, buy the vanity you love the most.
What is the most popular bathroom vanity?
Wall-mount cabinets are the most preferred bathroom vanities picked by homeowners.
Can you make a bathroom vanity with plywood?
Yes, you can. In fact, it's an excellent choice for building bathroom vanities. If covered in veneer, it will be as stable as solid wood and there's no chance of chipping or peeling except under unusual circumstances.
Why are bathroom vanities lower than kitchen cabinets?
The most obvious reason behind bathroom vanities being lower than kitchen cabinets is for children to reach it easily.