When it comes to upgrading your bathroom, one of the most impactful changes you can make is to switch out your old shower faucet for a new, stylish black one. Black shower faucet is the ultimate in modern and elegant bathroom design and can help elevate the look and feel of your shower space. Black in itself can be luxurious, sophisticated, modern, vintage, minimalist or opulent. For such a universal color, you can easily achieve the look you want in your bathroom with such a flexible color. 
However, with so many different styles and options available, it can be difficult to know where to start.
Things to Consider When Choosing the Perfect Black Shower Faucet for Your Bathroom
Material
Black shower faucets come in a variety of materials, including brass, stainless steel, and plastic. Consider the durability, maintenance, and overall look of the material before making a decision. As a general rule, high quality materials that are durable and will stand the test of time are always better. Start from selecting a sturdy material and work your way from there such as choosing the design. 
Finish 
Black shower faucets come in different finishes mainly a  matte or glossy black. Choose the one that suits your bathroom decor best. 
Matte black shower faucets have a more subdued and understated look. They are less reflective than glossy black faucets and have a more industrial or minimalist feel. They are great for creating a moody and dramatic look in a bathroom and can be paired well with other matte black fixtures and hardware.
Glossy black shower faucets, on the other hand, have a more high-shine and reflective finish. They are more eye-catching and can add a touch of luxury to a bathroom. They work well in bathrooms with a lot of natural light, as the glossy finish will reflect and amplify the light. They can also be paired with other glossy fixtures and hardware for a cohesive look.
Style
Black shower faucets come in different styles, including contemporary, traditional, farmhouse, industrial and transitional. Choose the style that matches your bathroom decor and your personality best.
Handles
Some black shower faucets come with one handle, while others come with two. You can also select from knobs, levers, and even cross handles. Consider the look you want and the ease of use when choosing the number of handles.
Water Flow
Look for shower faucets that are efficient with water flow. This means you want pressurized faucets that give you strong and consistent water flow in the most efficient way. This will help you save water and money on your utility bills without sacrificing the functionality of a faucet. Fortunately, most modern shower faucets are designed to do this. However, it's always a good idea to check the water eco-efficiency of any shower faucet you're looking at. 
Compatibility
Make sure the faucet you choose is compatible with your existing plumbing. Compatibility between shower faucets and plumbing involves making sure the faucet has the right type of connection and valve that works with your existing plumbing, as well as the rough-in valve size. If you're unsure about any new shower faucet, you can always consult with a professional plumber before making a purchase.
Brand
Look for a faucet from a reputable brand, as this will ensure that the product is of high quality and has a good warranty. The average price for a new shower faucet is $315. Many brands offer lifetime warranties with a quality shower valve working without issue for at least 5 years. 
By considering these factors and researching different options, you'll be able to find the perfect black shower faucet to upgrade your bathroom and take your shower experience to the next level.
Below Are a Few Black Shower Faucet Fixtures to Get You Started
Matte Black Rain Shower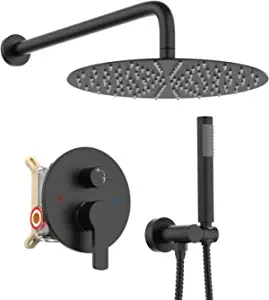 A pressure handheld Showerhead is a versatile and stylish addition to any bathroom. With a sleek, wall-mounted design and a variety of spray patterns, this shower head allows you to customize your shower experience. Made of durable materials in an elegant matte black finish, this showerhead is economical and stylish. 
Matching Tub And Shower Faucet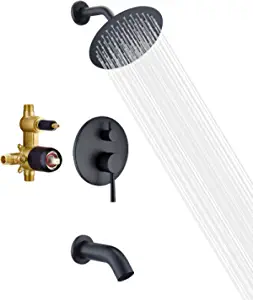 Give your tub and shower set-up a consistent look with a matching black shower head, tub faucet and valve for a subtly cohesive look. This Sumerain shower pressure balance cartridge is a reliable and easy-to-install replacement part for your shower system. It helps to maintain a consistent water temperature by balancing the pressure between hot and cold water.
Handheld Shower Faucet With A Free Standing Faucet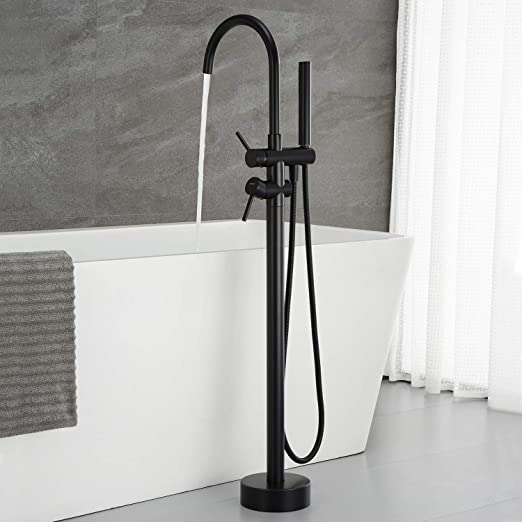 Get the perfect at-home-spa set up with the simple sophistication of a black handheld shower. Perfect with a freestanding tub faucet, get the luxury of a tub with the convenience of a shower with this all-in-one fixture. 
Eco-Friendly Shower Faucet

A simple black shower faucet that merges sleek and modern with eco-friendly is a win in any book. This shower faucet features a sleek and modern design while its Eco-Performance technology also adds a green touch by reducing water consumption without compromising on performance. A perfect choice for those who want both design and functionality in their shower.
In conclusion, upgrading your bathroom with a stylish black shower faucet is a great way to add a touch of elegance and sophistication to your space. With many different styles and finishes to choose from, it's easy to find the perfect black shower faucet to fit your bathroom's design. When considering a black shower faucet, think about the overall design of your bathroom and the specific features and functions that you want in a shower faucet.