Home » 7 Gold Bathroom Faucets To Add Functional Luxury To Your Space
7 Gold Bathroom Faucets To Add Functional Luxury To Your Space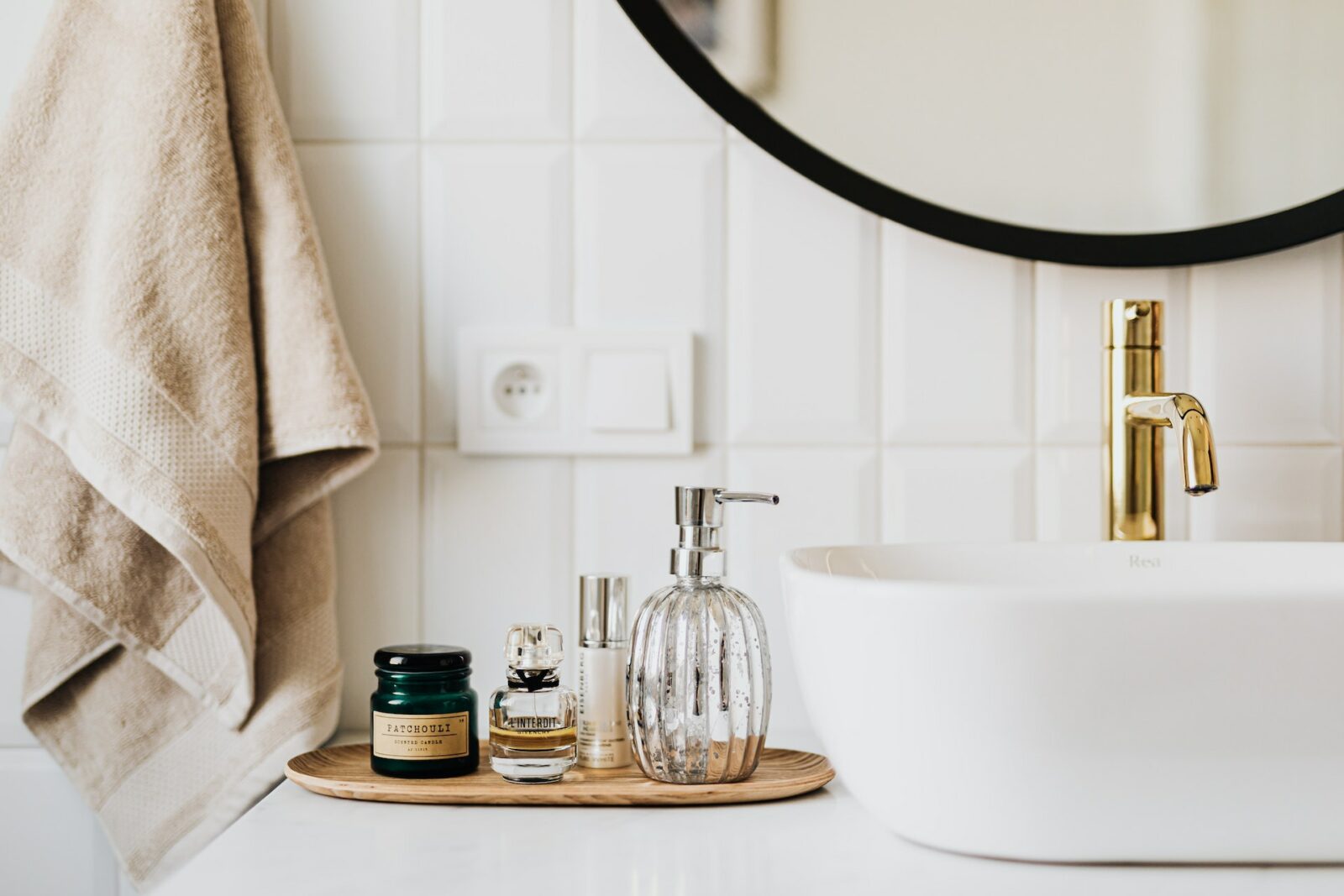 Gold bathroom faucet is a luxurious and stylish choice for any bathroom. The warmth of gold with its inherent luminosity plays well as a central piece or a subtle decorative accent.
If you're looking to add some glamor to your space, consider incorporating gold bathroom sink faucets into your design. Here are some bathroom faucet gold options to spark ideas of how you can incorporate this little aesthetic luxury.
The Most Aesthetic Gold Bathroom Faucets
TRUSTMI Bathroom Widespread Faucet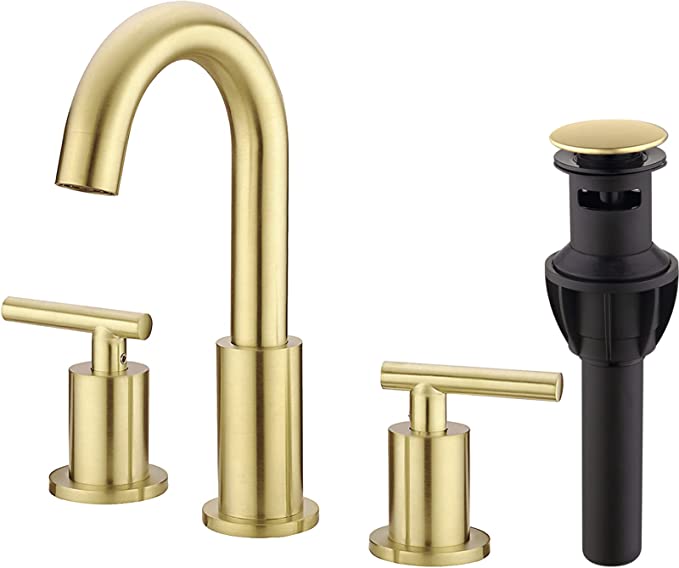 The TRUSTMI Bathroom Widespread Faucet is a stylish and functional addition to any bathroom. It has a brushed gold finish that gives it a modern and elegant look.
It is made of high-quality brass and has a ceramic valve, ensuring durability and long-lasting performance. The faucet has a single handle design, allowing for easy control of the water temperature and flow.
This is a high-quality and stylish faucet that is sure to enhance the look of any bathroom.
Phiestina NS-SF01-BG Bathroom Faucet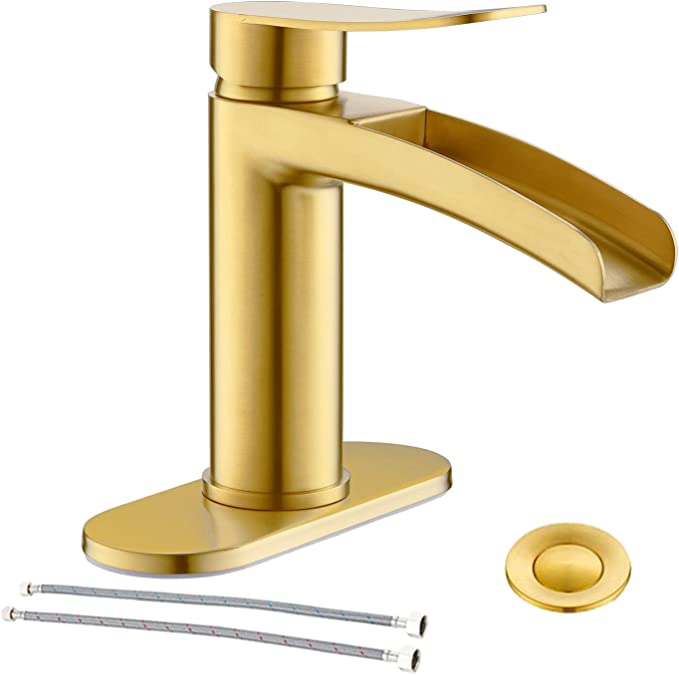 The Phiestina NS-SF01-BG Bathroom Faucet is a must-have for any bathroom remodel or design project. Its striking waterfall spout and brushed gold bathroom faucet finish adds a touch of luxury to any space.
Not only does it look elegant, but it is also made with high-quality materials and designed for easy installation. Whether you're looking to upgrade your current bathroom or starting from scratch, the Phiestina NS-SF01-BG is an excellent choice. 
Phiestina Brushed Gold Centerset Lead-Free Bathroom Faucet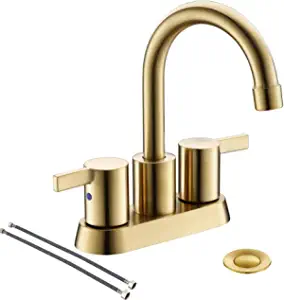 The Phiestina Brushed Gold Centerset Lead-Free Bathroom Faucet is a fashionable and environmentally-friendly faucet choice. Its brushed gold finish and sleek design make it a stylish addition to complete a sink.
It's also made with lead-free materials for a safe choice. It features a centerset design and comes with a pop-up drain assembly, making it easy to install, convenient to use and lovely to look at.
PARLOS 2-Handle Bathroom Faucet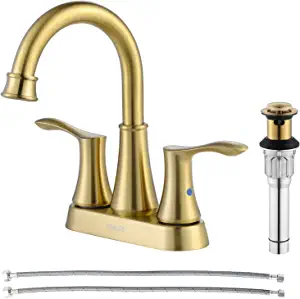 KES Brushed Gold Bathroom Faucet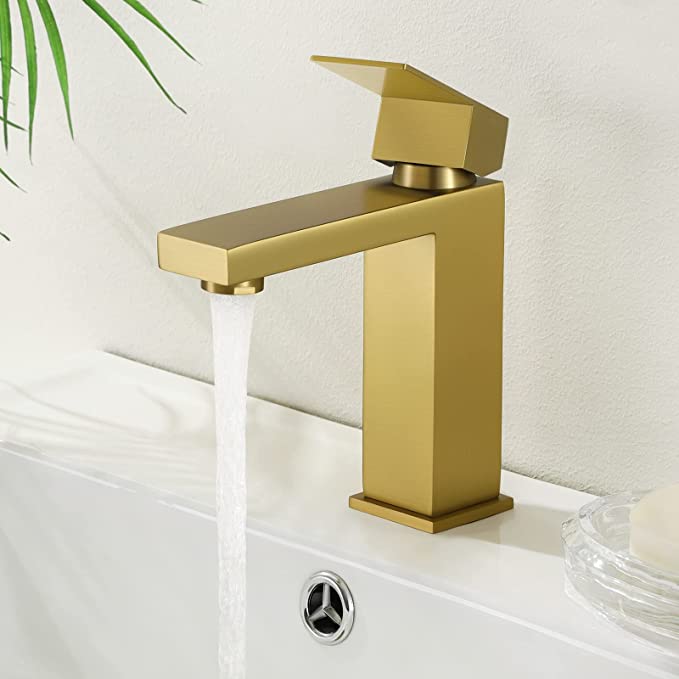 Add a touch of sophistication to your bathroom with the KES Brushed Gold Bathroom Faucet. This modern vanity faucet features a single handle design for easy temperature control.
The high and horizontal spout design adds a natural linear flow to your sinks aesthetic. 
Delta Gold Bathroom Faucet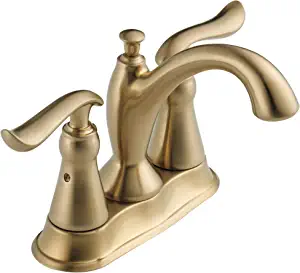 The Delta Gold Bathroom Faucet is a reliable and durable choice for any bathroom. It comes with a Lifetime Limited Warranty and is backed by Delta Faucet's DIAMOND Seal Technology, which uses a patented design to reduce leak points and last twice as long as the industry standard.
The faucet is designed to give you a vintage look that will last a lifetime.
Aqua Vista 15-B42WP-PB-AV Bathroom Faucet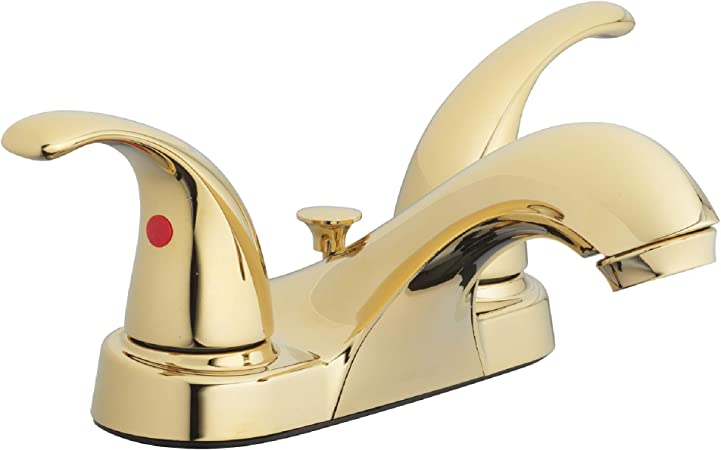 Upgrade the look of your bathroom with the Aqua Vista 15-B42WP-PB-AV Bathroom Faucet. This decorative two handle faucet in a polished gold finish features decorative handles that uniquely go higher than the faucet spout.
The design is functional yet out-of-the ordinary for bathroom faucets. It will certainly act as an interesting centerpiece to any bathroom sink. 
Gold bathroom faucets are a beautiful and luxurious addition to any bathroom. There is no shortage of design ideas for gold faucets for bathrooms. You can work with as much or as little of gold as you want in your bathroom design. The end result is always a touch of warm luxury you won't regret having.