Home » Small Kitchen Remodel Ideas : 7 Tips That Will Transform Your Space
Small Kitchen Remodel Ideas : 7 Tips That Will Transform Your Space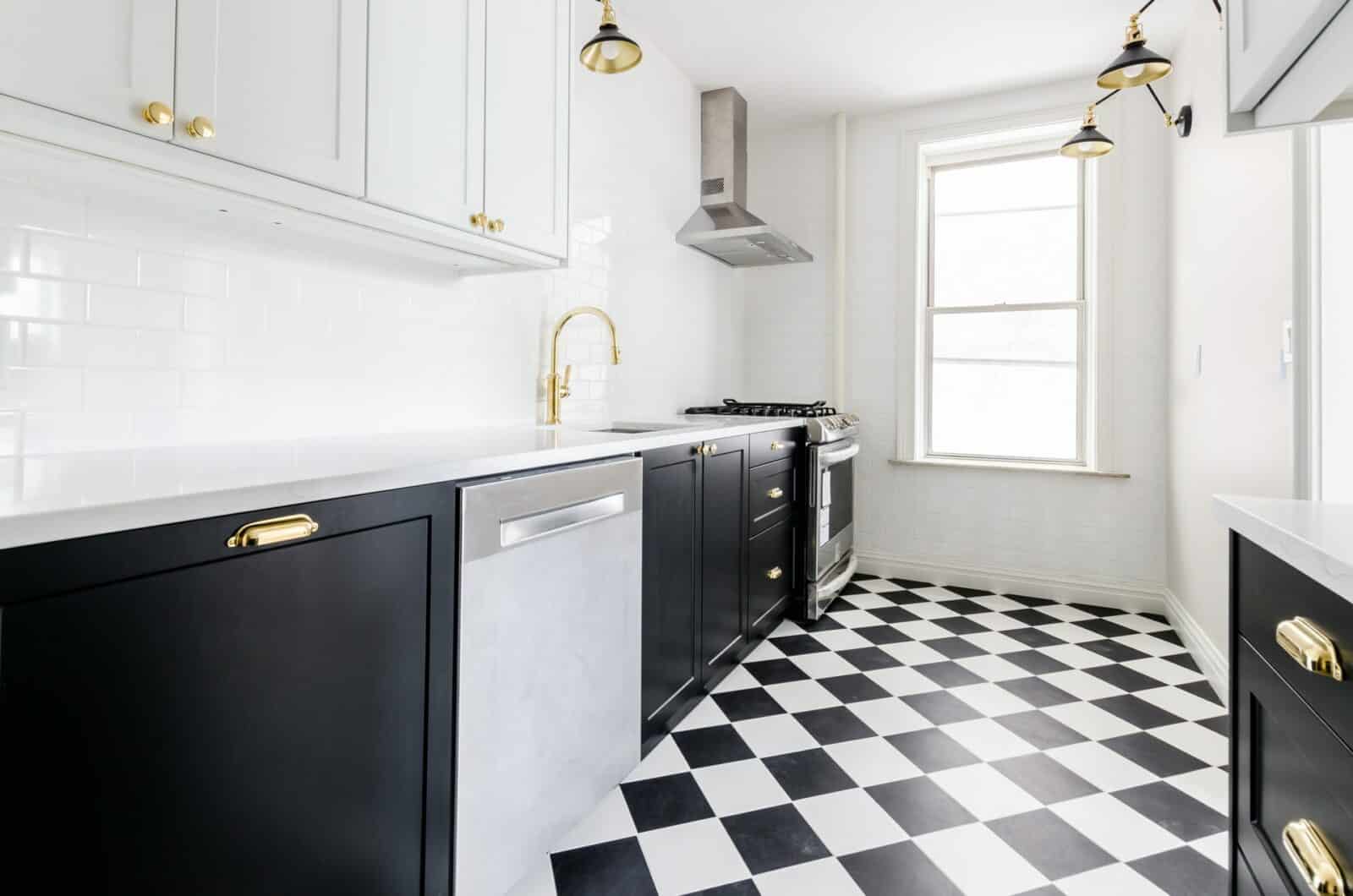 Small and oddly-shaped kitchens are a reality and what most of us are dealing with. We all pray to have kitchens with sky-high ceilings and gigantic square footage, but the reality is often far from it. However, the right small kitchen remodel ideas can make a huge difference.
When planning on remodeling your kitchen, having a small kitchen must not inhibit your kitchen's design potential. There are several ideas that you can take inspiration from to get your little space into the best shape, both functionally and aesthetically. 
Should You Remodel Your Small Kitchen?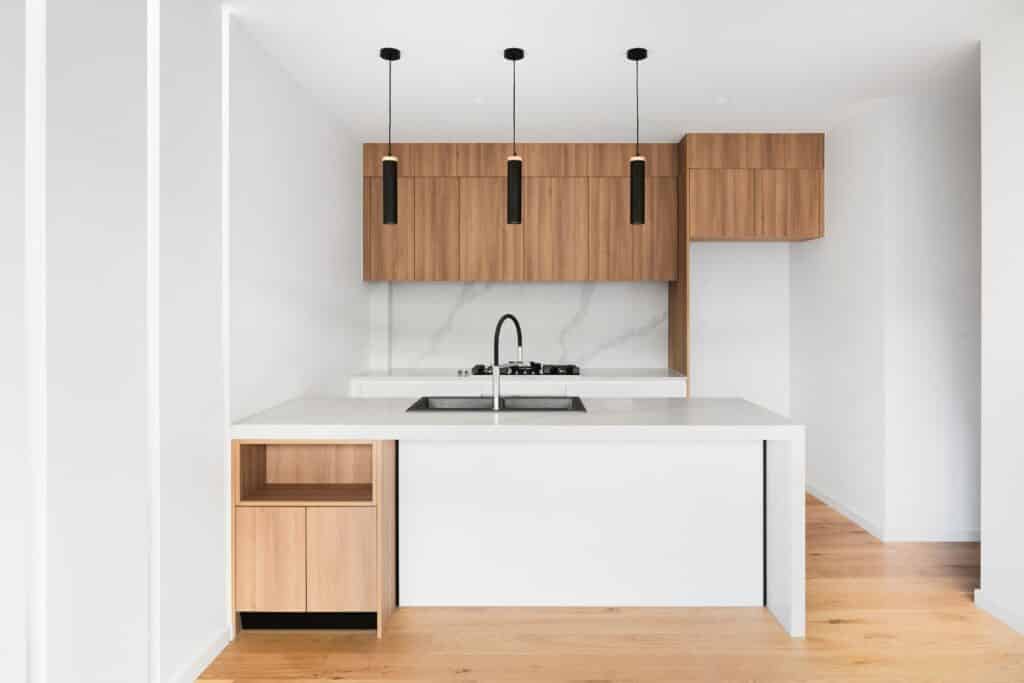 There are tons of small kitchen remodel ideas that help maximize storage and efficiency, with bold cabinetry, elegant lighting solutions, double-duty accents, etc. The trick is to play around with your kitchen's layout and utilize maximum space, irrespective of whether your kitchen is U-shaped, a single wall, or tucked away in the house's corner. 
So whether you are rebuilding your kitchen from scratch or refreshing your existing layout by making a few changes, these ideas will help you make the most of your space and give you a small, chic kitchen you will love!
1. Smart Lighting
If you do not have a lot of natural light in your kitchen, you will need all the smart lighting you can get in there. Task lighting such as sconces above the sink and the countertop brightens up space and adds some shiny light to the kitchen area.
Plenty of good lighting is critical during cooking. You can never have enough lighting in the kitchen, and installing decorative pendant lights helps uplift your mood too while you slog in the kitchen. 
Bright recessed lighting over a white marble countertop and pastel cabinetry is preferably the best lighting for your kitchen and helps make it look clean and spacious.
2. Go Green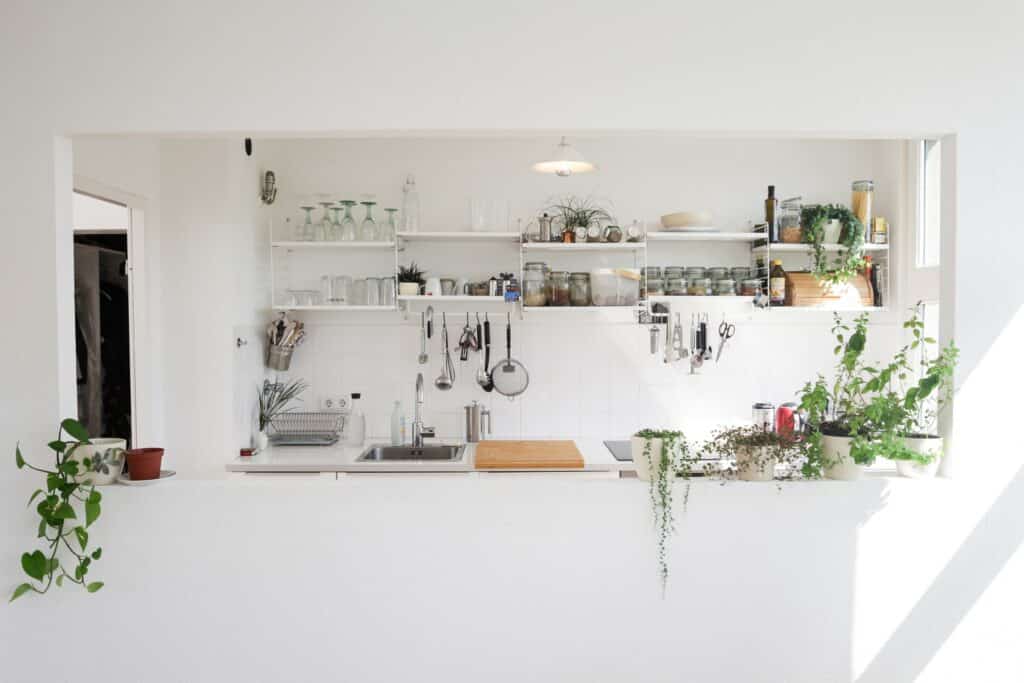 Plants make every space feel right, airy, and lively. So if you have a light-filled kitchen, why not make the best use of it? Plants have the capability of livening up a place, so if you have a small kitchen, a plant is a necessity. A small kitchen can generally feel claustrophobic and make a person irritable, so pick a plant of your choice and let it do its job! 
There are several air-purifying plants, indoor trees, and pet-friendly plants that would look great in your kitchen. If you do not want a standing, upright plant or tree in your kitchen, you can get small potholders and hang them up on the wall vertically. 
This way, you can have not just one but several plants in the kitchen. And if you cannot take care of it, you can even get an artificial plant with a lovely potholder.
3. Mirrored Backsplash or Windows
Mirrors are the ideal way to make a small space look double its size. They are especially useful and essential when the room has minimal to no natural lighting. Mirrors help in opening up space, making it look more prominent, and bouncing the light around. 
Therefore, if you wish to remodel your kitchen, it would be best to get a mirrored backsplash. Antique mirror tiles in place or the traditional tiles make an excellent backsplash for a small kitchen.
You would be even luckier to have a window in your kitchen. If your kitchen is small but has a window, position your stove and kitchen island in a way that it faces the window. This way, the sweeping views of the window will keep you busy while you cook and brighten up your kitchen space with all the natural light it needs.
4. Maximize Storage
A small kitchen means that there will be less square footage for you to keep everything you want on the floor. But fear not, if you use the right small kitchen remodel ideas, there is a lot of storage space for you to use.
Storing your items on top of cabinets when the cabinets are full is a great way to save space. If you have some space left between the cabinets and the ceiling, then why not? 
You can also install a rod or a rack with hooks to hang pots and pans, knife mounts, and open shelving above the stove. This way, you will be saving a lot of space in the cabinets and drawers that you can utilize for other things.
5. Use a Wallpaper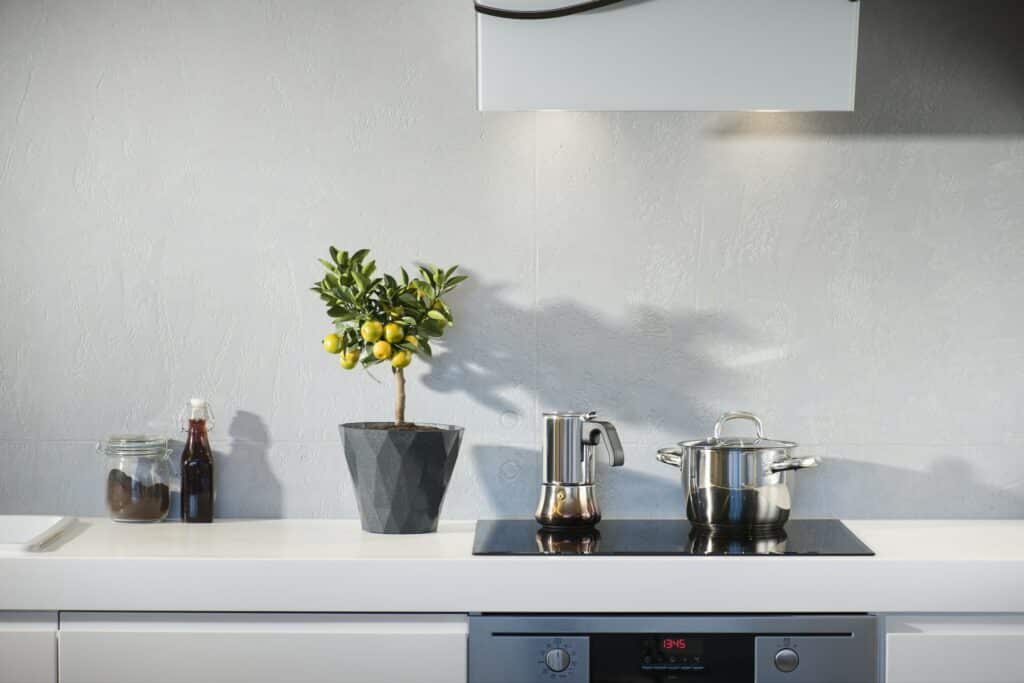 Using colorful and textured wallpaper can significantly change the outlook of the kitchen. Use wallpaper in the most overlooked places of the kitchen, such as the backsplash. High-impact design elements on the kitchen floor can elevate the mood and give the illusion of a bigger space.
You can also experiment with the kitchen tiles, such as installing hand-painted kitchen tiles or chevron wood floor patterns for a bohemian look.
However, you must not restrict these colorful, patterned designs to just the floor. You can jazz up the kitchen walls with striped wallpaper to create the illusion of a heightened kitchen.
Making a statement of your wall can give your kitchen a very sophisticated look, irrespective of how small it is. However, if you do not wish to go over the top with the wallpaper, you can put it on just one wall using it as an accent instead of covering the entire kitchen with it.
6. Add a Floating Table
A floating table in a small kitchen is the best thing that you can do. You have to mount up a floating table on a wall, and it can be as long or short as you want it. A floating table does not take a lot of space since you can even decide its width. 
Choose a wall in one of the corners of the kitchen and build yourself a floating table there. You can add a few high chairs without the backrest that will help make your kitchen look air and uncluttered.
7. Get a Rolling Kitchen Island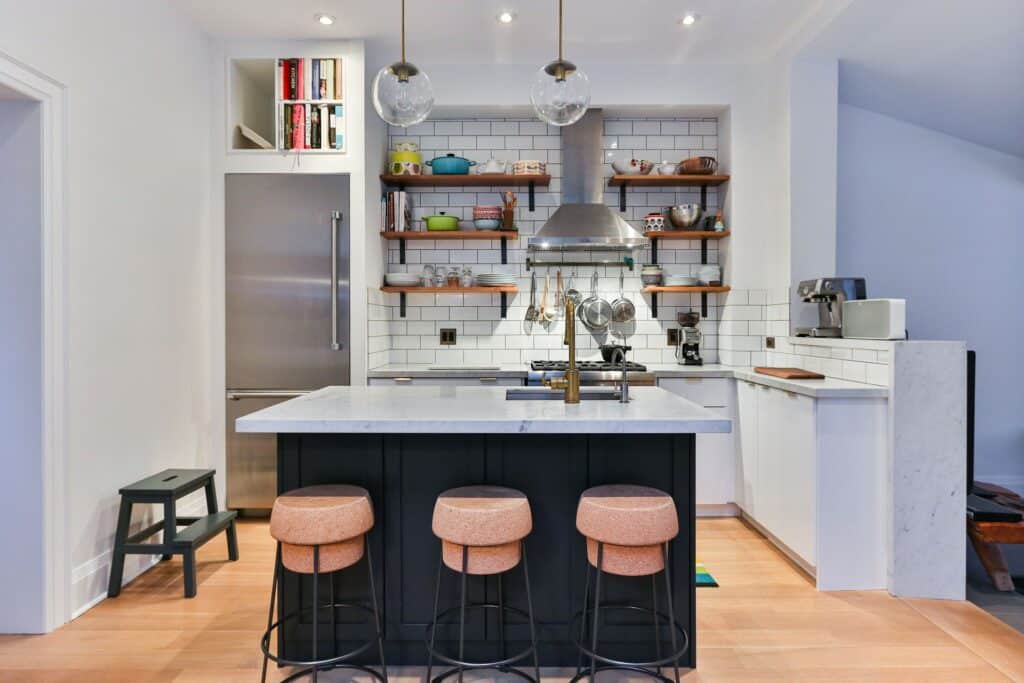 Another of the small kitchen remodel ideas, which many people favor, is to get a rolling kitchen island. A kitchen island does not seem preferable for a small kitchen, but a rolling kitchen island with wheels underneath is conducive during your dinner time. You can quickly move it when you are cooking so that you get the space you need.