Home » Small Kitchen Solutions That Make A Difference in Your Home
Small Kitchen Solutions That Make A Difference in Your Home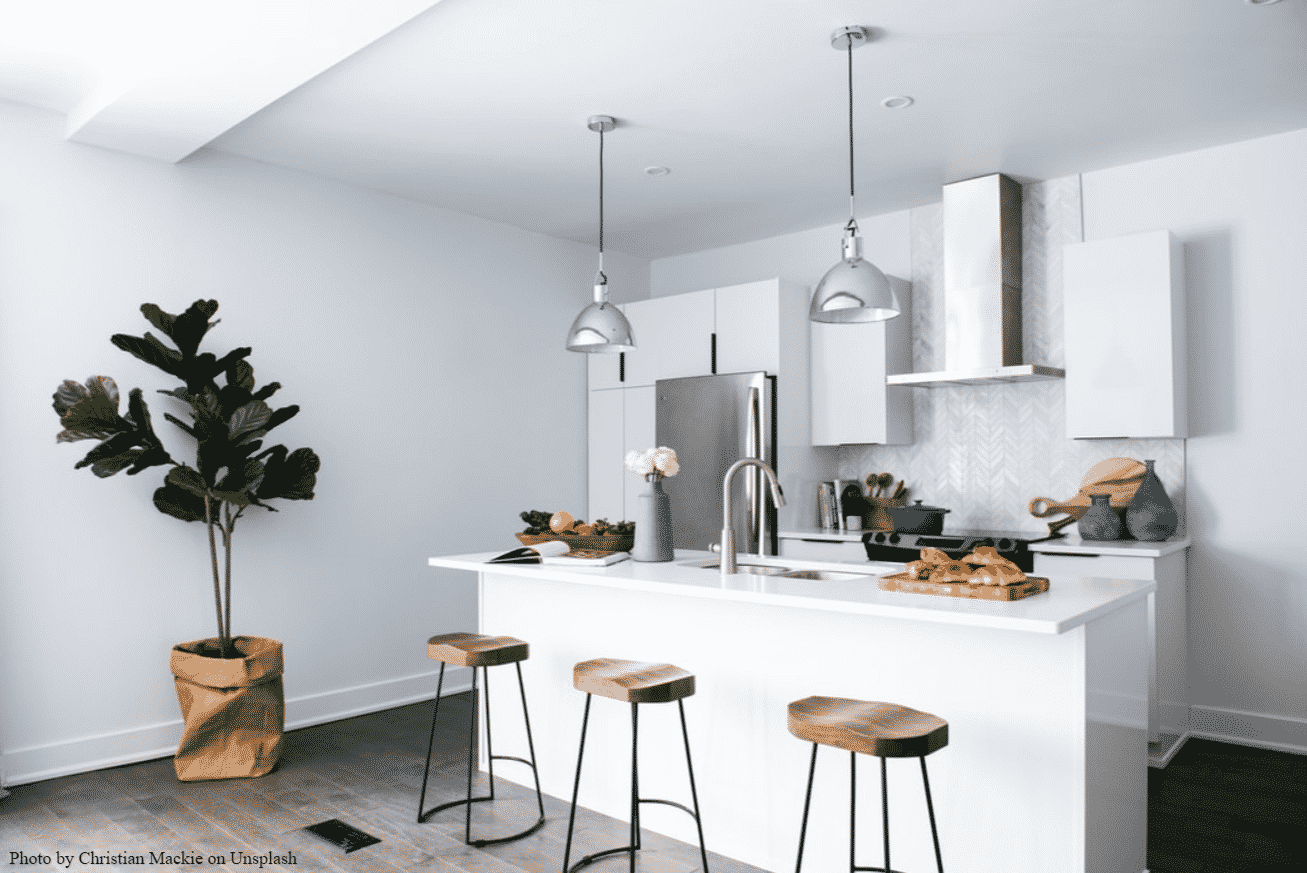 Remodeling a kitchen is often seen as a challenge. The situation becomes more complex when you're working with small kitchens. However, it doesn't have to be as complicated as it may seem. Yes, small kitchens are difficult to work with. They have odd corners and many awkward spaces but they also have a lot of untapped potentials.
The size of your kitchen doesn't matter as long as you know what you're doing. There are some ideas and solutions that you can implement to make your kitchen functional and stylish. Lucky for you, we've curated some of the best small kitchen solutions to help you get started.
Go Minimal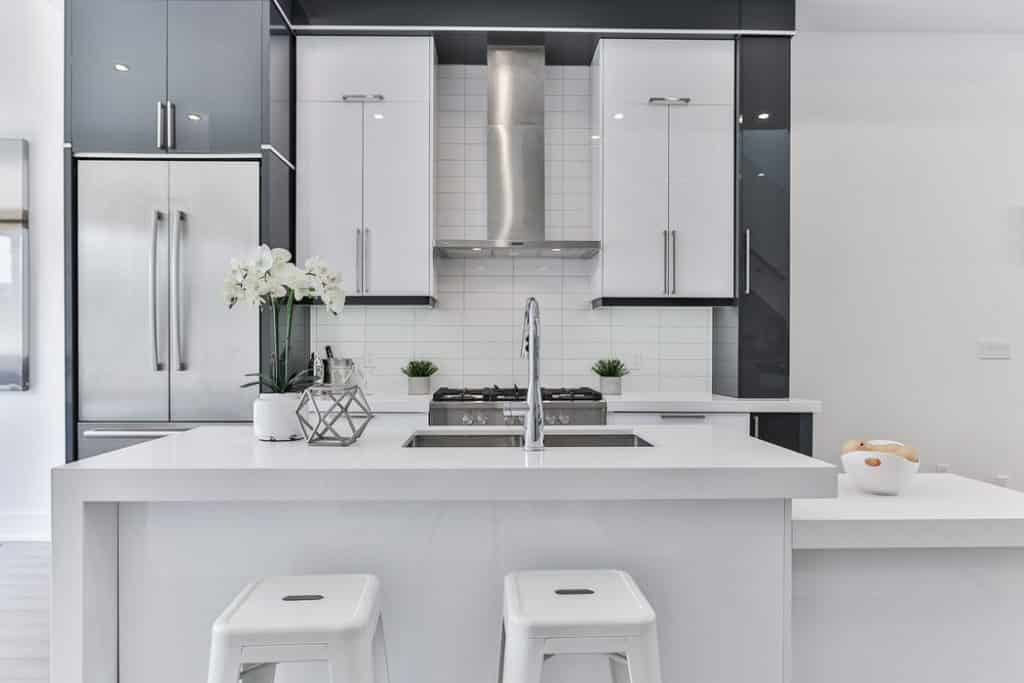 Small kitchens are difficult to work with, only if you have a lot going on. However, if you take out the clutter, things get much easier. This is where minimalism comes in. Minimalism isn't just a fad. Minimalism stands for clean and subtle design choices.
With a small space, you don't want to have too much noise. Sticking to clean and sharp elements are your best bet. Remove all the excess hardware and unnecessary fixtures from the kitchen to make the most of your small kitchen.
Open the Space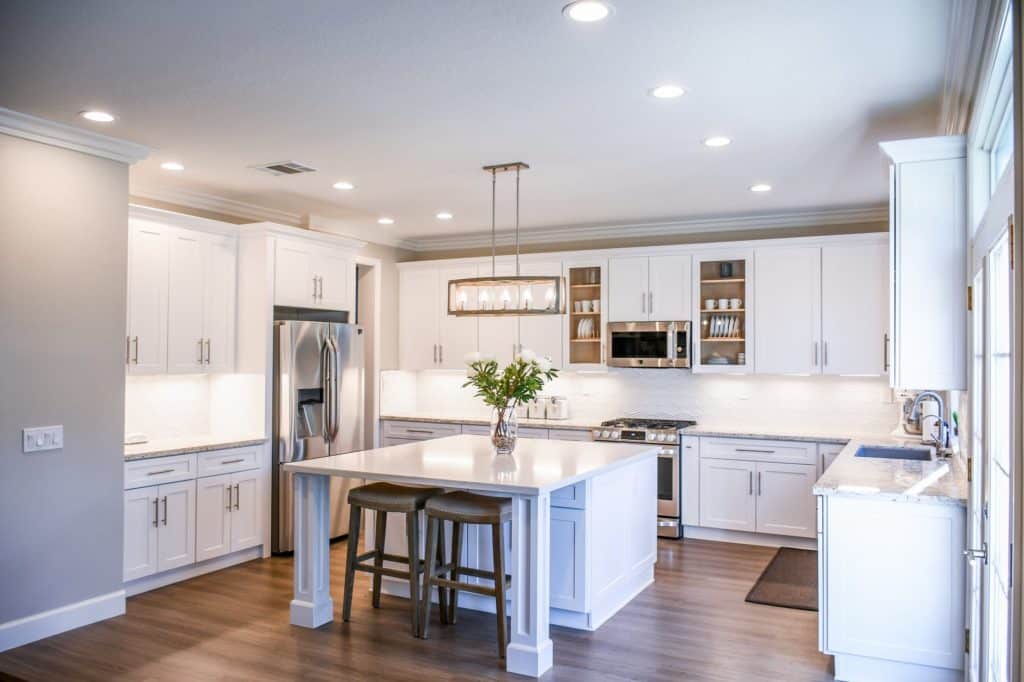 There's nothing worse than a tiny, boxed in kitchen. If you have a small kitchen, having it boxed in is only going to make it look smaller. An easy way to counter this is to open up the kitchen space. 
There are two ways to do this. The first one is that you can remove extra cabinetry. We recommend removing upper cabinetry and replacing it with open shelves. Not only does it free up the wall space but it also adds aesthetic value.
The second one is a bit more complex. You can install a breakfast countertop to create a free-flowing space between the kitchen and the dining/living room and changing the layout by doing so and having an open-concept kitchen.
Use Your Windows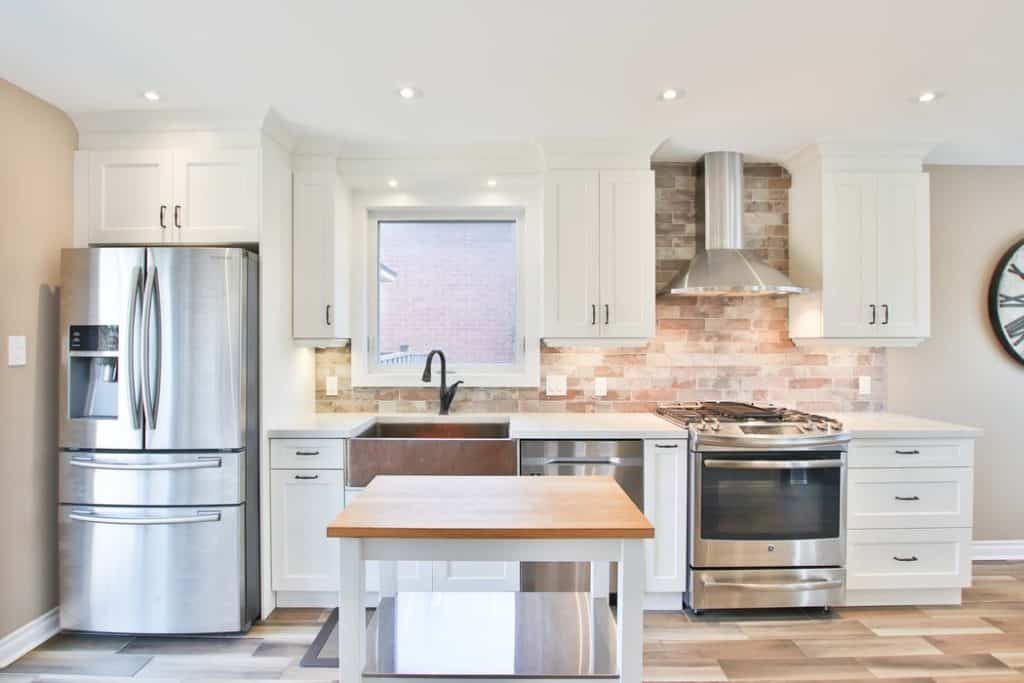 The key to working with a small space is to think out of the box. Windows aren't traditionally seen as a storage space, but all you have to do is look upwards. The space above our windows is unused and great for storing crafty kitchen essentials.
There are many ways to make use of this window of opportunity. You can hang your pots and pans in front of the window or install a shelf on top of it. The possibilities are endless once you start looking at things differently.
Hang Your Pots and Pans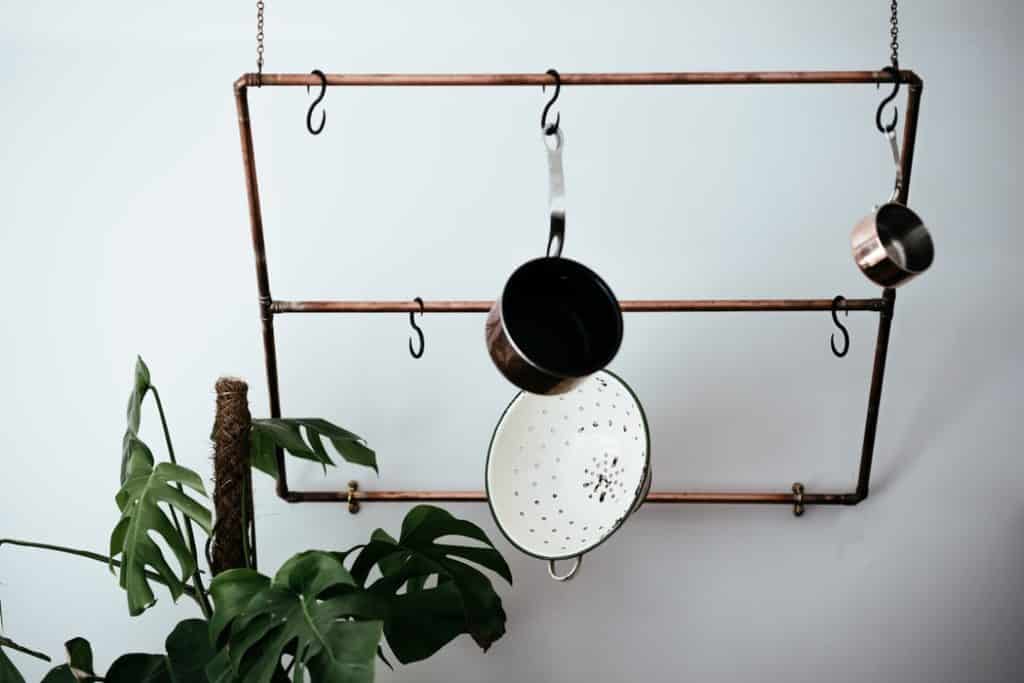 Windows aren't the only space for you to hang your pots and pans. Save space in your cabinetry by creating a dedicated space for them elsewhere. Use any unused wall and fit an industrial pot rack for the pots and pans. 
Similarly, you can also use the space above your stove to hang a couple of pots and pans. Not only does it add a charm to your kitchen, but it also saves you a lot of storage for other essential (and less charming) kitchen items.
Glance Into It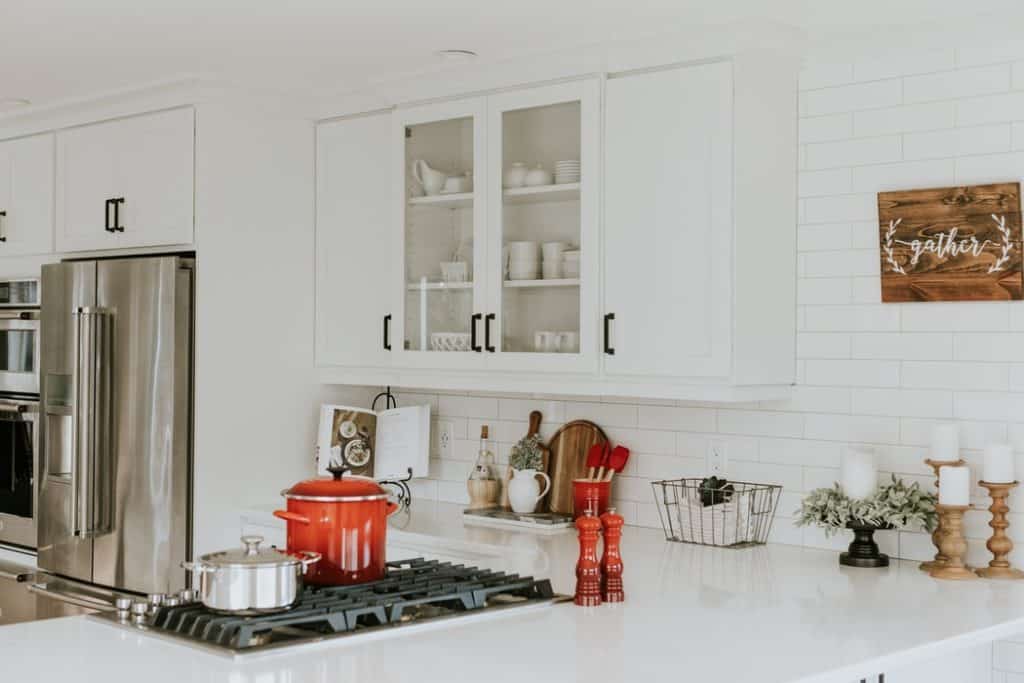 Working with a small kitchen is all about altering the perception of it. Just because you have a small kitchen, it doesn't mean that it has to look small. There are many small solutions that you can incorporate to trick your mind into thinking that the kitchen is bigger than it is.
One way to do this is to install glass-front cabinets. Glass opens up any space instantly. Incorporating glass in your kitchen is a small but effective solution. You can opt for glass cabinets, counters, or tabletops to "expand" the kitchen space.
Revive the Island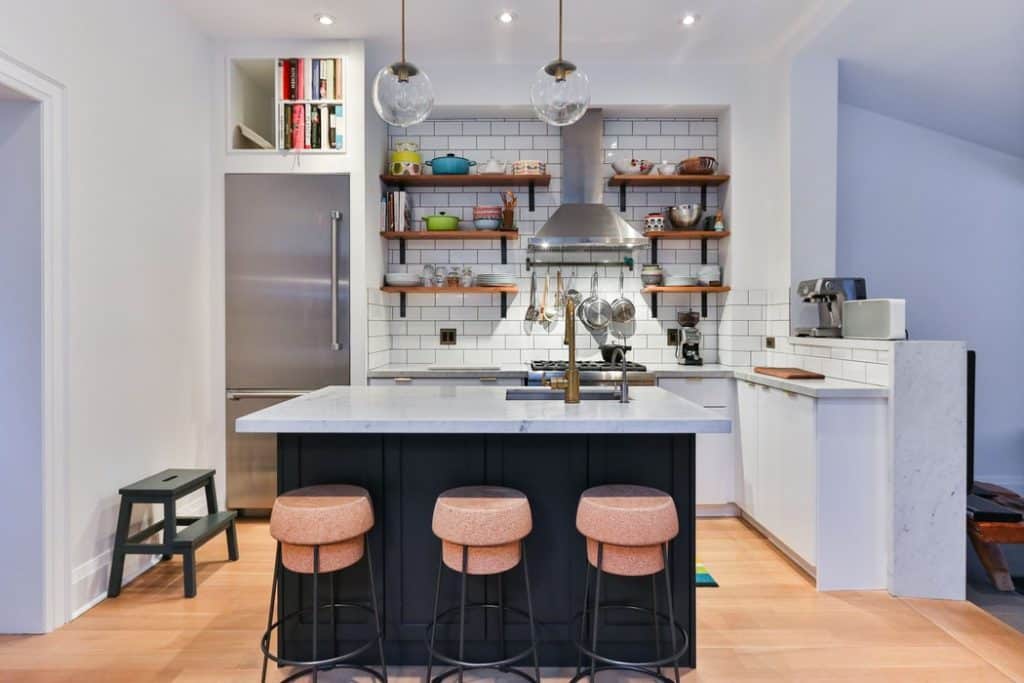 Just because it's an island, it doesn't mean that it has to be a complete castaway. Your kitchen island has more potential than you give it credit for. You can make the most of it by installing cabinets and drawers in the space below. 
Not only does it make it more accessible, but it's also going to be one of the most used spaces in your kitchen. 
Make Use of Light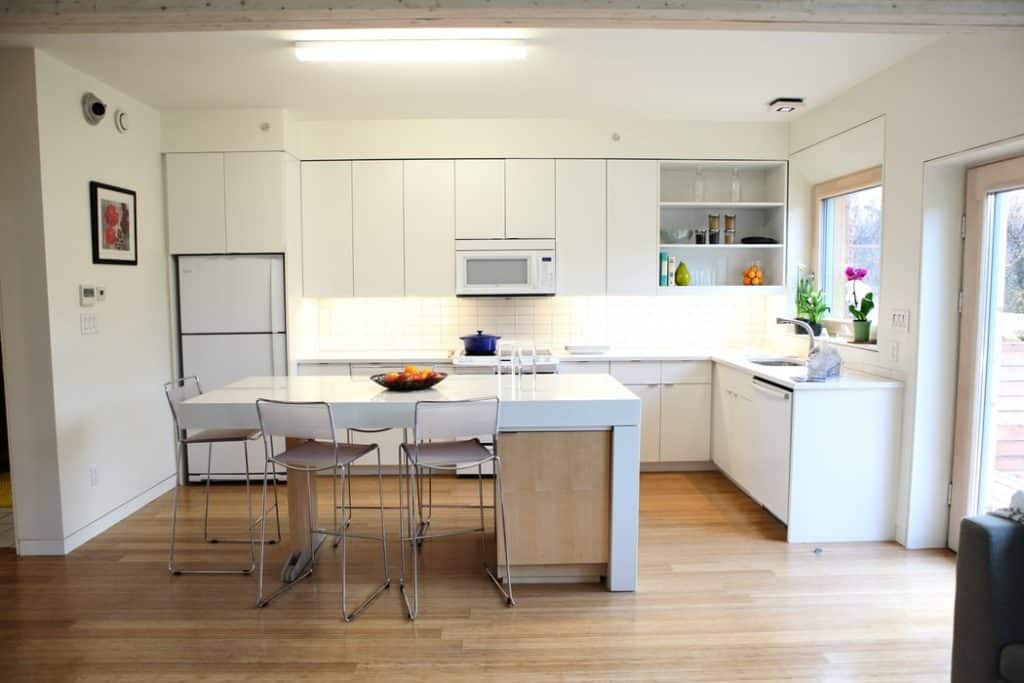 When it comes to small kitchens, lighting is your best friend. Lighting, or the lack thereof, plays a massive role in the way your kitchen looks. To begin with, natural light is your best friend. The brighter your kitchen, the bigger it looks.
The key here is to let as much natural light in as possible. This means bigger windows and fewer obstructions. Apart from natural lighting, you also have to consider artificial lights. 
Consider adding pendant lighting to your eating area. It gives is a warmer and homely feel. You need not look up for lighting requirements. Floor lighting is becoming increasingly popular among homeowners and rightfully so. 
Don't Ignore the Floor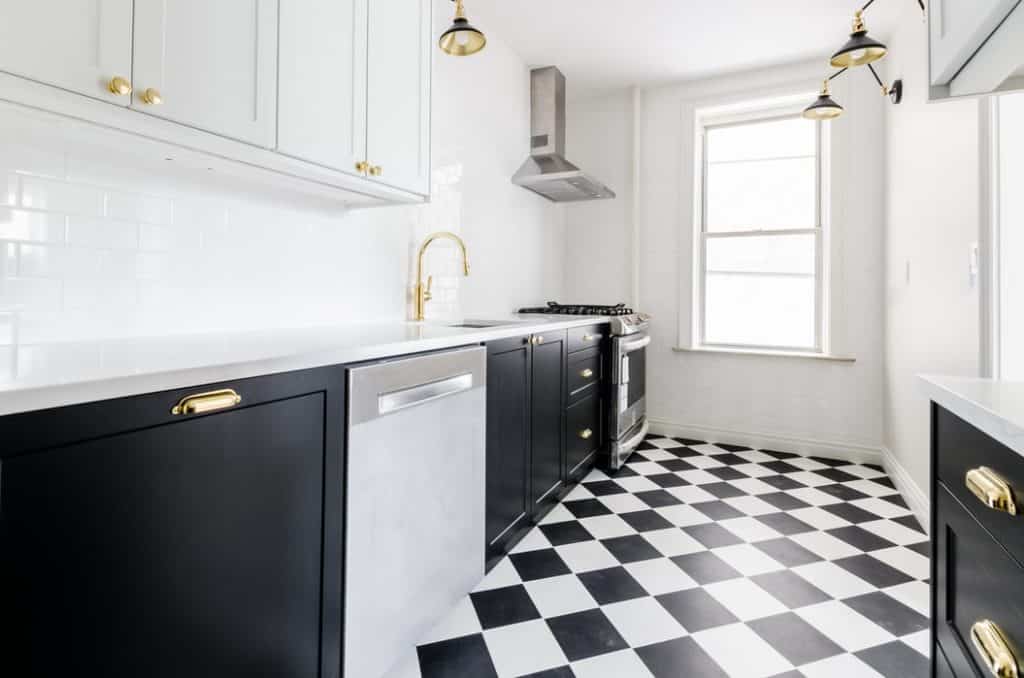 Speaking of floors, most homeowners tend to overlook the impact of flooring. More often than not, it is the floor that catches our attention when we walk into a room. 
From Linoleum flooring to classic checkerboard flooring, kitchen floors have influenced the way you perceive the space. Be careful while choosing the right flooring options for your kitchen, as it can make a huge difference. 
You can also opt for classic marble flooring for your kitchen. Remember to stay away from busy patterns and dark colors while choosing the flooring to keep your kitchen as open as possible.
Make a Statement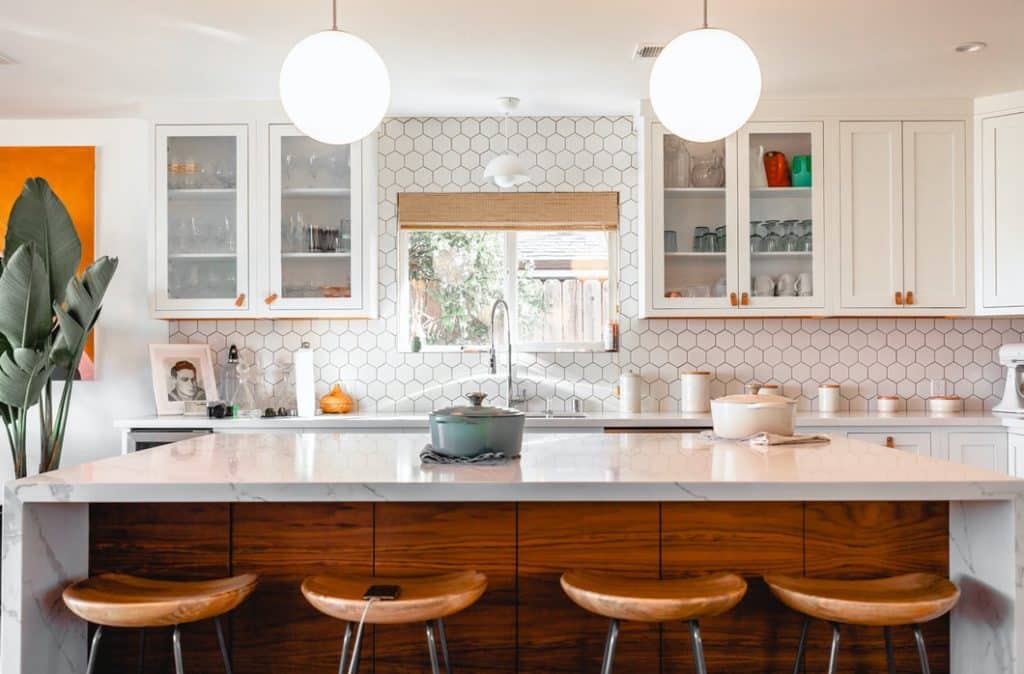 As counterproductive as it may sound, don't shy away from making a statement. Just because a small kitchen demands that you keep things clean and simple, it doesn't necessarily have to translate into boring.
For instance, a bright and statement kitchen backsplash is enough to break any kitchen space's monotony.
It takes time and patience to make the most of your small kitchen. With these small kitchen solutions, you might uncover hidden potential and give your kitchen the makeover it deserves.