Home » Dining Room Design Ideas that Will Jazz Up Your Space
Dining Room Design Ideas that Will Jazz Up Your Space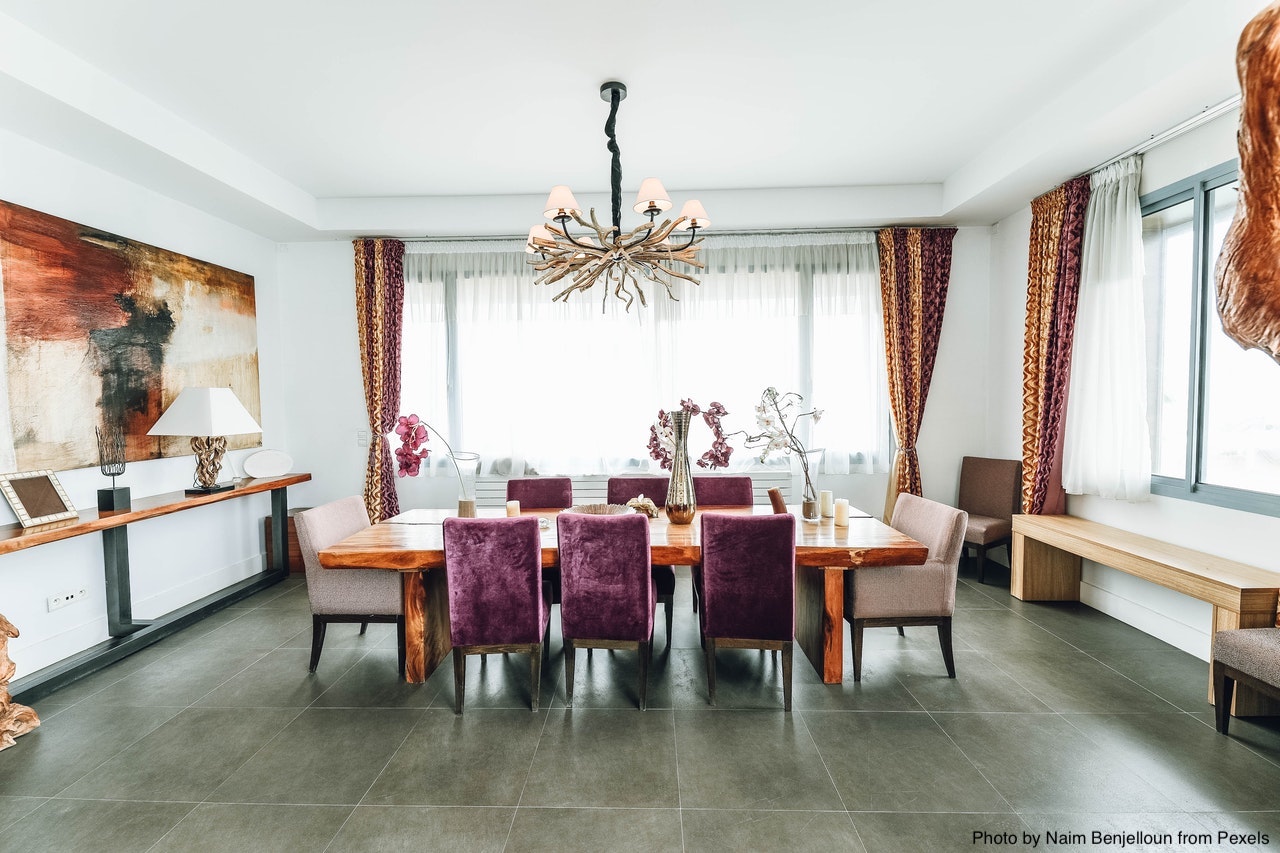 Your dining room is where the entire family comes together at the beginning and the end of the day. It is the dining room where we want to relax, spend time, gossip, and eat with our family and friends. So we must make sure to use the best dining room design ideas to make the most of your space.
Dining rooms are a particular place and a hub for social and private gatherings. To keep the look of the dining appealing and to invite, and there are numerous dining room design ideas for you to choose from. No matter what your style is, you will find an inspiration to suit all tastes.
Some people prefer a living room with timeless elegance and vintage antiques, while some prefer to experiment with contemporary and bold wallpapers, saturated hues, etc. 
So whether you want to redecorate the entire dining room or simply need some inspiration to change the backdrop, there are several dining room design ideas for you, from traditional to eclectic and modern to industrial.
Be a Minimalist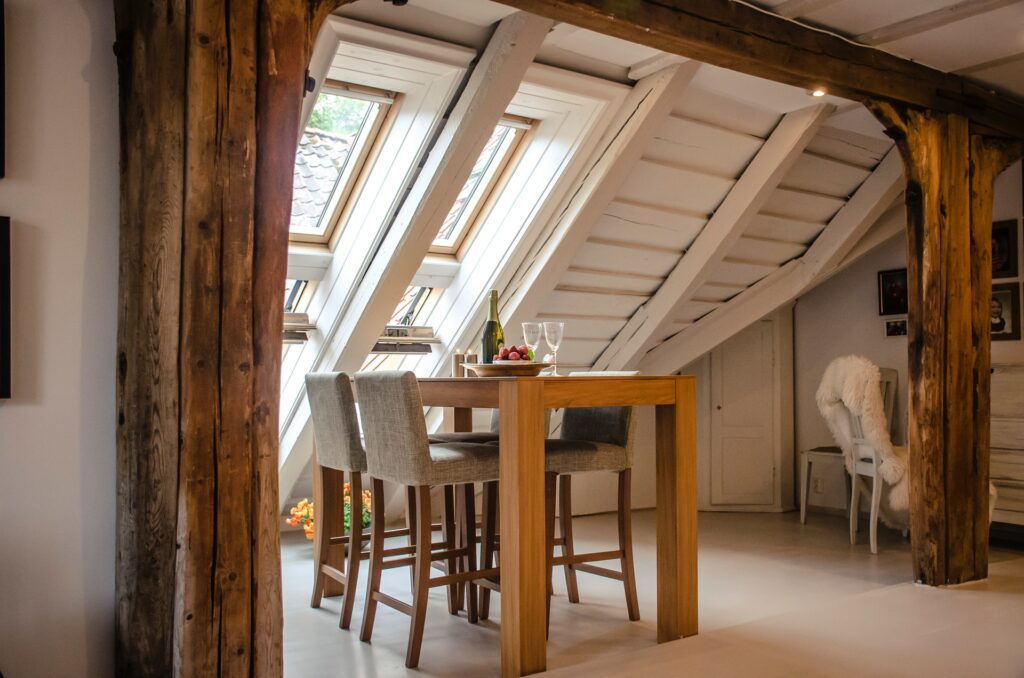 Opting for minimalism is one of the best dining room design ideas. The clutter is minimal in the room, which keeps the mood uplifted, and the soothing and soft color scheme of the walls grounds the atmosphere of the room. Wood and iron matched with earthy tones throughout the room paired beautifully with textured chairs. 
Now you can either contrast this setting with sculptural lighting hanging above the dining table, abstract art on the wall, and clean, lined furniture. Or you can also align the room's minimalistic mood with industrial vintage lighting above the dining table and an oversized mirror facing the dinner table to expand the dining space visually.
Use Multifunctional Furniture
Instead of cluttering up your dining room with different sets of furniture for various purposes, it is in your best interest to get multifunctional furniture that will truly help you make the most of your living room. Multifunctional furniture helps in enhancing the space's versatility.
You can go for short tables with ottomans around. It could later act as footrests while sitting in the living area. Or you could go for a foldable dining table that you can keep aside when you do not need it and make space for other things. A great choice would be to go for a table that converts from a coffee table to a ping pong table to back to a dining table.
Experiment With Wallpapers
The best way to give a dramatic makeover to your dining room is to cover it with patterned wallpaper. Large scale colored wallpapers are a great way to incorporate intense colors in the room and liven up the place. Bold and exuberant stripes help in giving the illusion of a heightened roof. 
Textural cloth wall coverings and neutral drapery fabric are the best materials for wallpaper and give off the room's most vibrant colors. Instead of covering all walls with wallpaper, you can create a focal point in the room by simply putting it up on one wall and making it an eye-catching area. This is an excellent way to pattern play with your room.
Keep it Artsy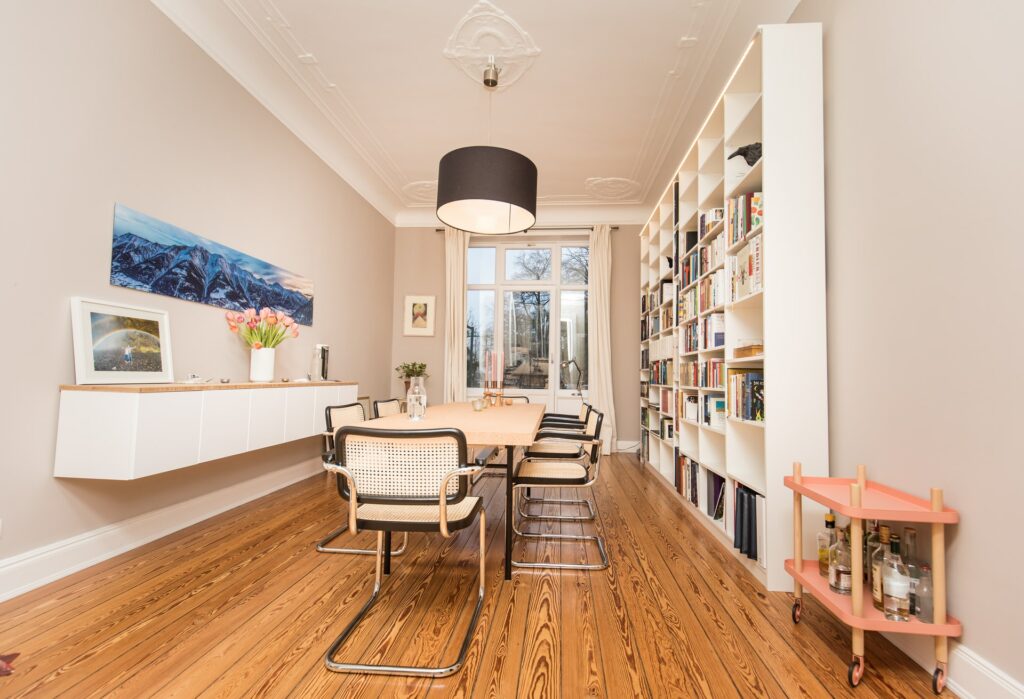 Another way to make your dining room look amusing is to keep it artsy. A well-executed and well-decorated artistic wall becomes the focal point in the room. You can hang up modern paintings and abstract artwork on the walls for people to admire. This helps build up a conversation over a dinner table when you have guests over. 
The symmetry and detailed work also give the room a more refined aesthetic. If not frames, you can even go bold with a hand-painted wall mural and leave the people who visit your house awestruck. You can even get artistic with your lighting and interior décor.
Use it for Intimate Gatherings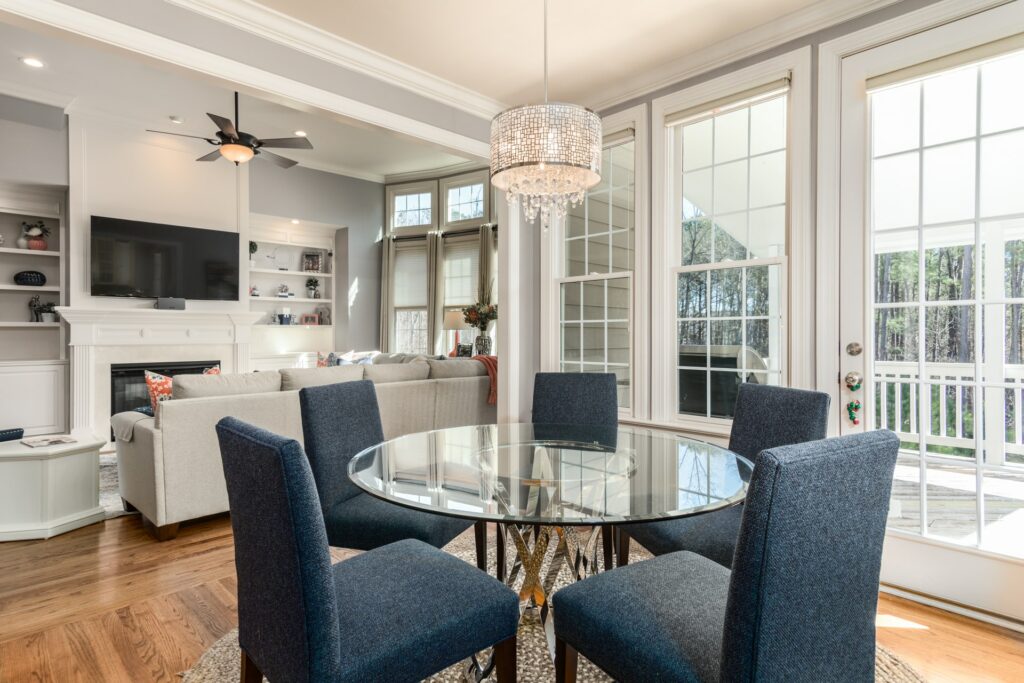 To keep the room intimate and warm, do not spread out the furniture too much. It would be best if you got an oval or a round table instead of a rectangular one.
An oval or a round table helps arrange the chairs much closer than a long, rectangular table, and everyone sitting at the table is within reach. This helps keep the gathering close and personal. 
Keeping it cozy inspires good conversation, and if you have an extra guest, you can always pull up a chair and adjust it easily in there. Add a fireplace near the dining table for a relaxed and cozy evening with your family. This dramatically comes in handy when your dining room is not Giga size.
Stick to Classic Blue and White
Sticking to the simple color palette of classic blue and white gives your dining room a vintage and traditional feel. The blue and white striped wallpaper is inspired by colonial times and gives a royal vibe to the room.
You can also pair this wallpaper up with whitewashed fretwork dining chairs and a similar colored striped rug. Keeping a few small plants here and there in the room help uplift the whole mood.
Use Pastels
Pastel colors in the living room help in making the room feel bright and modern. The good thing about pastels is that you can pair them up with antiques and modern artistic décor. Sea-grass rugs help complement the neutral, light-colored furniture. You can hang up a stunning artwork of your choice, which can pop in a room like this.
Paint Your Floors
Back in the 1930s, you would paint the floor of your home in a honeycomb pattern to jazz it up. When you are remodeling your dining room, a lot of people spend a lot on the flooring. If you wish to save some funds on the flooring, it would be best to paint the floors. 
Yes, you may not know this, but you can indeed paint your floor to give your rooms a beautiful design! Painted floors make a grand statement in dining rooms and feel very artistic when people sit down to eat.