Home » Everything You Must Know About Kitchen Islands: Size, Location and Much More
Everything You Must Know About Kitchen Islands: Size, Location and Much More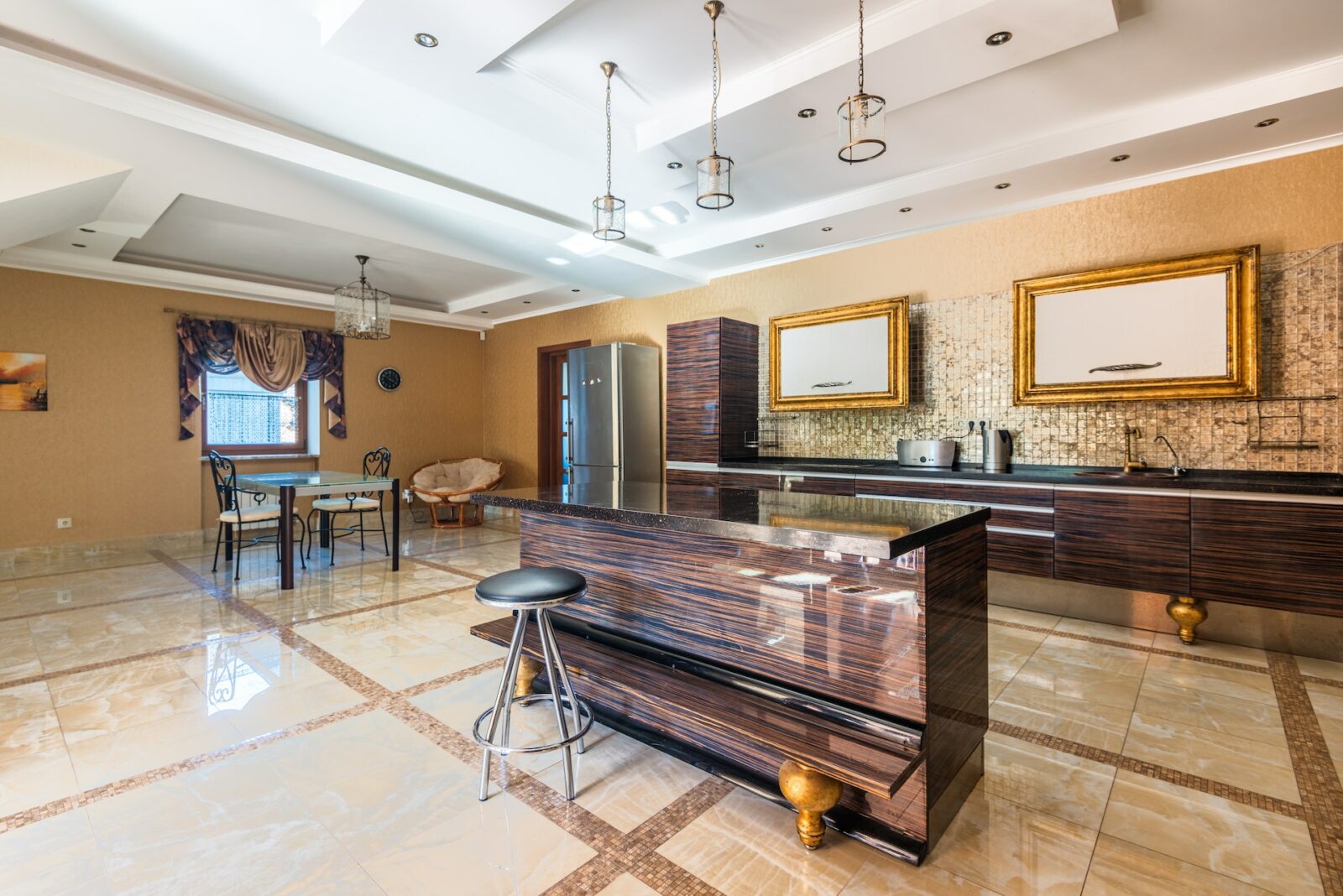 We've deciphered the biggest mistake people make while installing kitchen islands.
What is it?
Failing to prioritize needs before starting with the design and planning of the kitchen island.
Before you start designing, prioritize your needs so that you can have an island that complements your taste and preference. This will also help you figure out the dimensions of your island, especially if you wish to install any plumbing or major appliances.
For instance, if you want to install a stove, you will need a wider island to accommodate the cooktop. Then again, you'll need to install a cooker hood or chimney to absorb the fumes and smell of fried food. When there's cooking involved, your surface is bound to get dirty. So, ideally, you might also want to install a sink next to the cooktop. However, if you're planning to include seating, having a stove + sink won't be a great idea as the space will be crammed.
How Much Space Do You Need For A Kitchen Island?
To incorporate an island, your kitchen should be quite spacious and open. On average, a kitchen island measures around 40×80 inches excluding the space around it. That'll take up about one-tenth to one-fifteenth of the total area. So, unless your kitchen is 12 ft. long and 8 ft. wide, there's no point in planning to build an island. 
But the size of your island can vary based on your needs. You can have an island as small as 150 sq. ft. and also build an elaborate one of 200 sq. ft. Don't worry if your room is a little compact, you can transform the kitchen peninsula into a casual dining space by incorporating stools or chairs on the outer side. There are also several ways to design a small kitchen island to avail the counter space you're looking for.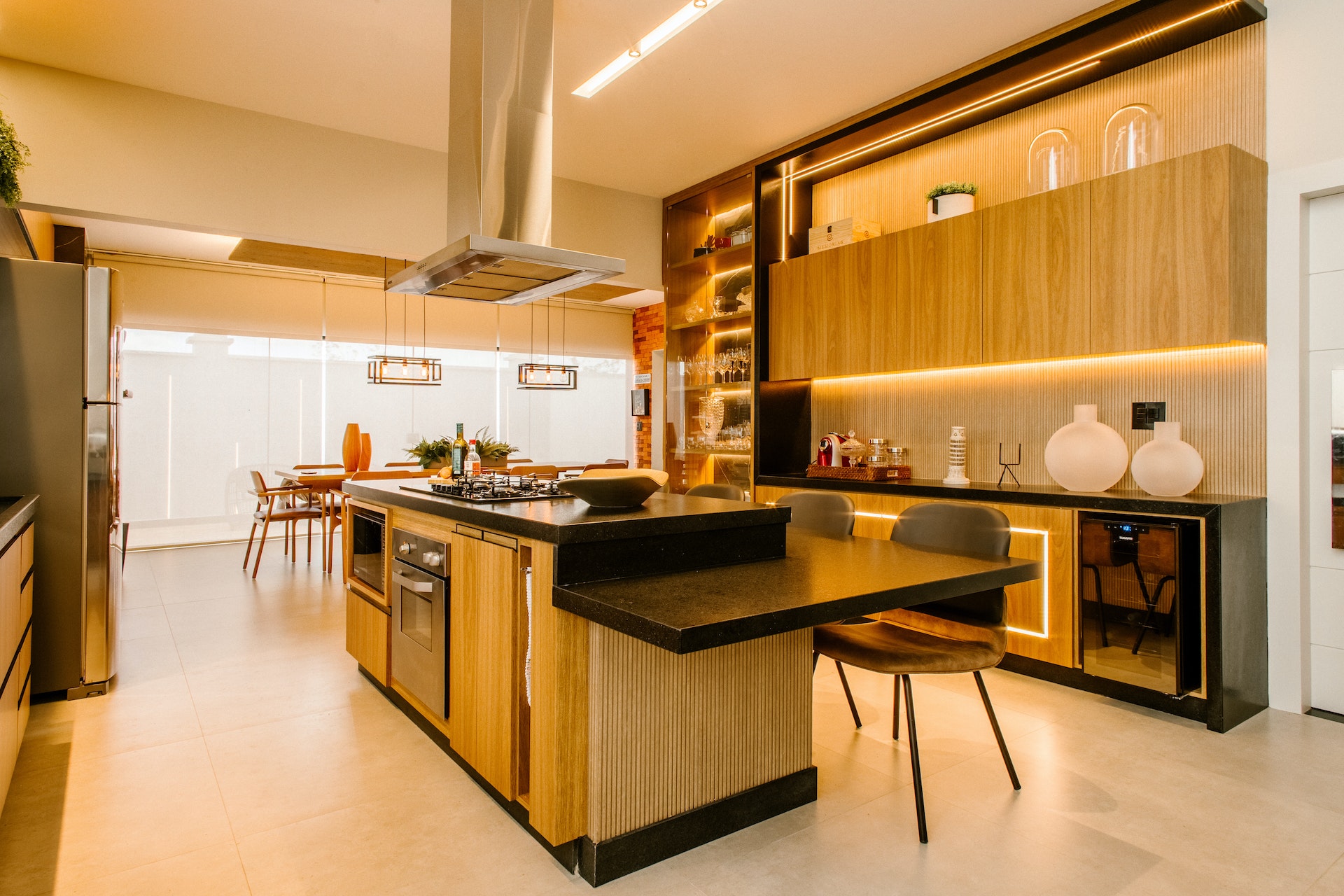 What is the Right Size of a Kitchen Island? 
To gauge the necessary space for a kitchen island, designers must consider factors like the number of people residing in the house, their preferences, and available space in the room. If your kitchen is 5m wide and 6m long, you may think of positioning your cabinets along one of the walls. The ideal depth for the cabinets can be about 25 inches, which will be able to comfortably accommodate your dishes, cutlery, and kitchen essentials. 
Be cautious to leave a gap between the countertop edge and the line of cabinet doors. This space forms a section of the island clearance zone which is crucial for easy navigation and mobility. Ideally, the minimum space around kitchen island should not be less than a meter. The National Kitchen and Bath Association (NKBA) recommends 42 to 48 inches for a working aisle. This allows enough room for uninterrupted, safe movement throughout the kitchen.
Space Around Kitchen Island 
A common design mistake involves the kitchen island spacing requirements. For small kitchens, it's important to properly evaluate the layout so that the room doesn't feel cramped. In an effort to maximize storage space, homeowners tend to compromise on the width of aisles around the island. But that can prove to be a demerit when it comes to mobility.   
The right amount of clearance around the island is essential so that you can safely open cabinet doors and appliances without obstruction. One of the riskiest appliances is the dishwasher. As the door opens downwards, there is the risk of tripping or hurting your feet. You should be especially cautious when you have little kids in the house. Never carry a hot pot or sharp objects when you're walking past an open dishwasher. To be on the safe side, consider allowing a gap of 3 ft. between two fully extended drawers or cabinets on opposite sides.
The island clearance zone should be at least 42 to 48 inches for flexible movement across the kitchen. If your kitchen is less than 13 ft. wide, it is advised that you avoid building an island. If your kitchen is shaped like a U, make sure that the entrance is at least 10 ft. wide to accommodate a standard-size island.
Seating Requirements for a Kitchen Island 
To enhance the appeal of kitchen islands, many people prefer adding seats in the form of bar stools or swivel chairs. That doesn't mean a kitchen island without seating takes away the charm. Just be careful not to cram the space with too many chairs. If there's enough leg space below the tabletop, you may consider arranging the seats around the island. This way, many people can share a meal together or engage in a wine & chat session while the host is cooking. 
If you want to add 3-4 seats, think about the size of your stool or chair. Every seat should be at least 24 inches apart to prevent your guests or family members from elbowing each other by accident. In case you decide to add open shelves to your kitchen island, opt for fewer chairs or no seating at all.
Can You Add Kitchen Sink in Island?
Whether you want to add a sink to your island depends on your needs. For those who like to use their island for preparing meals, a sink could be a beneficial addition. This makes the process of cleanup more convenient. You don't have to skip the dishwasher as it is an equally functional and time-saving item. 
Another thing that you must keep in mind is the placement of the sink. It's ideal to install in one corner so that the remaining portion of the island can be used for other purposes like serving or food prep. A slight distance between the sink and the food prep zone prevents sink water from getting sprinkled over food or serving plates. Whatever be the design, it's recommended that you keep the functional kitchen triangle intact so you can switch from the stove to the fridge to the sink. 
As convenient as it might sound, installing a sink into the island can be tricky. Hire a reliable plumber to fix the vent, drain pipes, and other plumbing issues.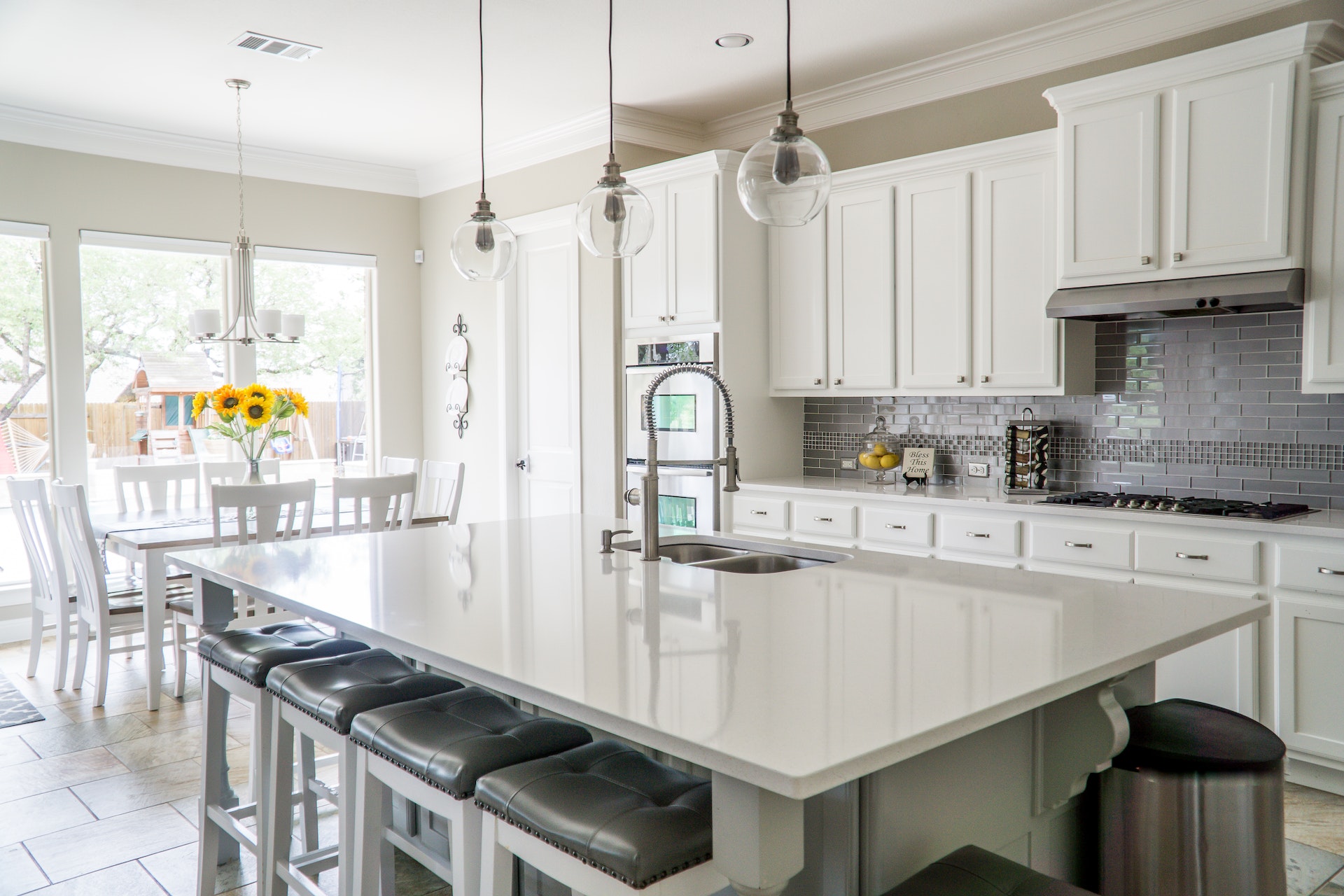 Can You Add a Stove in Kitchen Island?
Just like a sink, you can also turn your island into a cooktop. But the one thing you must keep in mind is the ventilation. You don't want your kitchen to smell like fried onions or a layer of soot to accumulate on the ceiling. The most effective solution for a small kitchen island with stove is a range hood or chimney which would hang from the ceiling. However, a big hood can take up a lot of space in a small kitchen while also blocking your view of the adjacent room. 
Then again, you need to decide between gas or an electric cooktop. An electric one can lend a sleek vibe to your cooking zone, if you're going for a modern style. 
Kitchen Island Design Mistakes to Avoid 
Poor Lighting
Good lighting is one of the primary requirements of a kitchen. As you'll be constantly dealing with fire and sharp objects, it's necessary to keep an eye on what you're doing. When you think of kitchen island lighting, pendant lights seem to be the most effective option. They'll properly illuminate the tabletop when you're cooking or preparing meals. You can also dim the lights to create a cozy vibe while during supper time. 
Electricity
Since you'll be using your island mostly to prepare meals, it's essential to get the electricity sorted. Built your outlets into the island so you don't have to move around with your grinder or food processor from one corner to the other. If your kitchen has a two-tier island with a higher bar as the dining top, the extra space between the lower prep level and the bar is where you can fit in the outlet. This goes for islands that come with stoves, dishwashers, and microwaves as well, along with efficient plumbing.
Countertop Material
It goes without saying that every kitchen island comes with glorious countertop space, along with lower cabinets (in most cases). Therefore, it's vital that you select the best material for the worktop. Granite, marble, and quartz are some of the most durable materials for countertops. These are also scratch- and heat-resistant unless you deliberately try to damage them with a sharp object. In case you can't decide on one material, try a mix n' match and bring out the true beauty of your cooking zone.
Garbage Space
The cleanup isn't as exciting as the cooking or dining sessions but it is essential. To conceal your garbage bins or trash cans, use the area under the cabinets. That way, you can efficiently manage the kitchen trash but also keep your space looking spik and span.
Conclusion
Whatever layout or material you choose for the kitchen island, make sure its features meet your needs and suit your taste. Keeping an eye on your budget is also crucial to prevent you from going overboard. As always, we hope our guide will help you make a conscious and wise decision.