Home » Kitchen Island Costs: Everything You Need to Know
Kitchen Island Costs: Everything You Need to Know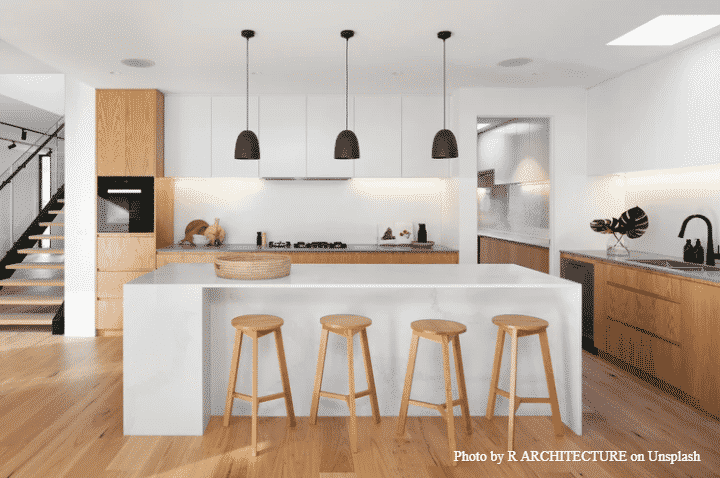 Kitchen islands, with their versatility and aesthetic diversity, are found in most contemporary kitchens. On average, kitchen island costs tend to range from $3,000 to $5,000. Some of the cheapest models can cost as low as $100, whereas more luxurious ones can go up to $10,000 and even beyond.
Many factors influence kitchen island costs. These include its size, inbuilt features (such as a drain/sink or bar), and choosing the kitchen cabinet or the kitchen countertop material. This guide aims to help you with the various ranges of kitchen island costs in the contemporary market.
What is the Average Cost of a Kitchen Island?
Kitchen island costs generally tend to lie between $400 and $10,000. On average, you can spend an average of $4,000 on your kitchen island. Unless you need an island with customized features, you can hire a kitchen remodeling professional or contractor services in your area.
For carrying out plumbing and electrical work with your island, you can hire the services of a licensed plumber and electrician, respectively. You can also hire a general contractor for subcontracting the plumbing and electrical work. Generally, they tend to charge around $300 to $400 a day.
Comparing Ready-Made and Custom Kitchen Island Costs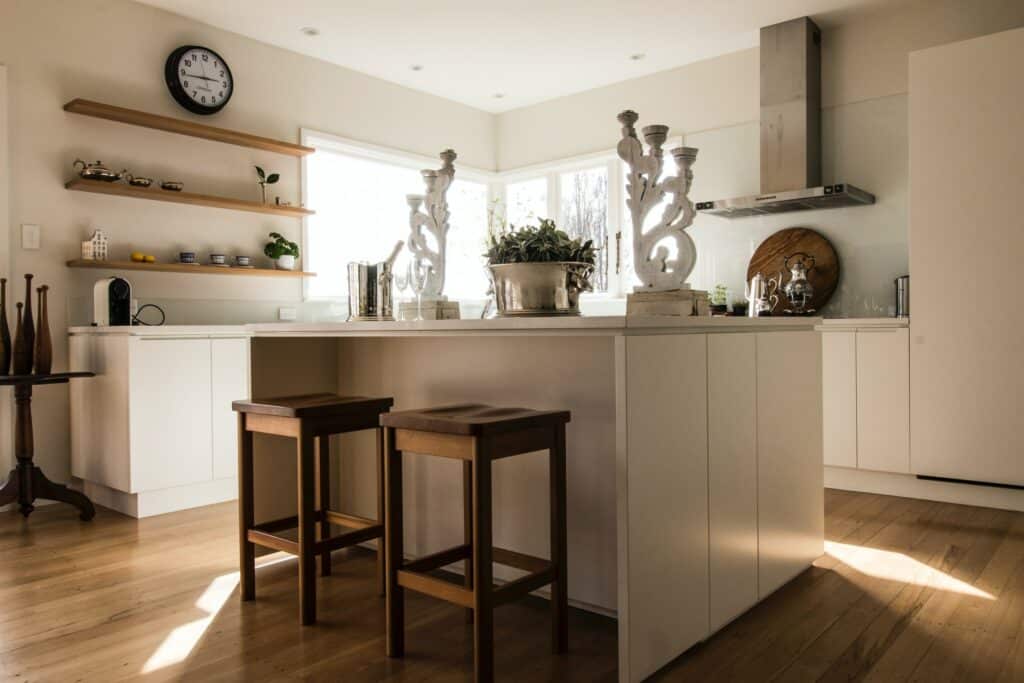 Kitchen island costs also depend on whether your island is custom or ready-made. Generally, kitchen island costs for ready-made islands range from $100 to $2,000.
Needless to say, larger islands with more features are remarkably costlier. Prefabricated islands can help you get additional storage or counter space without spending too much.
Before buying a ready-made island, make sure you compare its dimensions with that of your kitchen. Make sure that there are four-foot passageways around the island for allowing people to move.
On the other hand, the kitchen island costs for custom islands range from $3,000 to $10,000 and even more. The final cost depends upon the island's materials, size, and whether it has running water and electricity.
Island with a Dishwasher and Sink
Kitchen island costs for an island with a dishwasher and sink range from $3,000 to $5,000. You will not usually find slots for an oven/stove, dishwasher, or sink in prefabricated units. Thus, you might end up paying more for a ready-made island having those features.
On average, you will have to pay around $400 for installing a sink. That price will also depend on the material and type of the sink itself. Similarly, the cost of installing an appliance depends on its brand, quality, finish, and features. You can expect it to range from $150 to $300.
When installing an island with a dishwasher and sink, you need to account for other activity zones' locations. For example, your oven/stove, refrigerator, and sink need to be within 4 to 9 feet of each other. That ensures the free flow of traffic in your kitchen.
There should also be a distance of 3.5 feet between the wall cabinets and the island. There should be a distance of five feet between your island's dining counter and the wall.
Kitchen Designer Rates
If your island is part of a bigger kitchen remodeling project, you should hire a kitchen designer. Their charges range from $3,500 to $17,500. On average, you might have to pay around $10,000 for their services.
Plumbing Costs
Depending on the location and job, you may have to pay a plumber around $45 to $150 per hour. In case you hire a general contractor for the entirety of your island project, you need to ensure that the subcontractors are qualified professionals. Try to get it confirmed by consulting your state government.
Installing Electrical Outlets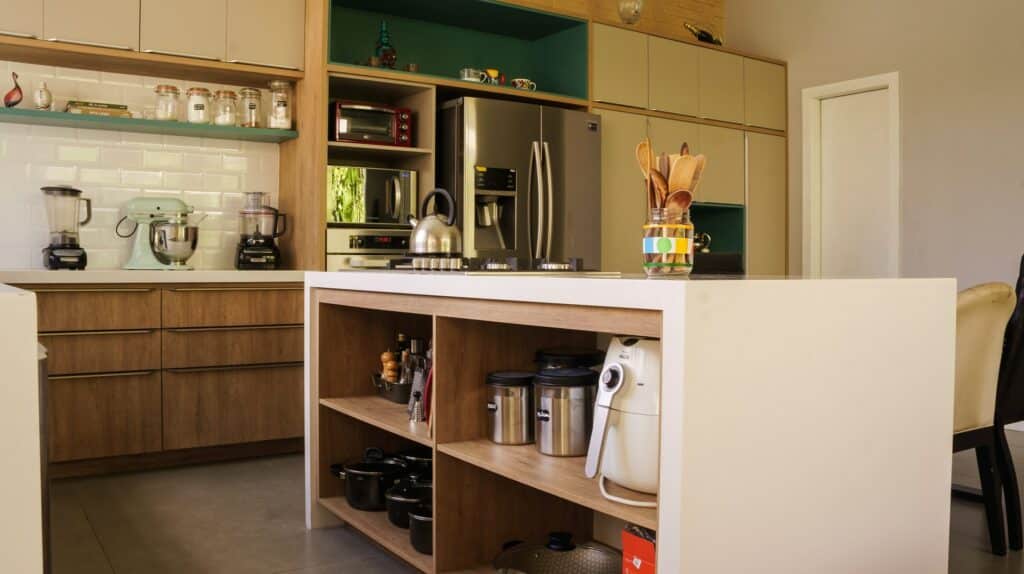 Strictly speaking, a DIY approach is not recommendable when it comes to electrical work for your kitchen island. Thus, you should consider hiring the services of an electrician. Their charges usually range from $50 to $100 per hour.
You will have to pay an average of $200 for replacing or installing GFCI outlets. Similarly, you will have to pay around $150 for installing a switch.
Adding a Range Hood and Oven
Whether you have a custom kitchen island or a ready-made one, the price for including a range hood, oven, or another appliance varies. On average, you will have to pay around $350 for repairing a kitchen cabinet. Similarly, fixing a kitchen countertop will cost you an average of $400.
If you add an appliance to a built-in island, you will have to pay up these costs apart from the installation charge and the unit's price. If we were to account for these appliances in the kitchen island's style, the total cost for the appliance and its installation would be very close to that of wall units.
For installing gas pipes, you will have to pay an average of $500. Before installing a range hood, you need to confirm that the exhaust duct extends outside.
The price of installing vents and ducts ranges from $500 to $2,000. To ensure that steam and smoke do not fill up your kitchen, you must check that the cooking space is smaller than the range hood.
Kitchen Island Base Cabinet Costs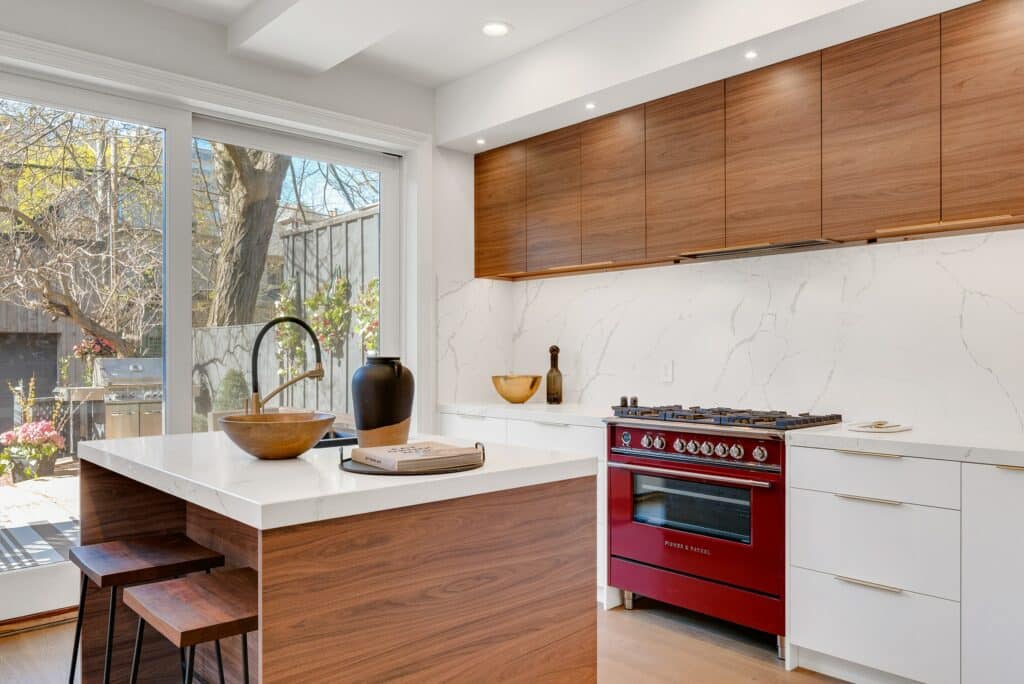 On average, you will have to pay around $5,000 for installing a kitchen cabinet of your choice. Depending on the material and size, the price can range from $300 to $18,000. Custom kitchen cabinets, on the other hand, will cost you $4,300 on average.
Some features add to a cabinet's price. For example, finished ends cost around $75 to $175 each. Trim and molding will cost you around $9 per square foot.
Flooring
Usually, you will have to pay around $200 to $500 for getting your kitchen's flooring repaired. By using a table or rolling cart as your kitchen island, you will not have to pay for the new kitchen flooring.
Replacing Your Existing Island with a New One
If you hire a waste/junk removal company's services, they will charge you around $130 to $400. You may consider this if you need to remove something big and bulky, such as a slab of granite.
You can go for a DIY approach if your unit does not have gas lines, electricity, or running water. In case it does have them, simply go for a professional demo. It will cost you as low as $400.