Home » How Much an Interior Designer Cost in 2022?
How Much an Interior Designer Cost in 2022?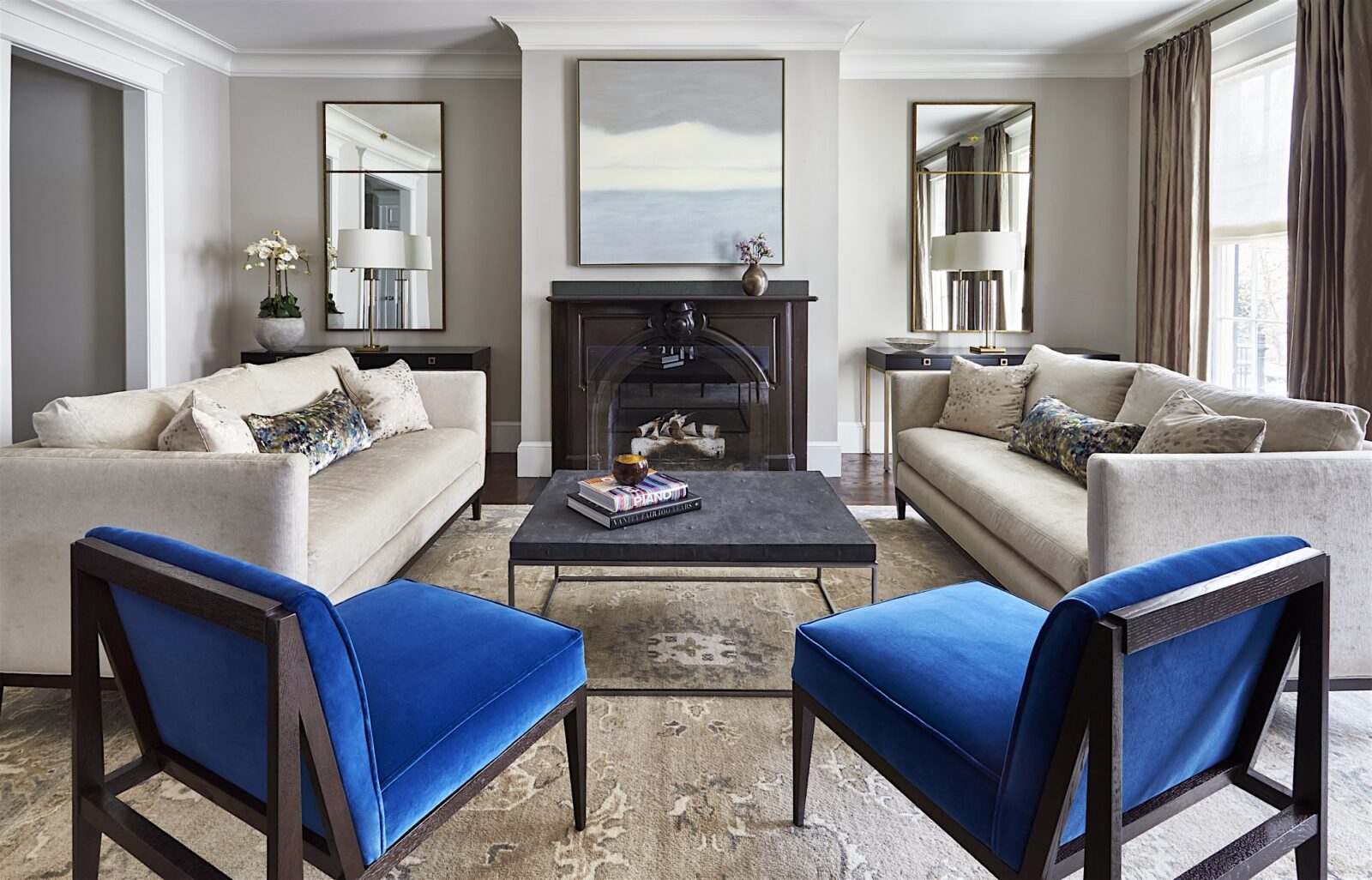 Tracy Morris Design
Check out our guide about the real cost of an interior designer and how to pick the right designer for your project.
A professional interior designer carefully evaluates your design requirements and budget and devises a work plan accordingly to improve your home. This takes all of the load off your shoulder and makes the whole decorating process carefree and convenient for you. But this ease of work comes with a price. Read further to find out how much an interior designer costs and how this cost differs from one project to another.
The Cost of Hiring an Interior Designer
There is no exact average figure for the cost of an interior designer. It is because of the fact that the expenses vary significantly, not just for different designers but also for different locations and the diverse demands of a project. For example, a person might end up paying more if the project location is in a metropolitan city and in cases where the project requires extensive work.
There are two ways an interior designer would typically charge you: By the hour or by flat rate. The type of charges also varies according to the kind of the projects, the total area of work, or the project timeline. There are also other arrangements such as hiring a freelance or virtual interior designer.
How Much Interior Designers Charge by Hour
If your interior designer is charging per hour, the expected cost would be an amount of about $100 for a junior-level designer. It could reach up to $500 for experienced personnel. In general, the average rate can be rounded off to $150 to $200 per hour. However, note that location is the key deciding factor. For an expensive metropolitan city like LA, this cost would shoot up further.
Do I
nterior Designers Charge by a Flat Rate
Coming down to flat rate prices, it varies according to the size of a space and even the number of rooms present. For decorating a single room, the designer might charge you something around $2,000, but again, depending on the location or requirements, this can reach up to a five-figure sum. Decorating an entire home or unit would typically cost you an average amount of $5,000 or higher. The number of hours dedicated by the designer is also a driving factor for the flare rate.
How Much Freelance Interior Designer Cost
Apart from hiring an interior designer full-time, you can also choose to onboard someone on a freelance basis. A freelance interior designer charges anywhere between $630 to $2150 for average labor of 8 hours. Freelance designers can be expected to deliver structural change designs, arrangements for furniture and accessories, color swatch choices, flooring design options, etc for your home improvement project. 
How Much a Virtual Interior Designer Cost
The advancement of technology has opened many doors for us, one of them being able to hire an interior designer virtually. In this setting, you are paired with an interior designer who will provide you with 3D designs of your space for renovation. Once you are satisfied with the designs, you can directly shop for required materials – furniture, backsplashes, flooring, etc. Virtual interior design packages cost between $150 to $500 depending on the number of rooms you are remodeling.
Even though the cost is a vital aspect to consider, you should first prioritize the quality of work that you would receive from a respective vendor. If the interior designer is competent enough and well equipped with skills, every penny spent on the project is worth it. Decorating your space is a one-time investment. Hence you should ensure that the work delivered is elegant and timeless. 
What Can You Expect From an Interior Designer?
As easy as it sounds to style a space and look for designs, it actually demands a lot of thought and expertise. An interior designer is more of a professional help who usually has an eye for every minute detail. This could be the rug's color or the texture of the furniture. The designer ensures to harmonize every element in the room and brings about your dream transformation.
Whether it is decorating or renovation of your old space, the entire process starts from a thorough discussion of the aspirations and inspirations presented by the client. Keeping these details in mind, the designers make the most appropriate selection for each and every homeware, furniture, or artifact. The completion of the project, however, depends on the area of work and the intensity it demands.
Do Interior Designers Buy Furniture?
Every purchase made for the designing process is solely finalized by the client. The designer helps in product and material selection or sourcing. It is upon the client to give the final nod. The client can choose to buy everything personally or subject the designer to make the purchases according to the requirements.
The interior designers are usually well aware of the market and prices involved. Hence it is smart to seek their help while buying furniture or any product. These designers also have a well-established network of vendors which enables them to approach reliable and adequate sources. This ultimately helps in the installment of high-quality, trending designs.
Should You Hire an Interior Designer?
An interior designer can make the entire design process fun and a seamless journey for you. Moreover, having a professional brings about the possibility of building your ultimate dream space flawlessly and in a hassle-free manner. Even though hiring a professional might burn a hole in your pocket, it will be a smart investment for the long term. And will provide you with contentment and stability with regard to the space.