Home » Contemporary Bathroom 101
Contemporary Bathroom 101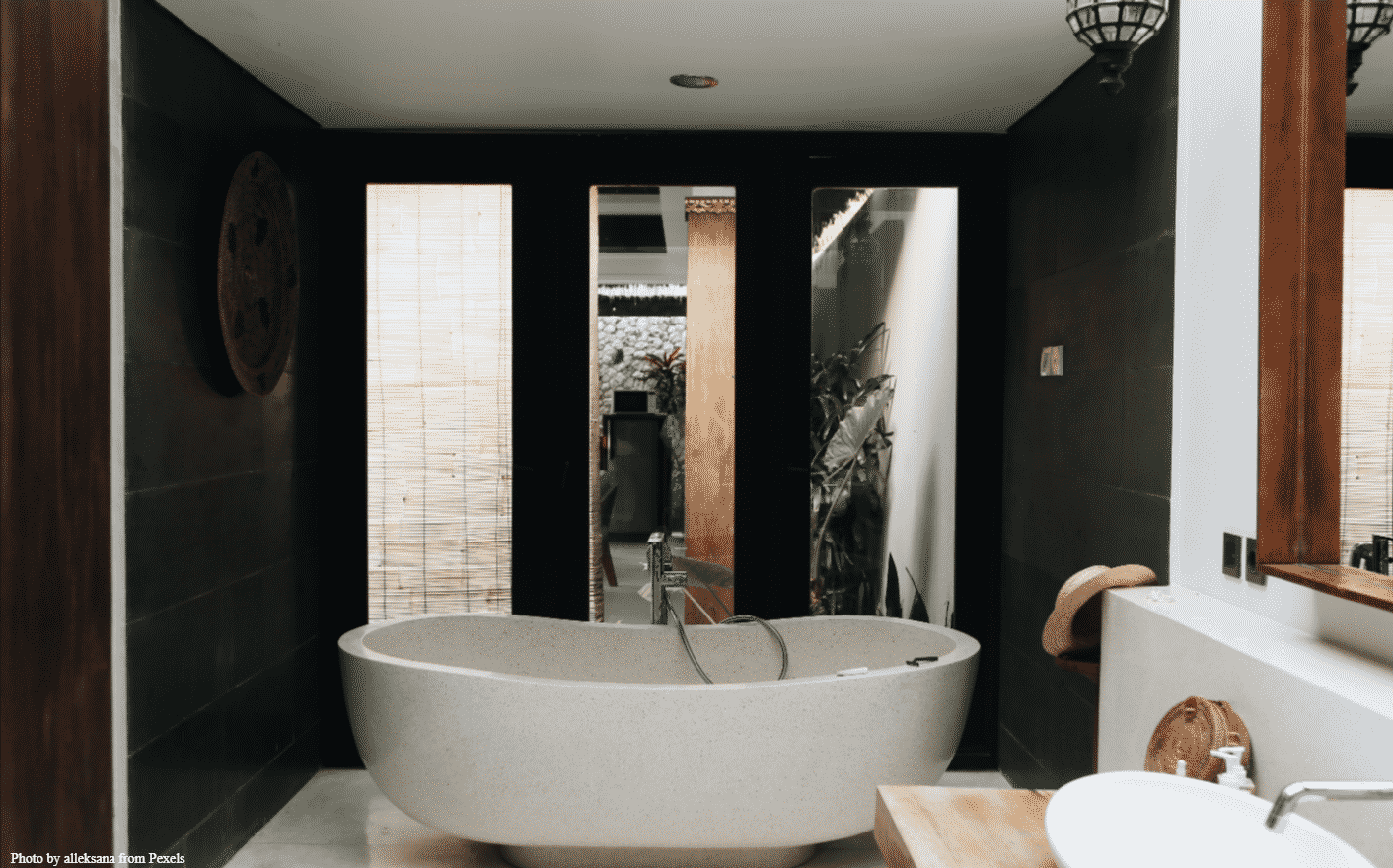 Contemporary bathroom design can mean different things for different people. However, one thing that everyone would agree upon is that it is about introducing a sense of modernity and a different style in your home. Even though contemporary design seems pretty straight forward, it is also often misinterpreted.
For instance, most people think of contemporary as boring and bland. Many homeowners might also hesitate before using a modern bathroom design. However, the truth is far from it. To help you make sense of this design style, we've put together the 'Contemporary Bathroom 101 guide' to facilitate a better understanding of this style before your next bathroom remodel.
Color is Crucial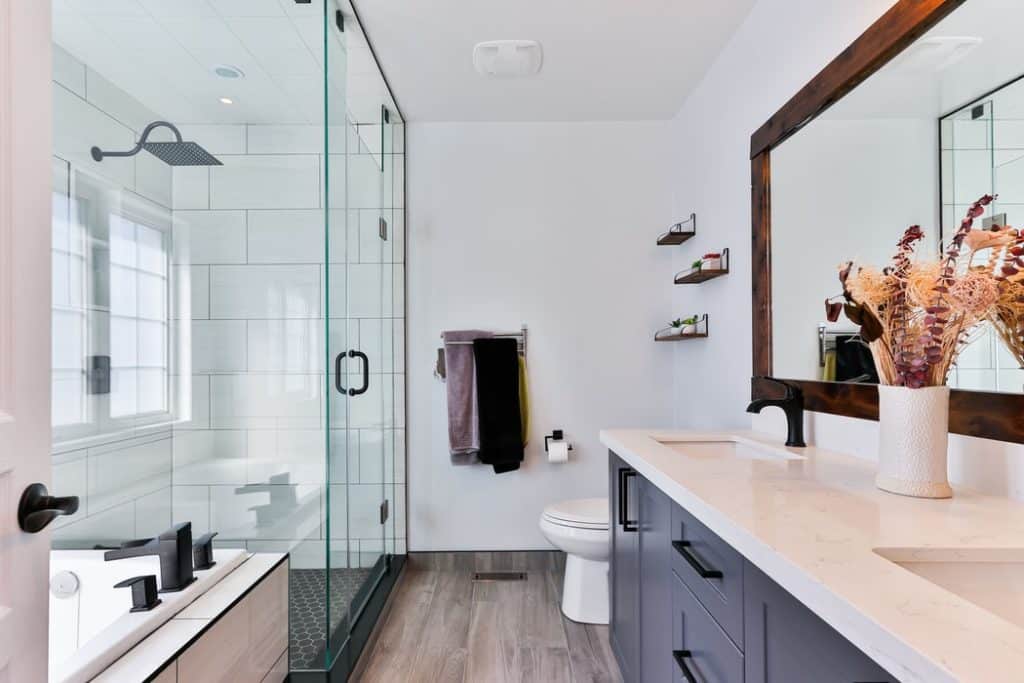 Color selection is one of the core factors of contemporary bathroom design.
The reason behind this is simple. Color sets the tone for any space, including the bathroom. Just like every design style, contemporary design has a set of colors that fall into its spectrum.
For instance, neutral colors like white, cream, gray, beige, and various pastel colors tend to make up a significant chunk of the contemporary color scheme. That being said, these colors might be too muted for many. To counter this, you can easily use several tricks and tips.
For instance, you can add a bright accent wall to stand out against a neutral color scheme or add accented hardware (more on that later) to liven up space. Remember, just because you are using neutral colors doesn't mean that you can't have fun with it.
Contemporary Bathroom 101 is all about embracing new trends and bringing in the sense of modern design to your bathroom space.
Spacing and Lines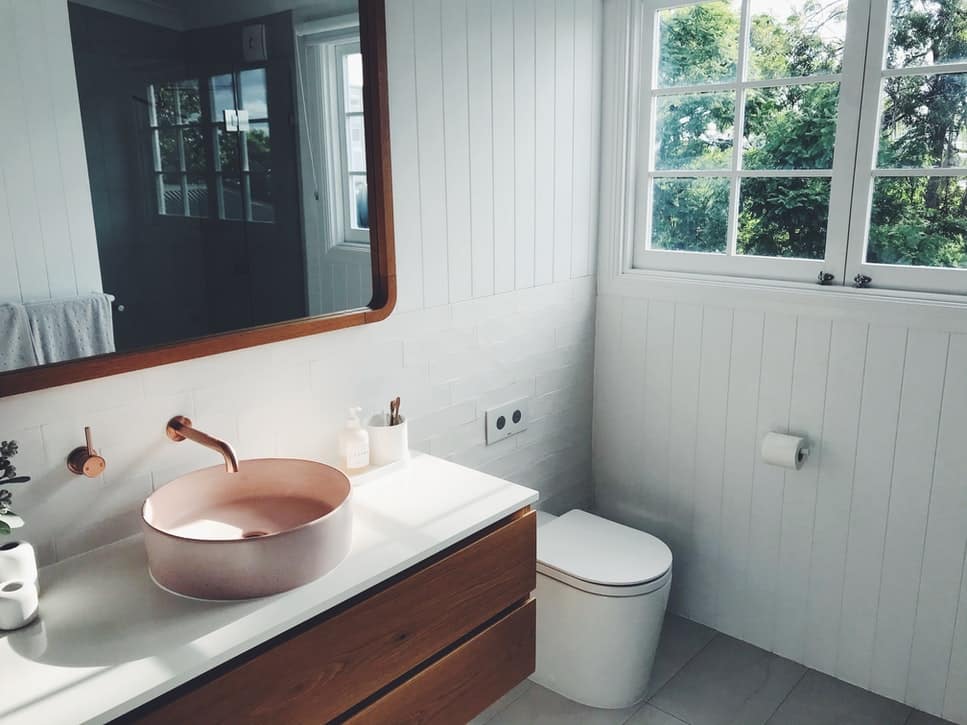 One of the critical elements that make the contemporary design stand out, especially in bathrooms, is the use and distinctiveness of 'lines.' If you glance around a standard contemporary bathroom, you'll know what we're talking about.
For instance, strong forms like rectangular and circular are continually reinforced, whether through fixtures or the general layout.
Similarly, the overall layout of a contemporary bathroom also stands out. Unlike many design styles, contemporary style believes in 'less is more.' You'll want to ensure that your bathroom is minimal, open, and clean. The idea is to let the bathroom space speak for itself with minimal intervention from fixtures and hardware.
Focus on Fixtures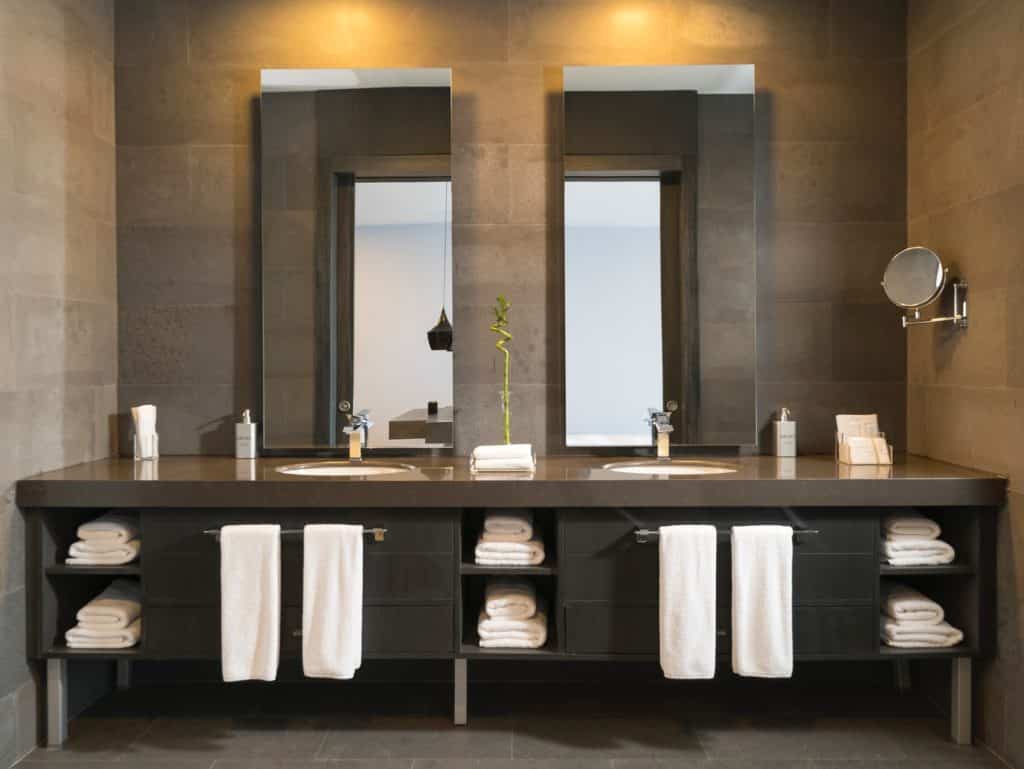 If there is one space in your home that needs to focus on fixtures, it's your bathroom. Similar importance to fixtures is given in contemporary design as well. Not only do fixtures and hardware complement the overall aesthetic, but they also play an integral role.
For instance, contemporary bathrooms are known for their sleek fixtures like rectangular vanities, and more modern versions include floating vanities and circular bathtubs.
On top of this, even something like taps and towel hangers that often seem inconsequential plays an essential role in contemporary design. Remember how we talked about accented metal?
Most contemporary bathrooms shy away from simple steel hardware to combat the otherwise muted palette. Instead, you'll often find brass faucets and brass handles on cabinets or something like matte black hardware that accentuates the bathroom design.
Choice of Materials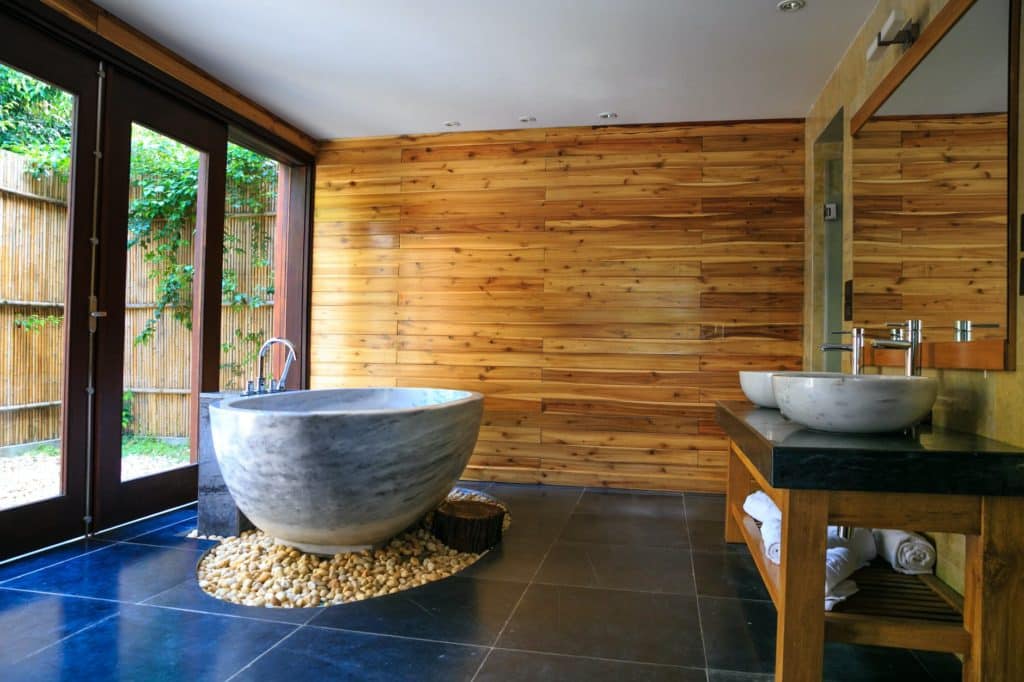 The whole idea of contemporary design is to embrace newer ideas. What most people dismiss as unconventional is often adopted in this design. This brings us to the choice of materials.
When you think of bathrooms, you think of granite or marble. However, things often go a step further. Because contemporary design focuses on new ideas, you will often find materials in bathrooms previously unheard of.
For instance, ceramic, stone, glass, wood, bamboo, slate, etc. are standard in contemporary bathrooms. You can incorporate these materials in many ways. You can expect anything from wooden vanities to stone countertops and more.
Let There be Light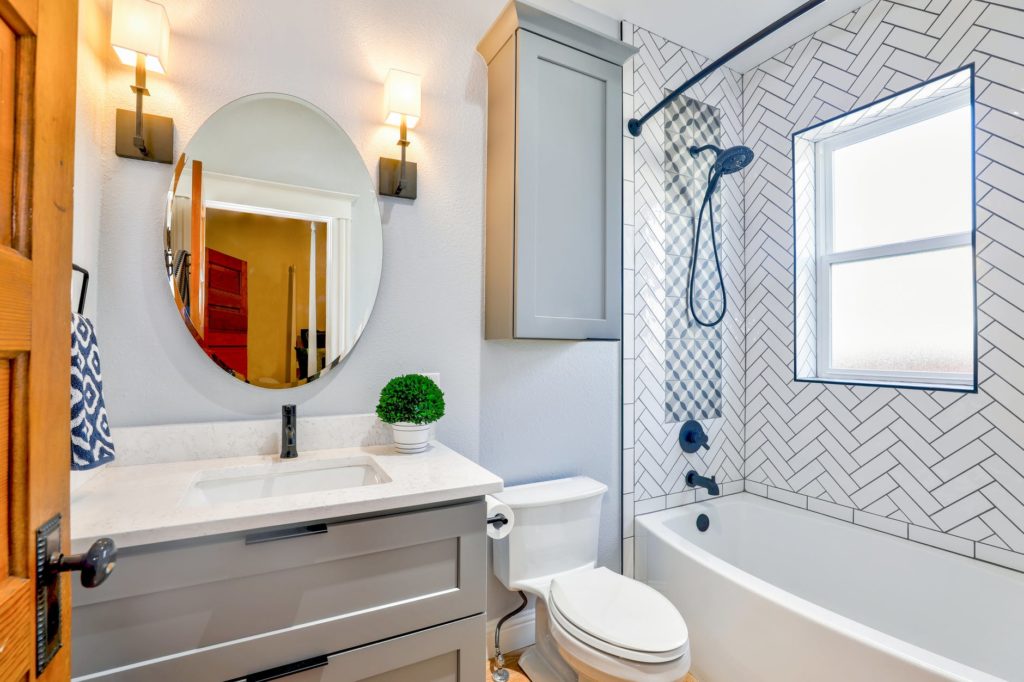 For any room, the lighting decides the perception people have of it. You could have the most exquisitely designed bathroom, but all it takes is dull lighting to ruin the aesthetic. That's why both contemporary design and bathrooms rely highly on the lighting.
As it's known to be minimalistic, contemporary design doesn't naturally stand out. It stands out only as a combination of various factors that help bring out the design. And lighting is one of them.
In general, most bathrooms are usually small, dark and need extra support to stand out, and that's where good lighting comes in.
Unlike traditional designs, contemporary bathrooms don't rely on standard lighting fixtures. However, they do rely on natural lighting and minimal but effective lighting fixtures. In most contemporary bathrooms, you'll often find large windows.
However, that's not always viable. In such cases, you'll notice modern light sources like floor lighting, recessed lights, mirror lights, etc.
Future Forward Design
If there's one design that you should consider for the future, it is the contemporary design. Contemporary design isn't just about incorporating modern elements, but it is also about getting ready for the future.
For instance, a lot of contemporary bathrooms consider adaptability. You want the bathroom to age and adapt to you instead of stagnating. For example, you'll often find easy access, multi-generational functionality, and easy to change fixtures.
Another aspect is the eco-friendliness of design. Contemporary bathrooms are often sustainable. More and more homeowners are becoming eco-conscious with their purchasing decisions. You'll often find recycled glass, reclaimed wood, and more in contemporary bathroom designs.
The crux of 'Contemporary Bathroom 101' is to branch out. Modernity and experimentation are the way forward when it comes to bathroom designs.
Whether you are remodeling your bathroom or merely seeking some design knowledge, contemporary design is definitely among the top contenders in today's home remodeling market.