Never underestimate the transformative power of good lighting. Bathroom lights, by default, tend to be functional yet minimal. If you want to go beyond a well-lit bathroom, explore your options for shower lighting ideas. Typically, a shower stall is lit up from the basic ambient lighting a bathroom has. However, taking the time to give a shower stall its own dedicated lighting is well worth the effort. Whether you want a serene and spa-like shower or something bright and uplifting, use the power of good lighting to achieve the kind of shower space you want. 
[ez-toc]
Here Are 10 Shower Lighting Ideas To Install In Your Space
Recessed Spotlights With A Dim Switch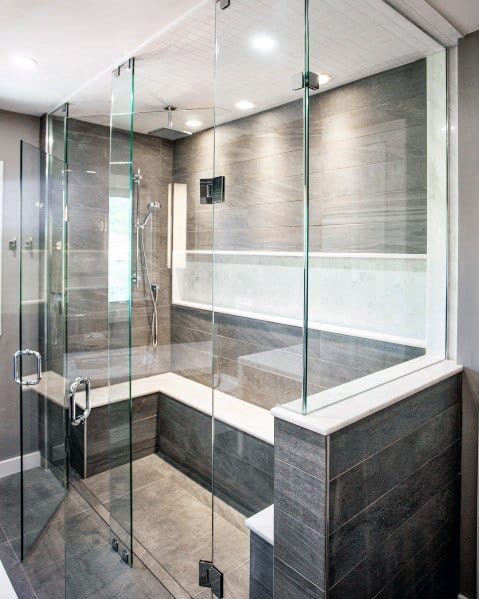 Spotlights that go into your shower ceiling pair beautifully with most bathroom styles. They provide light without cluttering up the look of your ceiling. Recessed spotlights also draw focus and definition to your shower stall. 
Add a dimming function to recessed spotlights. This allows you to switch the light settings to suit your mood and the time of day. For instance, turn up the brightness  to help you wake up during your morning shower. Come evening time, dim down the light. Having a dimming switch in your shower stall is a great way to transition between busy days and restful nights. 
Recessed Shelf Strip Lights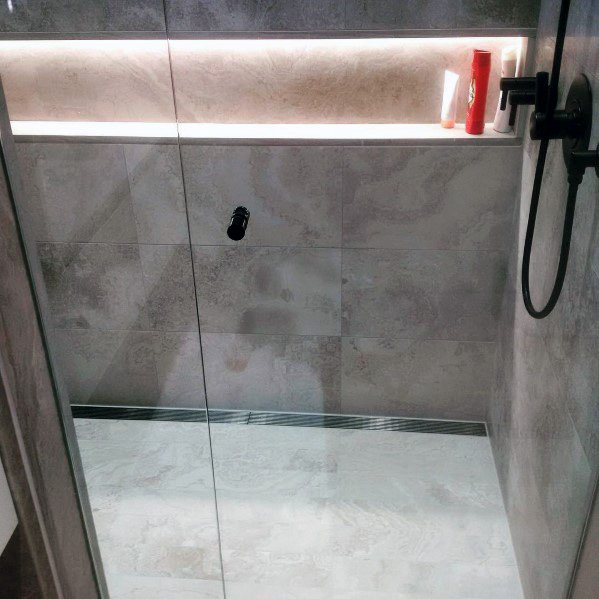 For bathrooms with recessed shelving, add striplights along the top and bottom shelf. This is a surefire way to add allure to an otherwise streamlined space. The striplights give a soft glow to a shower stall very much like a spa. 
For bath care product enthusiasts, recessed shelf striplights are the perfect way to highlight and display beloved curated bath products.
LED Strip Lights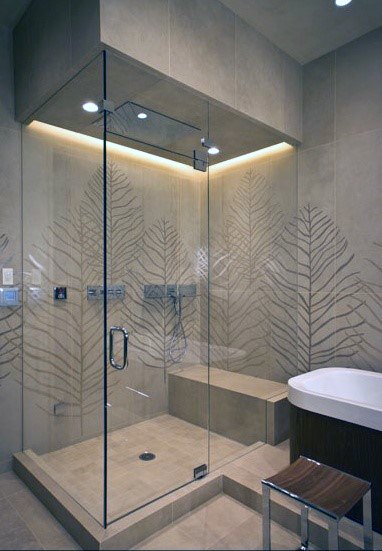 Speaking of strip lights, take it up a notch and run them throughout the perimeter of your shower stall ceiling. They provide powerful illumination while looking sleek. The effect it creates is a lovely line of light around your shower stall. As if that weren't enough reason to want them, they merge seamlessly with the natural lines of the ceiling. 
LED Shower Head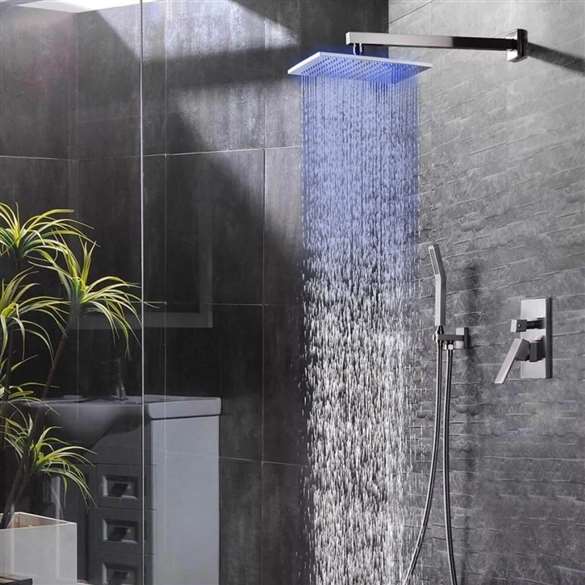 There are shower head designs with built in LEDs that activate from water pressure. You can choose from multicolored or a single colored light to illuminate your shower water. As you can imagine, this creates a surreal effect and adds a sense of whimsy everytime you take a bath. 
LED shower heads are stand-alone pieces in themselves. To get the most of their effect, LED shower head lights stand out especially well in dark toned bathrooms. If you have dark tiles, modern bathroom fixtures, sleek lines and an overall minimalist aesthetic, LED shower heads provide a perfect contrast with its brightness. 
Recessed Floor Light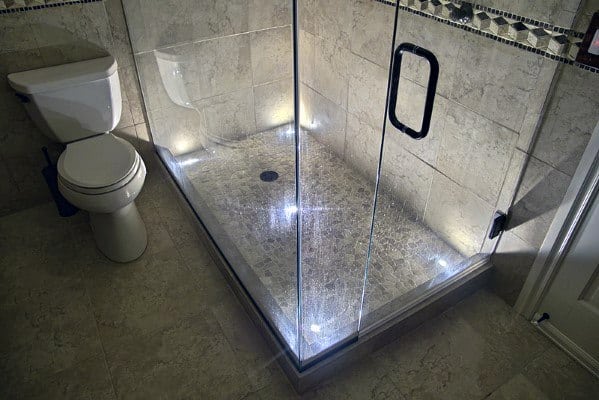 Exciting and often unexpected, add shower lighting on the floor of your shower stall. Think spotlights, but on the floor. Reminiscent of a performance stage, floor lighting creates the illusion of heightened space. They also balance the light that comes from the ceiling. 
Bulkhead Light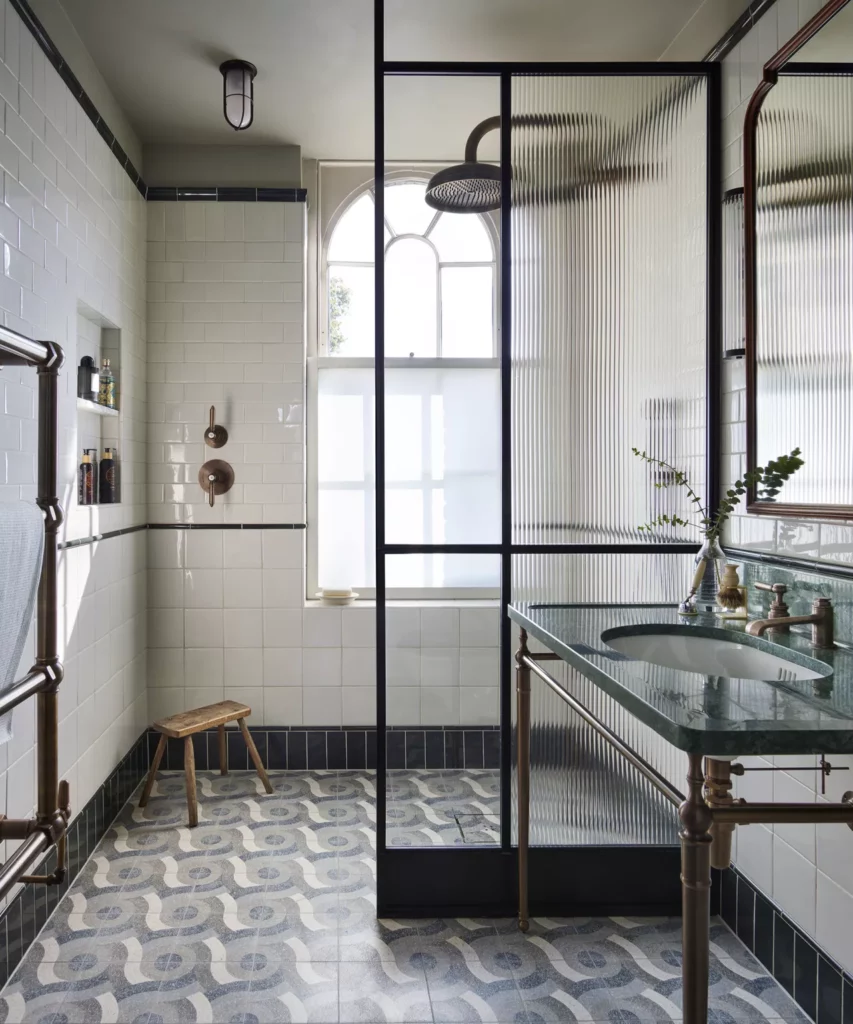 If you want a central light piece in your shower stall, a bulkhead light could be just what you're looking for. Bulkhead lights go well in bathrooms with an industrial look as a fitting that protrudes from the ceiling in a caged frame. A bulkhead light is the perfect functional accent piece if you want to add more character to a modern shower stall. 
Wall Sconce Light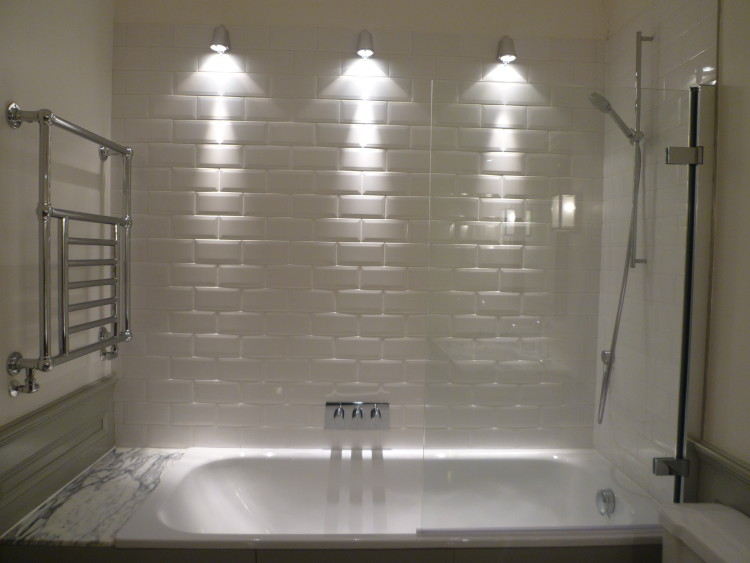 To break up the monotony of smooth shower stall walls, consider sconces. Wall sconces are beautiful and come in an array of designs. You can also select which direction you want the light to go in. While they don't provide ambient lighting, they are perfect for lighting up and giving character to a plain shower wall. 
You can place them anywhere you want on your shower walls. Try placing two wall sconces on either side of your shower head so the lighting frames your shower stream. Alternatively, you can place a down wall sconce lighting over shower shelves to draw more attention to the fixture. 
LED Ceiling Lamp Light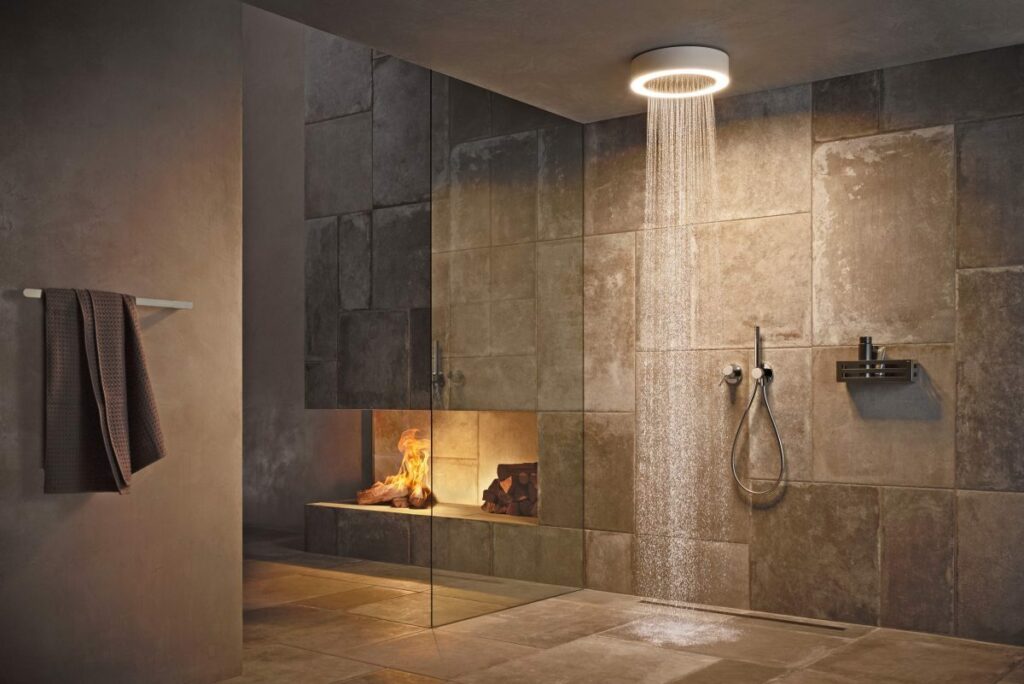 An LED ceiling lamp light is the perfect way to tie your shower stall together and create a central focal point for the space. An LED ceiling light creates a beautiful and wide halo that feels fantastic stepping into every time you shower.
Make Room For Natural Light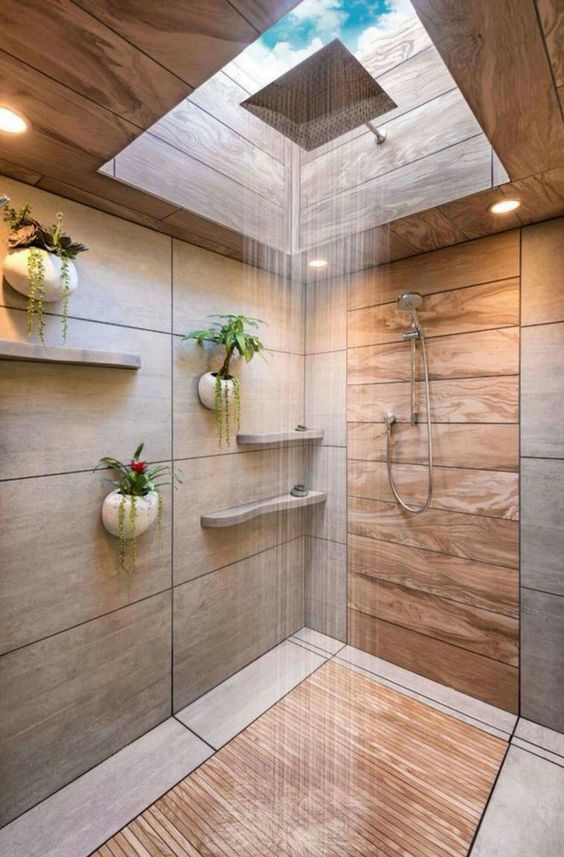 If you're considering a bathroom remodel, you may want to create space that allows more natural light into your shower stall. 
Opt for rippled block glass or frosted glass to let in light without compromising privacy. If you want to make the most of your bathroom's natural light potential, incorporate a skylight.
Layer Your Lights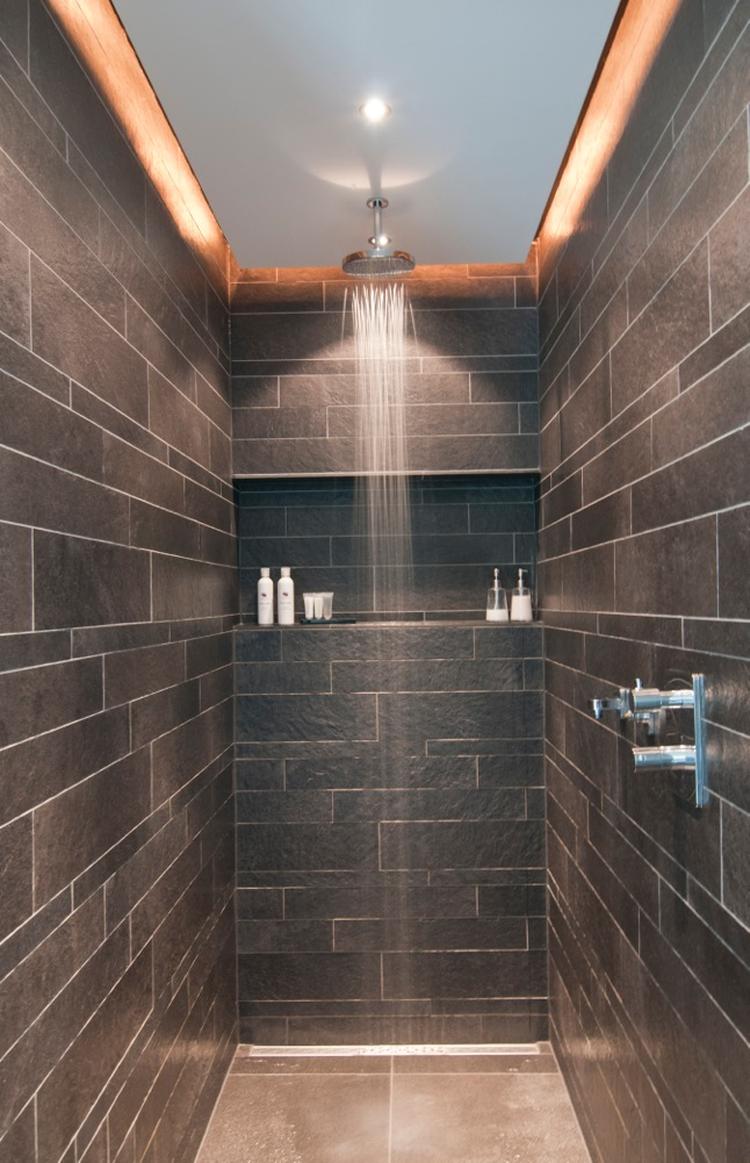 Layering your shower stall lights might seem extravagant, but you'll be happy you decided to do so when you see the difference. There are many sleek lighting designs that can illuminate your shower stall on different levels. Try layering a mix of different lights to create an all over glow. 
For example you could try layering ambient lights on your ceiling and recessed track lights in your shower shelf. This gives you all the lighting you need while also adding a focal point in your shower. 
Things To Consider
Due to the water and moisture that shower stall lights will inevitably be exposed to, you can only select lights with a specific IP. IP, or ingress protection, is a rating that marks the light design as safe to use near water. Keep this in mind as you go over shower lighting ideas. 

Know your bathrooms lighting zones to determine what type of lights are feasible to install. You can consult the blueprints of your bathroom, an electrician or a contractor to go over your bathrooms set lighting zones. 
Transform your bathroom by incorporating shower lighting ideas that appeal to you. Today, there are so many lighting options that are both practical and decorative. With the right lighting and a mere flip of the switch, your bathroom becomes your own luminous  oasis.