Home » DIY Kitchen Backsplash Ideas That are Easy and Budget-Friendly
DIY Kitchen Backsplash Ideas That are Easy and Budget-Friendly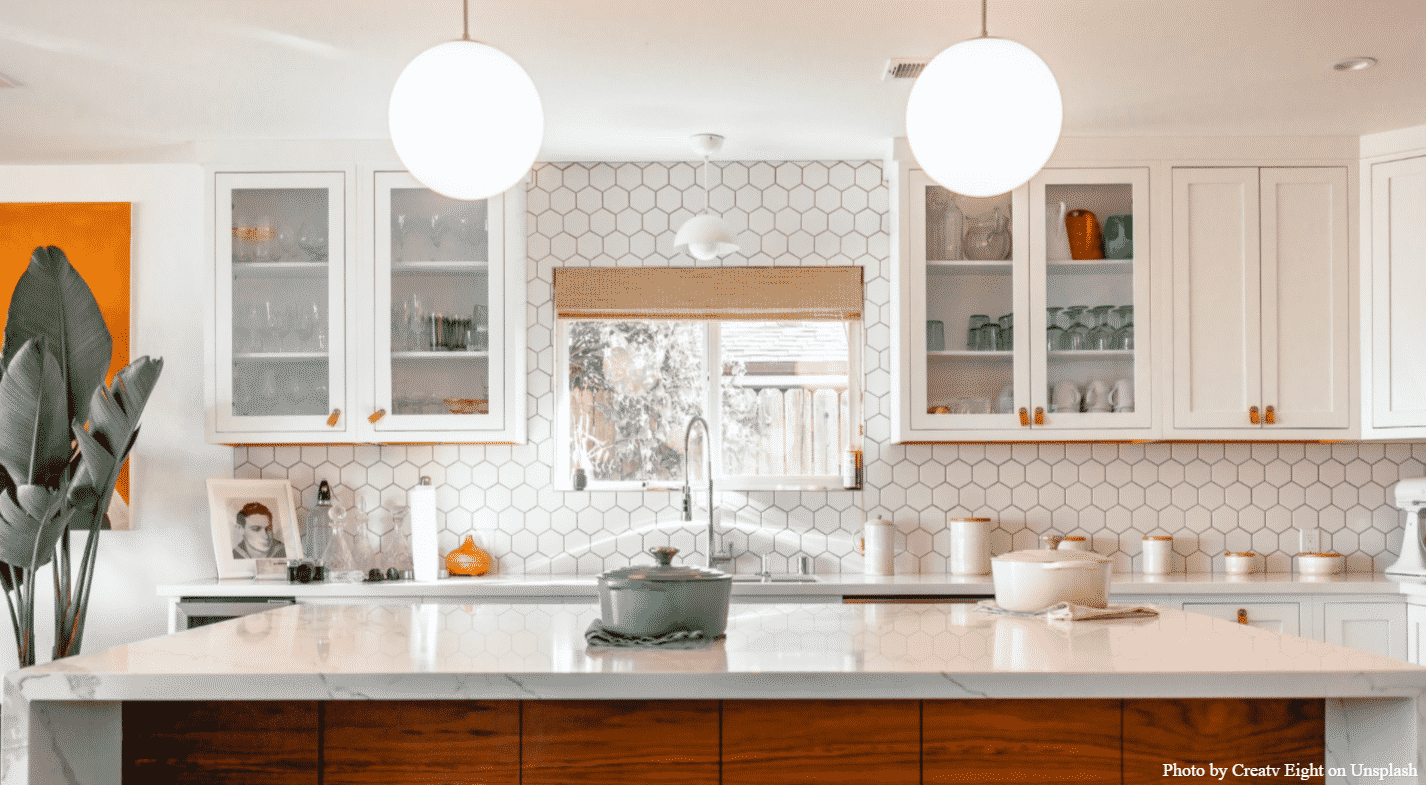 If you plan to give your house a bit of a makeover, there are innumerable DIY kitchen backsplash ideas for you to take inspiration. 
If you are a homeowner, you may have other interests such as selling your house in the near future, for which you are willing to put in the required efforts, but if you are a renter, such renovation projects are so not worth it.
You can happily call in professionals for things like flooring, plumbing, electrical, etc. But when it comes to a backsplash, it is an easy DIY task.
You put the kitchen backsplash on the wall between the kitchen countertop and the wall cabinets. And there is no scarcity of ideas for a durable, affordable, and beautiful backsplash that can spruce up your kitchen in no time!
Here are a few DIY kitchen backsplash ideas to brighten up your kitchen and give it the perfect makeover!
A Stick-on Vinyl Backsplash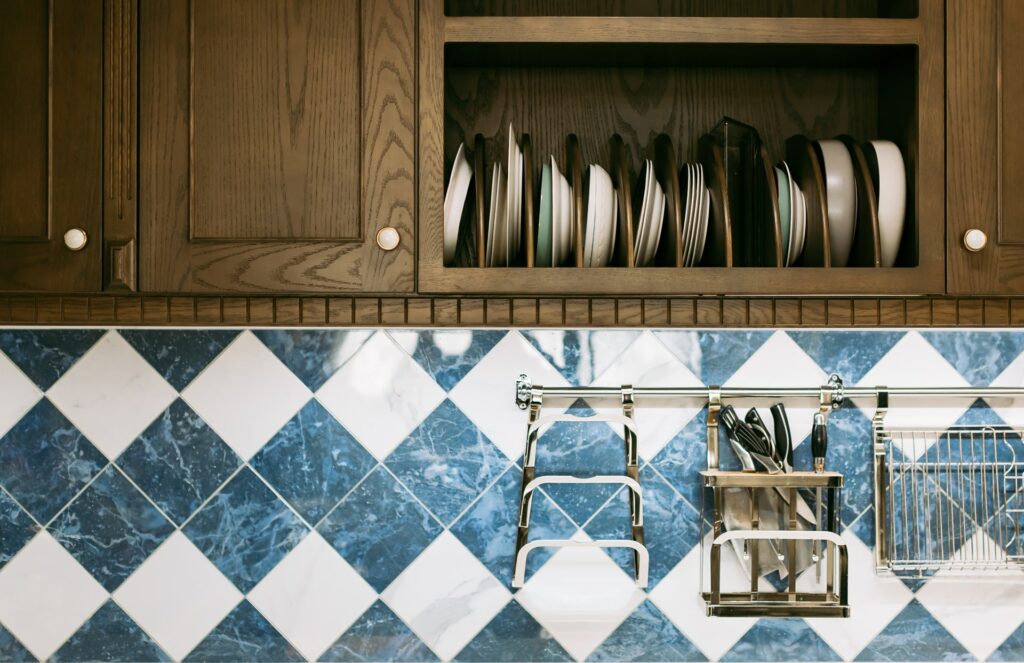 A stick-on vinyl backsplash is the most popular and affordable way to give your kitchen backsplash the spruce it needs. If you have existing tiles backsplash, but feel that you need to deck it up a bit, stick-on vinyl backsplashes that come in many patterns and designs, at an extremely cheap cost. 
It does not involve any significant construction and is best for people who cannot commit to one design or pattern for a long time. It comes with adhesive backing and is effortless to apply.
You do not need any professional help, and you can get over it in a day! Stick-on vinyl looks like a stencil design or an intricate tile work, but it is merely an adhesive that you stick over a painted wall, and it does not even leave any residue during removal!
Paint Your Existing Backsplash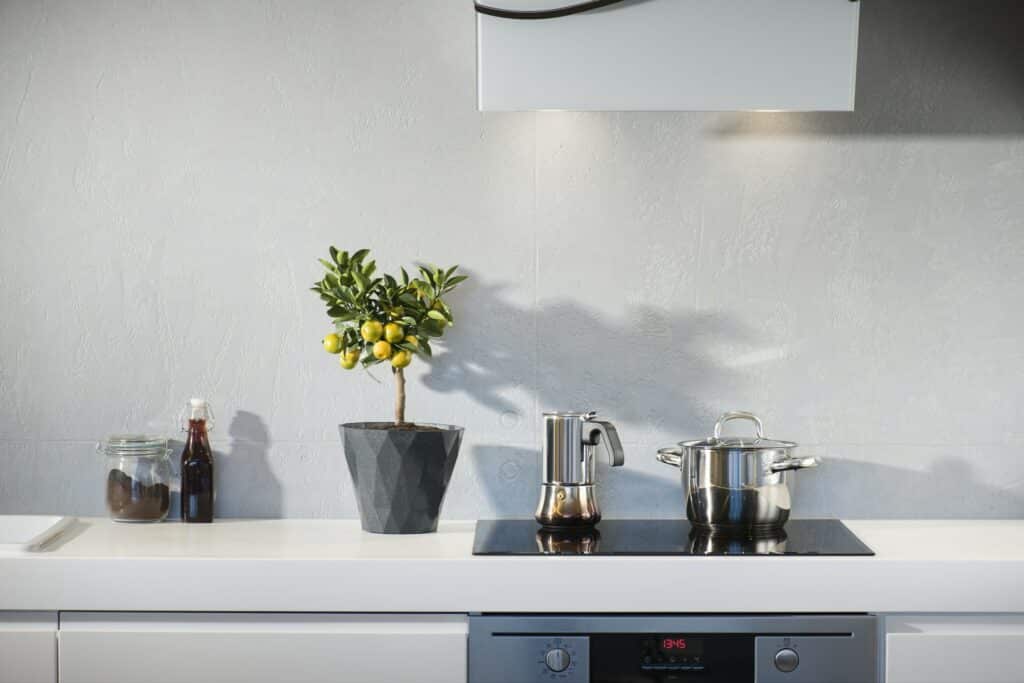 The simplest and the fastest of the DIY kitchen backsplash ideas is to simply paint one. You can groom your existing backsplash and add a pop of color is to paint over the existing drywall or tile.
This is a very pocket-friendly method, and you can get over it in just an hour or two. It is as simple as painting over a dull brown tile, a bright red color. Painting over it gives the backsplash the enlivening factor that it needs and brightens up your entire kitchen instantly!
Either you can choose to paint one block color on all of the backsplash simply, or you can give it any design of your choice using stencils, sponging, creating herringbone patterns with the help of sharp and flat objects, etc.
Mirror Backsplash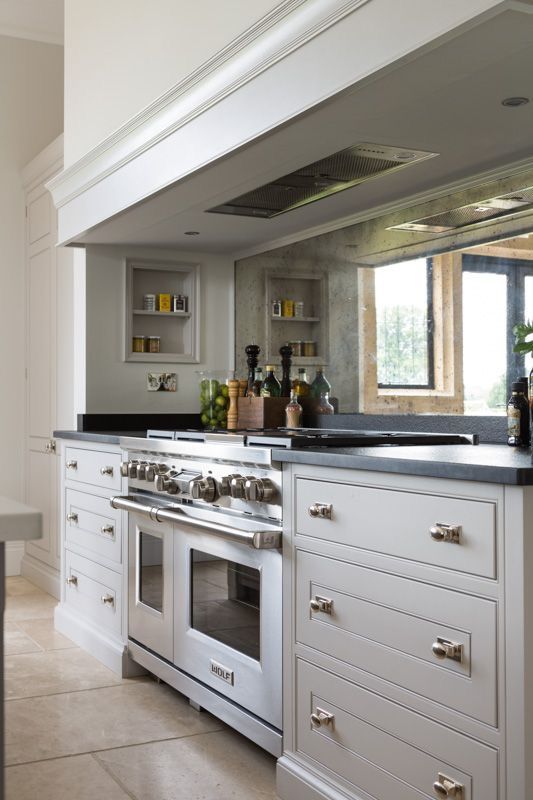 Not all houses are gigantic, and not everyone is lucky to have long, sleek, and stylish kitchens. Many of them have small kitchens that need a little makeover to make it worth surviving in. Fortunately, there are several means to make the little area you call a kitchen look good and be more functional. 
The worst issue with small kitchens is that they make you feel claustrophobic and stuffy. One of the finest tricks to make your kitchen feel more airy and spacious is to put a mirror in there.
And the best place to put the mirror is as a backsplash. Mirrored backsplashes help brighten the room by reflecting the lighting from the nearest window and gives the illusion of more space. 
Rock/Stone Backsplash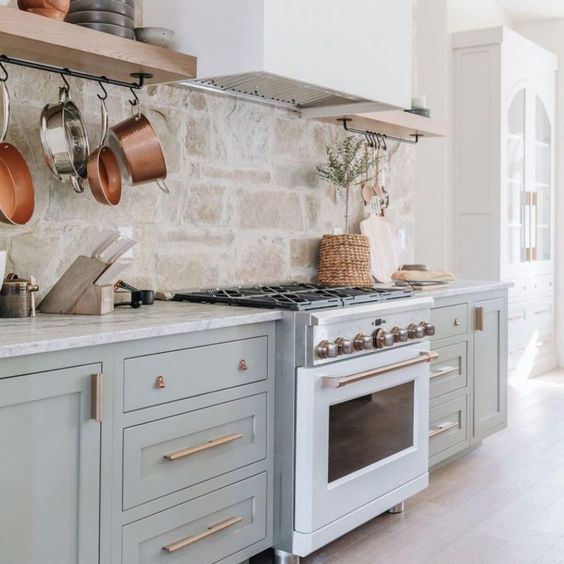 A stone or a rock kitchen backsplash is quite a unique idea for your kitchen. People do not generally take this up, so you can stand out from the crowd. Rocks are more prominent, so if you wish to apply those as your backsplash, make sure that you do not visibly show the use of grout, 
and place the rocks in such a way that they look stacked upon one another. Also, make sure that all rocks are the same size.
If you are going for the stone backsplash, it is quite similar to the rock, but it uses a different technique, and the size is different. You can buy these little stones at the shop, and they will cost you around $2.50 per square foot, so that is one pocket-friendly deal! 
To go through with this project, you must apply the grout and spread it evenly on the entire surface. Then start fixing the stones on the grout. Since the stones are not of the same size, just make sure that you cover the whole wall in an interlocking pattern. You will get your garden stone kitchen backsplash in no time!
Chalkboard Backsplash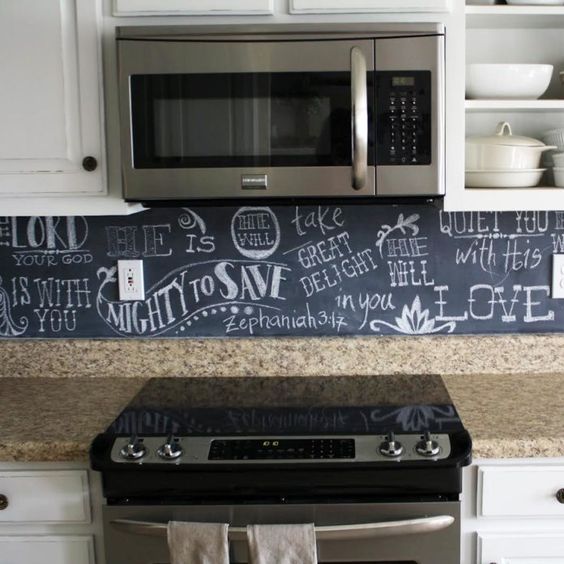 Another excellent option for you as a kitchen backsplash is to hang up a chalkboard. You can either hang up the chalkboard or use chalkboard paint to color the backsplash area. This is an excellent idea because the possibilities are ever-changing. Over and on top of that, a chalkboard backsplash is very helpful while you are cooking. 
Since you position the backsplash between the cabinets and the countertop, mostly behind the stove, you can always write recipes for future reference, make a to-do list, and much more!
You can even have fun by writing cute little notes and quotes in there to start your day with. If you have an artist in the house, they can draw a piece of art there, and very conveniently erase it and draw something else later! What better idea for a backsplash than this!
Laminate Backsplash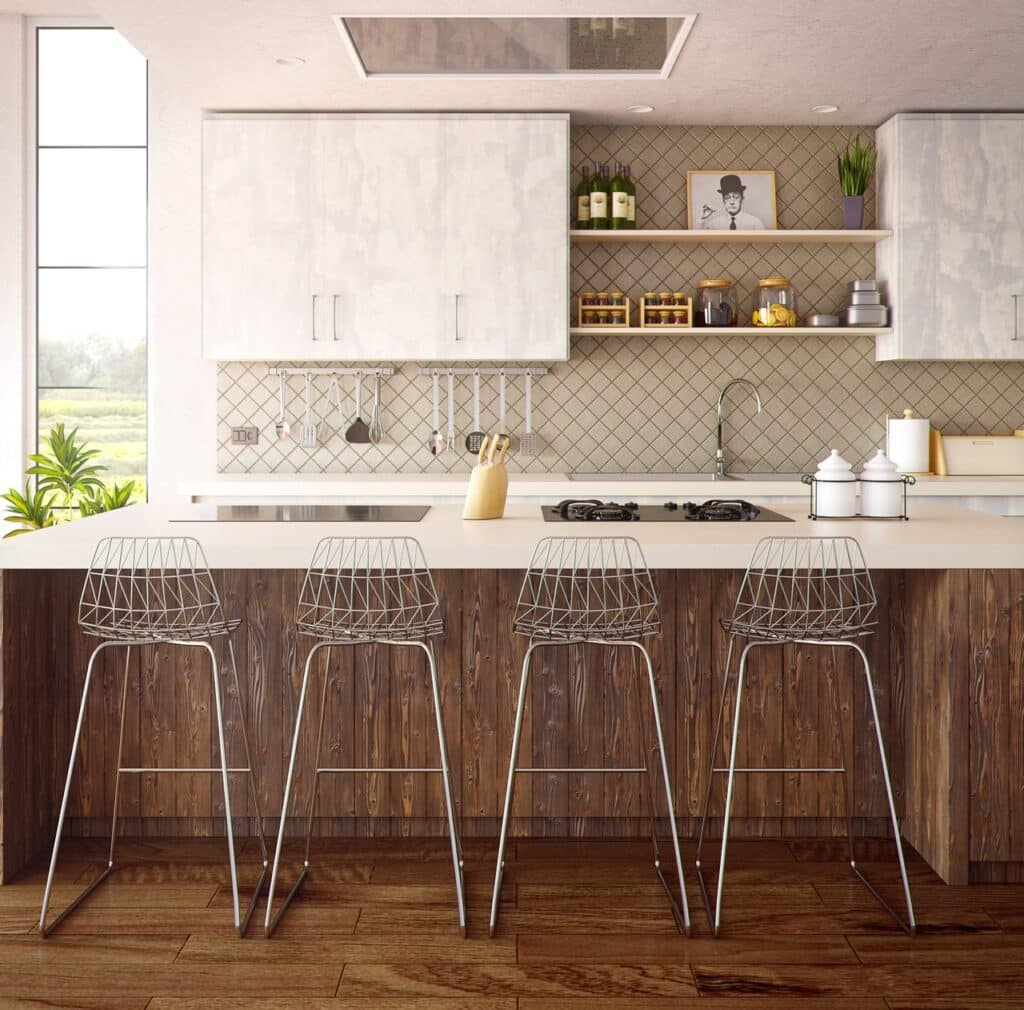 It is a great way to get a modern and luxurious look for your kitchen without actually spending a lot on it is by putting laminate backsplash.
This is the best way to get a good wood look without putting any wood in there. Buy laminate from any local home improvement store, get some adhesive, and stick it on! These laminate backsplashes are cleanable and waterproof and are one of the best DIY kitchen backsplash ideas for your kitchen.
Beadboard Backsplash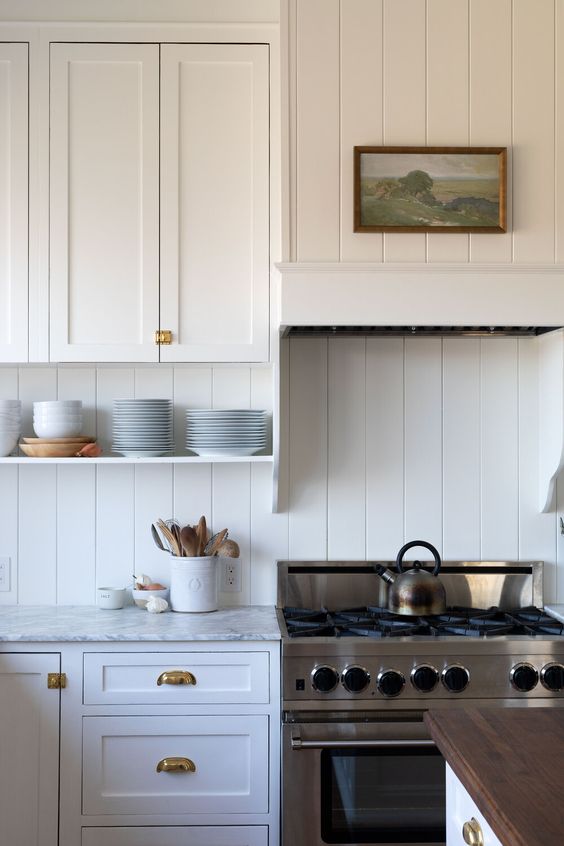 If you get bored with your kitchen backsplashes too quickly, here's a fantastic option for you that is budget-friendly and easy to install and remove. Yes, beadboard isn't completely waterproof but when sealed properly it can be an excellent option for DIY kitchen backsplash ideas.
All you need is pressed wood beadboard and construction adhesive which costs hardly anything. Once installed, choose your favorite paint color, and voila, your backsplash is ready.
Faux Brick Backsplash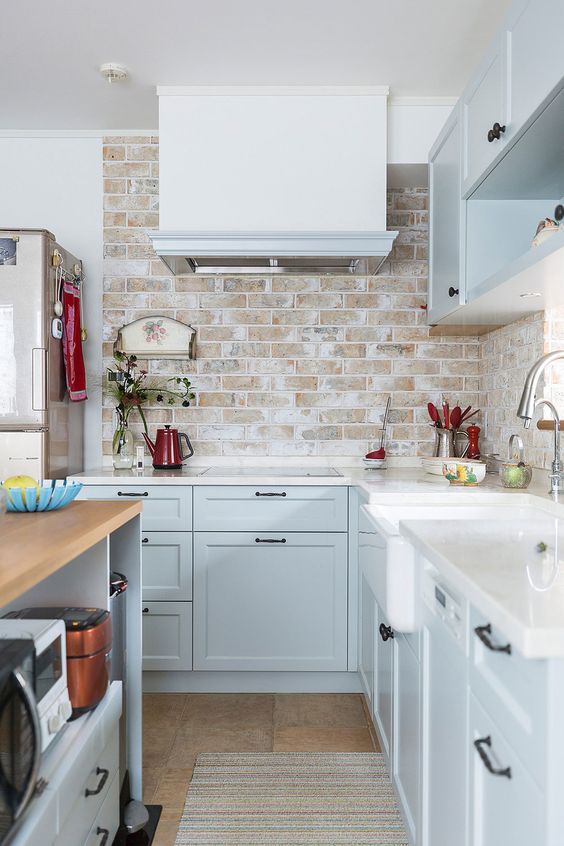 Want to give your home a vintage aesthetic with brickwork kitchen backsplash? Here's an example.
However, this isn't actual brick as you might be thinking. It is a more budget-friendly option that you can install yourself – tileboard. It is a fiberboard with medium density and a hard melamine layer that gives it the look of expensive materials. Tileboard commonly adopts the look of tiling. However, you can also look for options that look like actual brick.