Home » Pros and Cons of Kitchen Countertops To Consider Before Deciding
Pros and Cons of Kitchen Countertops To Consider Before Deciding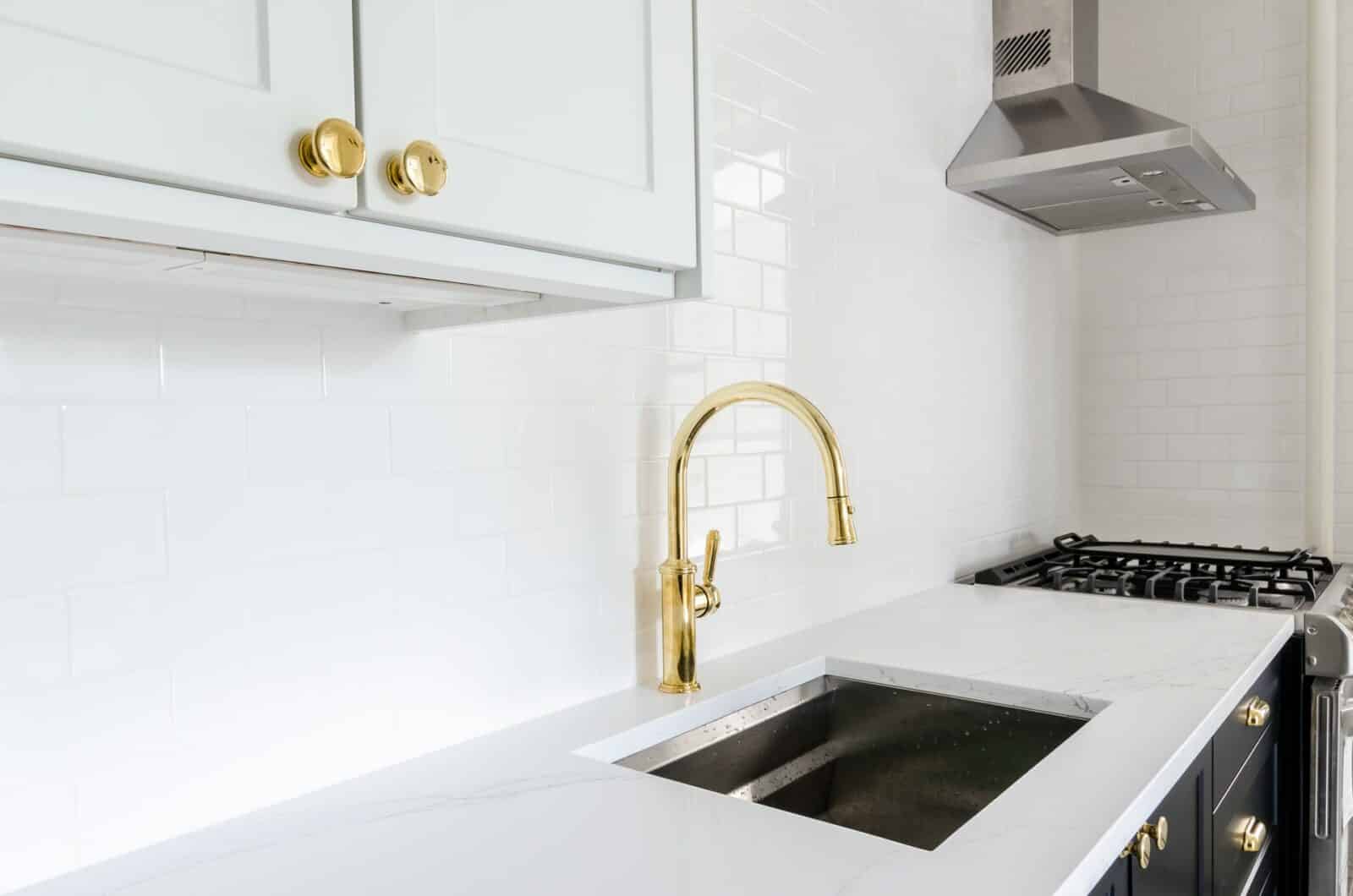 Kitchen countertops take up a significant portion of a remodeling budget. They also contribute to how well the room functions overall and sets the tone for the room's design aesthetic. That's a lot to expect from a single component in a multi-component system.
So are you ready for all the information? You can save this as your ultimate guide to the pros and cons of kitchen countertop materials.
Top Factors To Consider While Choosing Countertops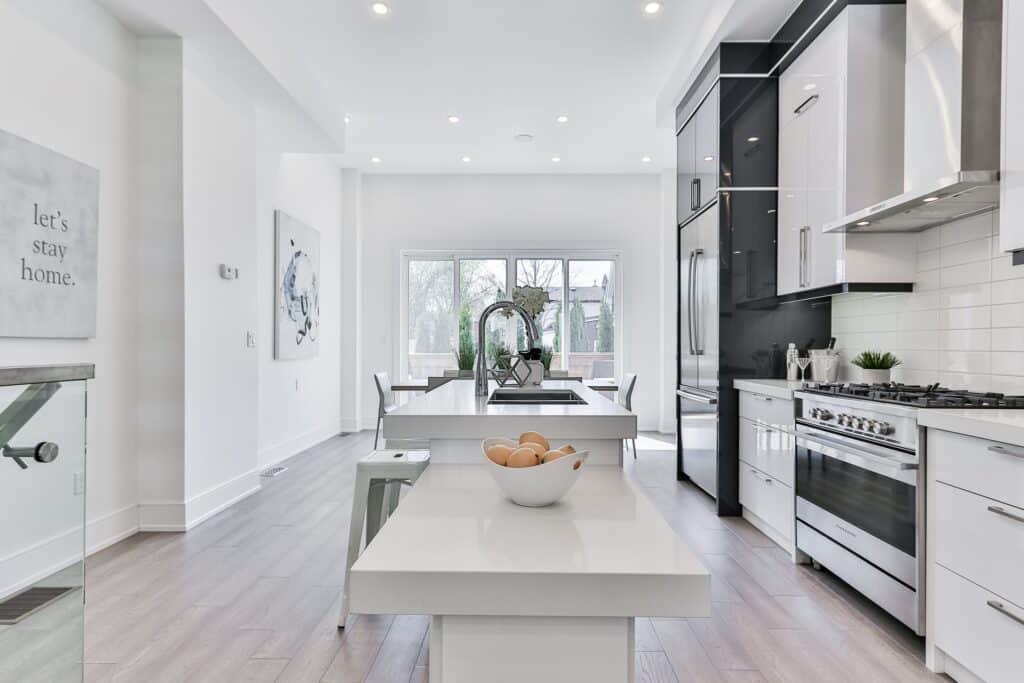 Fortunately, there are dozens of materials and hundreds of colors and designs to choose from when it comes to choosing kitchen countertops. Before deciding on a material or color scheme, consider how well the counter will function with the rest of the kitchen and weigh the pros and cons.
Do you want a drop-in sink, or do you want to go for an under-mount sink? A hole is cut in the counter for a drop-in sink, and you can install the sink with its edge flat on the counter. You can use this arrangement for any material. 
The cut edges of the counter are exposed while using an under-mount sink. It works with a solid-stone slab or a hard surface like Corian, but not with a laminate that you adhere to a piece of furniture.
The counter must complement most of the room's layout. Stainless steel counters are fashionable, but they will be out of place in a farmhouse kitchen. Fortunately, most countertop materials are compatible with any kitchen design, but it is critical to ensure that the counter and backsplash complement each other.
Besides, a custom edge treatment will improve the appearance of any countertop. Homeowners can see samples at home improvement stores and countertop fabricators. Moving on, let's dive deep into the pros and cons of kitchen countertop materials. 
Natural Stone Countertops (Marble vs. Granite) 
Only you can determine whether granite or marble countertops are right for you. Both are durable and beautiful (the color variants and veining alone make each choice worthwhile), but we'll look into the pros and cons of kitchen countertop materials to help you make the ultimate decision. Let's start with granite —
Granite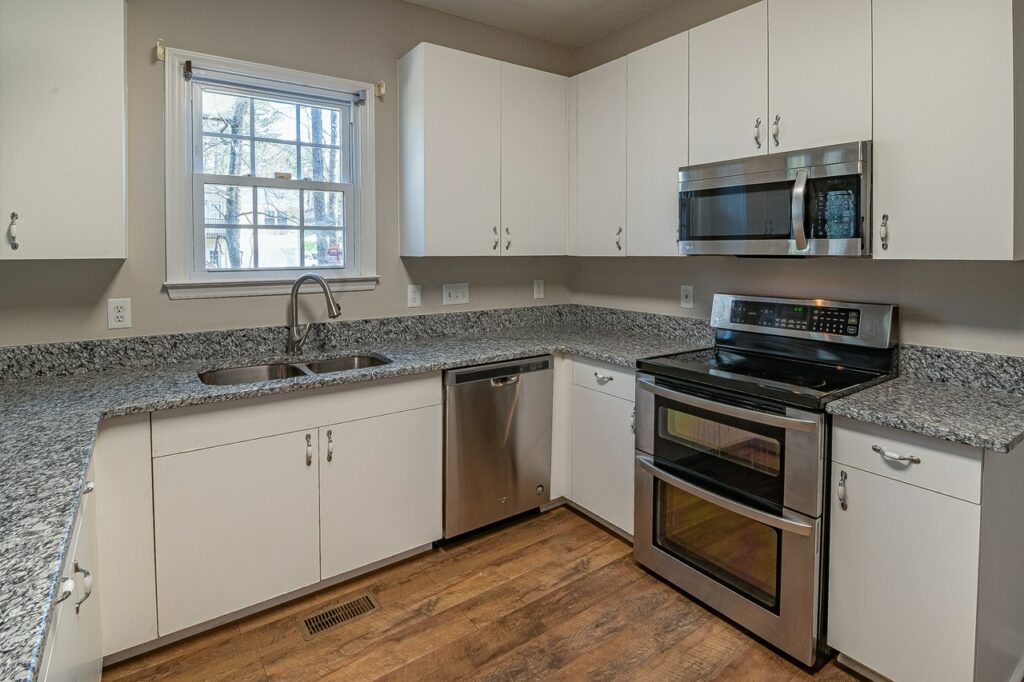 Pros
Granite kitchen countertops are very long-lasting. 

Scratches, stains, and breaks are less common.

It can withstand high temperatures.

There are thousands of different colors from which to choose.

Granite designs appear to be detailed.

It's another natural material, so each slab is original.
Cons
Homeowners consider this material to be trendy, so it may go out of style soon. 

It can break under severe stress or if installed incorrectly.

If you don't seal your granite counters, they can become porous. Hence, it's important to maintain your granite countertops properly.

Also, high-end granite is costly. On average, granite costs between $40 and $200 per square foot, with some slabs reaching $400 per square foot. The average material cost for a 30-square-foot counter is $1,000 to $1,500.
Marble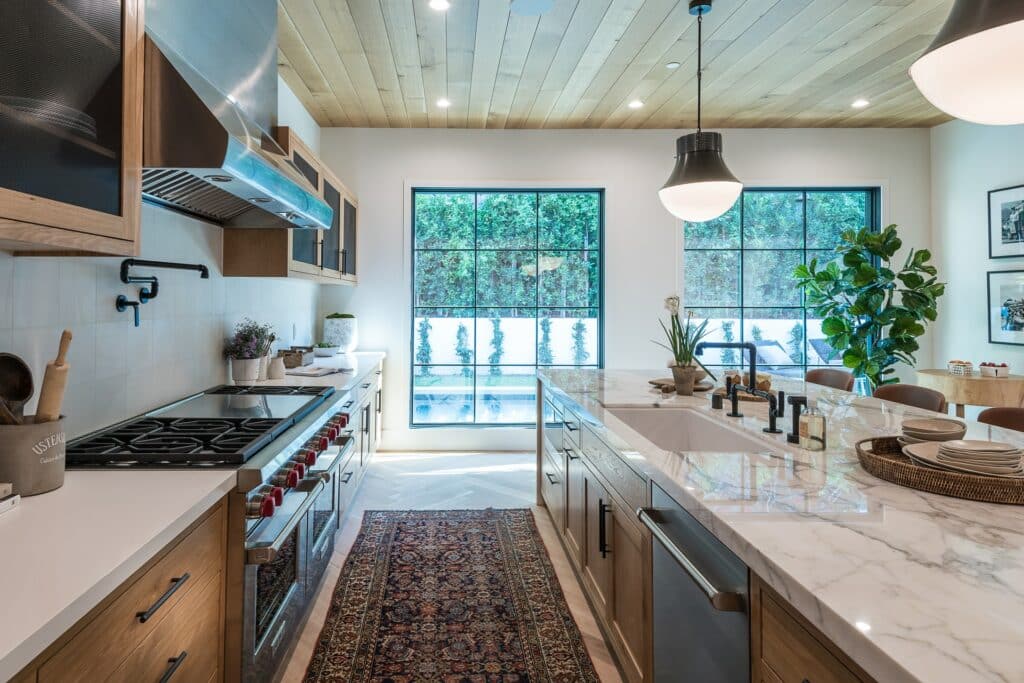 Pros
The look is incomparable, and you can use it to create several decor styles.

It's a naturally occurring element.

Marble will improve the value of your home if you maintain it well.

Marble is exceptionally long-lasting under the right conditions and with proper treatment.

Since no two marble countertops are alike, you'll have a genuinely one-of-a-kind addition.
Cons
Marble countertop costs can run high.

It's an overly heavy material.

Marble countertops are prone to staining.

A marble countertop is a fragile material.

If you do not seal the material, it can degrade over time.

Marble has relatively high material costs, starting at about $60 per square foot. 

You should consider paying between $1,800 and $3,000 for a 30-square-foot marble countertop. 

You will also need to evaluate the price of sink cutouts, edging, backsplashes, and labor.
Quartz Countertops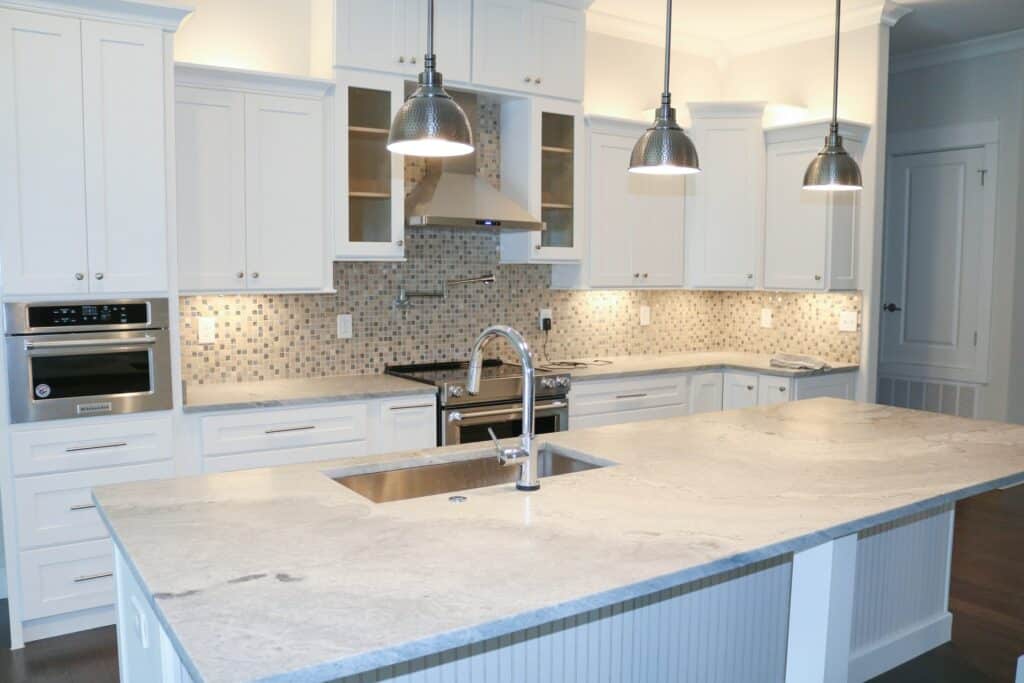 Pros
Quartz is quickly growing in popularity as a countertop material. 

You mix natural quartz with resins and other materials to create the final product. 

It is also known as engineered stone, and you can design it to mimic valuable natural materials like granite and marble. 

You can also seal your quartz countertops, according to some manufacturers. 

Quartz kitchen countertops are easy to begin with, and maintain, despite its complex installation.

You can clean up the Spills effortlessly with a wet cloth or sponge.

All thanks to the resin pigments, quartz is stain-resistant. 
Cons
Quartz countertops' polymers can only withstand temperatures of around 150 degrees Celsius (302 degrees Fahrenheit). Anything relatively higher than that leaves behind a discolored scorch mark which will require professional maintenance if you want to salvage it at all. 

Always use trivets if you choose quartz.

Quartz countertops, like granite, will chip or crack at the corners and edges, needing professional maintenance. 

However, by selecting beveled corners, you can reduce the risk of injury.

Quartz can be very pricey. 

Installation costs vary from $75 to $120 per square foot. 
Tile Countertops 
Pros
One of the obvious points among the pros and cons of kitchen countertops is the wide selection of cost and appearance choices available. 

It can cost anywhere from $1 to $20 per square foot, depending on the material, and because you won't need much, the cost is nominal.

Tile comes in a wide range of patterns, color schemes, shapes, and textures, so there's plenty to go around. 

If you can't find what you're looking for, you can have it personalized.

This underrated countertop material is relatively inexpensive, especially if you choose a ceramic alternative. 

Installation is typically affordable as well. 
Cons
There are a few drawbacks to remember before rushing to conclusions —
Tile bathroom countertops are susceptible to cracks and stains, making them unsuitable for high-traffic areas. 

Since tile countertops are prone to stains, you'll need to keep them clean to prevent discoloration. 

To keep the grout clear of mold and mildew, most experts suggest sealing it once a year to keep bacteria at bay.
Concrete Countertops 
Pros
Concrete counters are durable and robust. 

You can customize it as per your taste and needs. 

Once you seal it, it is resistant to heat, stain, and occasionally spills. 

If you wish to experiment with colors, it's perfect as it provides a neutral hue. 

It will develop an unconventional patina with time. 

Concrete will pair well with other materials like wood and stainless steel. 

It is low-maintenance. 

It is the best choice for a contemporary design and will give your kitchen an industrial feel.

Usually, concrete countertops cost $65-$135 per square foot. 
Cons
If you don't seal it, concrete can stain and scratch easily.

It can crack due to pressure too. 

Unfortunately, concrete is so heavy; you will need to strengthen the cabinets and often flooring.