Home » Check These Ultimate Tile Design Tips For Bathroom Flooring
Check These Ultimate Tile Design Tips For Bathroom Flooring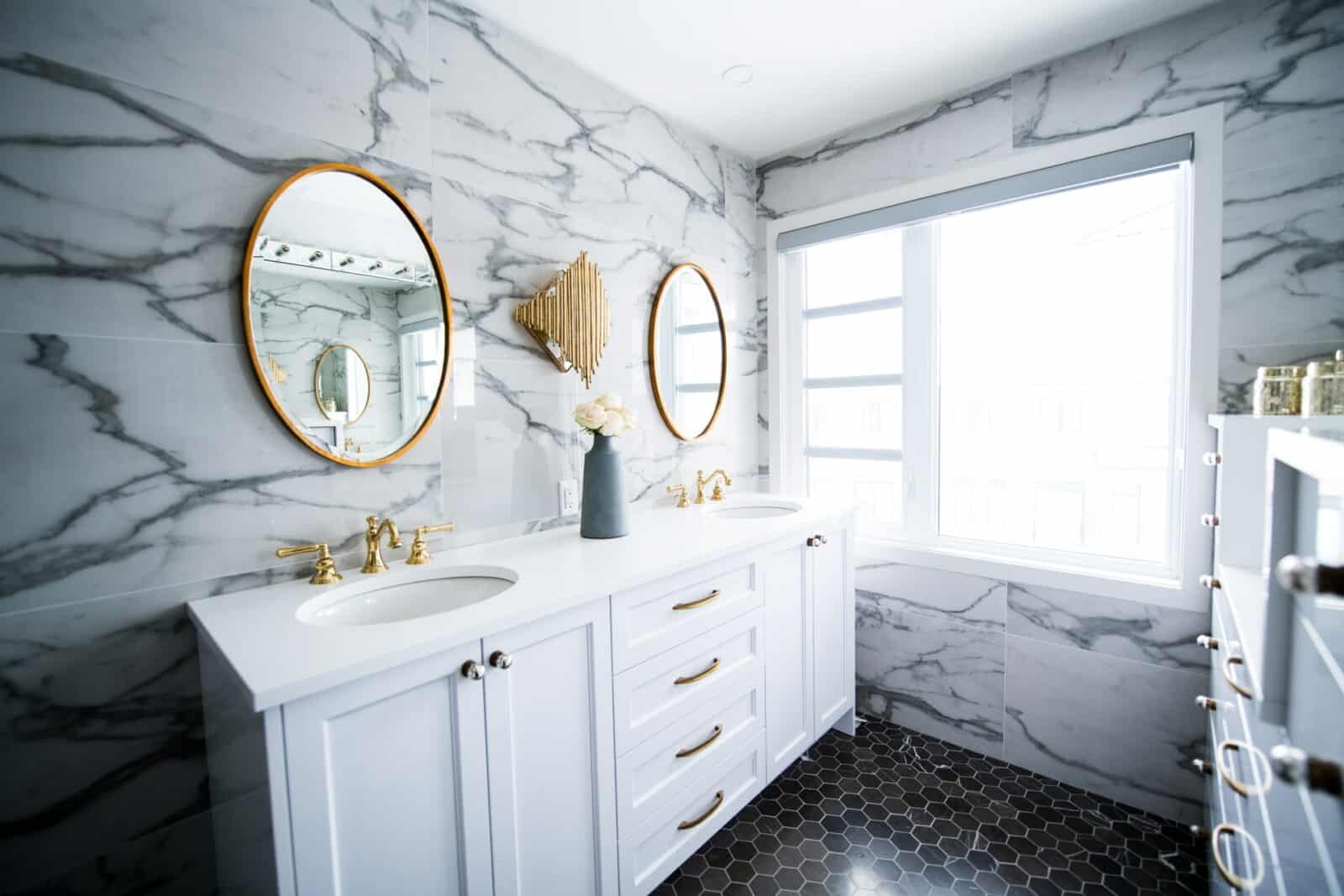 When you choose to remodel a bathroom in your house, you want the tile selection to be the most pleasant of the many challenges you will face. They will most likely be the first feature you spot, and they will lay the foundation for the overall look and feel of the final room. 
However, the thrill of finally picking your floor tiles can quickly transform to uncertainty in the face of such a large selection. Therefore, it is critical to plan when selecting tile for your bathroom flooring. 
Take a long, hard look around your bathroom floor before you begin. Is it a large or small aspect? Do you prefer lighter or darker bathroom tiles? Are you okay with a lot of maintenance, or do you like to clean as little as possible?
Well, fear not! Here are a few tile design tips for bathroom flooring to bear in mind while remodeling your bathroom.
Opt For a Wow-Factor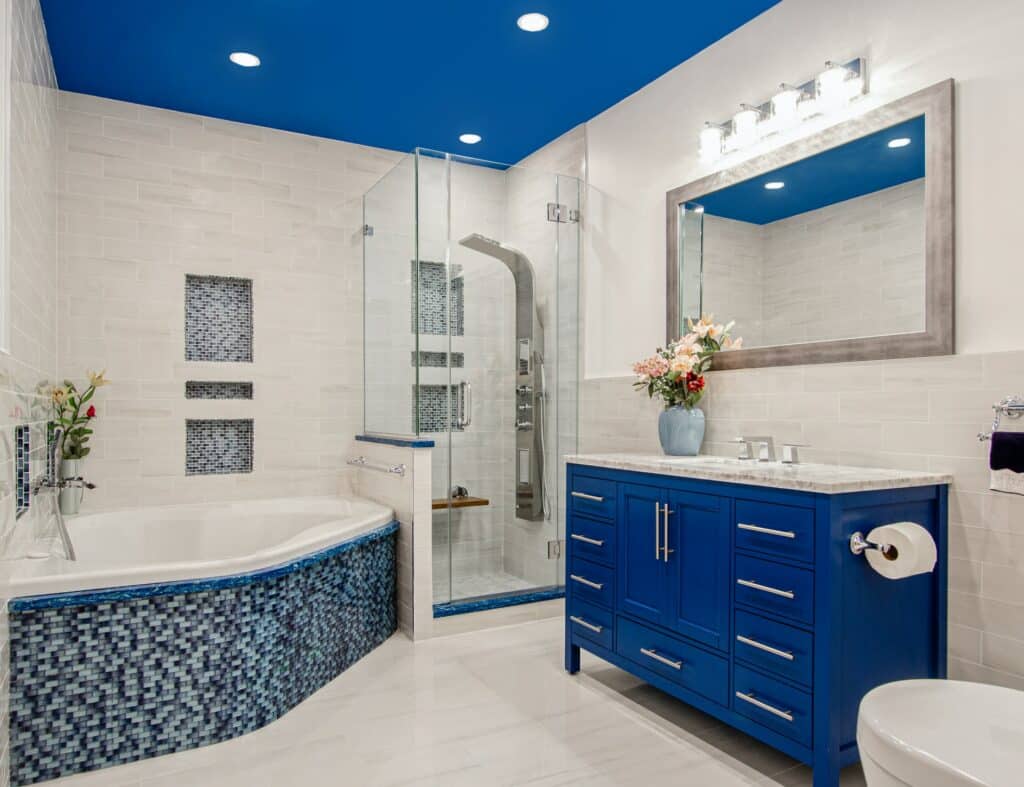 When you step into your bathroom, what do you think will be the first aspect that grabs your attention? Is it going to be a stunning shower enclosure? In this area, you might want to use the main tile. 
Will it be a roll-top tub that stands alone? Then decide on the ideal feature wall tile to serve as the backdrop. 
Or perhaps you're redoing your bathroom floor? It's important to get your bathroom tile right. 
If you plan sooner on what your bathroom's primary focus will be, you can pick tiles that will accentuate and enhance your chosen element too. However, most of these unique tiles are expensive, but if you're working in a small space like a bathroom flooring, it might just be the big purchase you need. Besides, you won't even need a lot to cover the space. 
Although, it's entirely up to you whether you want your show-stopper floor space to be large or tiny. 
Pick A Standout Tile
Finding one style you like is the first step in selecting your bathroom floor tiles. Say you're fascinated with a particular pattern, a vibrant color, or a unique design. 
Remember, the tile you choose will be the room's highlight, which you can use to create intrigue to your floor tiles or shower tile panel. You can then select your accent tiles based on your standout tile (which brings us to our next point!).
Choose Accents Carefully 
After you've decided on your feature tile, think about adding one or two more tiles to complement it. Avoid selecting many flashy tiles in a space as it will create too many areas of focus. Instead, opt for a style that is neutral, simple, or merely textured will suffice here. 
This way, it will allow your standout tile to run its course. You can choose from different variants to provide several tile patterns and designs that will blend seamlessly to create a unified look.
Patterns Are In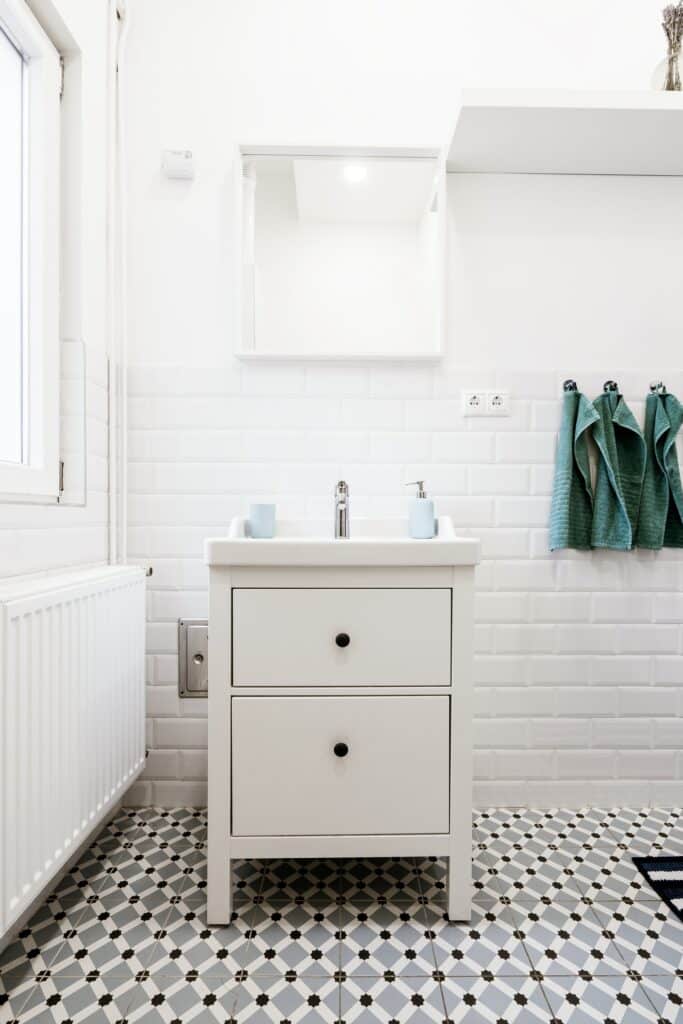 If you already picked the feature tile for your room, you might also want to rethink your bathroom flooring solely as complementary tiles. If you're going for a more neutral look for the walls, the recent fad is to install a patterned floor tile to add a little extra wow factor.
Furthermore, you can also go for a bohemian look or something more adventurous, or get the feel of nature with the wood texture floor tiles for a farmhouse or rustic look. The possibilities are endless. 
Tile vs. Room Size
In general, if your space is small (as many bathrooms are), avoid using large format tiles on the floor. Instead, pick tiles that will fit in well with your design, such as mid-sized floor tiles for a mid-size bathroom or mosaic floor tiles for a super tiny cloakroom.
Focus on The Tile Layout 
Of course, just because you want a basic tile might not imply it can only be dull! Here's an excellent tile design tip for bathroom flooring that will help you revive your space:
To introduce something unique to your design, use subway-style tiles or rectangular tiles in a creative arrangement (like herringbone) to produce several patterns.
Introduce Texture 
If you want to give your bathroom flooring a spa-like aura, try installing nature-inspired tile. Quartz, slate, travertine, natural stone tiles, and marble-like tiles all have a timeless and natural appearance. 
Besides, you can also use natural wood tones to balance these textures for a soothing and refreshing effect.
Don't Go Overboard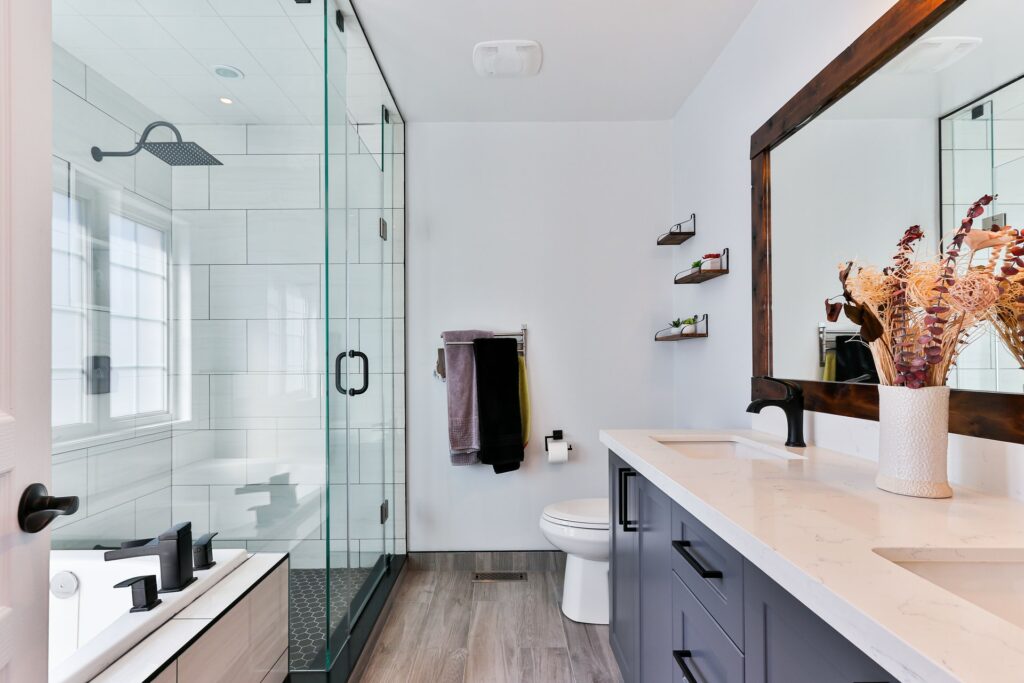 As a baseline, use your initial (must have) option to decide about the remaining tiles you'll use in your project. If your must-have a one-of-a-kind color or pattern that will be the centerpiece of your design, use more subdued colors from it in your feature tiles. 
If your first option is very flat (like a white subway tile), you might want to introduce some intrigue with a vibrant accent tile or even a scaled-down white penny tile to mix things up. This is a great tile design tip for bathroom flooring that you need to incorporate. 
Commonly, homeowners select a floor tile, a wall tile for the shower/tub enclosure, and an accent tile to serve as a focal point. However, these are only guidelines. Don't be reluctant to break the rules! 
How Does it Feel Underfoot? 
Remember that if you're going to use tiles on your shower floor, you'll want something equally easy to walk on and have enough grip to protect you from slipping. It's usually a good choice to use small tiles or mosaic tiles here because the extra grout lines can improve slip resistance without being unpleasant to your soles. 
Moreover, if you're planning to build a wet space, there is a huge range of tiles available that are ideal. 
Maintenance 
A smooth tile is often easier to maintain. On the contrary, water accumulates on heavily patterned tiles, like natural tiles with bumps and crevices. So you should consider the fact that you'll have to be a little more disciplined about keeping them clean. 
When choosing your floor tiles, consider how dedicated you are to keeping them in good shape for the duration of your bathroom's lifespan. Once you have your answer, get creative.