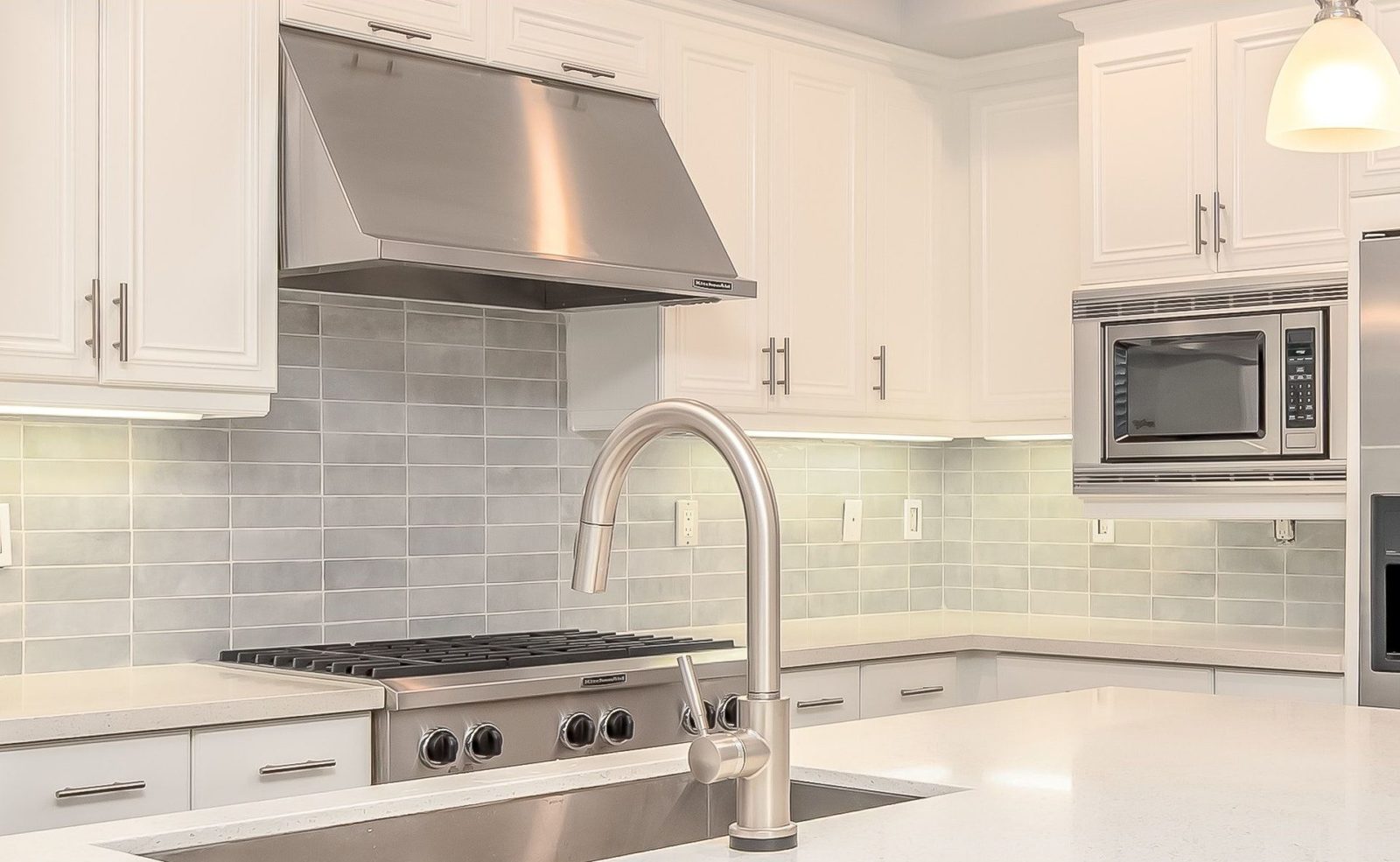 Why do you need a backsplash in your kitchen at all?
If you already have the right appliances and the countertop along with the other essential kitchen elements, that should be enough. Isn't it?
NO!! On the contrary, a backsplash completely revamps your kitchen's look without making you break the bank for it. In fact, by not having one, you are essentially signing up your kitchen for a lot of abuse.
What Are Backsplashes and What Do They Do for Your Kitchen
Simply speaking, a backsplash refers to the material used to cover the wall area between the kitchen counter and the cabinets above. And it does that very elegantly.
Besides, it's a great way to add some personal touches through the chosen material, textures and colors. But other than adding to your kitchen décor, a backsplash does a great job of protecting the wall behind the counter from all those unsightly oil splashes too.
Some people also invest in a backsplash near the sink. These kind of backsplashes are used to protect the wall from water spots. You can take the backsplash right up to the ceiling for that avant-garde accent in your kitchen.
Pick from a variety of materials like metal, glass, wood, stone and even mirror to make your backsplash the centerpiece of your kitchen. Besides, a strong visual feature as this can be a big asset for your home's resale value eventually.
We have come up with a few backsplash ideas that you may be interested in. Just take care that your chosen style in all its texture and color blends well with the kitchen decor and not clash with other elements.
1.  White Tile with White Grout
I know, what your first thoughts are: The style sounds so ancient!
But in real life, it gives off a classic timeless look and a clean semblance to your kitchen space. Try subway tiles to incorporate the look. Go for weathered white in place of the regular white version to add an edge to your kitchen backsplash.
The white will make your kitchen look spacious too as it will reflect a lot of light.
You can even try a light grey grout instead of white grout if you're worried about the white grout getting dirty. Go a step ahead and pair the white tile with black grout, and what do you get? A vintage industrial look!
2.  Mirrored Tiles
Mirrored tiles are great at enhancing light within the kitchen space. Besides, they add depth to any the design scheme too.
Use contemporary mirror treatments to choose a style that can work in your kitchen ambiance. Right from traditional to antiqued, a mirror backsplash can add light, space, and bling to your kitchen space.
If you are worried about going overboard with the mirrored look in your kitchen, try out a partial coverage like adding a mirror just behind the range. Other than this, if you are looking for more dramatic hues, try a smoked glass mirror instead of the traditional silver mirror for a greater impact.
3.  White Kitchen with a Moroccan Tile Backsplash
An all-white kitchen with a Moroccan tile backsplash is the George Clooney equivalent of a backsplash.
Combine the backsplash with open shelving that visually enlarges the kitchen…and get ready to welcome the ultimate chic look.
4.  Subway Tiles in Seafoam Green
Bring in subway tiles in seafoam green and let them run right up to the ceiling.
The smooth, gleaming tiles will provide an interesting textural change, especially in a kitchen that has a lot of wooden elements. Yes, we are talking wooden cabinets and wooden flooring.
Besides, bright white cabinetry in the kitchen will provide a neutral backdrop to the overall palette.
5.  Neutral Pattern
Bring the refined neutral hues in your kitchen by imbibing hand-painted neutral tiles, placed from the countertop to the ceiling, against the backdrop of a black and a white kitchen with hints of tan.
The idea is to show how a no color look can be counteracted by the right texture and pattern.
6.  Stone Tiles
Stone tiles, when put together in different forms, instill warmth in a contemporary kitchen.
With their earthen shades and the typical rough texture, these tiles will provide an appealing contrast against a modern kitchen's polished finishing.
7.  Yellow Ceramic Tiles
A backsplash in yellow instills a cheerful ambiance in the kitchen. A classic example of how a backsplash can inspire the mood for the complete culinary space.
The patterned yellow tiles can be paired with all yellow cabinets to set the tone. To prevent the color from being too jazzy, the color of the upper cabinetry can be kept a muted off-white too.
8.  Serene Green
A watery, green backsplash can be the primary focal point in your kitchen in midst of all woods and grays.
To carry the design further, black grout topped by lighter grout on the tiles, gives the impression of vintage style variations between the tiles.
9.   Bold Red
A bold red backsplash will create a stunning impact when incorporated behind the range in a kitchen with all modern elements.
Thin, horizontal ceramic tiles will add the desired texture to warm up a contemporary kitchen that has all-white walls, metal appliances, and a sleek wood cabinetry.
If an all-modern look isn't your thing, try a more reserved hue like a white or any soft neutral with the same thin horizontal tiles.
10.   Marble Backsplash
A marble backsplash above the stovetop will be the ultimate style statement in your cooking space.
Silvery-gray veins in the backsplash and a countertop of the same texture will bring out the stainless steel hood and the rest of the kitchen fixtures.
Add green chairs and fresh flowers to wake up the neutral theme of the room.
11.   Beautiful Blacks
Enliven your kitchen with the beautiful black.
Go for a backsplash with oblong charcoal tiles that pop with cream grout.
White quartz counters, cream-color cabinetry, and a charming wood beam ceiling keep the kitchen light and bright. Pops of greens and reds in places add the needed color to an otherwise neutral theme of the kitchen.
12.   Contrasting Brick Style
For all those looking for a style that stands above the rest, this is going to give you the ultimate kick.
A beautiful teal backsplash in brick-shaped tiles will imitate the more traditional bricks on your breakfast bar.
Essentially, the two contrasting colors will visually demarcate the two areas within the same space. The ultimate contrast between the hues can be enhanced with metallic overhead pendant lighting.