Home » Modern Bathroom Décor Ideas That You Must Give A Try
Modern Bathroom Décor Ideas That You Must Give A Try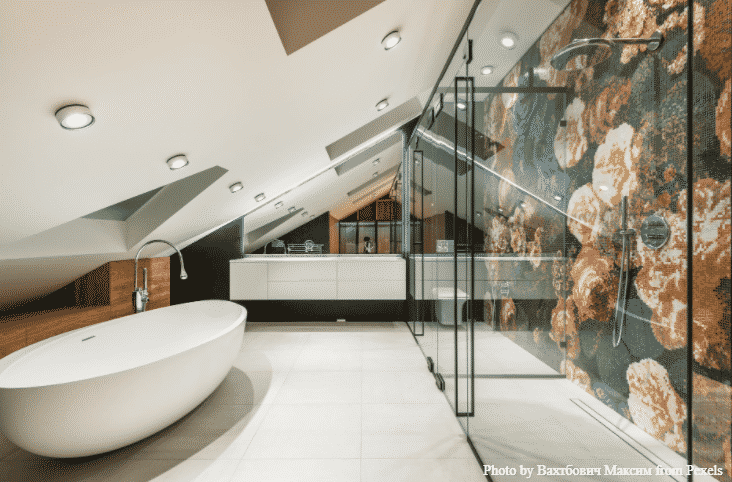 Whether you go for minimal changes or a complete overhaul, there are plenty of modern bathroom décor ideas that make a massive difference in the house. A bathroom is of utmost importance and a top priority as a remodeling project. But it is not easy to remodel a bathroom.
There are various designs and even DIY décor ideas for one's bathroom, from curvy bathtubs to sleek vanity units. Modern means different to everyone; however, a few designs are standard everywhere, such as neutral colors, geometrical designs, going natural, using less decorative materials, etc.
A bathroom is an incredibly intimate space. Therefore, it must be the epitome of optimum comfort and luxury in one's home. From neat and chic to lush and palatial, there are several tips to remodel your modern bathroom. Such as walk-in showers, décor splashes, atmospheric lighting fixtures, etc.
So if you wish to remodel a bathroom into a sleek and modern one and make it a complete spa retreat, here are some modern bathroom décor ideas that will inspire you to do the best!
Fun with Colors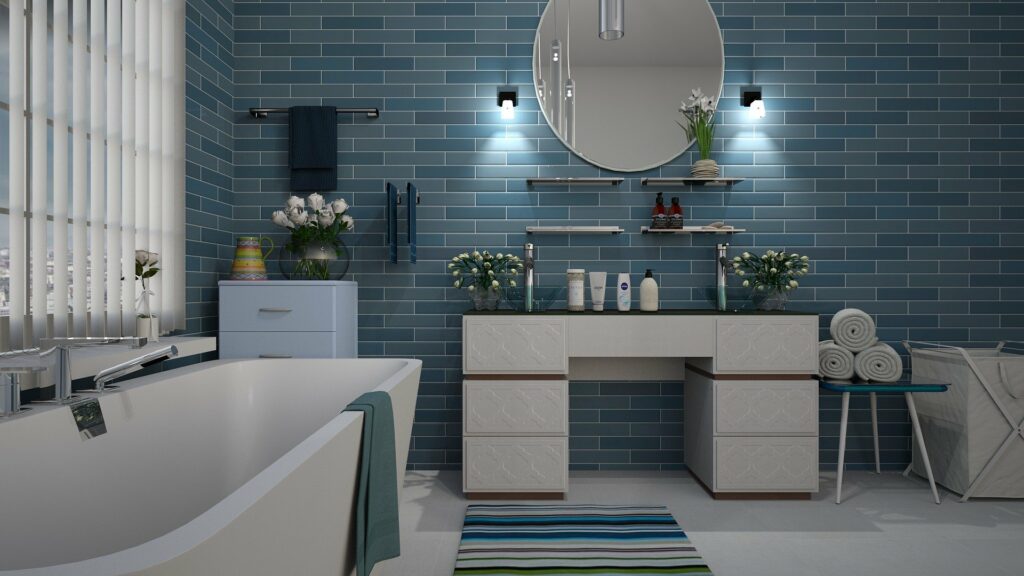 Even though modern bathrooms are all about simplicity, there is nothing wrong with having some fun with your bathroom wall colors to make the room look more artsy and amusing. A simple white bathroom may sometimes get boring and dull and needs a blast of colors here and there to revitalize it.
Your house must reflect your personality. And therefore, a homeowner with a bubbly and cheerful outlook towards life must have similar décor in the house too! So if you have meant to remodel your bathroom into a modern space, do not forget to incorporate fun color palettes such as red, yellow, or blue!
A wall with a splash of a block color or some cheeky monkey print can bring life into the room through the accent wall. Designs are always refreshing and eye-catching. And it sure can become a conversation starter for you and your guests! You can either paint the wall in any color of your preference or install colorful patterned wallpaper for some entertainment.
Modern Simplicity
The attribute of a modern and simply designed bathroom is having geometric designs, mostly squares and rectangles. You can also go for white all over the place, a hint of neutral gray, incorporating a bit of natural stone flooring, and minimal decoration.
A modern bathroom is mainly dominated by the color white, which the designers will try and fit everywhere. Some of them are marble flooring, white sinks, vanity, cabinets, white lights, a white backsplash, etc. And all of these features will have a square or a rectangular geometric design to start with. To give the place a good contrast, you can add a hint of neutral gray through a ceiling-high cabinet or painting a narrow wall.
A modern bathroom also has noticeable features such as a backsplash made of natural stone like marble or granite. And the decoration includes something very minimalistic such as a flower vase. Choose any flowers of your choice since you will be the one seeing them regularly. The scent and the color of the flowers keep the bathroom fresh and welcoming.
Add Some Seating
Modern bathrooms nowadays are a little big and spacious. And therefore, it is easier to install some quirky things in there. Installing some seating in the bathroom is a new modern bathroom trend taking over and is one of the most admired modern bathroom décor ideas currently.
Adding some seating in your bathroom can make the room feel extra luxurious and sophisticated. Especially when placed next to a grand curvy floating tub fixed in the room's center. Get yourself a round or oval seating that can make your bathroom look circular in shape instead of rectangular. If your bathroom is all-white, the seating must be a pastel color for some distraction.
Such components in the bathroom are great for mood relaxation. If you install wall sconces for lighting fixtures and a dimmer switch, some potpourri, and sleek silver fixtures, your bathroom can easily resemble a spa. It cannot get more modern than that!
Add a Partition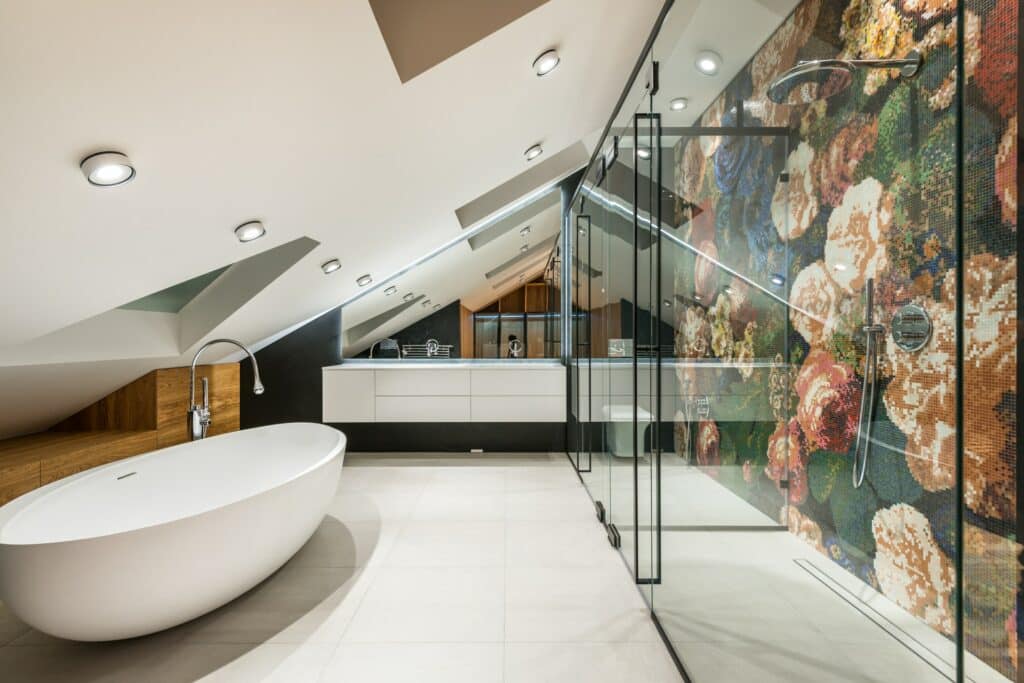 A modern bathroom can be costly, but it is worth it. And if you are going to be spending a good amount for your bathroom remodeling project, you might just take full advantage of it by getting yourself the best you can!
Many modern bathrooms are beginning to install partitions in bathrooms to separate the toilet and sink area from the bathing section. The partition does not have to be a plain wooden stand that looks boring and dull. You can experiment with your partition as much as you want since it is not a permanent structure. And you can change it occasionally too.
One of the best modern decors for a bathroom is a smokey mirrored partition. You can either use glass or go for mirrored tiles, depending on your budget. Or, instead of this, you can simply go for a hazy glass partition. However, the mirrored partition helps make the bathroom look bigger. The optical illusion from the mirror also adds a bit of drama through its smokey look.
Bring in the Outdoors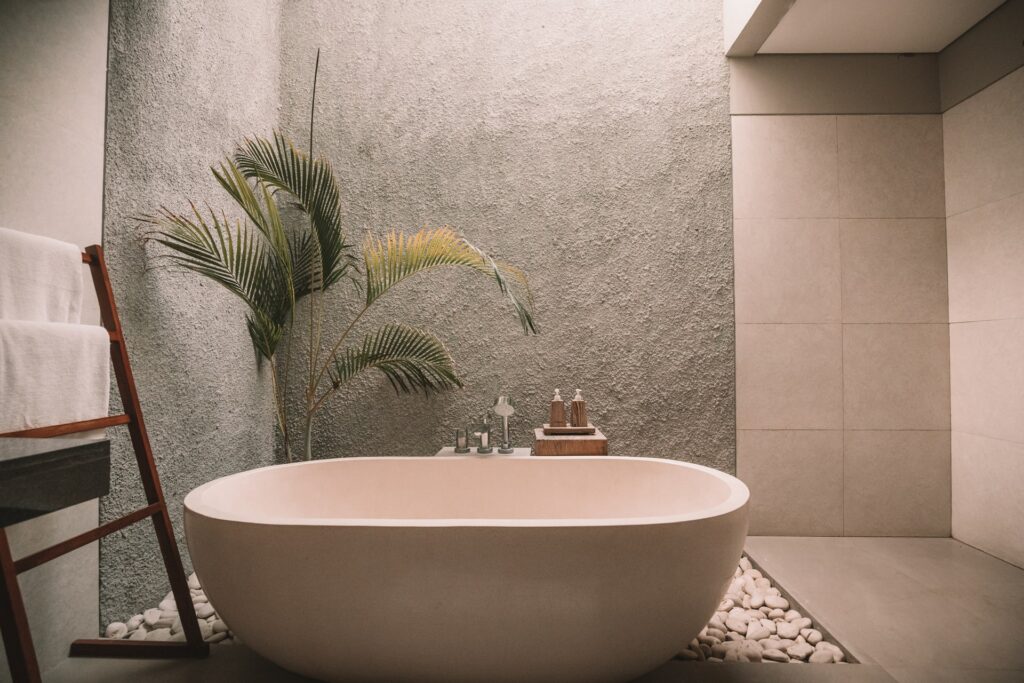 One of the modern bathroom elements is to make it more closely connected to nature by bringing in the natural elements. You do not have to invest in an outdoor shower to make it feel more ecological and environment-friendly.
The best way to bring in the outdoors is to get a bigger sized bathroom window to allow ample light in the bathroom. You can go for a clear glass partition for the bathtub or shower cubicle that will compliment the pouring sunlight. This gives a typical garden feel to your bathroom.
Get a few medium-sized potted plants and place them near the sink and within the shower cubicle. They add life to the bathroom and help get rid of the chemicals in the air left behind by all the bathroom products.