Home » Top Master Bathroom Trends that You Must Keep An Eye On
Top Master Bathroom Trends that You Must Keep An Eye On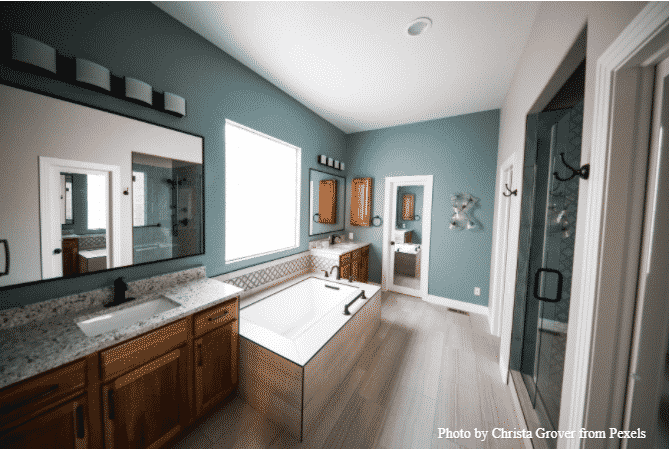 Remodeling your master bathroom can turn around the feel of your home. But deciding to remodel is the easy part; it's the planning that requires effort.. When it comes to remodeling, you have to carefully decide everything from the materials to the overall aesthetics of your bathroom. Here, the 2021 bathroom trends can help you get inspiration for your new bathroom.
Do you wish to remodel your bathroom but don't know where to begin from? Read on to find out the best master bathroom trends that you can use to make your bathroom more functional and stylish.
Which Master Bathroom Trends Should You Follow?
A bathroom is a safe-haven for most homeowners. Making it functional and aesthetic is an essential part of your home improvement project. You deserve to have a relaxing bath after a grueling day in an ambiance that facilitates relaxation. The last thing your tired mind needs after a long day at work is for your environment to be too "loud" or "colorful" for its own good. So, if you are getting the urge to give a new look to the bathroom, you must combine form with function.
Here are some of the top bathroom remodeling trends of the year. We hand-picked ones that we believe can transform any bathroom, without sticking out like a sore thumb the next year. Designs that will last.
1. Graphic Walls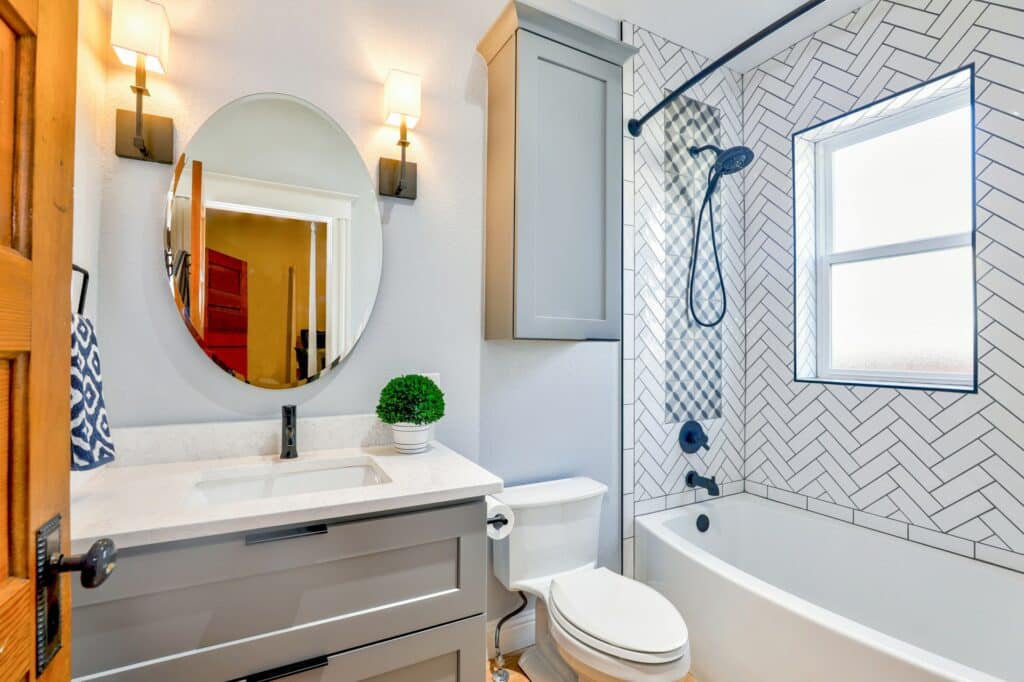 Gone are the times when bathroom walls were boring. Now people are adding patterned wallpapers, and even bold colors on the walls of their master bathrooms for a quirky look. It is a unique yet straightforward trend that can add a designer touch to an otherwise plain bathroom.
You can even go for complete graphic walls and have stunning wall panels in the shower. Wall art in bathrooms is becoming increasingly popular with the help of modern printing techniques too. Focus on little pops of color like this to add drama to your bathroom while also preventing your bathroom from becoming too vibrant for its own good.
Statement Lighting
While scones dominated the bathrooms during the last season, statement lighting is the latest trend. Statement light fixtures not only brighten up the master bathroom but also gives it a stylish look. You can opt either for a grand chandelier or even a pendant light for the bathroom.
Extra Thick Countertops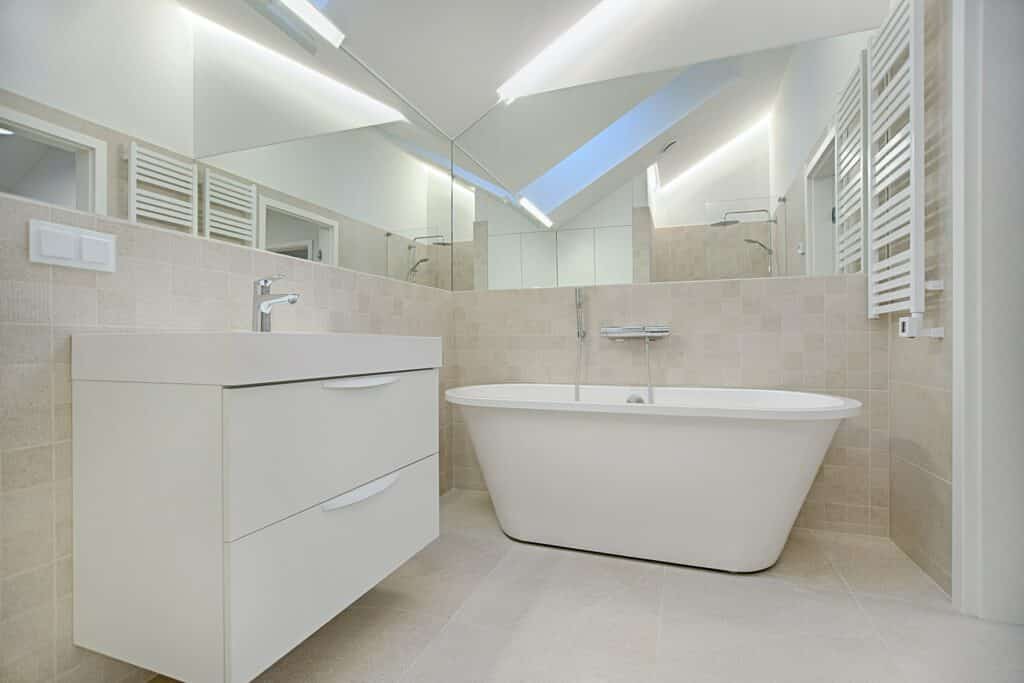 Bathroom countertops are becoming a staple in every household. People are now opting for thicker countertops to give the vanity a refined look. While the conventional countertops are one-and-a-half-inches thick, now slabs that are three-six inches are used in the bathroom as well as the dining room.
You can opt for thick marble countertops to make the color pop if your budget allows it. If not, you can go with a thick, colored quartzite. You can seek the help of an expert interior designer to choose the right lights.
Exposed Plumbing
Another way to add character to your master bathroom is through exposed plumbing. The success of this trend depends majorly on choosing the fixture that fits the style of your bathroom. You can add cross handles or porcelain detail for a traditional look, but you must go with lever handles and cleaner lines if you lean towards the contemporary style.
Install them at a suitable height, especially if you are tall. It will ensure you don't need to hunch over just to take a shower.
Modern Showerheads
You might have the best rainfall showerhead, but the latest ones can do so much more. Some showerheads come equipped with a waterproof Bluetooth speaker that can help you enjoy your favorite music while showering. You can also add essential oils in many modern showerheads to infuse the rest of the bathroom with soothing scents.
Industrial Styled Fixtures
Another current trend for bathroom design and décor is industrial-style bathroom vanities and sinks. While not everyone might like this trend, it can gain popularity soon. Despite being a sleek and edgy look, it will still give a classy appeal to the area.
Along with vanity in industrial style, you have the chance to add wooden accents, mosaic tiles, metal finish to the master bathroom. You can use matte finish black fixtures, brass or gold accents, subway tiles, and even a pop of colors. Don't miss out on this trendy style!
Space-Savvy Bathtubs
More and more people want to unwind and relax after a stressful day at work in the bathtubs. Unlike the traditional decorative soaking tubs or clawfoot types that are popular now, a freestanding tub or flat-bottom bathtub is starting to become a popular choice.
Separate showers and tubs along with a shower curtain are still the most preferred choice, but tubs are not becoming obsolete. Homeowners are opting for smaller baths that don't occupy much space but always offer the same benefits. Many people also prefer to have self-care stations made of natural materials along with the tub, including accessories like a bathtub tray or wine glass holder.
Floating Vanity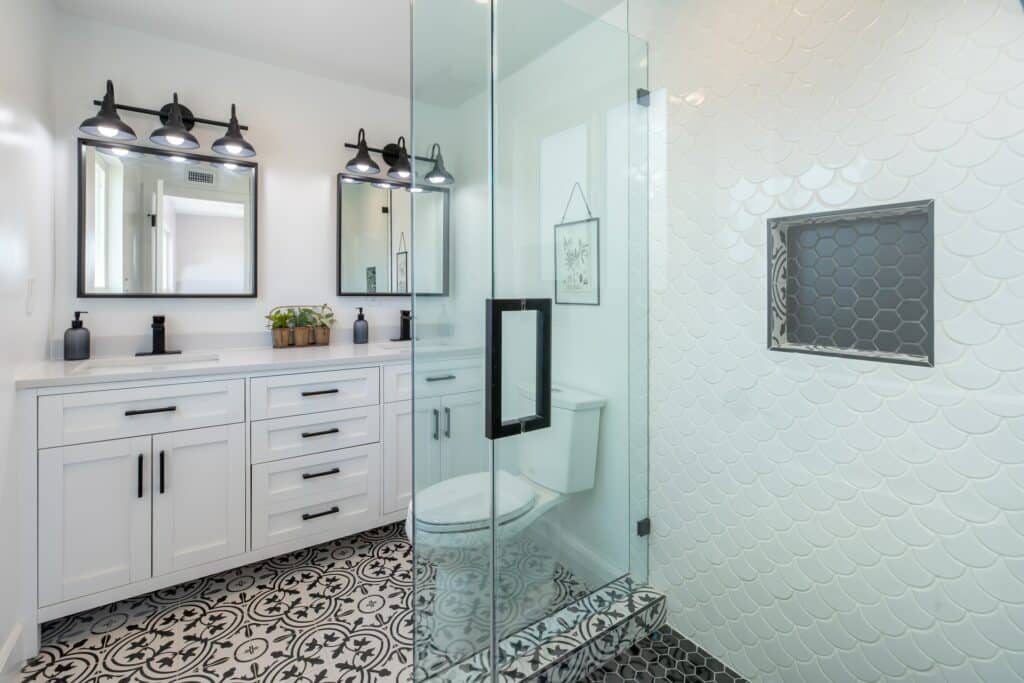 A floating vanity not only offers a lean contemporary look to the master bathroom but also serves as a space-saving solution. It is a popular master bathroom trend that offers more options to customize the hardware, sink, faucets to suit your preferences. You can get them in a wide range of customizable options – a complete unit with a countertop, freestanding vanity without the legs, and partial sets with individual pieces.
With individual pieces, you can find an ideal arrangement depending on the space available around the plumbing. A vanity that is hanging on the wall will look airy and clean and not like a massive box on the floor. Not only that, it makes your bathroom easier to clean.
Back-Lit Mirrors
A good mirror is an essential part of every well-equipped master bath. Besides helping you with the skincare routine, the mirror can also give you the confidence boost you need each morning.
People opting for a modern bathroom design are adding a back-lit mirror and medicine cabinet to the bathroom. A back-lit mirror is an embedded feature that gives ambient lighting without adding reflections or glares to the mirror. You can even double it as a night light with dim settings.
It is both functional and decorative for your bathroom. The glowing effect of the mirror can also give the illusion that it is floating and create a focal point or highlight the wall behind.